24 November 2020
Your Spare Change Can Help Save Lives!

Here at Muslim Hands, we're always looking for innovative ways to make the experience of our donors easier. Alhamdulilah, we recently partnered with Pledjar, a unique crowdfunding app which allows you to donate your spare change from any transactions you make through your regular, everyday shopping.
On the authority of Abu Hurairah (ra) that the Prophet (saw) said, 'There is not a day wherein the servants (of Allah) get up in the morning, except that two angels descend (to him). Then one of them says, "O Allah! Compensate every person who spends (in Your Cause)", and the other (angel) says, "O Allah! Destroy every miser!"' [Bukhari]
Digital technology has changed the way we pay for everyday items and how we donate to charities. Pledjar bridges the gap between digital spending and donations – giving you both practicality and transparency at your fingertips. Pledjar transforms the way we give, so let's have a look at how it works!
How does Pledjar work?
When you make an everyday transaction, such as your daily coffee, the weekly shop, or those new shoes you're buying – Pledjar will round up the transaction to the nearest pound, donating the remaining change into your donation 'jar'.
For example:
When you buy a coffee for £2.60, the remaining 40p will be added to your jar – which you can see on Pledjar's easy-to-use mobile app. So all you've got to do is spend as you usually would, with all your spare change being added up throughout the week.
So, if you spend £2.60 on a coffee, £32.56 on your shopping and £11.30 on a takeaway, – a total of 40p + 44p + 70p would be added into your daily jar, equalling £1.54. This £1.54 will then be pledged to Muslim Hands through the app, allowing both your donations and good deeds to pile up. Within 24 hours, the app will show you how much spare change has been collected. Within the next 24 hours, this spare change will be added to your donation jar. 
And with Black Friday this week, if you've got Pledjar downloaded, alongside getting some great deals in this world, your spare change will be donated as Sadaqah - giving you an even better deal in the next world, in sha' Allah!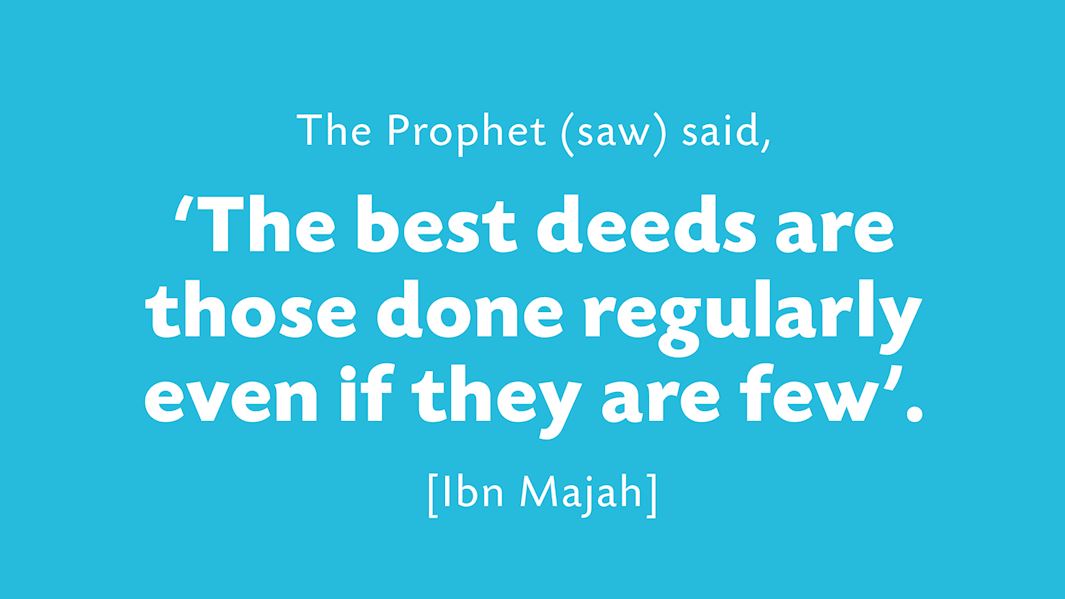 This is a beautiful way to give regular charity and the numbers really do add up, allowing you to make more of a difference than you imagined. For many of us, donating a large amount at a single time may be difficult, but Pledjar allows your small amounts of spare change to add up. Your mountain of good deeds will continue to build up throughout the week without you even realizing, SubhanAllah!
You'll be able to view your donation history, set a monthly donation limit and give a one-off donation – making life simpler and easier for you! You can review all the change that's put into your pot, and then donate. Gift Aid can also be added to your spare change, so if you're a UK taxpayer the government will add 25% to whatever donation you've given. Absolutely free!
Pledjar also gives you complete control over your own donations. If you want to keep your spare change one month, you can do so! You are also free to cancel at any time. Pledjar passes on 100% of donations to Muslim Hands at the end of the month. Muslim Hands is then charged a 10% fee for the service, but only after we have claimed the eligible Gift Aid - maximising the power of the donation. 
This is what Muntazir Rai, their Chief Operating Officer, had to say: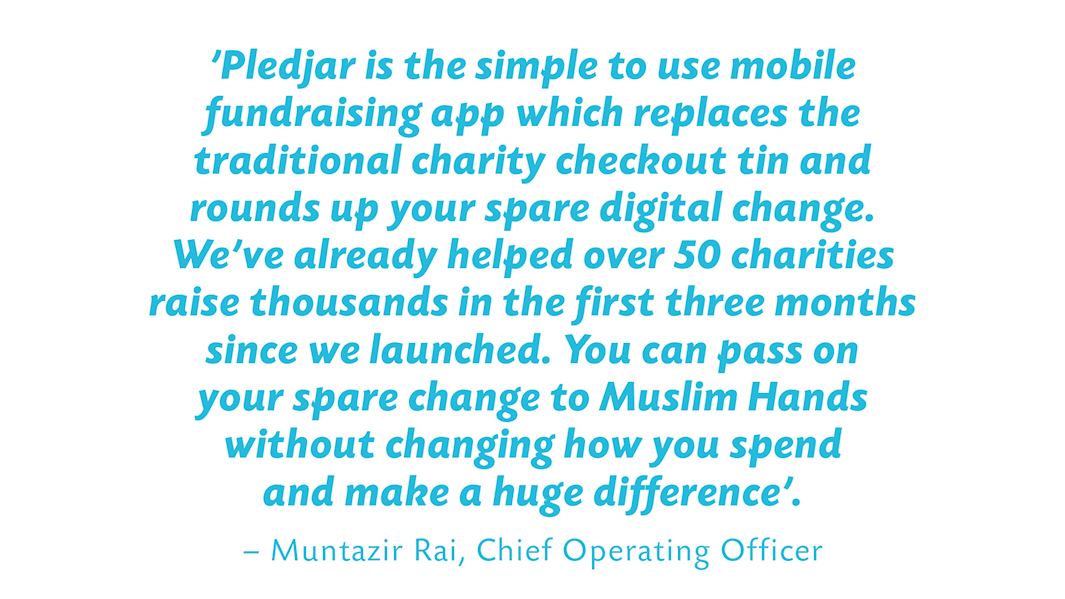 Our Director of Fundraising, Yasrab Shah, said:
'We are very excited about our new partnership with Pledjar as it really encourages to give charity regularly even if the amount is not large. We find in the following beautiful and inspiring Hadith that even the smallest of acts are beneficial for us and the beloved to our Lord:
"The acts most beloved to Allah, Exalted be He, are those which are done regularly, even if they are small". [Muslim]
The Prophet (saw) also urged his Ummah to, "Save yourself from Hellfire even by giving half a date-fruit (in charity)". [Bukhari]
We pray that these regular and perceived 'small' acts of charity will be a means for us becoming beloved to Allah (swt) and protection for us and our loves from the Hellfire. Ameen!"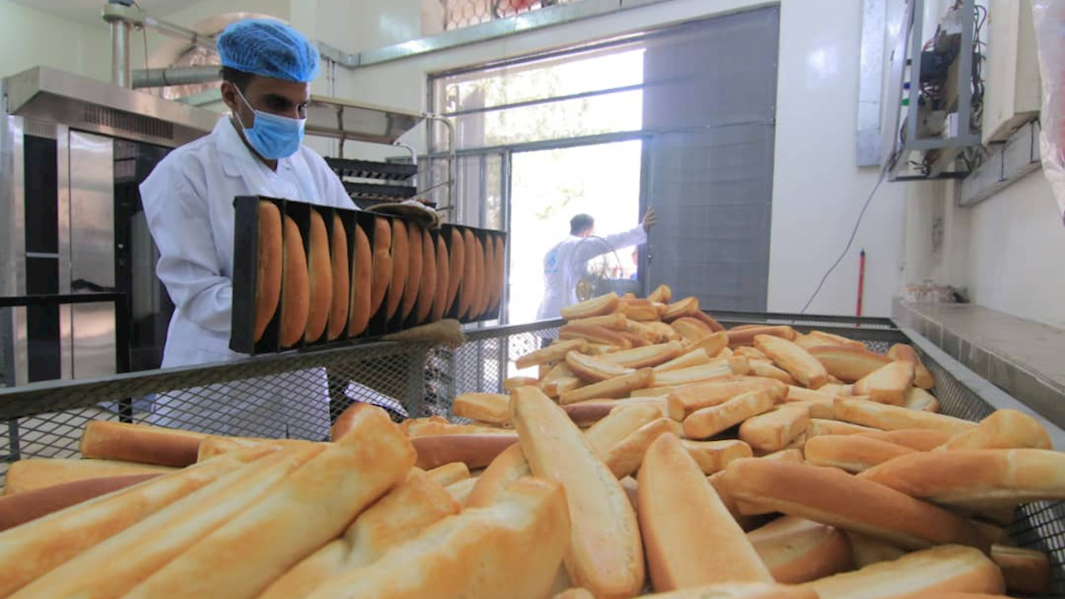 How to sign up:
Create an account by verifying your email and phone number.
Connect your bank account. Pledjar is FCA-regulated, keeping your donations safe and secure.
Choose an optional weekly donation limit.
Use our unique code 'MUH001' to connect to Muslim Hands, allowing your spare change to make a massive difference and help save lives.
Continue spending as usual and make a massive difference!
Do remember to use the code 'MUH001' when you sign up to ensure you're linked to Muslim Hands – even the smallest of change can transform a life.
---
Facebook

Twitter

Email This