14 August 2016
07:00
Day One: 'Polay Polay'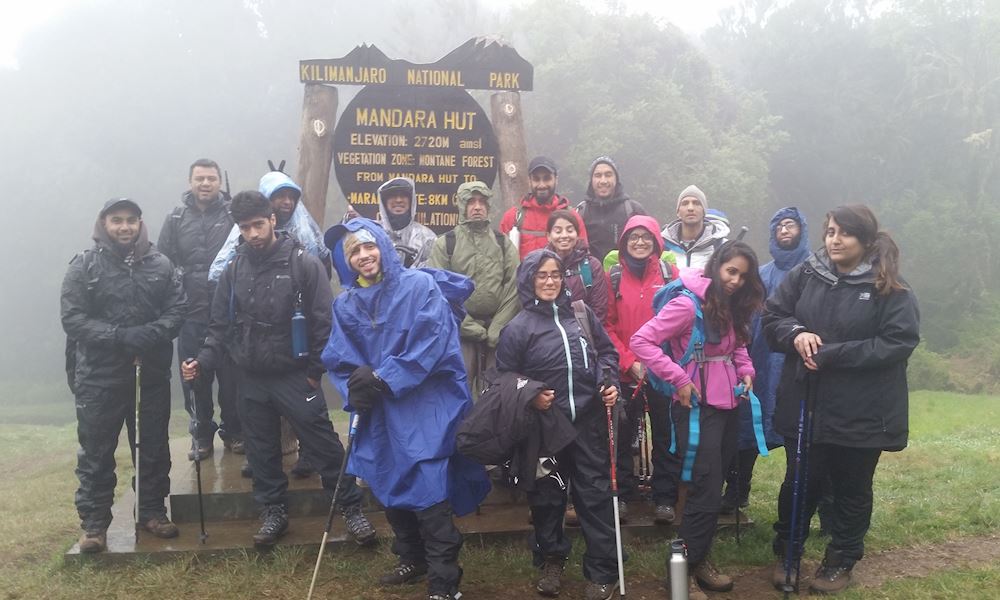 'After months of preparation, it was finally show time. Feelings of excitement, anticipation and a touch of apprehension stirred as we said our goodbyes to worried loved ones and began the one and half hour drive from the Weru Weru river lodge to the Marangu entrance gate, the beginning of our hike.
The steep road sloped majestically into the Kilimanjaro National Park as we were treated with our first views of the forest we would soon be trekking in. Our lead guide, Charles, pointed us to a narrow path which snaked into the depths of the now misty forest. It was magical being completely engulfed by Mother Nature, her mighty green trees towering above us. The steep muddy path was short and served as a warm-up for the challenging week which lay head. We trekked for around 4 hours in very moderate temperatures as the guides kept warning us using the Swahili phrase 'polay polay', which means we should move slowly as to prevent the effects of altitude sickness.
It wasn't long before we reached our first hut for the trip where we were treated with a refreshing bowl of hot water for washing up. And later hot beverages as well as a hearty meal of soup and freshly made fish and rice, prepared by the friendly chef of Mandara campsite. After an amazing day it was time for an early night, the thought of the notorious final midnight trek from Kibo hut playing in the back of everyone's minds'.
15 August 2016
05:30
Day Two: The Moorland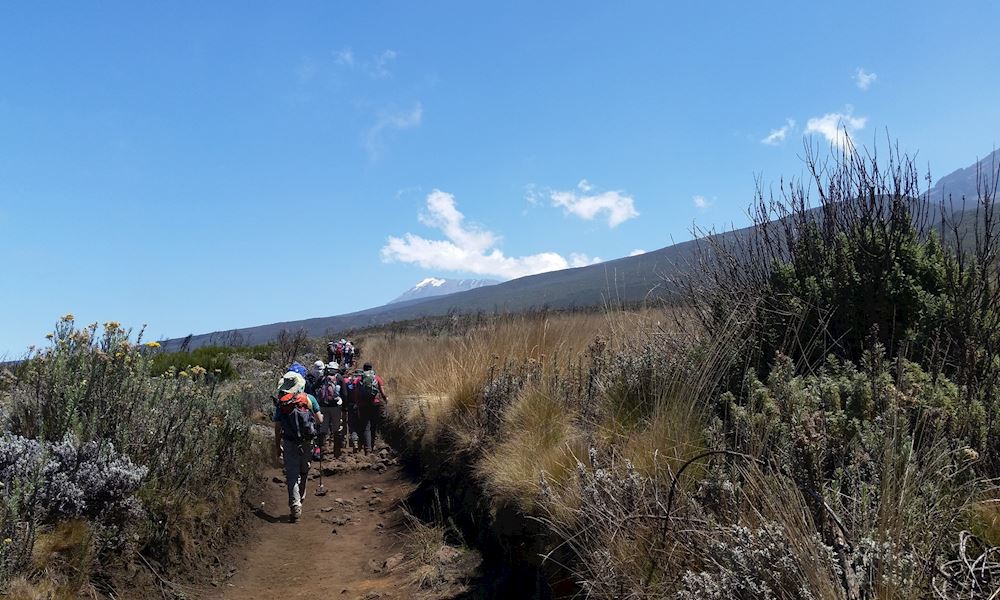 'An early breakfast of watery oats, eggs, and steamy Tanzanian coffee ensured we were warm through the inclement weather and energized for the long day that lay ahead. The trek led us through a different biome, deep into the short shrubs of the moorland. We were greeted by our first view of the foreboding summit peak around one hour into the hike, a bewitching sight. Winding along the dusty single track path we were passed by porters and hikers alike, as the route to the Horombo hut is one of the busiest on the mountain.
After about 5 hours toiling in the sun we enjoyed lunch just past the halfway point at a picturesque picnic spot, where unfortunately the toilets were loathsome. The final hill lifted our spirits because at its crest we discovered the charm of Kilimanjaro - a snow white tablecloth of clouds which engulfs the peaks of the hills below us. We soon approached the Horombo Campsite, perfectly nestled between two mountains proving us with a breathtaking view of an unforgettable sunset. A sense of accomplishment could already be felt as this was the highest altitude most of us had ever been at, and after some light-hearted conversation and stories over a supper of pasta and steak most of us were off for some well deserved sleep, grateful for the rest day which lay ahead'.
16 August 2016
02:00
Day Three: Waking up Freezing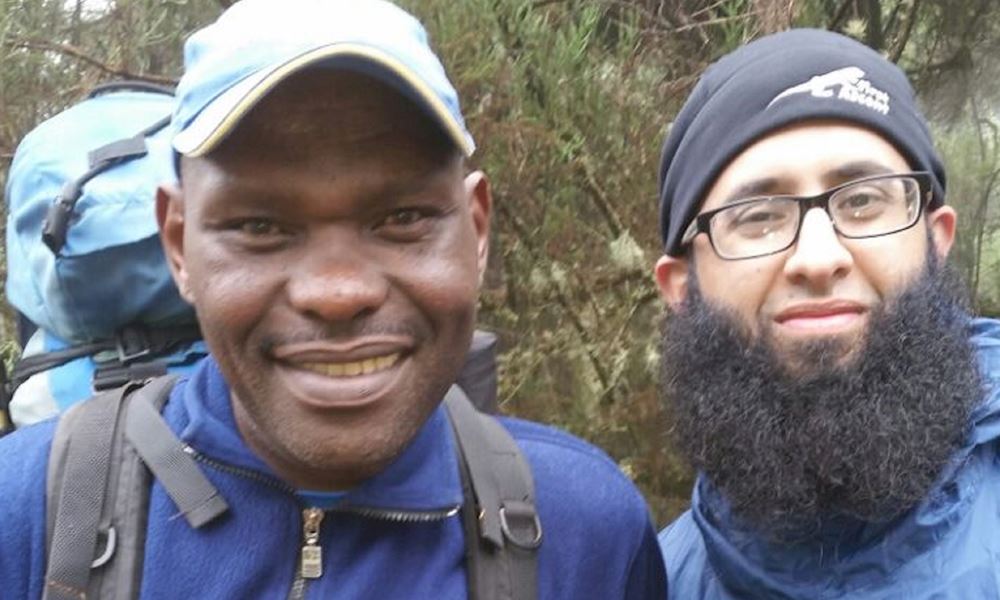 'It was 2am and I was freezing. Waking up shivering uncontrollably is one experience I never want to have to go through again. After sunrise everyone was anxious as we were only around 60% up altitude wise, with only 2 days left to summit, and the one recurring notion that, 'it only gets colder as you get higher', started playing on our minds.
However, spirits were lifted after a warm cup of tea and we were told the short walk to Zebra Rock on our acclimatisation day would be an easy one, climbing a mere 200m before coming back to base for a hot lunch.  We later discovered that going downhill is just as challenging as it is going up. Even though less effort is required, descending works a completely separate set of muscles and has a greater chance of injury due to the increased pace. To our sheer delight the chef treated us to some freshly fried chips and we all ate to our fill. We were then sent back to our cabins and advised to rest as the pinnacle of our trip was closing in'.
17 August 2016
05:00
The Last Leg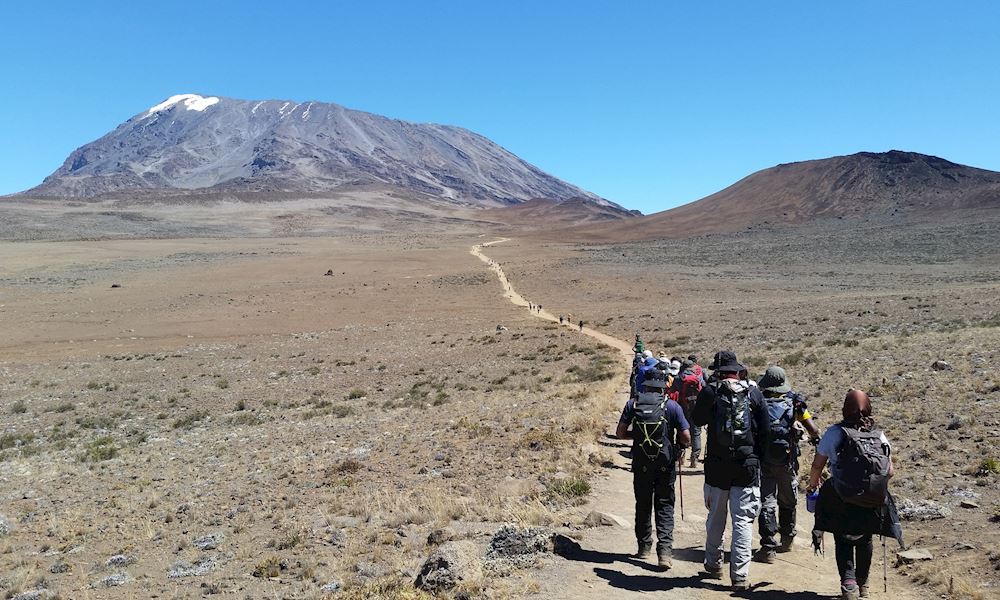 'Emotions were high as the final countdown was finally set into motion. The moment we had all been training, preparing and yearning for, began with the first step away from the Horombo camp. The seven-hour trek to the last and highest camp of our trip, Kibo hut, led us through the desolate Alpine dessert which enchanted us with its own unique beauty.  With Kibo hut in sight we were still urged to keep a slow and steady pace and conserve our energy for the long journey we still had ahead of us. One thing I've learned from this hike is that looks can be very deceiving! Even with the camp within clear sight, an expected 15-minute walk takes over 2 hours due to the pedestrian pace we were urged to adhere to. Eventually we reached our final stopover on our way up, and were greeted with a warm carb-loaded meal of pasta as well as some very unappealing toilets. This wasn't a problem though, as everyone's focus was on one thing, the overbearing peak now looming over us as twilight set in over the barren glacial desert. It was a moment to cherish because the next time we would be nurtured by the sun's radiance would be on top of the roof of Africa, or so we hoped...'
18 August 2016
00:00
D Day is Here!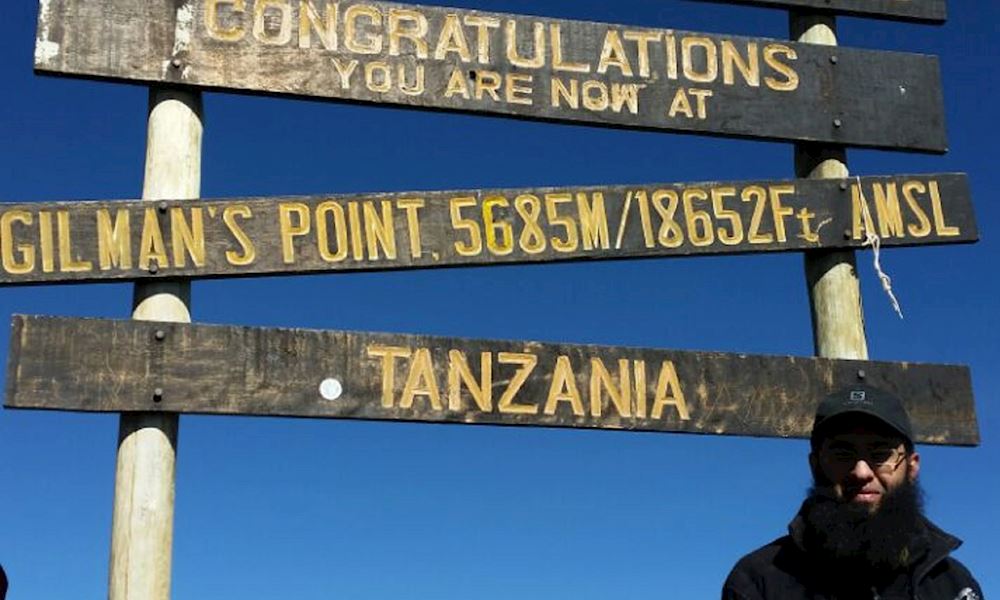 'My eyes snapped open, an eerie silence swept through the huts of Kibo as the full moon's luminescence caused silhouettes outside our window. The midnight hour was near and with it came a day that most of us will remember as the most challenging and gruelling we would ever endure. After a quick hot beverage, we were made to stand in single file and began our first steps towards completing this behemoth task. Exposure to high altitude is a phenomenon which is difficult to describe to a person who hasn't experienced it. Like a python which gradually but persistently constricts the life out of its prey, we succumbed to the lack of oxygen at over 5000m above sea level. Every step became laboured at this elevation. The approach up the mountain is so steep that it's almost impossible to walk straight up and as a result we were directed through a plethora of switchbacks by our team of amazing guides. It's a laborious process which requires doggedness and an unyielding determination.
Now fully exposed to the elements, the extreme altitude and temperatures which had dropped to minus 15 degrees Celsius, we each felt the fatigue and wear of the mountain on our bodies. It was agreed that we would work as a team in the hope that everyone reached the summit safely, but this meant we had to go slowly. There were moments of dismay, but all you had to do for renewed inspiration was look up or down at the trekkers from around the globe, their headlamps making them look like clusters of fireflies, gradually ascending to a common destination. The blistering wind scorched any exposed skin it could find and after a few hours our water and snacks froze solid and with them, the grimaces on our faces too. This is when one needs to be mentally stronger rather than physically fitter and have the ability to overcome the voice which goads you to give into the fatigue. This is what it takes to conquer the mountain and it was also what we were all running out of. The original plan was to reach Gilman's point, the first summit point, by sunrise. However, we still had a few hours to go by the time the first rays of sunlight peaked over the endless sea of shadowy clouds.
After more than six hours of icy pain, the sun was a welcome spectacle. And what a glorious spectacle it was! Like a molten orb forged by ancient gleaming gold, the sun energized and revitalised our forlorn spirits, engulfing us in its warmth and treating us to the most amazing sunrise of our lives. With Gilman's point in sight, it wasn't long before we reached the steepest and possibly most challenging point of our journey, the final ascent. The unforgiving volcanic shale presented a tricky impediment along this stretch towards the achievement of a lifetime. Victory was almost palpable, within our grasp yet still elusive. Driven by thoughts of those wonderful smiles which we witnessed just a few days ago, those of the children of Sub Saharan Africa, the reason we undertook this journey, we were spurred on to complete this terrific task and reach heights not many have attained.
The sense of accomplishment which overtakes you has no parallel, a fresh surge of vigour now coursing through each and every one of our veins at this moment of victory we are all awe stuck by the grandeur which only a few have ever witnessed. But for some still fervent to feed the human compulsion for adventure, this wasn't enough. Uhuru peak still taunted our frazzled bodies from across the immense crater. This final 2 hour drag towards the highest point in Africa separates the boys from the men. Even with the vast vivid views of the entire Kilimanjaro to our left and the prehistoric mesmerizing Glaciers to our right, the final seemingly easy trek around the brim of the crater just doesn't end! This is where one's self-doubt creeps in and one questions the madness behind undertaking such a ludicrous task. After passing Stella point, the halfway mark to Uhuru we were required to dig up every last iota of grit our bodies could muster to climb the final ascent.
Our lives are defined by our actions, moments which become memories the second they pass. There are very few of these moments which truly imprint into the deepest reassesses of our minds and which then indefinitely influence our thoughts and actions. I can undoubtedly say that the feeling of overwhelming accomplishment and satisfaction achieved simply by standing at the highest point of Africa will forever live on as a milestone in my life, and a moment which will never be forgotten!'