22 June 2022
Press Release: Qurbani for 700,000 People Worldwide

Charity to offer Qurbani to over 700,000 beneficiaries around the world, including conflict and disaster zones
UK charity Muslim Hands is distributing Qurbani meat in 23 countries, which will help feed 700,000 of the world's neediest people. Countries supported will include emergency zones such as Yemen, Afghanistan and Somalia, as well as people struggling with food poverty in the UK. The fresh meat will be distributed during the three-day Eid al-Adha festival, celebrated between 9th July to 12th July.
More than 820 million people in the world suffer from food poverty (WHO), which is largely the result of conflict and climate change. A global food crisis, which has been exacerbated by the conflict in the Ukraine, has dealt a devastating blow to communities who were already struggling. Muslim Hands has been providing food relief in countries like Somalia, Syria, Afghanistan and Yemen (who all rely heavily on Ukraine or Russia for staples like wheat) for many years. This Eid, we will be upscaling our response to meet the increased demand.
In Somalia, for example, the latest drought has made six million Somalis food insecure, with malnutrition rates highest amongst women and children. For example, Fadumo, aged 33, has ten children and she is unable to provide for them after being displaced to Mogadishu. 'All my life, I have seen hardship, relocating to avoid drought and political tensions', Fadumo told our team. 'Now I have settled in this IDP camp with my children, trying to survive'. 
As part of the Qurbani programme, Muslim Hands will provide fresh meat to over 79,000 beneficiaries across Somalia, including Mogadishu.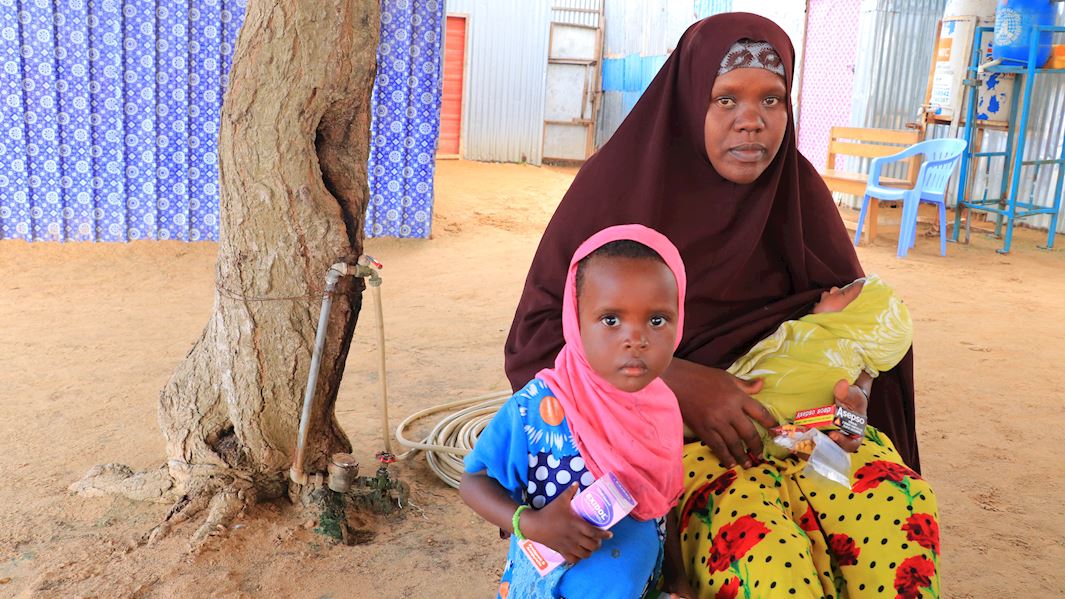 Meanwhile, half of the UK's Muslim population are living below the poverty line, struggling to feed themselves and their families, many reliant on school meals and food banks to make ends meet. Food insecurity quadrupled during the pandemic and the use of food banks has skyrocketed. Muslim Hands will ensure that, as part of its Qurbani appeal, support will also be extended to vulnerable families in the UK. We are partnering with premium organic halal meat distributors, Hill Farm Finest, to provide nutritious meals with meat at our Open Kitchen in Hounslow. (Qurbani meat will also be delivered to the homes of our donors who have selected a UK Qurbani).
Yasrab Shah, Muslim Hand Fundraising Director, said:
'At Muslim Hands, we are grateful for the continued opportunity to provide fresh, high-quality meat through our Qurbani programme for over 25 years. During the annual sacrifice, we see Muslims across the world sharing food with their friends, family and the wider community, including those in great need, and we are humbled to be a part of it'.
Notes to editors
Established in 1993, Muslim Hands is an international aid agency and NGO dedicated to providing emergency relief and tackling the root causes of poverty around the world.
Muslim Hands works in over 30 countries worldwide.
Eid al-Adha, also called the 'Festival of Sacrifice', is the second of two Islamic holidays celebrated worldwide each year (the other being Eid al-Fitr). This year it will be celebrated between 9th July to 13th July 2022.
During this festival, Muslims around the world sacrifice an animal – a goat, sheep, cow or camel – to reflect the Prophet Ibrahim's willingness to sacrifice his son Prophet Ismail for the sake of God.
We rely on voluntary donations to continue our vital work. You can donate now by calling 0115 911 7222 or visiting muslimhands.org.uk
---
Facebook

Twitter

Email This