26 July 2019
Tackling Hunger in Bangladesh this Eid-ul-Adha

In Bangladesh, over 24 million people aren't getting enough food. That's approximately one in every seven people who are undernourished. Sadly, the worst-affected are already society's most vulnerable: the women and children of the poorest families.
Over 36% of Bangladeshi children under the age of five are chronically undernourished. That's almost 5.5 million children who aren't getting the nutrients they need. A third of these children are anaemic, and many of them suffer from stunting (low height) or wasting (low weight).
To tackle this hunger, adult women often sacrifice their food for the sake of children – almost a quarter of all Bangladeshi women are underweight. But anaemia and under-nutrition in pregnant and lactating women means their children are more likely to suffer from under-nutrition, perpetuating the problem.
One of the reasons for the hunger in Bangladesh is that, as a low-lying coastal country, it is extremely vulnerable to the effects of climate change and rising sea levels; since 2016, above-average flooding has destroyed the homes of the poorest families in rural areas and disrupted food production.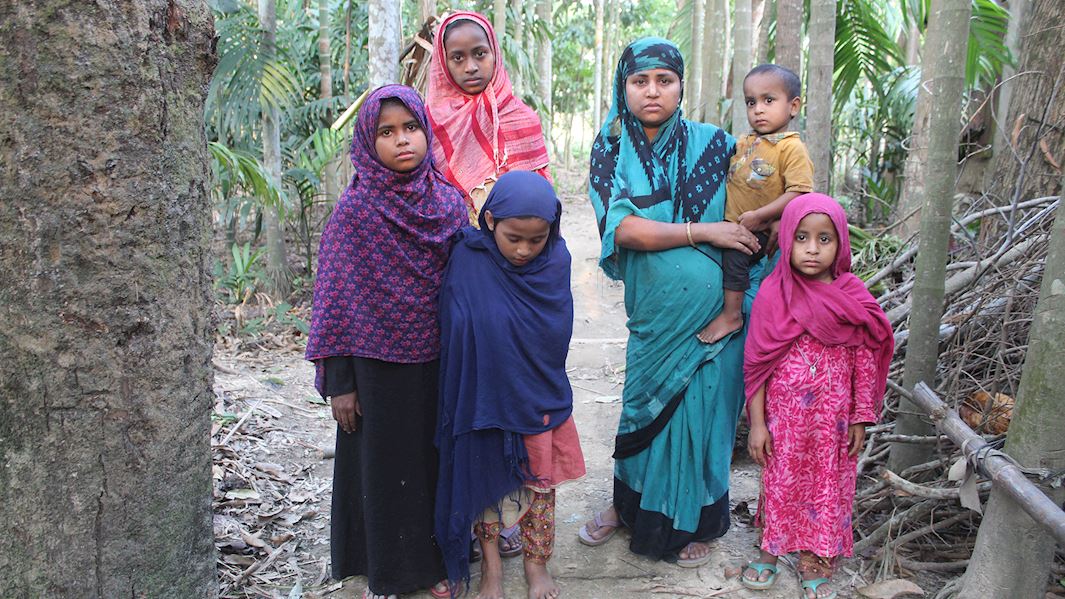 Khadija, a 36-year old widow, and her five children live in the Sylhet district near the Kushiara river. Khadija's house has been damaged by the flooding, but she does not have the money to repair it. All her children are younger than 14, and she works hard as a maid to support them, but she can barely provide them with food:
'I worry that my kids will get sick. I need food to feed them. That is my priority. So I ask people to help us and to give us Zakat. It isn't nice always asking for money, but that's all I can do'.
Rising food prices mean that balanced diets are beyond the reach of millions of poor Bangladeshi families, and hunger is a daily struggle. Many people are unable to afford meat more than once or twice a year, thus depriving them of essential nutrients like protein and iron. This affects their health, productivity and livelihoods and ultimately keeps them trapped in poverty.
Muslim Hands works with needy families throughout the year to improve livelihoods, education, heath and food. As the blessed days of Eid-ul-Adha draw near, why not donate your Qurbani to Bangladesh to help families like Khadija's?
For just £65, you'll not only feed widows, orphans and impoverished families a rare meal with meat on the days of Eid, but you'll also provide livelihoods to local farmers. Right from the very moment you donate until the days of Eid, we employ local farmers to ensure that your Qurbani is not only fresh and healthy, but benefits the whole community.
---
Facebook

Twitter

Email This