10 August 2019
Our Qurbani Programme: A Single Donation has an Amazing Impact

One of the many blessings of our Qurbani programme is that it doesn't just feed families on Eid day; it also creates livelihood opportunities in the local community, benefiting people beyond the days of Eid-ul-Adha.
In Sri Lanka, for example, our Qurbani team starts preparing for Eid a month before Dhul Hijjah begins. We hire workers to take care of the animals and buy 'grazing grass' from local businesses. The animals are purchased from local farmers, giving them a chance to invest in their businesses and expand their livestock, thereby supporting their families and reviving the community. Your Qurbani donations also provide work to butchers and their assistants on the days of Eid, as well as workers to help us transport the meat. 
Thus, at every stage of the Qurbani journey, our team ensures we are contributing to the local economy and supporting the community in the long-run.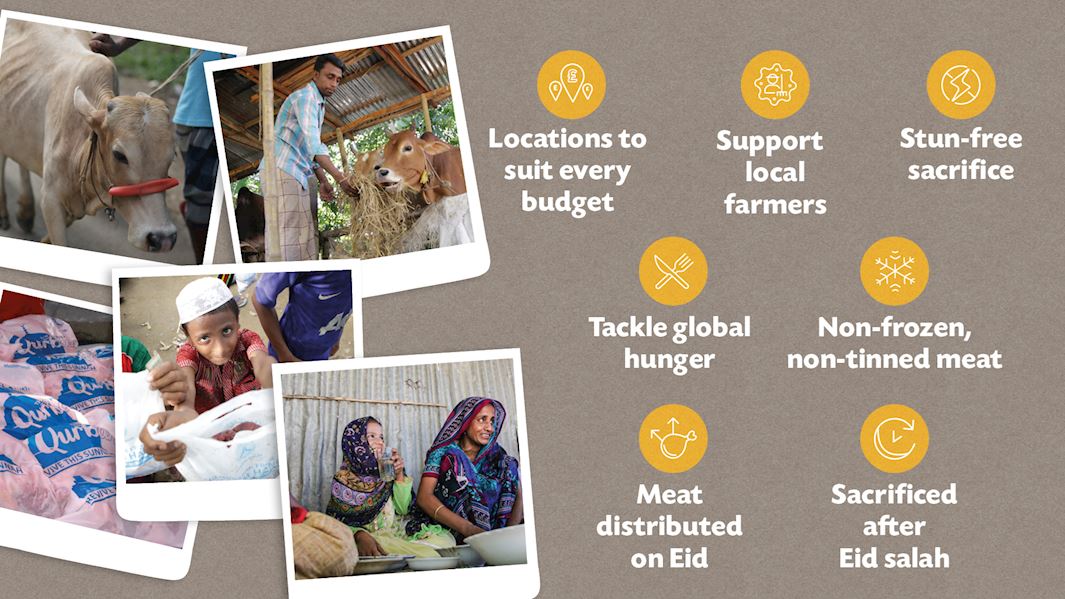 Case study: Fayis, Livestock Farmer
Fayis' family were forced to flee their homes during the Sri Lankan Civil War, leaving behind their land, livestock and all but the clothes on their backs. For years, they lived as refugees in IDP camps, until the Sri Lankan government resettled them in 2009.
Fayis began a livestock business again from scratch, borrowing money from his friends in order to make ends meet. He was determined to be able to provide for his family and worked hard to expand his livestock.
'Before we left, we had many cows and goats; our income was plentiful and we used to drink real milk rather than buying milk powder. All these opportunities vanished because of the war,' Fayis says. 
Alhamdulillah, Fayis was able to establish his business of selling meat and cow's milk and he is gradually repaying his debts to his friends. The Qurbani season is the best time of year for him. With your support, he can sell finally the cattle he has nurtured through droughts and protected from wild animals, bringing his hard work to fruition. 
The money Fayis earns will be used to provide for his children, while the meat he sells will feed poor families on the days of Eid-ul-Adha and beyond. Thanks to your incredible generosity, we are feeding 120 households in Fayis' village this year!
*** Reminder: Have you ordered your Qurbani yet? If not, give your Qurbani now, to ensure you fulfill your obligation on time! If you have already made your order, why not revive a forgotten Sunnah and give an extra sacrifice to double your reward and feed more families? ***
---
Facebook

Twitter

Email This