08 April 2020
Press Release: Muslim Hands Will Provide 4,000 Meals a Day During Coronavirus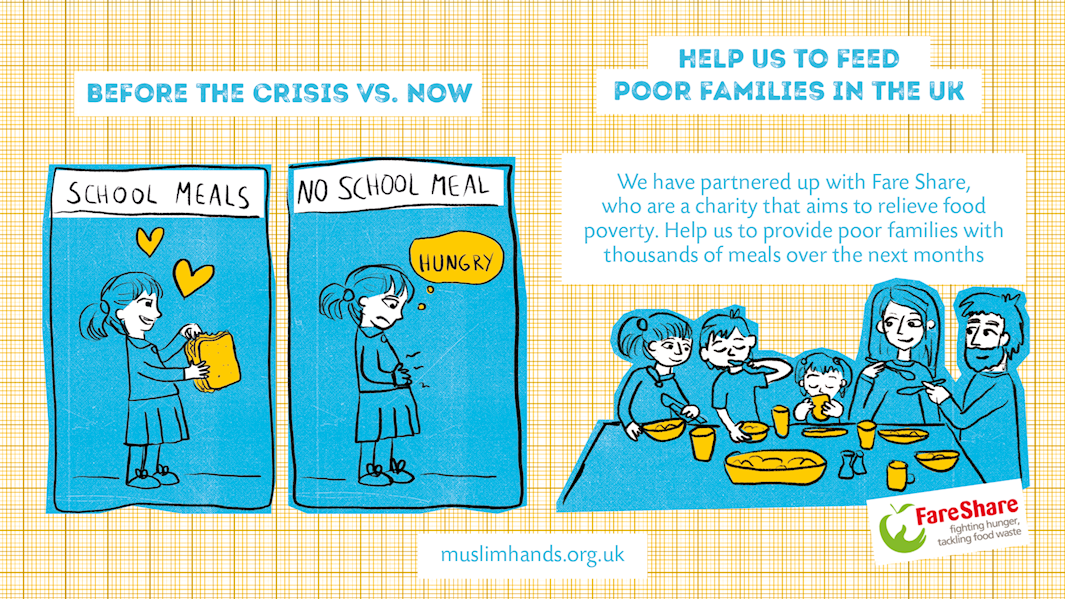 UK charity Muslim Hands and FareShare (the UK's longest running food redistribution charity) have partnered to provide 4,000 meals every day across the UK during the Coronavirus pandemic. The meals will reach those most vulnerable and will consist of nutritional food items to ensure that disadvantaged communities in the north, midlands and south are fed.
Prior to the pandemic, 1 in 5 people in the UK struggled to put food on the table. The implemented governmental lockdown and soaring spread of infection over the last few weeks has resulted in many unable to work, losing their jobs or facing financial difficulty, putting lives at serious risk.
Muslim Hands has donated to support this vital lifeline over an initial two-month period, with the aim to reach out to as many people as possible, including children, shelters, the elderly and community groups. So far across the United Kingdom over 6,000 people have tragically died and nearly 56,000 infected.
To get involved or find out more about Muslim Hands and the work we do visit our website muslimhands.org.uk or call 0115 9117222.
Muslim Hands Chairman, Syed Lakhte Hassanain, said:
'In such unprecedented times where the pandemic has overwhelmed the normal functioning of many lives, the need for organisations such as FareShare have become imperative. Muslim Hands aims to support and propel such work so it reaches those who have been adversely affected and for now aims to provide 240,000 meals over two months. We endeavour to continue such work with FareShare and, even in such tough times, stay united for the needy'.
FareShare CEO Lindsay Boswell, said:
'By working closely with other voluntary sector organisations we can get more vital food supplies out to more frontline charities. This partnership with Muslim Hands will help us to scale up our emergency response so we can get food safely onto the doorsteps of those are at risk of going hungry during this crisis'.
ENDS
Notes to editors
Established in 1993, Muslim Hands is an international aid agency and NGO dedicated to providing emergency relief and tackling the root causes of poverty around the world.
Muslim Hands works in over 30 countries worldwide.
FareShare is the UK's longest running food redistribution charity. Born out of the belief that no good food should go to waste, especially when people are going hungry. This belief is as central to our work now as it was 25 years ago. To find out more visit fareshare.org.uk
14.3 million in the UK live in poverty with more than 4 million people of those in deep poverty according to the Social Metrics Commission.
According to the IHME it is predicted that the UK will become the country worst hit by the pandemic in Europe, accounting for more than 40% of total deaths across the continent.
Anyone requiring specific information or advice on Coronavirus should visit NHS England or NHS Inform {Scotland}.
We rely on voluntary donations to continue our vital work. You can donate now by calling 0115 911 7222 or visiting muslimhands.org.uk
---
Facebook

Twitter

Email This