14 April 2020
Trust Allah. Hold on to Hope. Help Save Lives.

In February 2020, our team at Muslim Hands began preparing for Ramadan. We came together to discuss what our Ramadan appeals would be, what kind of inspirational content we would create across our platforms, and what our main campaign message would be.
As always, we sought to inform and inspire you to the best of our abilities, while helping you maximise the benefits of your Sadaqah and Zakat during this blessed month.
We settled on a familiar campaign: Give More, Gain More. This divine promise still held so much inspiration for us and we wanted to carry on sharing this message with you. We wanted to carry on creating content based around how you could give MORE this Ramadan: more prayer, more du'a, more time with Allah and more charity. It is, after all, the Sunnah of our Prophet Muhammad (as) to give more in Ramadan: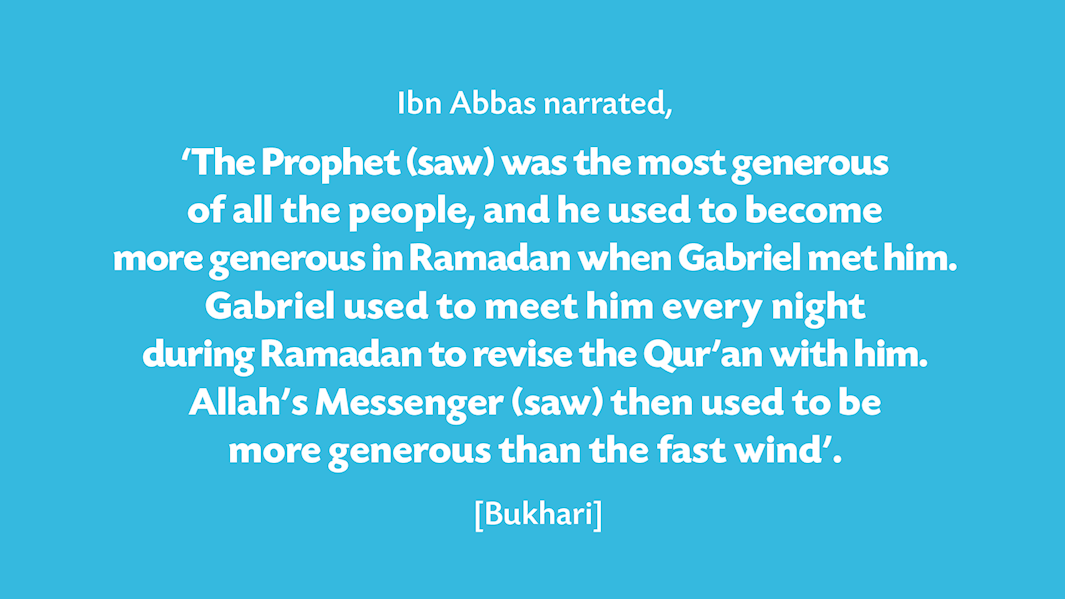 But, no matter how completely we human beings plan our lives, we are ultimately dependent on Allah's Plan.
In March, the Coronavirus pandemic swept the world and whole countries went into isolation. We started seeing shocking videos of people hoarding essential items, reports of racism towards those of Chinese or East Asian origin, and videos of people congregating in public areas and defying the advice of the World Health Organisation and their own governments.
We also heard stories of incredible compassion and bravery. We heard about people checking up on their elderly neighbours and offering to do their shopping, giving up their own time and health for the sake of the vulnerable. We saw our NHS workers tirelessly serving us on the frontline, including doctors and nurses who had gone into retirement. We witnessed thousands of Britons volunteer to provide these NHS heroes with food while they put their lives on the line.
These stories humbled us and filled us with gratitude.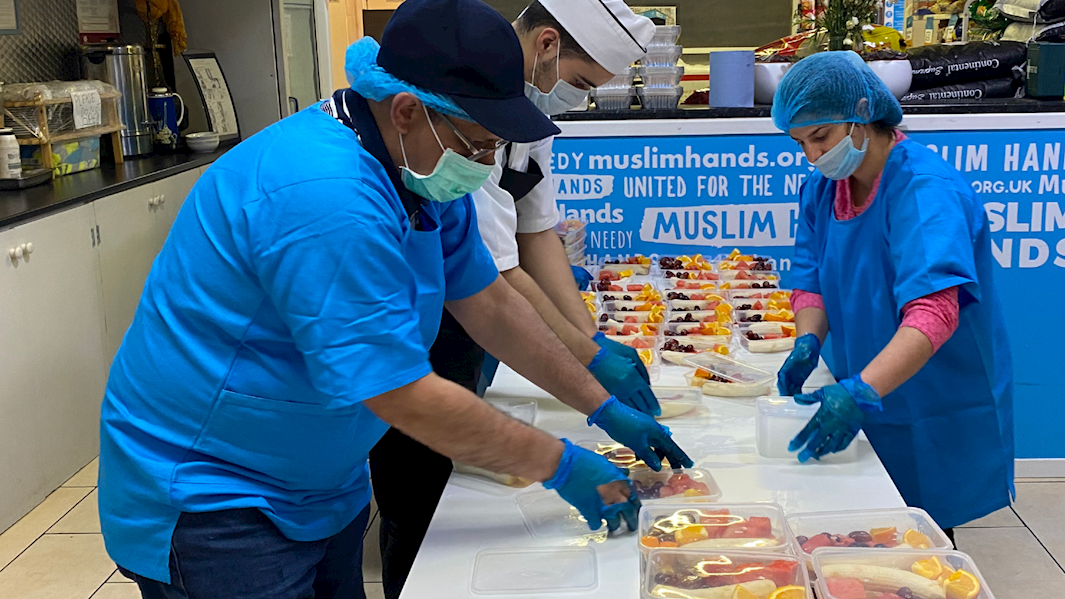 During times of crisis, there are people who react with short-sightedness and selfishness; they withdraw into themselves and forget that nothing has changed.
We are as fragile as we have always been; we are still dependent on Allah's Plan. Our lives have always been completely in His Hands.
We are reliant on each other in both hardship and ease; community spirit and human connection are still key to our survival.
We are still accountable for our actions and for the choices we make during this calamity.
This unprecedented crisis is a test unlike any other we've experienced - but it is a test. It has not changed our status as Allah's servants; it is has only made us more conscious of our fragility, our mortality and the things we take for granted.
During times of crisis, there are people who react with tawakkul (trust in Allah), compassion and wisdom. They know that they gain nothing by taking care of only themselves. No man is an island; we are all interconnected and a chain is only as strong as its weakest link.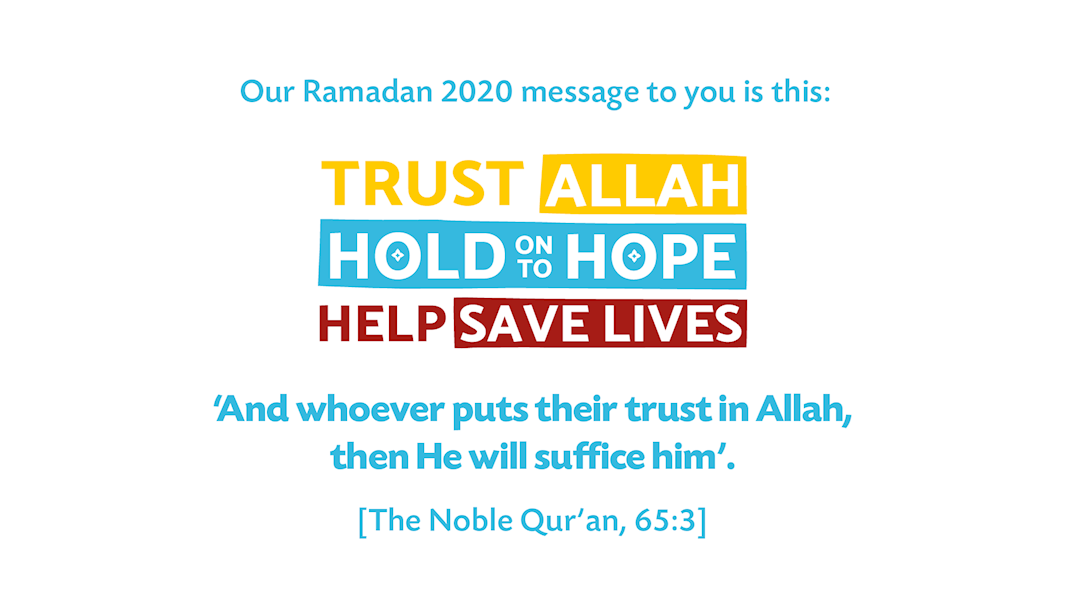 This is the divine promise we want to focus on this Ramadan. Allah is enough for you, so trust Allah.
There are so many Qur'anic verses and hadiths which tell us to rely on Allah and to have hope in His support, and we'll be sharing these with you throughout Ramadan. By focusing on this divine promise, we hope to become people of true tawakkul, compassion and wisdom.
The spread of the Coronavirus in the last few weeks has exhausted, saddened and isolated many of us. This Ramadan, we are calling on you to let go of your fear and worry. Now is not the time to withdraw into ourselves or feel despair and confusion. Now is the time to trust in Allah and hold onto hope.
This Ramadan will be unlike any other that we've experienced. The Prophet (saw) said, 'Ramadan is the month of my Ummah' [Suyuti] – and yet, right now, we are isolated from the Ummah. We are praying, making du'a and breaking our fasts in our homes.
But even though we are physically isolated, we can still connect with others through our charity. We can still show our support for the worldwide Ummah and our neighbours right here in the UK. Through our Sadaqah and Zakat we can give hope to our already suffering brothers and sisters, transforming communities and saving lives.
SubhanAllah, he (saw) didn't advise us to hesitate and withdraw during times of crisis. Instead, he (saw) taught us that giving charity is a protection from the trials and tribulations of this world. Now is the time to be even more generous, so that we can protect ourselves from calamity and be a source of strength to our brothers and sisters.
The charity you give is not just a way to express your trust in Allah. It will also save lives across the world.
Whether you give food to the starving people of Yemen, survival items to families in Syria, or medical care to Rohingya refugees - always remember that you are helping to save lives. A single donation can carry the reward of saving the whole of humanity.
'Whoever saves one [life] - it is as if he had saved humanity'. [The Noble Qur'an, 5:32]
Let's give this Ramadan our best efforts and hold on to hope. We pray the charity we give will save lives, protect us from calamity and ensure we reap the benefits of this blessed month. May Allah protect you and your loved ones and put barakah in whatever you spend for His sake, ameen.
---
Facebook

Twitter

Email This