28 October 2022
Nigeria: Worst Flooding in Over a Decade

What has happened so far?
Nigeria is facing its worst flooding in over a decade. Over 1.3 million people have been displaced, 600 people killed and more than a million acres of farmland and crops have been destroyed. Though Nigeria is prone to flooding, this year has seen an increase in rainfall in both the north and south of the country. The rainy season which would usually end in September or October is expected to continue until the end of November. 
What are the causes of the flooding this year?
Nigeria receives heavy seasonal rains annually, but this year, rain has been pouring relentlessly since June resulting in devastating floods, which is forecasted to continue well into November. Climate change is largely responsible but other factors have also contributed to the catastrophic floods that have gripped the country.
Other causes of the flooding in Nigeria include:
Poor drainage systems to evacuate storm water
Poor urban management means resulting in new neighbourhoods being created without proper planning
Improper waste management which often see residents dumping their waste in gutters, which clogs the flow of water causing them to overflow. Often when areas are flooded, water is contaminated with litter, creating unsanitary conditions which impact the environment and the people who live there.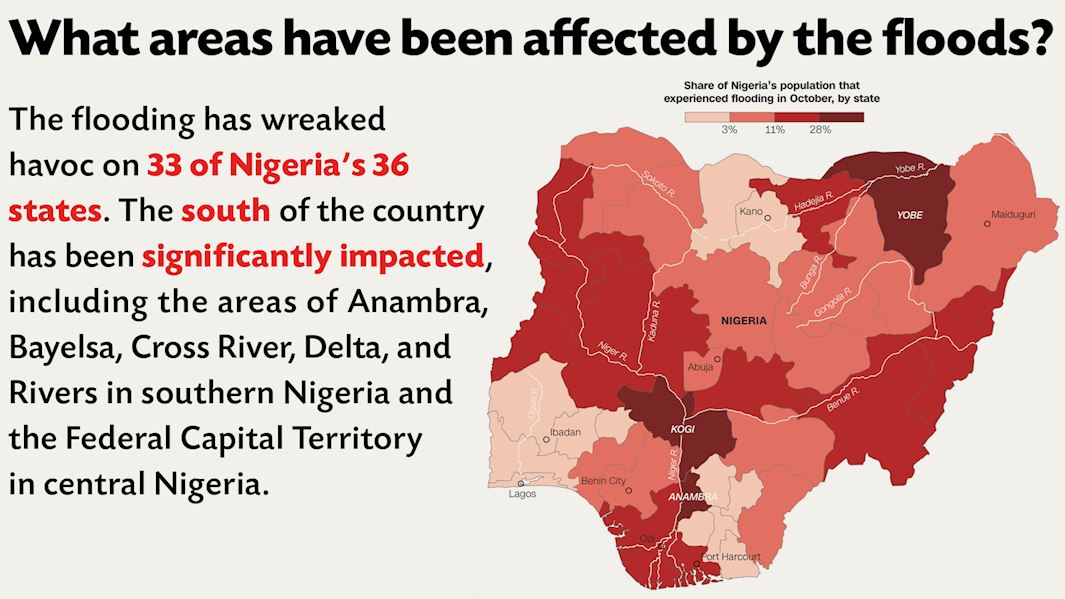 What areas have been affected by the floods?
The flooding has wreaked havoc in 33 of Nigeria's 36 states. The south of the country has been significantly impacted, including the areas of Anambra, Bayelsa, Cross River, Delta, and Rivers in southern Nigeria and the Federal Capital Territory in central Nigeria.
In comparison to the 2012 floods which impacted 30 out of Nigeria's 36 states, displacing 2 million people and killing over 350.

How have the floods in Nigeria affected the local population?
Since the flooding began in the summer, copious amounts of farmland have been destroyed, impacting livelihoods for those living in a country where 19 million are already suffering from food insecurity. The food crisis has been exacerbated by the Ukraine war, with food, fuel and fertiliser prices continuing to skyrocket.
The United Nations estimated the country was among six nations facing a high risk of catastrophic levels of hunger. Nigeria ranks 103rd out of the 121 countries in the 2022 Global Hunger Index, which measures the impact of malnourishment across the world.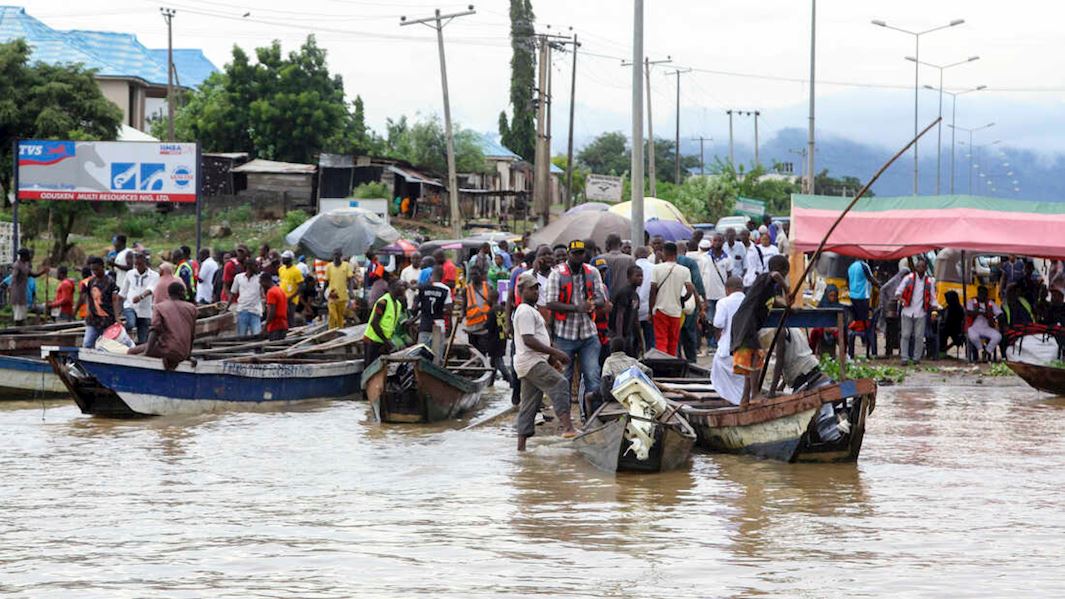 Waterborne diseases such as cholera are now also a real concern. To survive, many have no choice but to depend on the floodwater for sustenance. For those displaced and have settled in makeshift shelters by the water, the stagnant flood waters are the only available alternatives to cooking, drinking and bathing.
Humanitarian agencies fear the floods will contribute to a health disaster and Nigeria has already seen a rise in cholera infections as floods ravage many parts of the country. According to UNICEF, "more than 2.5 million people in Nigeria are in need of humanitarian assistance – 60 per cent of which are children – and are at increased risk of waterborne diseases, drowning and malnutrition due to the most severe flooding in the past decade."
A rise in cholera infections could be devastating for the country as the World Health Organization warns of a "strained global supply of cholera vaccines."
The immediate effect of this disaster is devastating, with millions of people in need of life-saving humanitarian services, such as shelter, water, sanitation, emergency healthcare and food. The risks of diseases such as cholera, respiratory diseases, malnutrition are imminent.

How are Muslim Hands supporting those affected by the flooding?
The floods have washed away entire villages and settlements, especially in rural and suburban areas, where houses mostly made of mud, bamboo and other materials were unable to withstand the floods. As people were forced to leave their homes, they also left behind most of their personal belongings and their livelihoods. As a result, they have lost access to basic hygiene items, food supplies and the income they need to replace them.
Our UK and international teams will be in the country delivering emergency aid, including food parcels this week in response to the already very fragile food security situation in Nigeria. Please donate now to provide life-saving relief.

---
Facebook

Twitter

Email This