13 March 2023
Press Release: Syria to Enter its 12-Year Civil War Anniversary Amid Recent Earthquake Devastation

Syria will mark its 12th year of civil war on Wednesday 15th March amid the recent earthquake that devastated northwest Syria in the early hours of February 6th, 2023. Nearly 6,000 people were killed and over 10,000 injured. Those who lost their homes have once again been displaced after years of war and trauma, which has already impacted 13 million people.  
Our staff on the ground have seen shocking scenes of destruction and heard unimaginable stories of loss. Dr Basel Alkhder, Emergency Lead, says:  
The scale of destruction is huge in terms of the infrastructure and has set the country back again massively. Being of Syrian heritage, it is sad to see a place I know so well and love so much reduced to ruins. Having visited the camps in the affected region, I spoke with many families. One man told me about a boundary wall that collapsed over their tents killing his daughter-in-law and leaving her one month old baby without a mother. 
Others shared how they used their bare hands to search for loved ones amongst the rubble. Psychologically this is a nightmare. Not only have these families faced the daily bombardment of shelling but now the aftermath of an earthquake – it is difficult to restart again mentally. But the Syrian people have not given up hope and are still optimistic, they said after dark times light will come.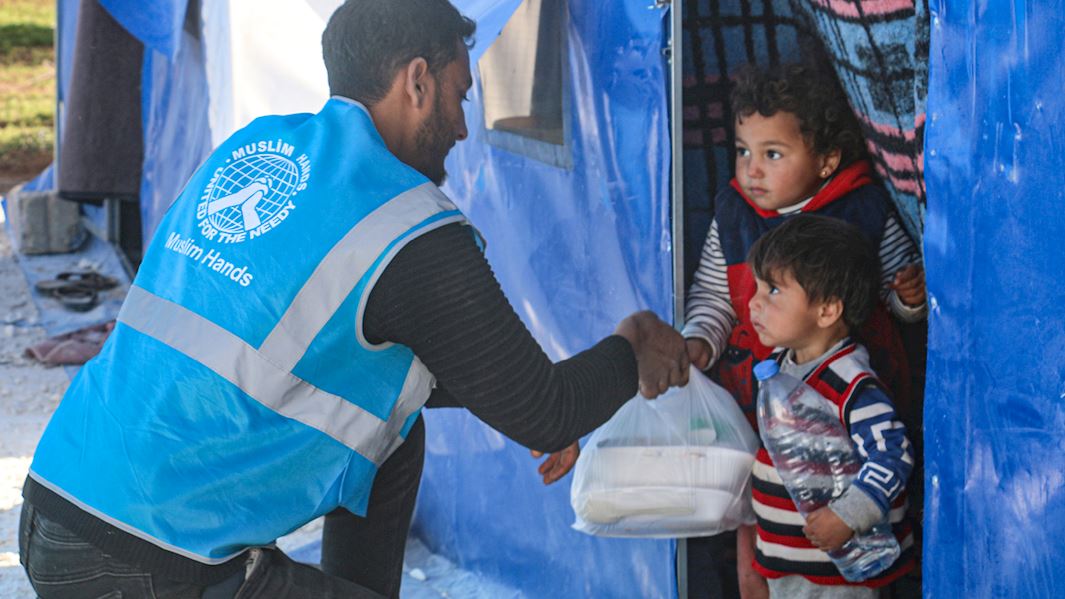 Muslim Hands has raised over £1 million for its Syria and Türkiye global earthquake appeal and has been working in Syria for over a decade supporting internally displaced Syrians. This has been through bread factories in and around Afrin which has increased its capacity to cater to the earthquake victims providing 70,000 loaves of bread daily feeding 35,000 people. Over 1,000 permanent homes have been built in partnership with Turkish institutions AFAD, Turkish Red Crescent, Diyanet Foundation and Hayrat rehoming 7,000 Syrians as part of a larger project with other aid organisations to build 50,000 homes. Muslim Hands is also rehabilitating and digging new water boreholes for host and internally displaced Syrians. In addition, the charity carries out yearly distributions during pivotal times of the year including Ramadan food parcels, Qurbani meat and winter aid, covering locations between the Türkiye-Syrian borders.  
Yasrab Shah, Fundraiser Director, says: 
Having just visited Syria and witnessing the horrific impact both the war and earthquake have had on the Syrian people it is vital that we continue to give. I have seen first-hand how our projects, in particular our bread factories in Syria are providing a lifeline to those who otherwise would go hungry. It is because of the generosity of our supporters that we have been able to continue with this massive operation that costs £1.4 million to run annually in northern Syria and across Yemen. To keep these crucial projects running we have set up The Blessed 12,000 campaign encouraging donors to set up monthly direct debits, which we hope they will support.
ENDS
Senior Press Officer – Sahirah Javaid – sahirah.javaid@muslimhands.org.uk or 07736344899
---
Facebook

Twitter

Email This