05 September 2023
Survivors of the Türkiye and Syria earthquake: Where are they now?

'We are witnessing the worst natural disaster in the WHO European region for a century, and we are still learning about its magnitude' - WHO regional director for Europe 
Seven months ago, a devastating 7.8 magnitude earthquake struck the Türkiye-Syria border in the early hours of the morning, affecting numerous regions in both southern Türkiye and northern Syria. This is the biggest disaster to impact the area in recent years, claiming the lives of over 55,000 people and injuring many more. Currently, more than 23 million people have been impacted.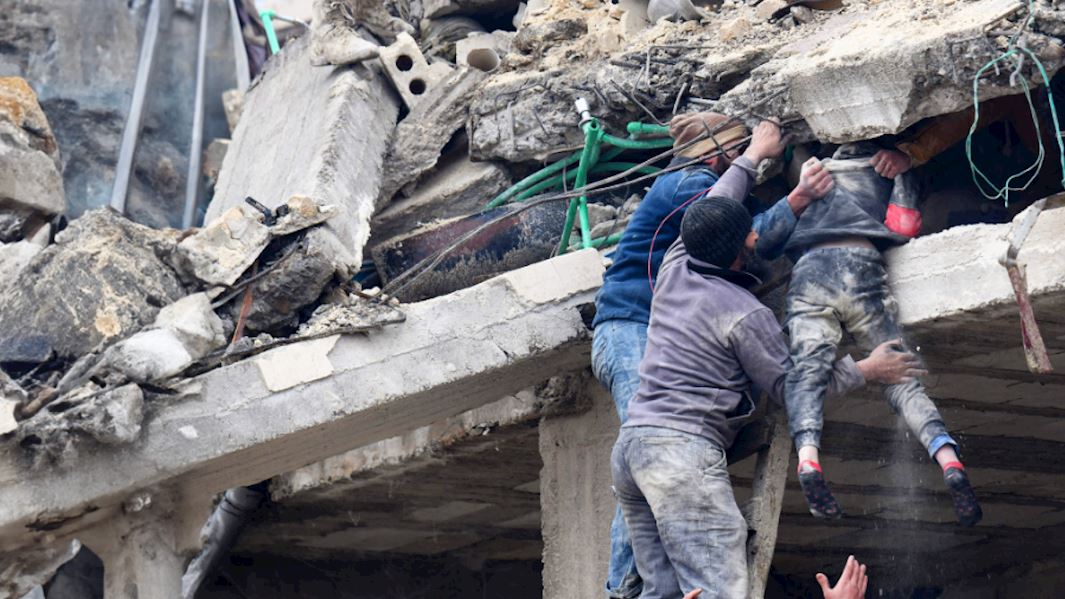 In the immediate aftermath, rescue teams from across the country and the world deployed to save those trapped beneath the rubble. However, with thousands of buildings and homes completely destroyed by the earthquake, those that had survived were now homeless and at risk of freezing to death from the harsh winter conditions.  
In this article, you will discover the answers to many of the questions that you may have, including: 
When was the last earthquake in Türkiye and Syria?

 

What caused the earthquakes in Türkiye and Syria?

 

How long did the Türkiye and Syria earthquakes last?

 
Earthquakes in

Türkiye

and Syria: A History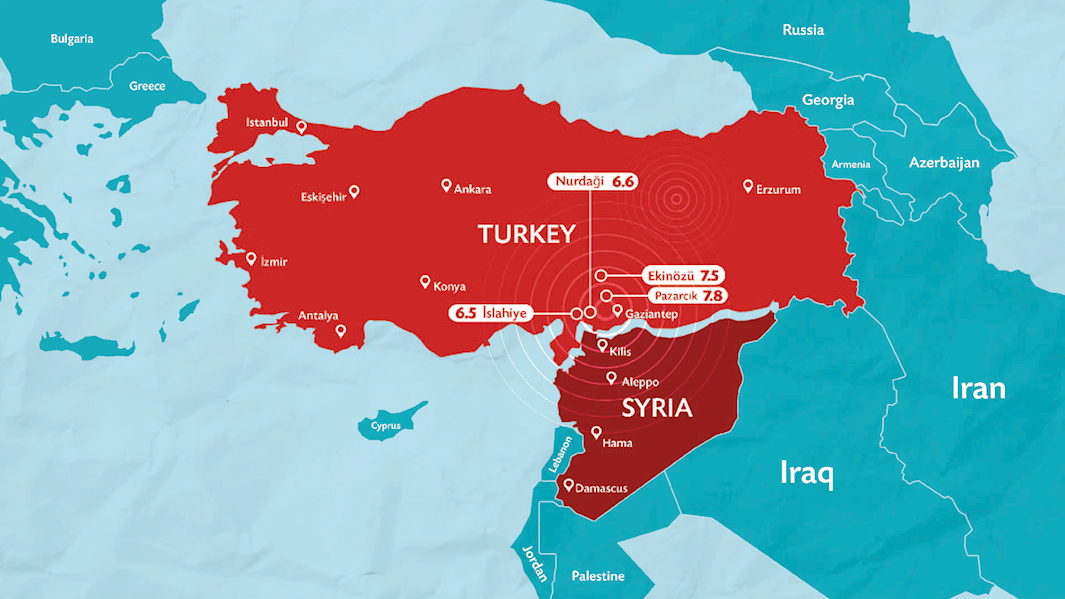 Türkiye is prone to earthquakes due to its proximity to a seismically active region known as the 'Alpide Belt', which is part of the larger Mediterranean seismic region. As a result, the country experiences frequent earthquakes. One of the most devastating earthquakes in recent Turkish history was the 1999 İzmit earthquake, which struck the northwestern regions of Türkiye. It resulted in significant loss of life and widespread destruction. 
Syria is also located in a seismically active area, and earthquakes have occurred throughout its history. One notable earthquake occurred in 2008 near the city of Latakia, causing damage to buildings and infrastructure.  
But why was this earthquake so catastrophic? Simply put, Türkiye lies on a major strike-slip fault called the East Anatolian Fault, which is a transform boundary where the Eurasian Plate and the Anatolian Plate are sliding past each other horizontally. The stress buildup and release along this fault system has resulted in several significant earthquakes in the past. 
However, other factors such as the number and severity of aftershocks led to the level of devastation that occurred in February 2023, including a 6.7-magnitude aftershock which occurred 11 minutes after the initial earthquake. Also, the quality of the construction of a number of residential and commercial buildings which were heavily damaged has also been called into question. 
How did Muslim Hands Respond to the E

arthquake

?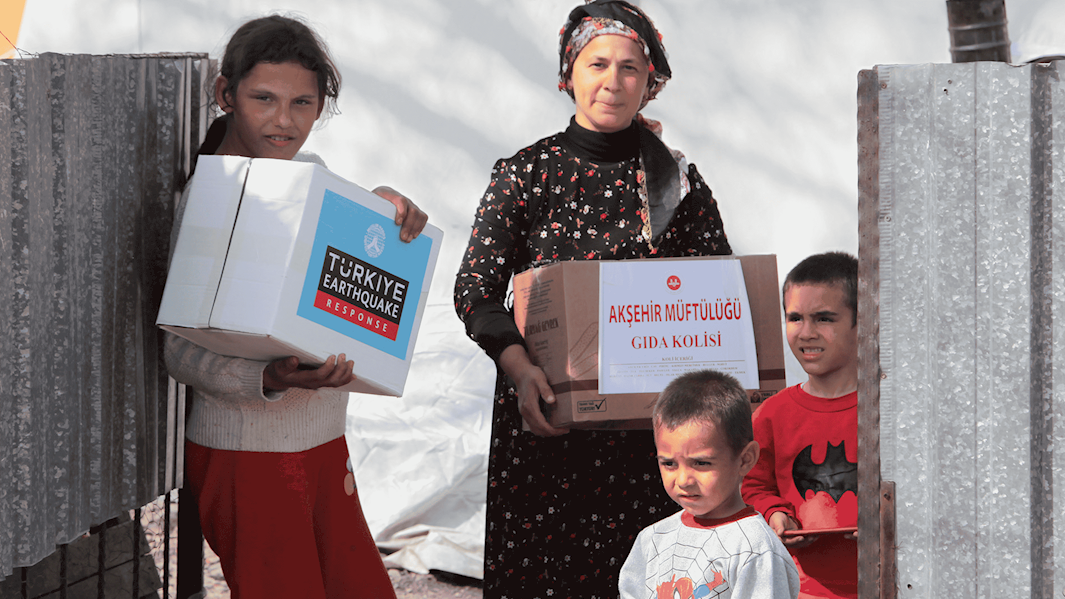 In the early stages of the disaster, our priority was to ensure that those that had been impacted by the earthquake received the emergency support they needed. Thanks to our incredible donors, we were able to provide over one million hot meals, and over 2,000 sleeping bags, blankets and hygiene kits. In northern Syria, we supplied winter resistant tents to families who had fled conflict and now been displaced once again. We also increased the capacity of our bread factories to serve double the amount of bread daily to reach as many people as possible. 
 
When the debris had settled and the rescue missions were called off, we started construction on family container homes in Hatay, one of the worst hit provinces of Türkiye. We worked with local authorities to build 20-foot family container homes for survivors as part of a larger container city of 1,500 containers. Each container home includes a toilet, kitchen and two rooms to provide a safe and secure space for families. 
Survivors of the Earthquake: Abdul's Journey
There are thousands of survivors in both Türkiye and Syria that have their own stories of loss, survival, and moving on in an era of unimaginable heart break. Our team on the ground had the opportunity to speak with some of the benificiaries of our family container homes. One such poignant account comes from Abdul Gani. 
Abdul is a 47-year-old businessman from Antakya, Hatay, who in the video below narrates the heart-wrenching tale of how his life took a tragic turn on 6 February. Before the disaster, he and his two brothers had a successful furniture business in the centre of town. The earthquakes, however, brought unfathomable devastation, not only destroying his home and business, but also claiming the lives of his family. 
Though a devastating story, Abdul's message is one of gratitude. He expresses his appreciation for the support provided by Muslim Hands donors. He acknowledges that this support has made a significant impact on his life, offering him a space to rebuild and heal. 
Finding Strength and Community:

Munevver

'

s Story of Su

rvival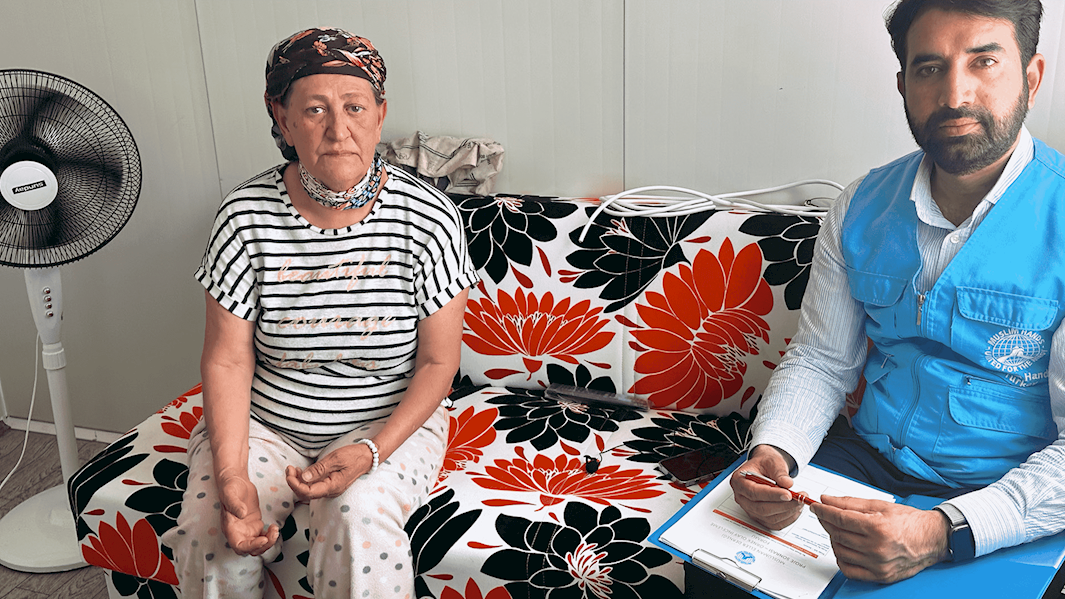 The next story is from 59-year-old Munevver, also from Antakya. Munevver loved her life. After single-handedly raising her children, she lived in an apartment complex by herself. However, she was not lonely as she describes her neighbours as her chosen family and the job she had at a local café.   
At the time the earthquake hit, she was fortunate enough to have been visiting her daughter in Cyprus. However, her entire apartment was destroyed, as were the lives of her friends and neighbours. Munevver was left homeless with no job, dealing with an unimaginable loss. She currently lives alone in one of the container homes you have provided through Muslim Hands.
Although Munevver is heartbroken, she is trying to move forward with her life and is grateful for the friendships she has formed with the other people and families that have come to live in the container home city. She is beyond grateful for this gift Muslim Hands and their donors have given to her. 
How to Help Survivors of the

Türkiye

and Syria Earthquake?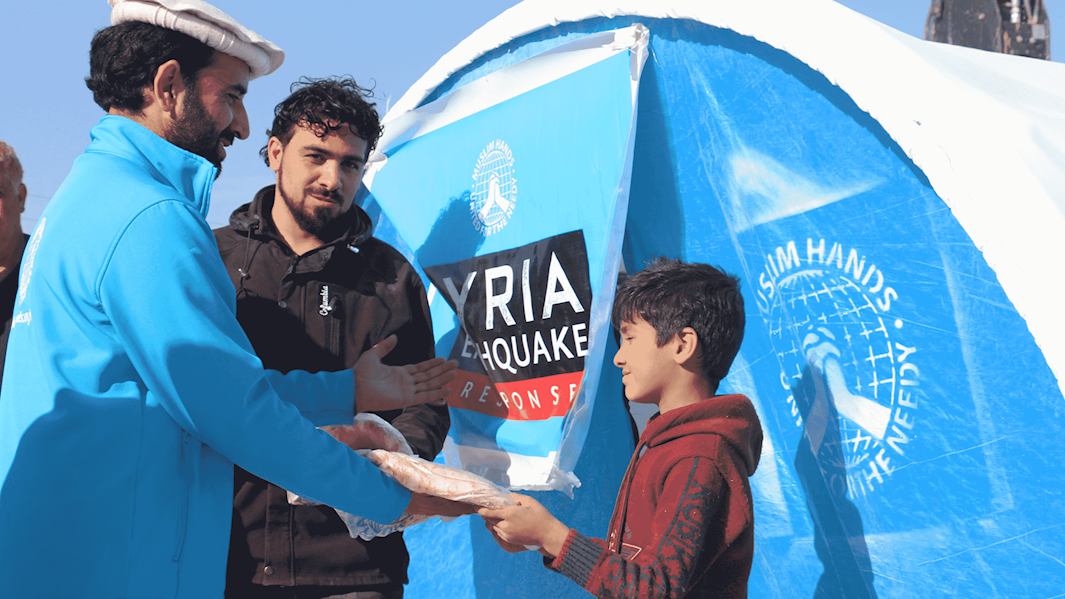 You have supported our brothers and sisters in Türkiye and Syria during one of the worst times of their lives. Without your support in the immediate aftermath, many more lives may have been lost. However, those that have been impacted by this disaster are still suffering as they struggle to return to some semblance of normalcy and move on with their lives. 
The stories of Abdul and Munevver provide just a glimpse into the real suffering of survivors seven months on from the earthquakes, and although they are living in safety in the family container homes, these houses are only temporary as the government rebuilds the community and homes they have lost. 
We still need your help to rebuild their lives. You can give to the Turkiye and Syria emergency fund today and give them the warm food, medicine and shelter they desperately need. 
---
Facebook

Twitter

Email This