14 September 2015
Europe Refugee Crisis: Greece
Our teams have been supporting refugees in Athens and are now in Idomeni where an estimated 15,000 people are stranded in makeshift camps.
28/04/2016 - MH in Idomeni
- Our teams are now in Idomeni assessing how we can best support the 15,000 refugees stranded on the island.
15/09/2015 - Dhul Hijjah
- We have purchased the food and supplies for tomorrow morning's food pack distributions. Ferry arriving at 6.30am. 
- 300 meals have now been prepared for the refugees camped in Victoria Square. 
- "Bismillah, Alhamdulillah, in the blessed days of Dhul Hijjah we have successfully completed our food pack distribution after Fajr today at Piraeus Port, Athens. We were very worried this morning at the port as the ferry from the island of Lesbos was due to arrive at 6.30am but ended up arriving at around 7.15am as it was delayed by a huge Norwegian ferry liner, which was given priority over it.
We slightly adjusted the food packs today to include more fruit and spreadable cheese and lowered the amount of water as the refugees were already having to carry so many items in their hands. We actively attempted to walk into the crowds today seeking out families and directing others in Arabic to our distribution vehicle. The refugees were so grateful that we had come to their assistance in their moment of great need.
It was incredibly difficult to hold back our emotions today as family men ourselves. So many young children and babies have been caught up in this huge migration of refugees. One wonders what lives they have lived so far? Do they know where their family homes are? Did they ever go to a school? What is a normal life for them? So many questions but at the end only prayers to our Merciful Lord for their safety and security at this blessed time.
We witnessed what appeared to be a never ending chain of refugees flooding into the port today and they really didn't know which way to head in order to get to the Macedonian border. We tried our best to assist them with our local volunteers directing the way. We pray that our brothers and sisters safely make it to their intended place of refuge and they remain firmly in our thoughts and du'as.
We are planning to prepare our next distribution of food packs and attempt to also distribute cooked food to the encamped refugees in downtown Athens later this evening insha'Allah.
Baraka-Allahu feekum,
Was-Salamu 'alaikum, Yasrab, Adeel & Bilal."
 - Video report of food packing in preparation for the arriving refugees. 
14/09/2015 - Refugees arriving on ferrys
- Click here to see the latest video report of the refugees arriving.
- Alhamdulilah with all your du'as we successfully distributed over 300 food packs this morning to desperate refugees that had just arrived by ferry from the Greek Island of Lesbos under tight security. 
- As we distributed this morning after Fajr prayers, we said 'bismillah and salaam' each time we handed out a food pack. In Arabic we told them, 'We are your brothers from Britain and we welcome you to Europe'.
- We are aiming to purchase enough stock to pack 500 more food pack insha'Allah. This will be distributed on two separate ferry arrivals. The next ferry is due at 1am and we aim to distribute 250 food packs.



13/09/2015 - Victoria Square
- We prepared 300 food packs ready to distribute tomorrow morning when an emergency ferry arrives from the Greek Island of Lesbos.
- Each food pack consists of: 1 dates pack, chocolate croissant, 1.5 litre of mineral water bottle, soft cheese, biscuit packet, banana, apple, and Lebanese bread pack – 6 breads per pack.
- Just finished loading the vehicles, please make du'a our distribution early tomorrow morning is successful insha'Allah.
- We also bought nappies and women's sanitary towels to distribute.
- Visited Victoria Square, a stopping point for refugees before they move on inland.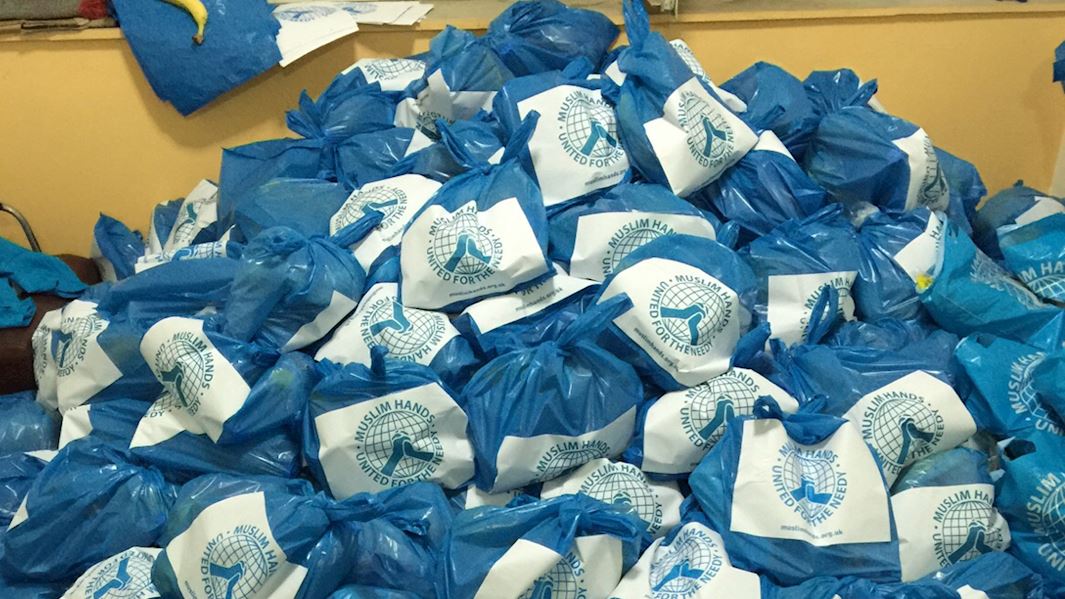 12/09/2015 - Next steps
- Our team continued to prepare their next steps.
11/09/2015 - Pakistani Ambassador
- Arrived in Athens. We went on to meet the Deputy Pakistani Ambassador – Mr. Shafqut Ullah. Here we discussed how Muslim Hands would be able to help with the influx of refugees in to the country.
- We went to Juma'ah atfer the meeting. The Imam gave a reminder about the Sahaba who went to Abyssinia when they made Hijra and he also reminded the refugees to be thankful for the help that the Greek people are providing.
---
Facebook

Twitter

Email This