24 December 2018
Supporting London's Forgotten Faces

Have you ever considered just how fast life can change?
This morning you might wake up at home, in the day you might lose your job, in an evening you might fall out with those close enough around you to offer support, and by the next morning, the realisation will kick in. You could be homeless in a few weeks if things don't change. You make your way down to the job centre, you hand your CV in to every business with a vacancy of some kind, you consider asking for a loan, selling some belongings. The clock is ticking...
London's Homeless
While this may seem like an extreme example of how your life can change in an instant, for some people this is exactly what has happened to them and today they have no option left but to sleep rough on the street. In London, right now, an estimated 7,500 thousand people sleep rough and every single sleeper that lays on the cold, dark streets at night is someone's son or daughter. Somebody once loved and raised this person with all their energy, yet unfortunate circumstances have led them to where they are today. Somewhere no parent can ever imagine for their own child.
Don't let London's forgotten faces fade quietly into the night. Stand against homelessness. Stand up for decent support and be the difference the world deserves.
Rough sleepers and those who have found themselves in these dire circumstances are people, just like us. Yet the title "homeless" has carried plenty of negative stigma over the years and research has found that, horrifyingly, life on the streets can reduce a person's lifespan by up to 50%, cutting the average life expectancy from late 90s to only 47 years old. Those living on the streets are vulnerable to abuse every single day and shamefully, 2 in 3 people sleeping rough have been attacked by the general public.
Life on the Streets
London is one of the richest cities in the world, yet, it has a growing homeless population which includes helpless children who have no way to support and protect themselves. You might not see them on the streets, but they are trying to get by day to day in temporary accommodation like hostels and homeless shelters or by sofa surfing between their parents' friends, they are known as the "invisible homeless". This is no life for a child; they require stability and consistency to grow into functional adults that contribute to today's society, but what chance do they stand? They see a society that doesn't support them, so why should they support it when they grow up? Life on the streets is cruel, but we can help, we can be the light that guides them.
The Open Kitchen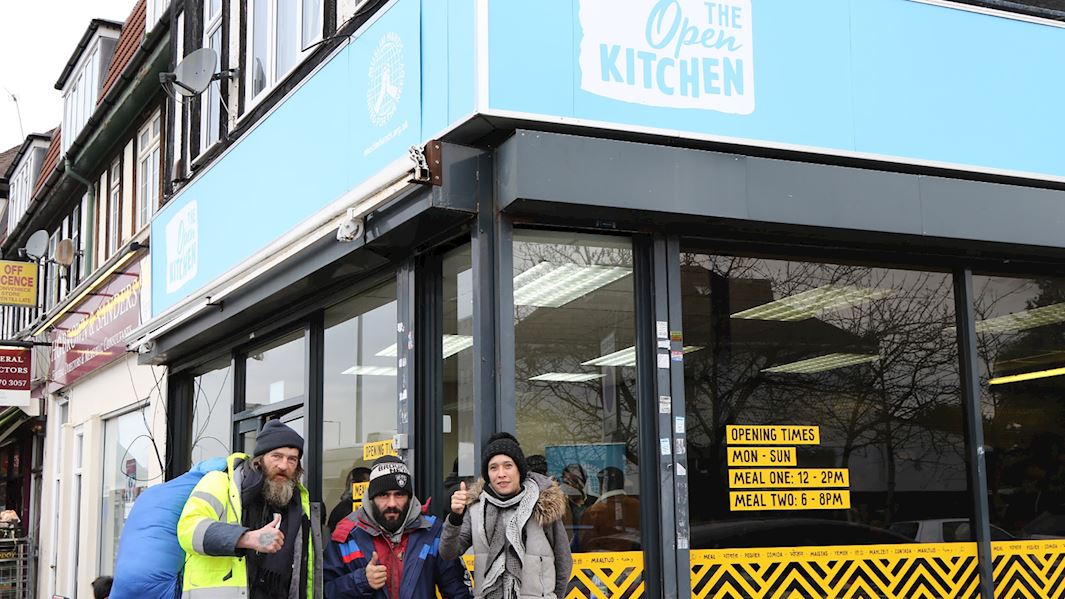 Muslim Hands has launched the Open Kitchen in Hounslow, where we provide 100 hot and nutritious meals twice a day to the hungry, seven days a week. This isn't just for the homeless, but low-income families too, who struggle to provide their children with healthy meals.
We want to create a change in the world, that sees us support our fellow human and lift each other up through the dark times.
Every person who enters the Open Kitchen is treated with respect and kindness. We open our arms to the less fortunate and we don't expect anything in return. We are providing lunch and dinner every day, seven days a week.  However, we do want to do more. We want to open more community kitchens around the UK and offer a safe and welcoming environment for someone who has no space to call their own.
We are reaching out to you to help today. Whether that's offering a donation or volunteering your time, anything you give will go towards people that have found themselves in unfortunate positions through circumstances that may be no fault of their own. With your help, we can run the Hounslow Open Kitchen to maximum capacity and hopefully, in the future, open more safe community spaces and reduce the amount of food poverty in the UK, maybe even put a stop to it entirely. There is more work to be done before all food charity in the UK is no longer needed and every contribution helps. 
A donation of £35 can give us the support to supply 10 meals, while £350 ensures we can supply 100 meals a day and an ongoing donation of £30 can help us keep the kitchen open for the needy long into the future.
You never know when circumstances might change and you or someone you know needs an extra helping hand. So please, donate today and help those less fortunate.
---
Facebook

Twitter

Email This