05 March 2020
Four Ways You Can Help People in Syria in 2020

Since 1st December 2019, more than 961,000 people have been displaced by ongoing airstrikes in northern Syria. According to the latest OCHA report:
'The current crisis is the worst that northwest Syria has experienced since the beginning of the conflict. More people have been displaced into a smaller area in a shorter period of time than ever before, with nowhere else to flee. Lives are increasingly at risk as increasing numbers of people are concentrated in smaller areas'. (OCHA)
Most people are fleeing to existing IDP camps in northwest Idlib, putting a huge strain on the resources and aid being distributed in those camps. Many families fled with nothing, unable to even take basic supplies to protect them from the cold weather or sustain them during the worst of the crisis. They are in desperate need of food, shelter, clean water, health care and essential survival items.
Our partners, Al-Sham Humanitarian Foundation, have been on the ground in Syria since the conflict began. They are already providing essential aid to Syrian families in northern Syria, but with your support, we can reach even more displaced families with vital relief.
Here are four ways your donations can help:
Emergency Food Parcel
Malnourishment is on the rise in northern Syria, making this food especially vital. Many of these families have moved over and over again, putting further strain on their exhausted bodies, and the freezing weather is creating an even greater need for nutritious food.
Despite an immense humanitarian effort, simply getting enough food is a daily struggle for IDPs in northern Syria. There are now 1.7 million displaced people in Idlib alone. In Syria overall, 7.9 million people will be food insecure in 2020 (OCHA).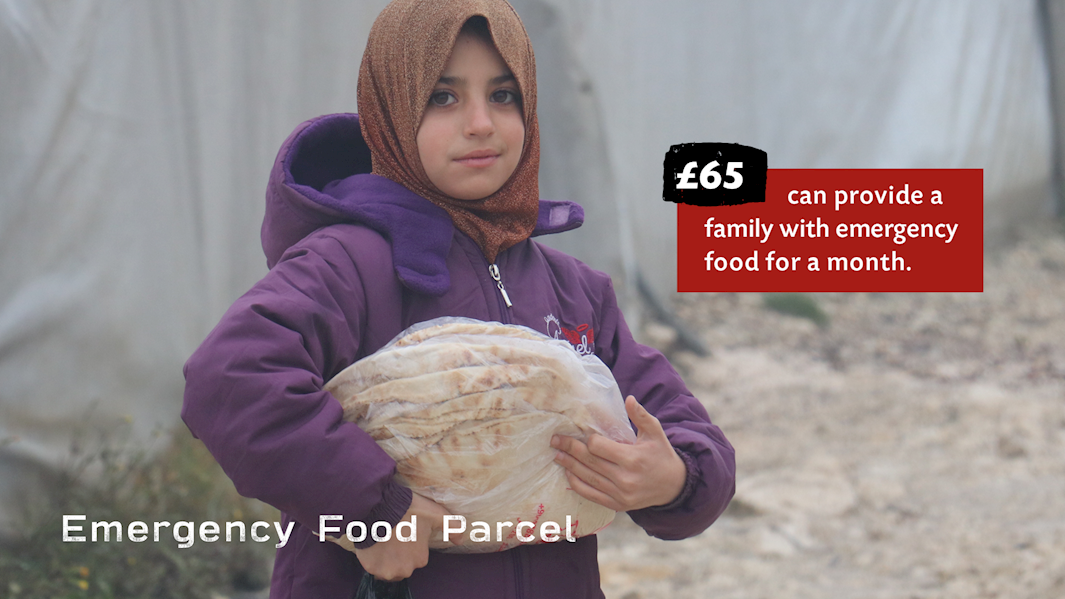 By giving an Emergency Food Parcel, you can protect the most vulnerable from the devastating effects of hunger and malnutrition, including children, pregnant women, disabled people and the elderly.
Mother and Baby Survival Items
Since December 2019, 81% percent of those displaced by the ongoing airstrikes are women and children. They fled their homes taking only what they could carry, and they lack even the most basic items they need to survive in the IDP camps. By providing women with the essential items they need on a day-to-day basis, you can ease their overwhelming burden during this crisis.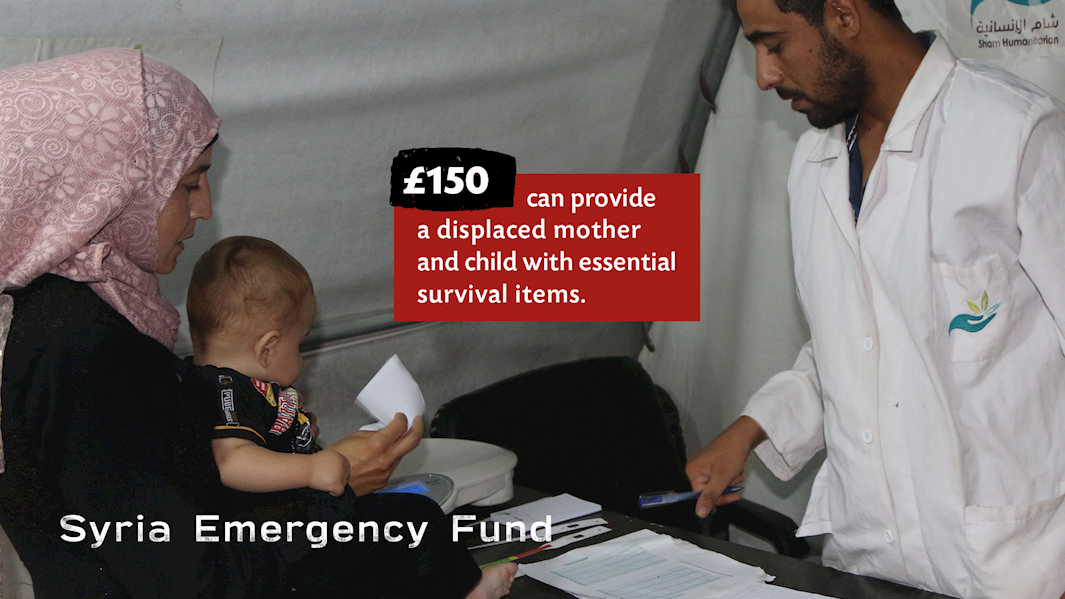 £150 can provide a Syrian mother and her children with basic survival items, such as feminine hygiene products, nappies, cooking items and other essentials needed to live in refugee camps.
Intensive Care Unit at Children's Hospital
The mass displacement in northern Syria is seriously affecting the health of Syrian children. Fearing for their lives, they walked for days without eating or sleeping, and spent the winter out in the open, battered by freezing rain and bitter winds. They are vulnerable to malnourishment, infection and disease.
Furthermore, the crisis is putting pregnant Syrian women in danger, and early deliveries, miscarriages, and low-weight births are on the rise. Pregnant women are trying to get cesarean deliveries before fleeing, because they fear they may go into labour while they are on the move and without medical care.
Al-Sham Specialised Hospital for Children is located in northwest Syria. They are providing lifesaving treatment for thousands of displaced children and their mothers, including incubators for new-born babies, vaccinations and emergency care.
£500 can help support the Intensive Care Unit. Your donations will help us support this vital hospital, saving the lives of vulnerable Syrian children and their mothers.
Prosthetic Limbs
Tragically, at least 86,000 people have had their limbs amputated since the conflict in Syria began. Tens of thousands of them are children. These war victims are now extremely vulnerable, unable to even seek cover during airstrikes, yet they can't access the medical care they desperately need.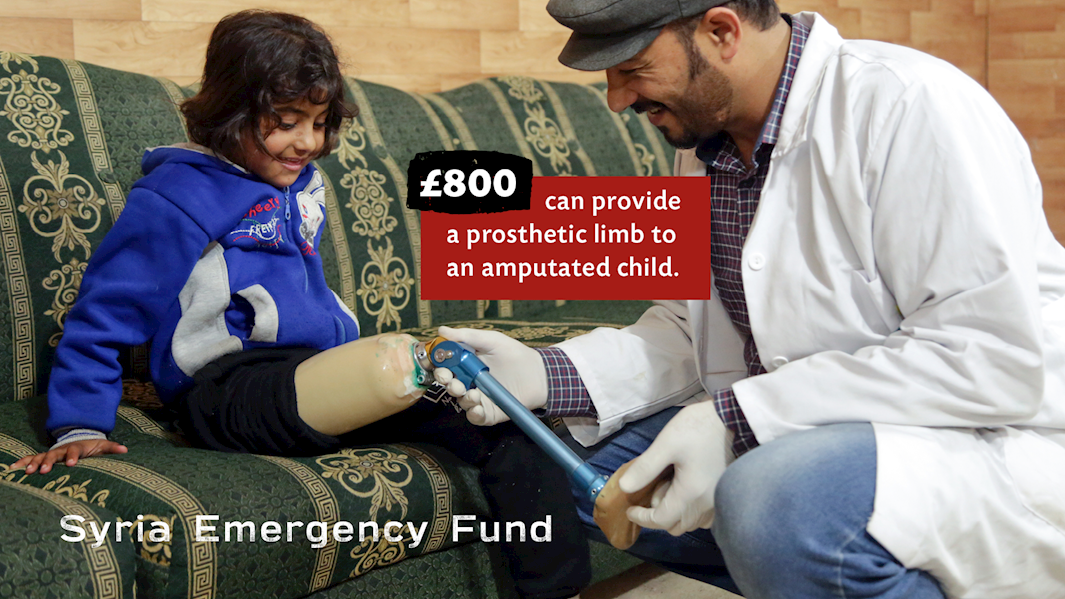 Al-Sham Centre for Prostheses is run by our partners on the ground in rural Idlib. They are manufacturing prosthetic limbs, providing physical therapy to patients and training them to acclimate to the limb. In the last four years, they have fitted 600 people with prosthetic limbs. 
Their vital work is helping Syrian children walk again, restoring their hope and transforming their lives. Your donations will help them provide artificial limbs to even more war victims in Syria.
Will You Stand by Allah's Best Servants?
The Prophet (saw) said, 'It (Sham, or Greater Syria) is Allah's best land, to which He sends His best servants'. [Abu Dawud]

Your donations are a lifeline to the people of Syria. There are so many ways you can save lives, ease their burden and restore hope. We are calling on you to stand by Allah's best servants in their hour of need.
As well as giving your Sadaqah and Zakat, remember to keep Syria's families in your du'as  and share this page with your family, friends and colleagues.
Please note that, apart from the Emergency Food Parcel, all your donations will go to the Syria Emergency Fund. This ensures that our team on the ground can direct the funds to where they are most needed at the time.
---
Facebook

Twitter

Email This