24 September 2020
Latest News from Blessed Masjid Al-Aqsa!

Alhamdulillah, with your support, Muslim Hands have been helping to preserve the Blessed Masjid Al-Aqsa for over a decade! Since 2008, with your help, we have carried out various restoration works on this important and historic site.
We are delighted to update you on our most recent projects: illuminating the Qibali Masjid and renovating the Bab al-Asbat wudu area!
Illuminating the Qibali Masjid Grand Prayer Hall
Alhamdulillah, we have finished fundraising for the state-of-the-art lighting system for the Qibali Masjid Grand Prayer Hall! This is where the Messenger of Allah (saw) led all the other 124,000 Prophets (as) in prayer on the Night Journey and Ascension.
The old lighting system was over 30 years old and there was a risk of fire. Alhamdulillah, our team are rewiring the entire Qibali masjid, working closely with The Hashemite Fund for the Restoration of Al-Aqsa Mosque and the Dome of the Rock.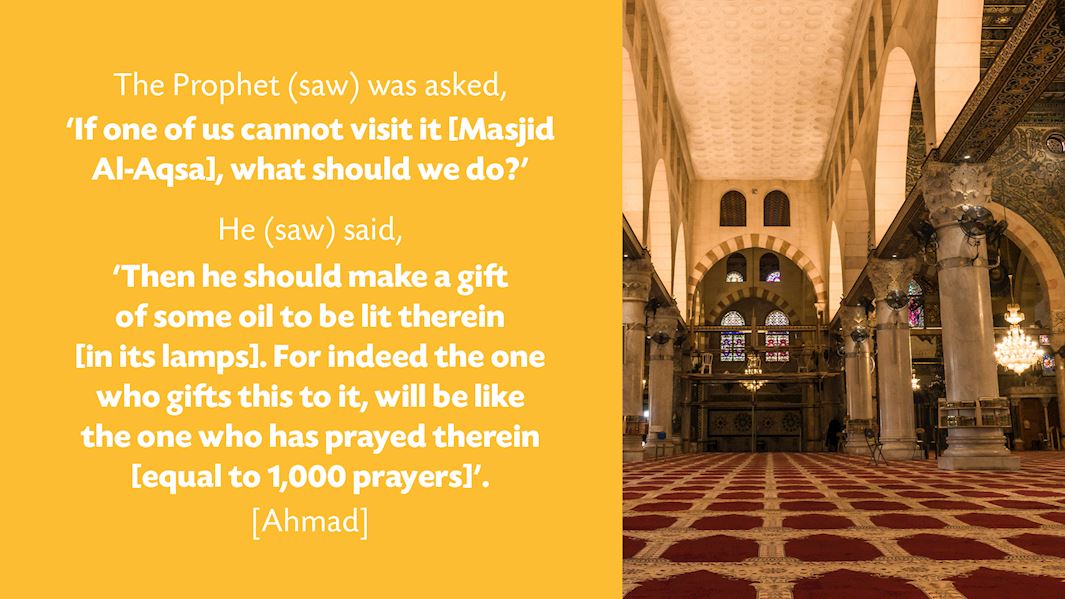 We launched this historic Sadaqah Jariyah project on 27th Rajab last year (2nd April 2019), the night of the miraculous al-Isra wal-Mi'raj (the Night Journey and Ascension). In less than a year and a half, you raised enough to illuminate the entire Qibali Masjid Grand Prayer Hall!
Our team have already re-wired and installed a state-of-the-art LED lighting system in half the masjid. We will continue to update you on its progress, in sha' Allah.
We pray that you have all gained the reward of praying in Masjid Al-Aqsa, and that you reap the rewards of illuminating it for many years to come, ameen.
Renovating the Bab al-Asbat Wudu Area
Since last year, we have been renovating the main wudu area in Masjid Al-Aqsa, located at Bab al-Asbat, which is the main entrance to the Noble Sanctuary, al-Haram ash-Sharif.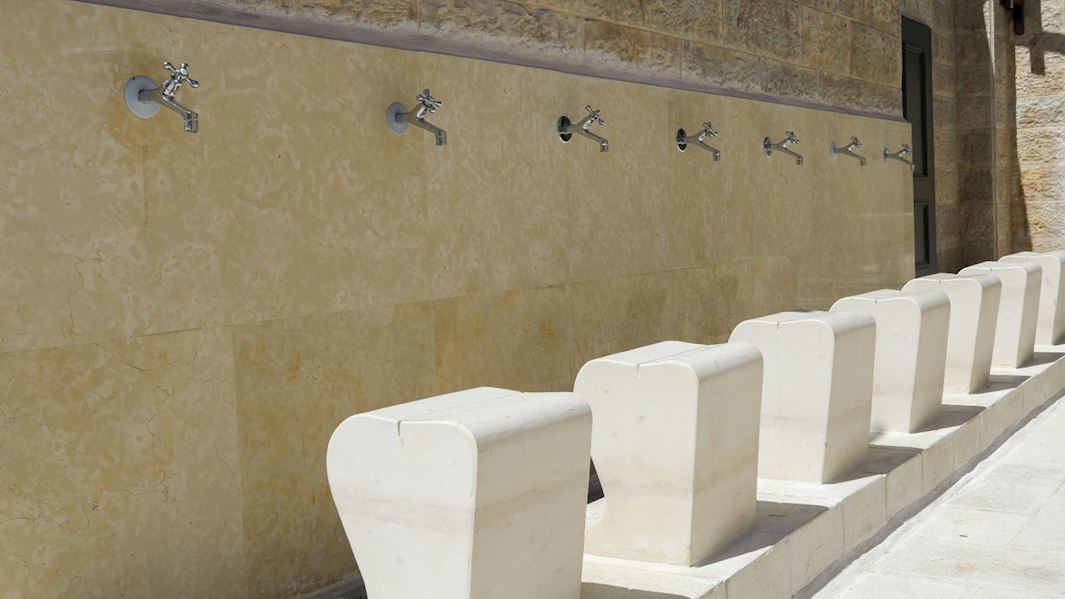 Alhamdulillah, thanks to your generous donations, this renovation is now complete!
This facility will serve up to 2,000 worshippers per hour. It includes 48 restrooms and ablution places for men and women. Masjid Al-Aqsa deserves the best facilities, and you have honoured it by funding this £340,000 project.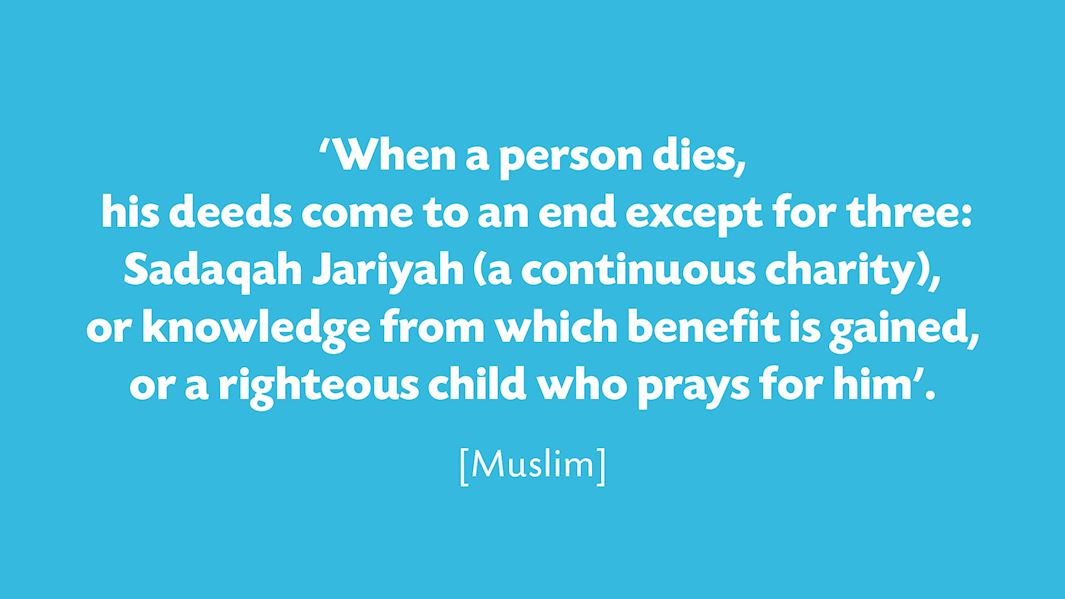 This is an amazing Sadaqah Jariyah for the Blessed Masjid Al-Aqsa, a place where angels and prophets have stood in every part of it.
We pray you reap the rewards of giving to Masjid Al-Aqsa for many years to come, ameen.
Our New Projects
SubhanAllah, we are honoured to invite you to another opportunity to preserve Masjid Al-Aqsa!
You can give to Masjid Al-Aqsa on a regular basis by sponsoring one of its olive trees for just £5 a month.
The olives of Masjid Al-Aqsa are so blessed that Allah swears by them, 'By the fig and the olive!' [Qur'an, 95:1] [Tafsir Ibn Kathir]!
Because of this priceless Qur'anic status and Islamic waqf (endowment) status, their olive oil is never sold. Instead, it is always gifted, mostly to the poor families who live in East Jerusalem.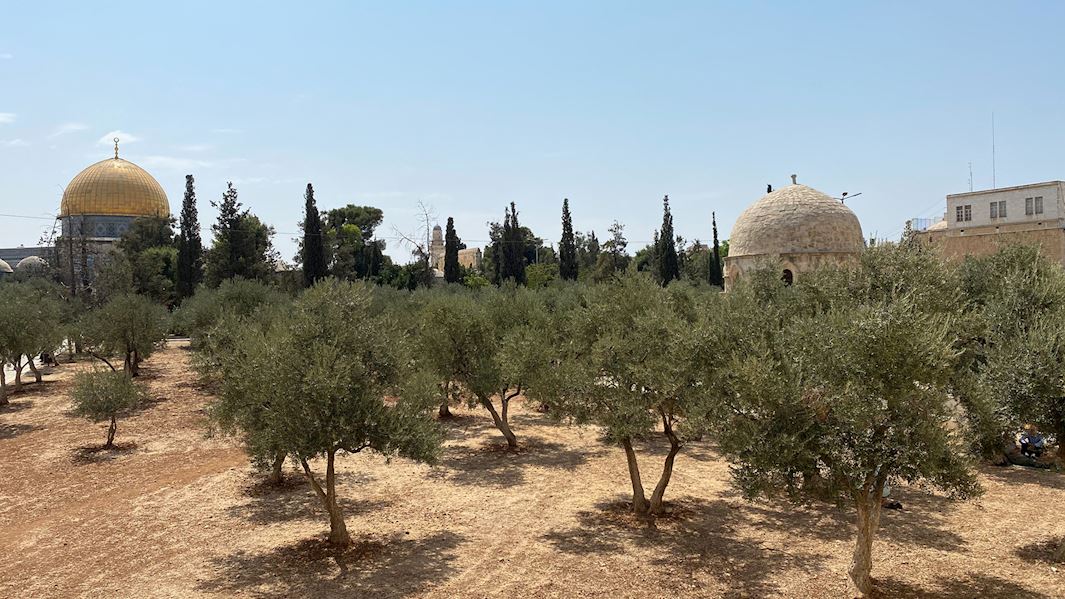 Sponsoring a blessed olive tree includes maintaining the tree, harvesting the olives and producing the oil, and distributing the olive oil to the families who live in the holy city of Al-Quds (Jerusalem).
There are only around 700 olive trees in the noble sanctuary of the Blessed Masjid Al-Aqsa, so this is a limited opportunity!
Secondly, you can help us renovate the Bab ar-Rahmah Cemetery.
Located at the eastern wall, this cemetery covers 11,000 square metres. It is the third most prominent cemetery in the Islamic world, after Jannat al-Baqi (The Garden of Expanse) in al-Madinah al-Munawwarah and Jannat al-Mu'allah (The Most Exalted Garden) in Makkah al-Mukarramah.
Our renovation plans include repairing graves, repaving pathways, maintenance and much more. You can learn more about the history of this Islamic landmark in our comprehensive article.
On the authority of Abu Dharr (ra) who said, 'We were in discussion and we were with the Messenger of Allah (saw). (We asked him), "Which is better? The Masjid of the Messenger of Allah (saw) or Bait al-Maqdis (i.e. Masjid Al-Aqsa)?" Then the Messenger of Allah (saw) said, "One prayer in my Masjid is better than four prayers in it (i.e. Bait al-Maqdis) and what an amazing place of worship it is! There will surely soon come a time for a man to have land equivalent to his horse's rope where he can see Bait al-Maqdis will be better for him that the whole world!"' [Hakim]
Once more, we would like to thank you for supporting the Blessed Masjid Al-Aqsa over the years. We are honoured to be able to facilitate your Sadaqah to this blessed and amazing place. We pray Allah continues to give us opportunities to work in Masjid Al-Aqsa, ameen.
---
Facebook

Twitter

Email This