21 September 2020
Have you ever wanted to build your own Masjid?

We all love a good news story, and we've got a beautiful one to share today from one of our donors. This brother, who asked to remain anonymous, has Masha'Allah built EIGHT masjids with Muslim Hands over the past three years! With Muslim Hands, you too can join in with this unique Sadaqah Jariyah and build your very own Masjid from just £3,500 Alhamdulilah.
The Prophet (saw) said, 'Whoever constructs a Masjid for Allāh, Allāh will construct for him a house in Paradise'. [Bukhari]
The donor said about his first donation, "After carefully reviewing various feedbacks received from different charities, I decided to proceed with Muslim Hands - UK and closely worked with their teams in the UK and Bangladesh and, the first masjid was commissioned, built and transferred to local people over three years ago in village Bongaon, District Habigonge.
What really impressed me to choose village Bongaon was the fact that the local people previously had been performing their prayers inside a small tin hud, built by local people without having any respectable facilities. Having seen the bare minimum conditions and dedication of the local Muslims, which inspired me greatly and, this was the turning point for me and I instantly decided to fulfil my desires. I feel privileged and blessed by my Allah (swt) providing me an opportunity to donate a musjid for local people in Bongaon. I am very grateful for this noble work".
He also went on to say, "Alhamdulilah, after having a good experience with Muslim Hands teams and donating the first masjid, I subsequently (during the last three years) donated seven additional masjids in other villages in rural Bangladesh on behalf of my family members. I can say honestly without reservations that all my projects have been handled diligently and well within the timeframe and, I am delighted the way all my projects have been completed. I am also very grateful for this noble contribution, as this is a small humble token of my gratitude to my one and only creator without any personal or financial motives".
This blog post will focus on the donor's most recent Masjid, which was built in a rural village in Bangladesh called Ekhtiarpur in the city of Sylhet: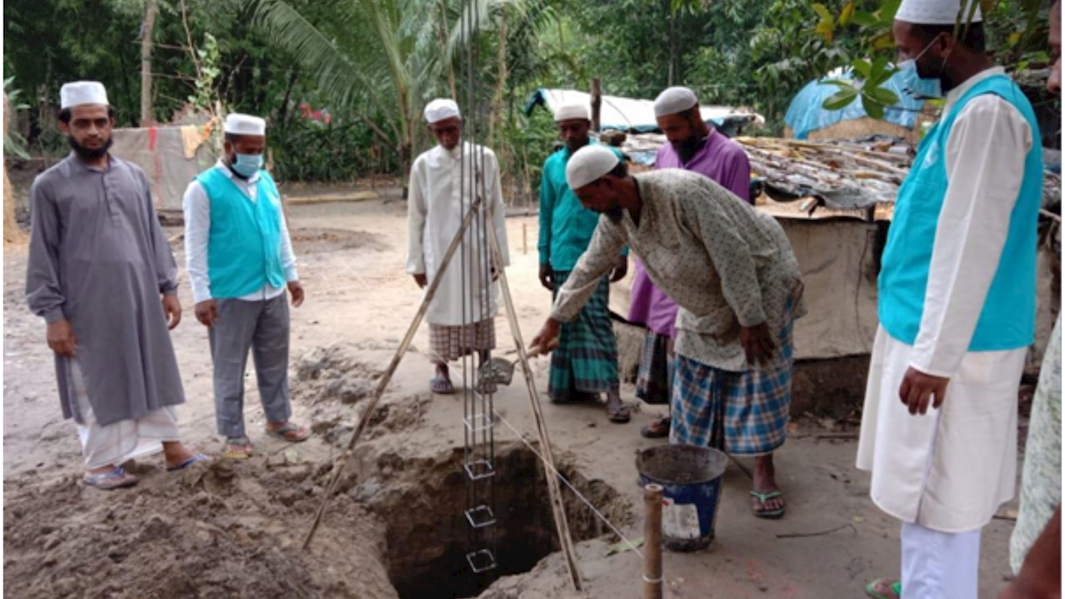 How does the process work?
Muslim Hands has over 10 years of experience working in the field of Masjid construction. We have constructed over 300 Masjids in over 10 different countries around the world and our unique programme ensures that we select the people and locations which are most deserving of the Masjid. We also take measures to ensure that the Masjid will be maintained and looked after by giving the community responsibility and ownership of the project, giving the donor peace of mind. This ensures that the Masjid continues to provide long term benefit long after the construction is completed.
Before deciding upon a location for your Masjid, we needed to consider various factors to ensure that your donation is spent in the best way and that the Masjid would have the most impact. Through the Muslim Hands needs assessment scheme, we have a waiting list of villages around the country who have applied to have a Masjid in their locality. Once a donation is secured from the kind donor, we can then visit the site and establish whether or not they meet the criteria for being selected to receive the Masjid.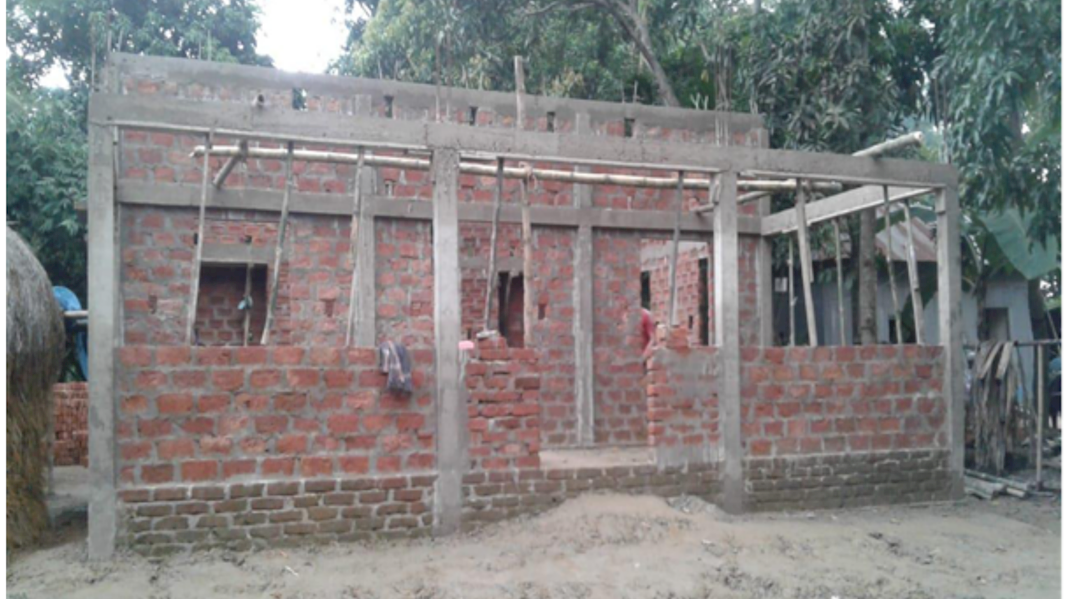 The criteria include various factors, with one of those being that the community cannot afford to build their own Masjid. Other considerations we consider are the distance from other local Masjids, as well as the community's ability to look after the Masjid and appoint their own Imam. Once we established that these criteria have been fulfilled, we informed them of the good news of your donation.
The need for Masjids in rural areas is great as they do not currently have a proper building to pray in congregation and are therefore are either praying outside in an unsuitable fashion or walking extremely long distances when possible. Furthermore, Islamic education is either not being taught or is being taught in an unstructured and unsuitable manner, which is impacting future generations.
To ensure that the donor's Masjid will be maintained and will be used for many, many years to come, we formed a CBO (community-based organisation) with the local community. The Masjid was officially handed over to them and they were given the responsibility for its maintenance and upkeep. The purpose of the CBO is to ensure that the community feel as though this is their Masjid and so that the building does not become neglected or abandoned. The CBO included the head of the Village Abdul Karim and the appointed Imam, Iman Abdul Kaium.
The worldly and other-worldly benefits of your wonderful donation are so great, that the impact of this project is truly beyond words! An entire village has been transformed and so have the lives of these villagers. This Masjid is now being used every day for the five daily prayers and as a Madrassa for teaching Quran to the children of the village.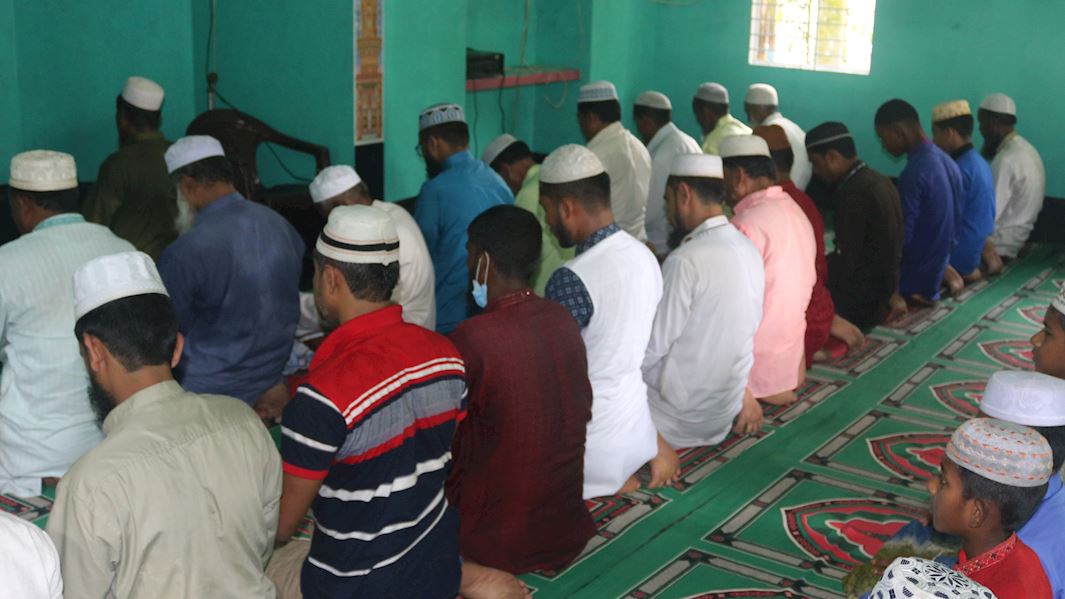 It will also be utilised for the Friday prayer and the two Eid prayers and Taraweeh prayers will also be performed here in the month of Ramadan. The Masjid will also provide a space to hold community meetings, which is helpful in increasing good relations between the communities as well as resolving disputes. This is the legacy of your Sadaqah Jariyah projects, as the reward of such donations will benefit the donor even after they have passed away.
About this project our Major Giving manager Takuir Iqbal had to say, "Alhamdulillah, I have visited many of the villages around the world where we have built Masjid sand have seen first-hand the enormous impact of the projects. I would like to directly thank the donor for this generous donation and invite them to contact me anytime if they would like to discuss more projects through our Major Giving scheme".
Contact our Major Giving team for more info, and you can even start fundraising for your very own Masjid too!
---
Facebook

Twitter

Email This