10 December 2020
Razia's Story: A Bitter Winter

As temperatures drop to below-freezing, poverty-stricken families are struggling to cope with the harsh winter, unable to afford the basic items they need to survive. Our teams in Afghanistan have been meeting these families and listening to their stories so we can give them the help they need.
Meet Razia
23 year-old Razia, a mother in Kabul, Afghanistan, is the only breadwinner for her four young daughters. Her family are struggling to survive this winter.
In Afghanistan, temperatures can drop as low as -15 degrees. The hardships Razia faces every winter are unimaginable.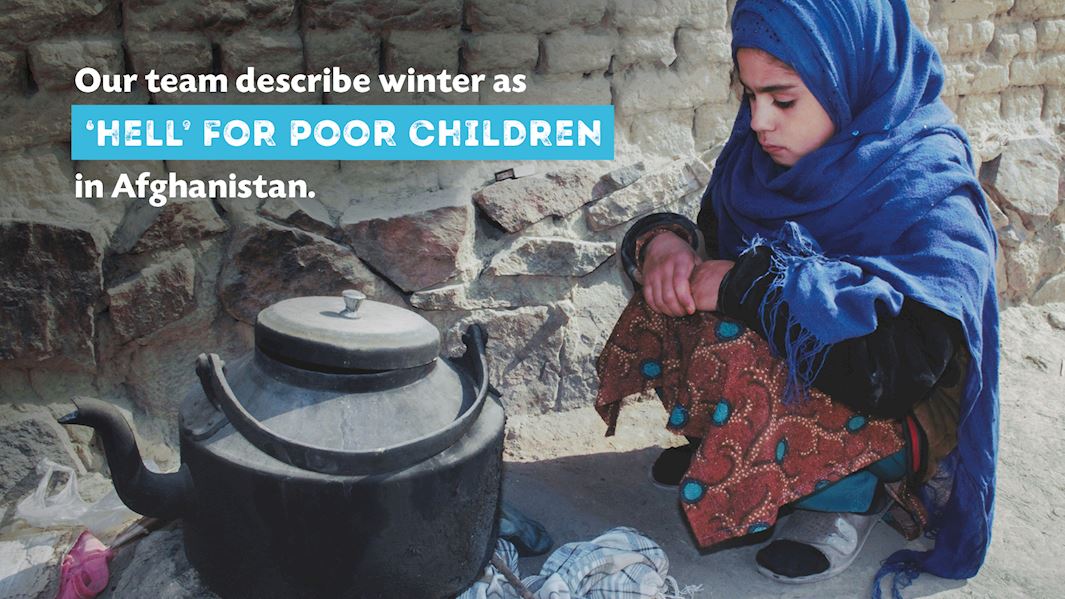 Her daughters don't even have shoes, let alone winter clothes and blankets. They are facing the heavy snowfall, icy rain and below-freezing temperatures without the most basic protection.
Their one-room house is dilapidated and the biting cold seeps through the walls at night, making her children sick.
But worst of all, there are no washing facilities in Razia's house. When their neighbours are sleeping, Razia and her daughters wash themselves outside in the bitterly cold night. When they come back indoors, they can't even wrap up in thick blankets to get warm again. No one should be living like that, especially vulnerable young children.
A painful memory
Razia's daughters are aged nine, eight, five and four. This is not the first time they have suffered through a bitterly cold winter. Razia has been struggling for years to shield them from the worst of the cold season.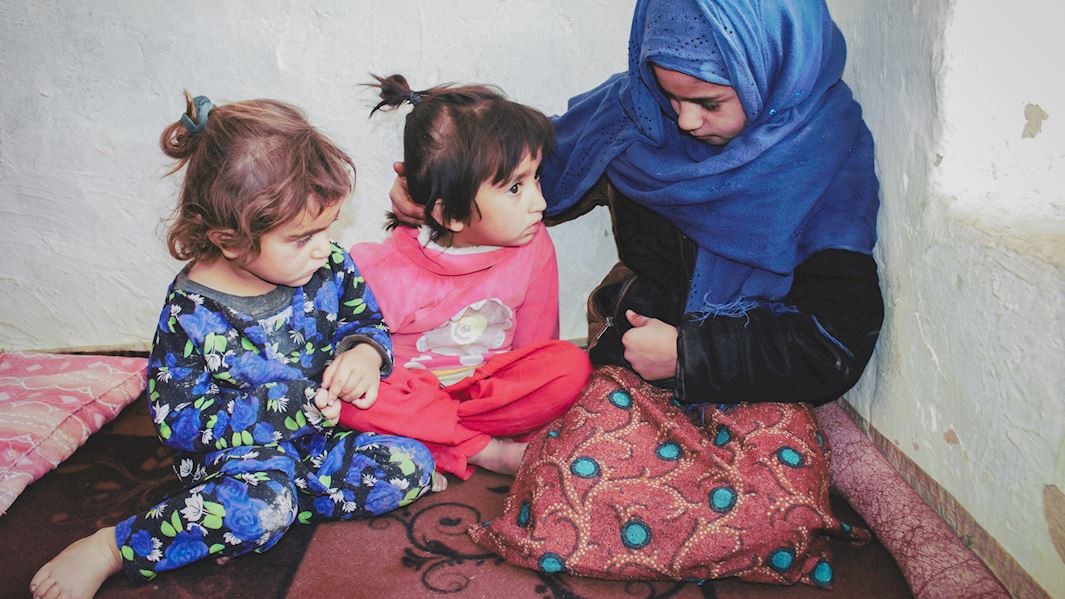 Razia told our team a heart-breaking story about the winter of 2017.
She was working herself to the bone every day, to buy food for her daughters, wanting to nourish them as the temperatures plummeted. After spending the whole day washing her neighbours' clothes and carpets to earn money, she returned home completely exhausted.
Razia's home doesn't have electricity, so her neighbours give them candles to use. Razia was so tired that evening that, when she lit one of the candles, she accidentally set a fire and was unable to control it.
All of their belongings burned - their clothes, blankets, everything. Razia was in despair over losing her belongings when they had so little to begin with. She worked so hard and was still unable to protect her daughters. It is a terribly painful memory.
A continuous struggle
This winter, Razia is once more working herself to the bone to provide for her daughters.
For three hours every morning, Razia attends a literacy course and sewing machine training, provided by Muslim Hands. After her course finishes, Razia's neighbours pay her to wash their clothes and do other household tasks. Razia also occasionally borrows a sewing machine from one of her neighbours to do some tailoring work.
In the evening, Razia scrapes together her meagre wages to put food on the table for her daughters.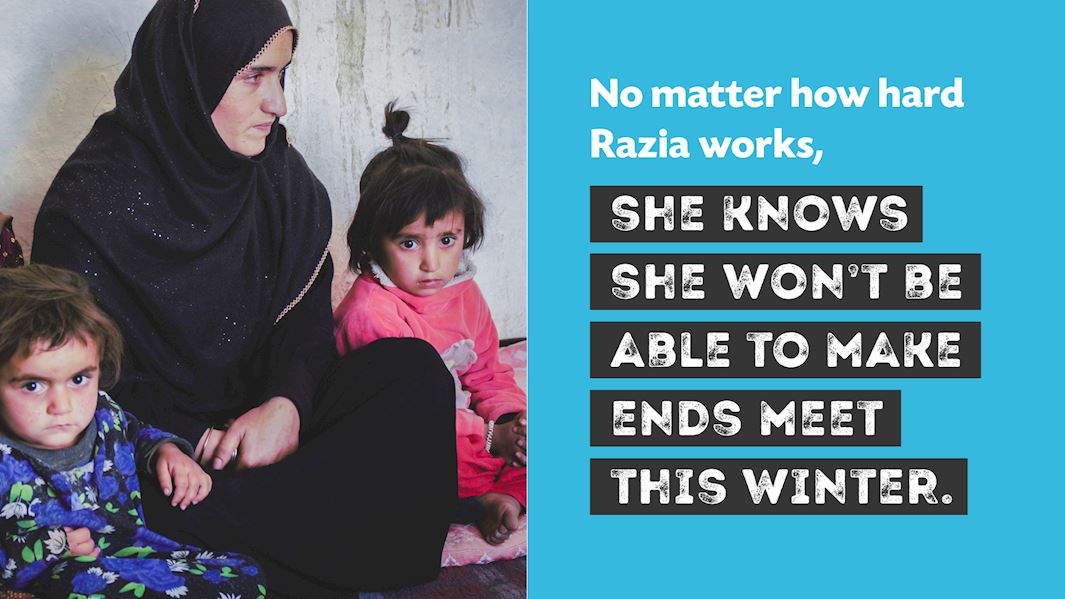 Razia is afraid of having another terrible winter. Her family are already living hand-to-mouth, dependent on wages and Zakat from their neighbours. 
She is a young and energetic woman, but the fear of what will happen to her children is wearing her down. Razia has been solely responsible for her children since 2016, when her husband went to look for work in Iran. She hasn't heard from him since then, and has no idea if she is a widow and her children are orphans.
Razia is only 23 years old, and is understandably strained by the weight on her shoulders.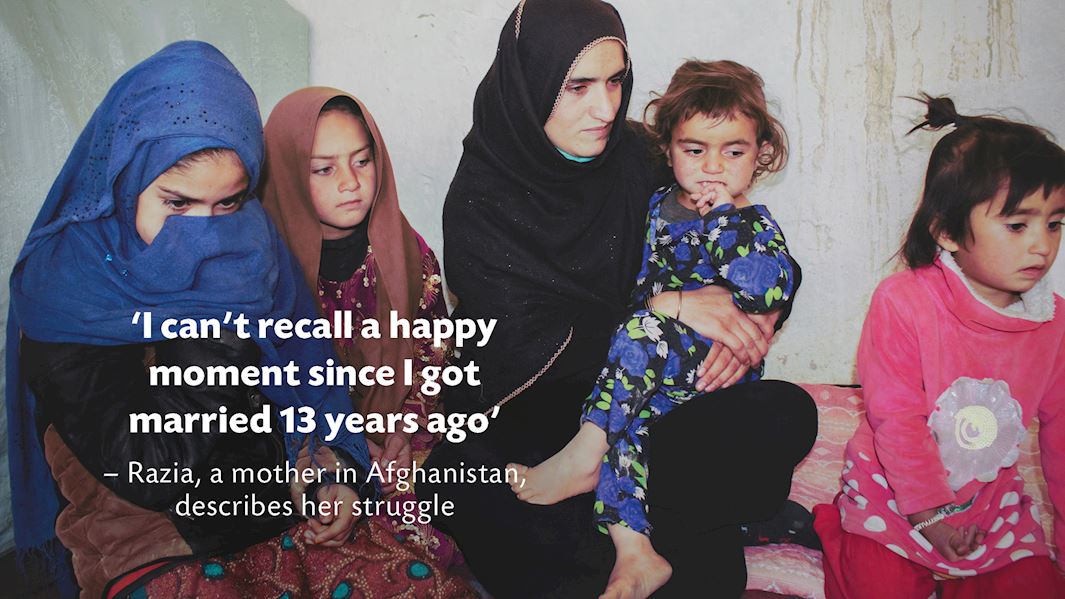 Tragically, Razia can't even remember the last time she was happy. All she can recall is the constant struggle to protect and provide for her children.
You can help Razia
The Prophet (saw) said, 'The one who looks after and works for a widow and for a poor person is like a warrior fighting in Allah's way, or like a person who fasts during the day and prays all the night'. [Bukhari]
He (saw) also said, 'The example of the believers in their affection, mercy and compassion for each other is that of a body. When one limb aches, the whole body reacts with sleeplessness and fever'. [Bukhari]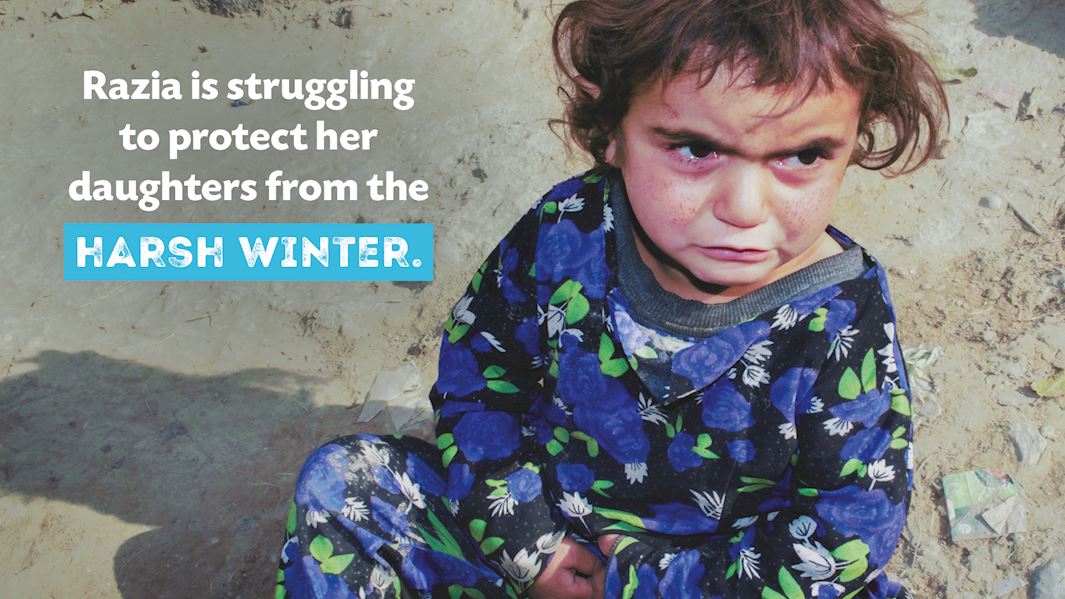 It is heart-breaking that Razia's children are suffering so much. It only takes a small effort on our part to reach out with 'affection, mercy and compassion', but it makes a world of difference to Razia and her young daughters. 
Your donation can be the difference between her children being hungry and sick this winter, or nourished, warm and happy.
 
Our teams in Afghanistan are distributing winter supplies in Kabul and Parwan, providing blankets and warm clothes to hundreds of families just like Razia's, as well as basic foods like rice, pulses and cooking oil.
Meanwhile, our teams worldwide are also providing life-saving winter relief in Pakistan, India-administered Kashmir, Syria, and the Syrian refugee camps in Lebanon and Turkey, as well as right here in the UK.
Give to our Winter Appeal today to help the most vulnerable survive this winter. Be the answer to their du'as, 'keep us warm, keep us alive'.
Muslim Hands is an award-winning charity, established in 1993 to provide emergency relief and tackle the root causes of poverty. The above story was written in 2020 - however, in Winter 2021-2022, we are once again providing relief in Afghanistan. Please donate so we can reach as many families as possible with life-saving supplies.
---
Facebook

Twitter

Email This