07 December 2021
The Open Kitchen: Three Years of Serving the Community

This week, we are delighted to celebrate the three-year anniversary of The Open Kitchen!
On 8th December 2018, our community kitchen opened its doors to vulnerable people in Hounslow, promising to serve hot, nutritious meals to anyone who needed it, no questions asked. Ma sha Allah, The Open Kitchen has stayed open every single day for the last three years, including bank holidays. This would not have been possible without your support.
This article will explain the need for The Open Kitchen in 2021, how your donations made a difference and our plans for the future.
The need for The Open Kitchen in 2021
When the pandemic began in early 2020, we increased our work at The Open Kitchen to meet the growing need. Many food banks and charitable organisations were closed down, and The Open Kitchen was the only place open in West London. We received referrals from the job centre, schools, churches, refugee organisations, the local police and many more organisation.
With the help of our dedicated volunteers, we established a takeaway service and started delivering daily food parcels to people who were shielding, such as the elderly and disabled. By April 2020, the number of meals we were preparing more than doubled.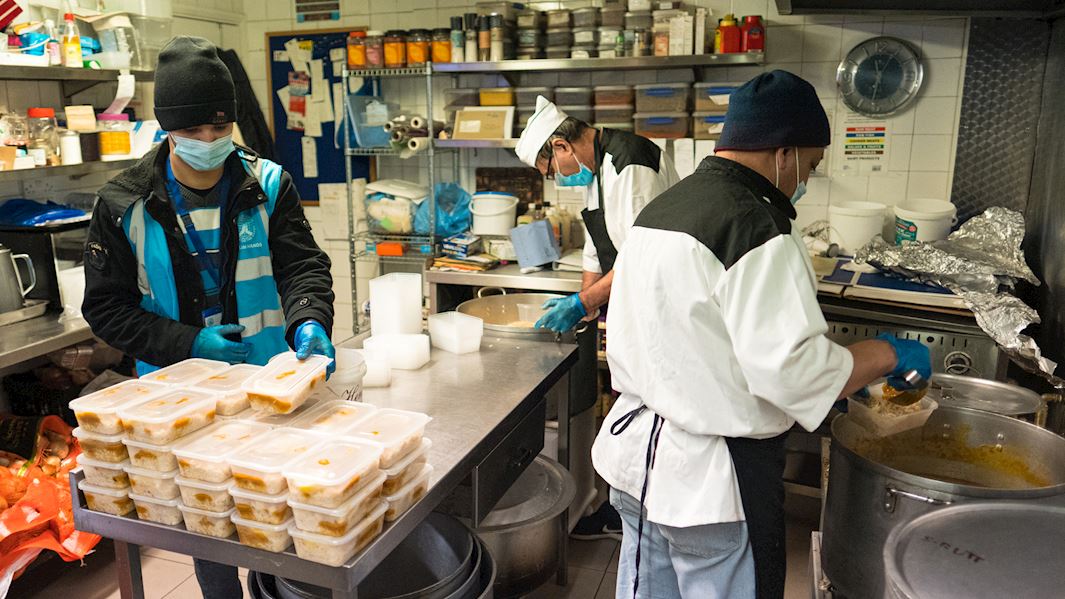 Unfortunately, during 2021, food poverty continued to increase in the UK, making our work even more vital. In August 2021, The Food Foundation carried out a survey which revealed heart-breaking hardship. 5.2 million adults had experienced food insecurity since February 2021, including skipping their meals, having smaller meals and not eating for the whole day.
In one of the richest countries in the world, more and more people are going hungry because they can't afford regular meals - an unacceptable tragedy.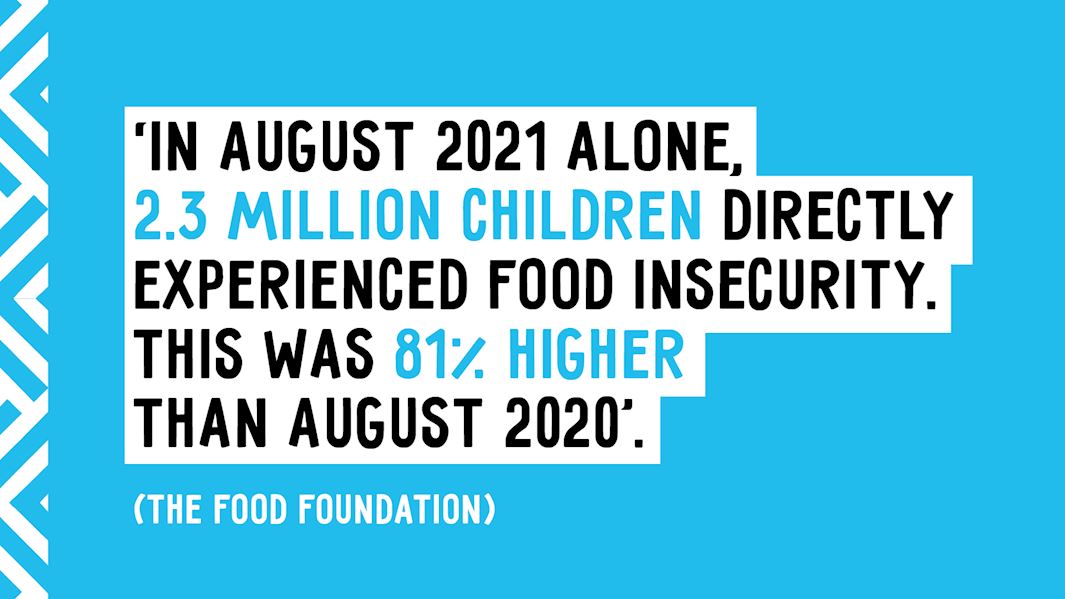 The same survey found that households with children are more vulnerable to food insecurity. Moreover, people limited by disabilities are five times more likely to experience food poverty - reiterating the importance of specifically targeting the most vulnerable with projects like The Open Kitchen.
So how did you respond to the urgent need for food?
How your donations made a difference in 2021
The Prophet (saw) said, 'The best of you are those who feed others'. [Ahmad]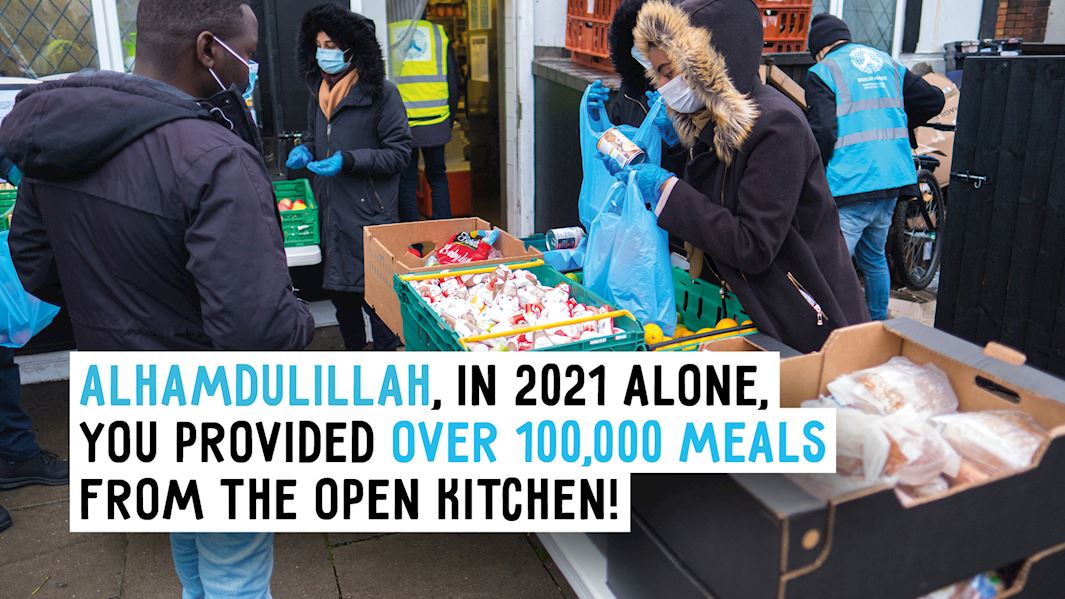 Islam places particular emphasis on feeding people in the community. The Prophet (saw) said, 'He is not a believer whose stomach is filled while his neighbour is hungry' [Bukhari] - powerful words which undoubtedly motivated many of us to give food during the pandemic.
Your support meant that we could feed elderly people, rough sleepers, refugees, single parents, vulnerable children and many more this year. You are providing them with hot, nourishing meals daily, as well as food supplies such as fresh fruit, bread and snacks.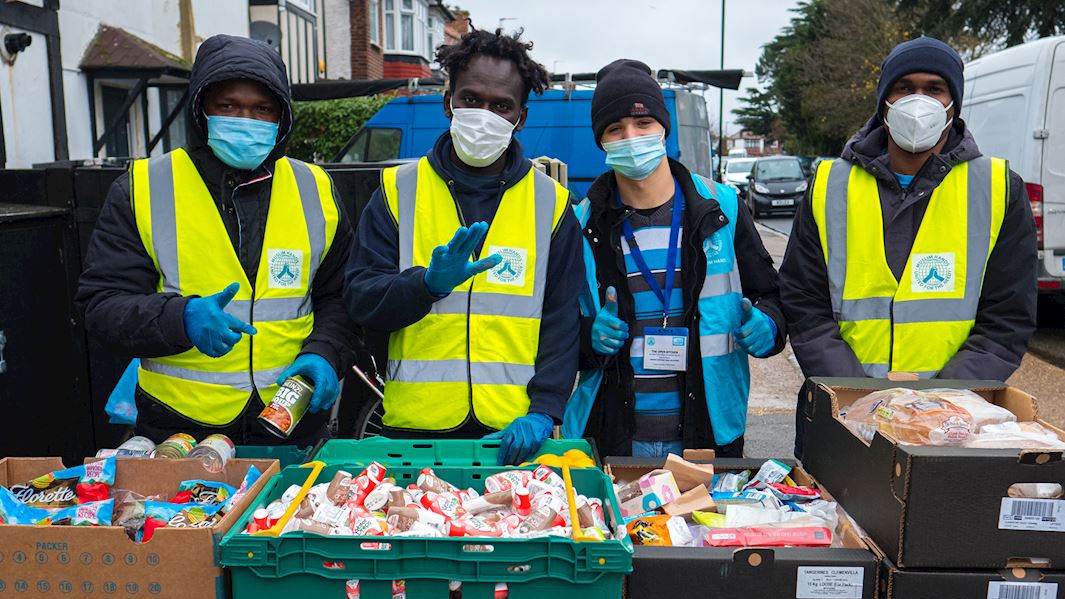 As well as giving food, you are also giving other people other essential support. Since its opening, the kitchen has provided bicycles to the homeless and winter kits to rough sleepers, as well as offering a space for local councillors to support people with housing and administrative issues. We have helped people get free dental check-ups and treatment and write CVs so they can get back into work. 
Therefore, The Open Kitchen is vital in making sure people have emotional support and the reassurance that they are not alone. Our team recently interviewed Graham, a regular guest, who said:
'They treat us like family. On my birthday last year, they came out with a birthday cake which had my name on it. It was very touching. If you want a jar of coffee or bag of sugar, they are happy to provide it for us. After I fell ill, they asked for my address and they delivered food directly to my door'.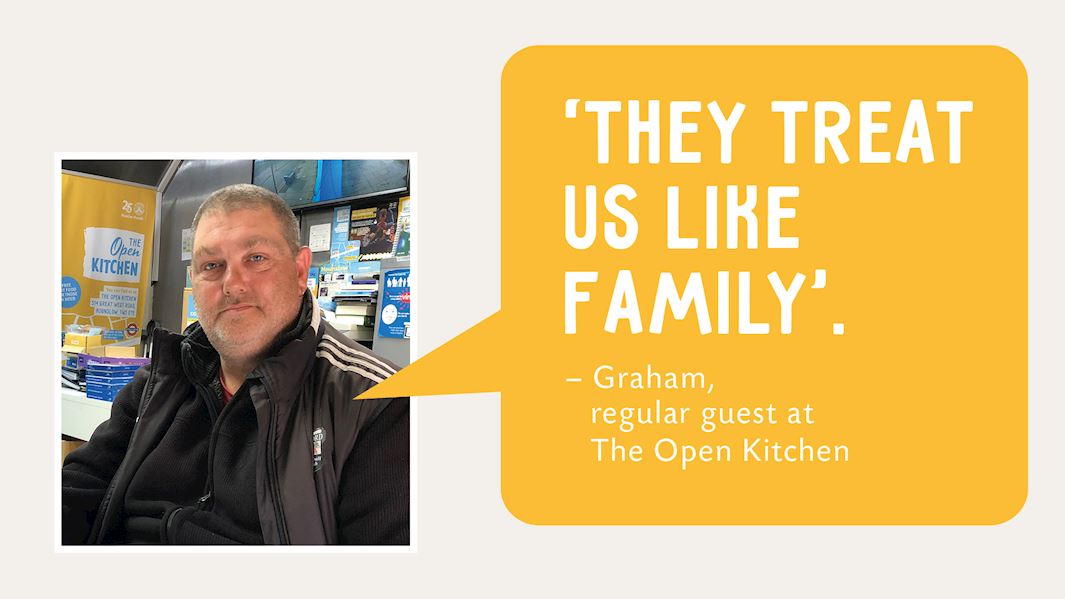 SubhanAllah, it is truly touching to hear guests refer to the staff and volunteers as 'family' - it shows the place the kitchen has in their lives. This would not have been possible without your generous donations - on behalf of everyone at The Open Kitchen, we'd like to say a massive THANK YOU to you all!
Our plans for the future
We have some amazing news for you - this month, we are opening our second community kitchen, alhamdulillah!
The new Open Kitchen will be in Nottingham. Unfortunately, there is a great need for this project in the area. According to the Nottingham Live, nearly 40% of children in Nottingham are living with food poverty. Moreover, a report from the council emphasised the impact on children's physical and mental health since the pandemic began.
We will be providing free, cooked food every weekday, as well as signposting vulnerable people to other services they may need. We ask for your continued support to help us run the new kitchen.
Remember: the Prophet (saw) said, 'He is not a believer whose stomach is filled while his neighbour is hungry'. [Bukhari]
For three years, you have been helping us feed our neighbours in West London. Now, we plan to give the same vital support to our neighbours in Nottingham. We urge you to set up a regular donation to keep these two kitchens running.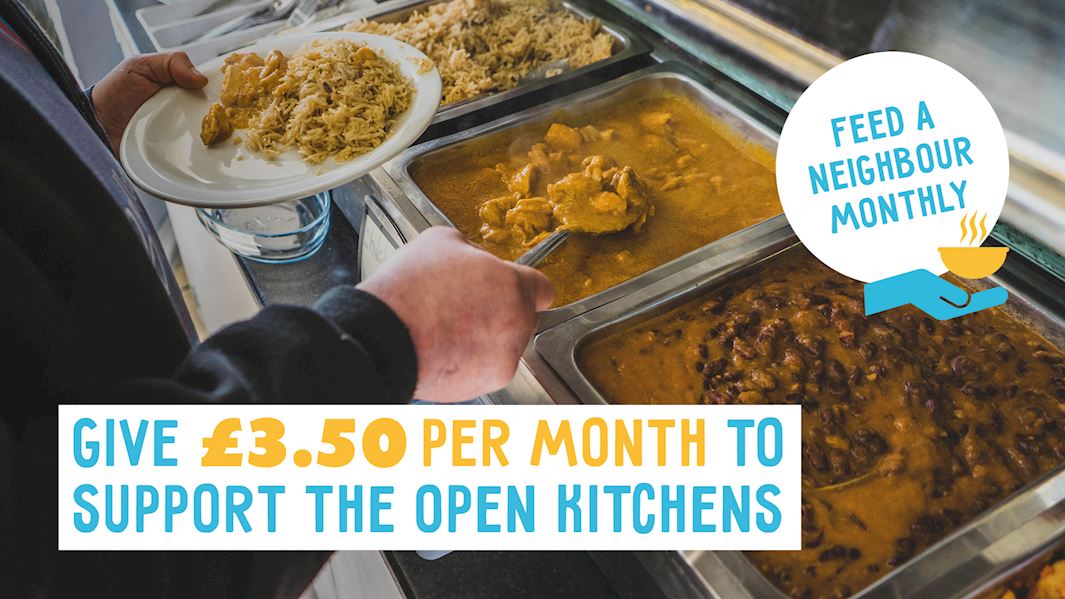 Here's how you can help:
£3.50

 provides a cooked, nutritious meal to one person per month

£7

provides a meal to two people monthly

£14

provides a meal to four people every month
Give whatever you can - and make sure to share this article on What's App, Twitter and Facebook. We pray that The Open Kitchens serve even more of our neighbours in 2022 and that Allah (swt) accepts your efforts, amin!
Muslim Hands is an award-winning charity, established in 1993 to provide emergency relief and tackle the root causes of poverty. We hope this article was useful to you - please share with friends and family, so they can benefit as well.
---
Facebook

Twitter

Email This