30 August 2022
Somalia Famine: Amina and Muhammad's Story

Nearly a quarter of a million people in Somalia are heading towards starvation, due to failed harvests and the ongoing war in Ukraine. I met Amina and her one-year-old son Muhammad during our emergency food distribution, both were severely malnourished. I couldn't believe just how small Muhammad was. Clinging to his mother, he seemed so afraid.
I asked Amina how she was coping, and she replied, 'Since I arrived in Mogadishu a month ago, we don't have any money, so to make ends meet I beg. It's been thirty days and I have had no proper food and we all feel hungry to the point the children cry. I can't even afford to buy sugar or milk, and this upsets me. When asked when was the last time that she had a proper meal, Amina said, 'a few days ago I had some plain rice and this morning I had a cup of tea.'
Six million people across the country are reliant on animal husbandry to support their families. As cattle farmers, Amina and her family lived a comfortable life, but the recent drought took away their livelihood: 'My life in Saplaal was good, we had animals and we were able to live well. The drought meant that we lost everything and when the animals started dying, I knew then that we would face difficult times. For my family, this drought has impacted our life greatly and it has been the hardest challenge we have had to face.'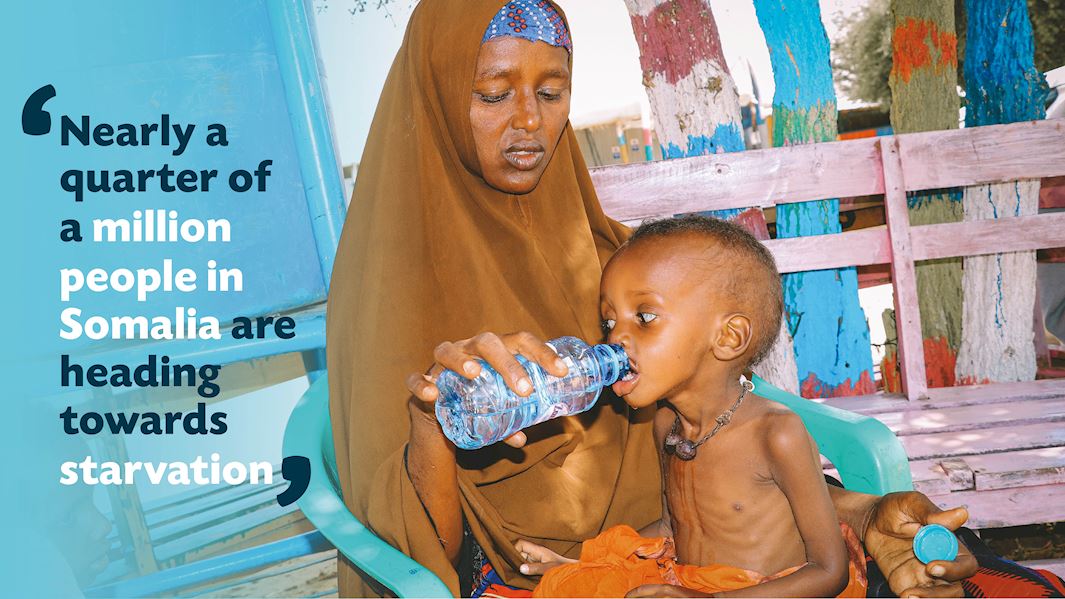 After a month of planning to leave for Mogadishu, Amina described the worry she felt when she realised she would be travelling with the children and her 70-year-old mother, her husband staying behind. She told us, 'The journey was extremely difficult and we had to have rest days because of hunger and thirst. Muhammad struggled throughout the journey and we both caught a fever.'
I noticed Muhammad trying to suckle, though Amina had no milk to give:'Muhammad can't do much during the day. He either sleeps or I carry him as he can't walk. I do give him tea occasionally or something small to eat though he struggles.' During my visit Muhammad was administered to a feeding clinic which was his only hope for survival.
I asked Amina if she felt that she could speak to anyone for support and she suddenly looked downcast and said, 'How can I raise my problems when we are all in the same situation? So I keep my thoughts to myself and try and continue. I wash people's clothes or ask people for money when I feel well enough because I am malnourished, I often feel tired, I black out and suffer from body aches and headaches. When I get a job, I leave my children with my mother.'
Amina and her family left for Mogadishu with only the clothes on their backs. Amina told us how she struggles with her current living conditions: 'We all sleep on the floor in the dirt and it is very uncomfortable. If the weather was to ever change, I am worried that the shelter that I have will not withhold the bad weather and I will have nothing.'
When asked about her hopes for the future she said, 'I hope my children are healthy and get an education to have a better standard of life. When the Muslim Hands team said that I would be receiving a food parcel I was so happy, it really lifted my spirits. I hope charities like Muslim Hands will continue with their intervention. I have no regrets leaving Saplaal and coming to Mogadishu, it is better here.'
---
Facebook

Twitter

Email This