25 August 2022
5 Years On – Rohingya Refugees after Genocide

Five years ago today, following decades of persecution, the Arakan Rohingya Salvation Army launched a fatal attack on over 20 police posts in Myanmar. The events that followed have resulted in the displacement of over 1 million Rohingya refugees in neighbouring Bangladesh. [Guardian]
The Rohingya have lived in the Arakan state of Myanmar as early as the 12th century. However, they began to face persecution following the British colonisation (1824-1948). The British Empire had facilitated the migration of labourers from India and Bangladesh, which was seen as internal movement as they had administered Myanmar as a province of India. However, Rohingya people are still not accepted as an ethnic minority as their migration into Myanmar is considered illegal by the Burmese Government. It is this technicality that has allowed this Government to deny their citizenship. [Aljazeera]
According to the UN, the Rohingya people are considered "the most persecuted minority in the world", and in five years, their circumstances have only worsened. They went from living in ghetto-like camps with a severe lack of basic services to fleeing to the world's largest refugee camp, Cox Bazaar, relying solely on humanitarian aid to survive. 
On this day five years ago, our Director of Fundraising, Yasrab Shah, had the honour of presenting the Hajj live on Islam Channel when he heard the news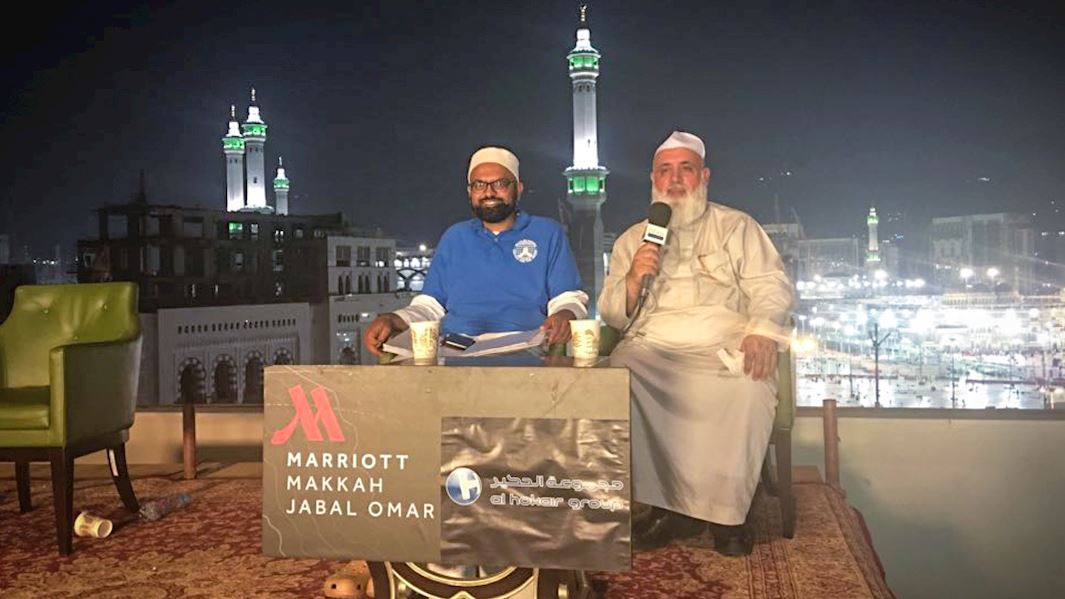 In Madinah, every night we would go live from the rooftop of hotels directly behind the Masjid of the Prophet (saw). I distinctly remember one Friday night, namely 4th Dhul-Hijjah of that year, which was the 25th of August 2017, we started receiving calls from viewers requesting us to pray for our Rohingya brothers and sisters in Myanmar. Prior to that, viewers normally called in to the live stream to pray for their family and loved ones, but there were terrible reports emerging of horrific attacks on the local Rohingya population, with thousands of them fleeing for their lives on perilous journeys by foot and on crowded boats to neighbouring Bangladesh. This was the first time we heard that anything was even happening to the Rohingya whilst we were in Madinah. 
When I returned to our hotel, after completing the Hajj, I came across a hadith that I had heard about but that now took on new clarity: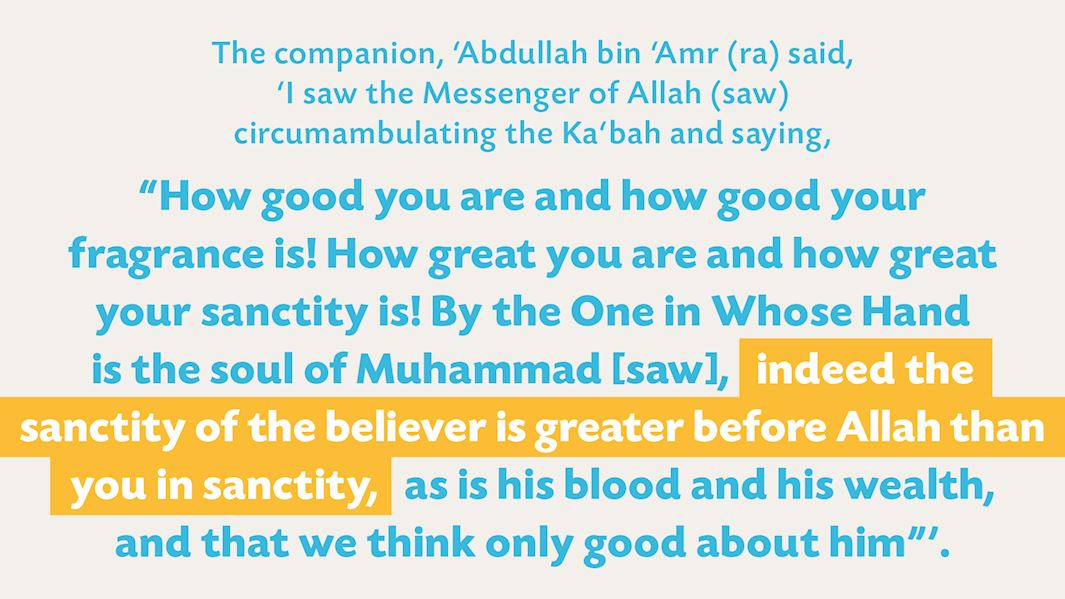 We decided that on our last night in Makkah, we would launch a live TV appeal for the Rohingya. I contacted our Chairman who was performing his first Hajj and he kindly agreed to join us. 
Alhamdulillah, there was a tremendous outpouring of donations that night and thereafter that helped us to provide food, water, shelter, security camp lighting and run medical centres and women and child friendly spaces in the Rohingya refugee camps in Cox Bazaar, Bangladesh.   
Since then, Rohingya refugees continue to live in unhygienic, over-crowded camps. The conditions in these camps are less than favourable, with women and children suffering the most. While they are grateful to have fled the violence in Myanmar, they are still reliant on aid to survive five years on.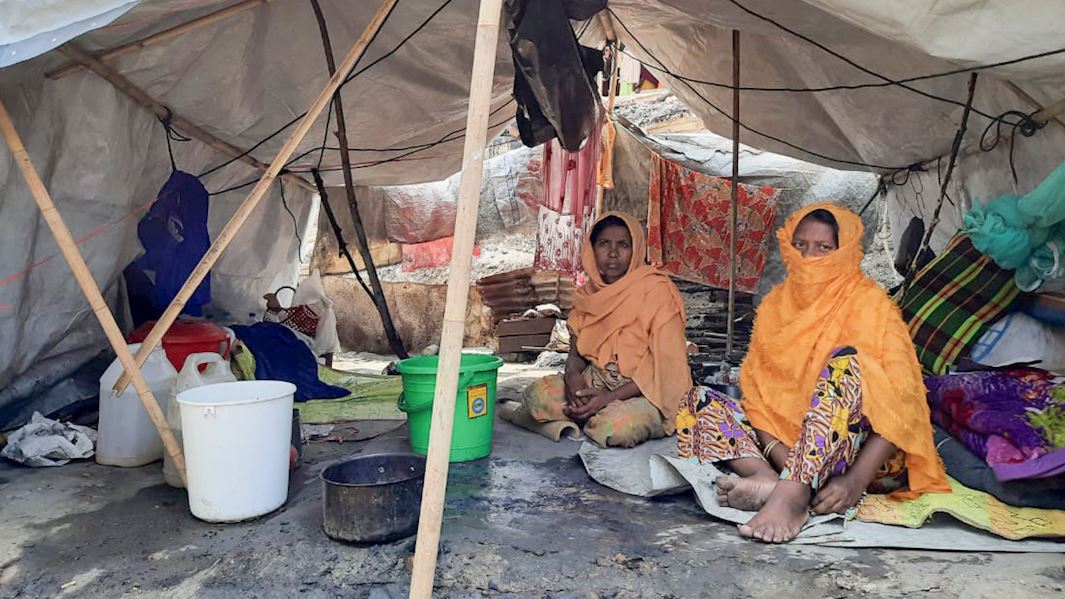 Conditions in Cox Bazaar
There are approximately 1.1 million Rohingya refugees living among the 33 camps in the Cox Bazaar district. These camps are overcrowded and have become a host to diseases, due to the poor sanitation facilities. Families have had to resort to living in poorly constructed tents and shelters, where they are left vulnerable to violence, disease and the harsh elements.  
Muslim Hands have been working hard since 2017 to provide clean water and sanitation facilities, as well as food and medical supplies to those in need. However, this humanitarian crisis continues as the camps are under constant threat of natural disasters, including floods and cyclones.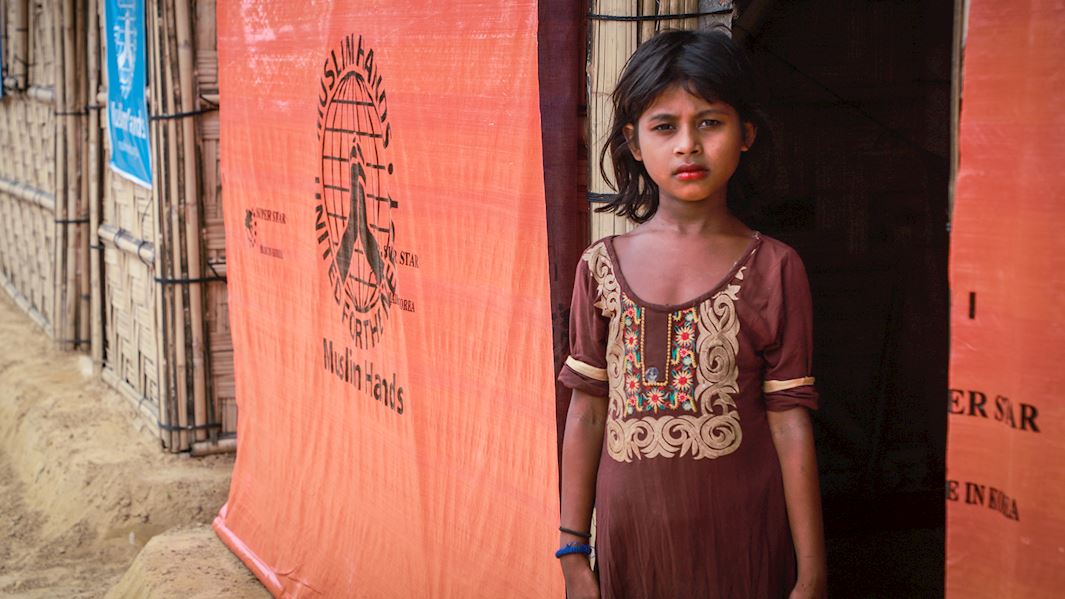 Women and Children
Women and children are among the most vulnerable in Cox Bazaar, due to the violence and unresolved trauma they experienced in their journey to Bangladesh. They are at constant risk of violence and exploitation due to the severe overcrowding in the camps with little means to protect themselves from intruders. With no electricity in the camps, this is a particular danger after daylight. In an effort to mitigate this, Muslim Hands have supplied 100 solar streetlamps that have helped over 1,000 women and children and 3,000 refugees overall navigate the camps after dark.
According to UNICEF, almost 60 percent of the Rohingya refugees are children. Thousands have been separated from their parents in their journey to Bangladesh, while nearly half of the children aged 3-14 have been deprived of an education, which leaves them vulnerable to traffickers. 
With this in mind, Muslim Hands have worked hard to create safe spaces for women and children, that provide a safe and open environment to heal from the traumas they experienced from their journey to Bangladesh. In our Women-Friendly Spaces, we offer psycho-social support, a range of reproductive and maternal care, as well as counselling for victims of sexual violence and preventative measures against gender-based violence. 
Children are also at the forefront of our care, with our Children Centres. We aim to protect and nurture children's growth in a safe space that offers learning opportunities, counselling, nutritious food and water, and playtime facilities that give them the chance to still be children despite the trauma they have been through. 
Fire Destroys Thousands of Lives
In March 2021, a fire broke out which destroyed the homes of families who had already lost everything, rendering thousands homeless and resulting in the death of a child. This fire impacted up to 48,000 refugees, consuming over 9,000 shelters. One of the victims of the fire told Muslim Hands, "I have little children who are starving and have nothing to wear. I have lost my shelter and all my belongings. No one but God can help us".  
Muslim Hands responded by building 200 homes with concrete pillars and cemented floors to withstand the natural disasters that their shelters have been subjected to.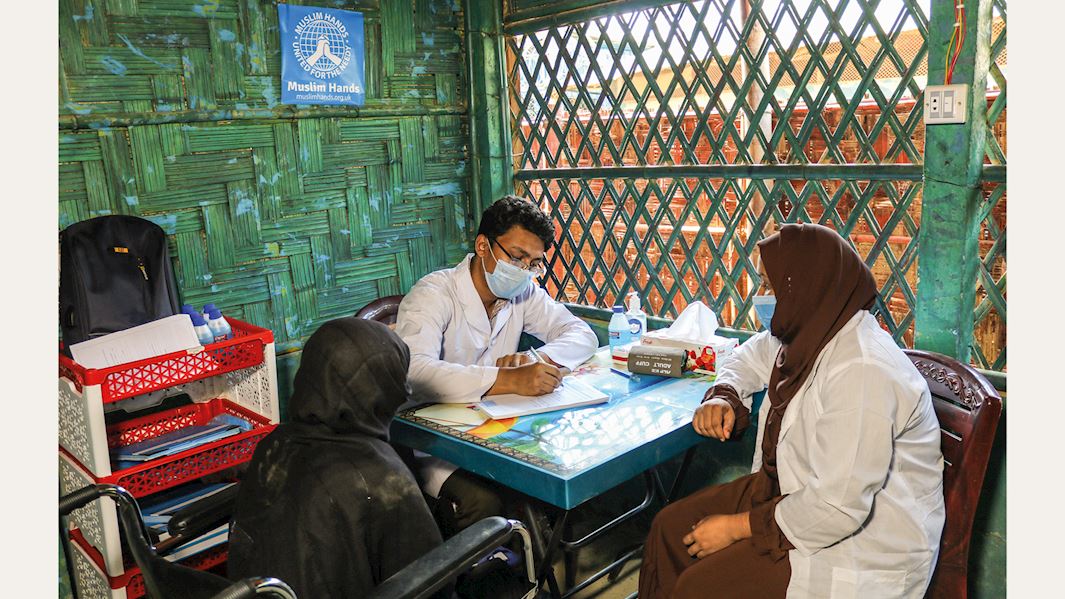 Providing Much Needed Healthcare
Since 2017, we have provided emergency food and medical supplies, as well as set up medical camps and latrines for over 760,000 people in the camp. Currently, over 200,000 Rohingya children under the age of five suffer from malnutrition. In response to growing health concerns, our current focus is on delivering primary healthcare and medical aid to the residents of Cox Bazaar to prevent the outbreak of disease and epidemics, while also improving the current standard of care in the camps. 
Our team on the ground, work tirelessly to deliver this life saving care to up to 30,000 refugees by:  
Improving

women and child primary health

services for crisis-affected populations

 

Providing

maternal, reproductive and neonatal

healthcare

 

Improving access to child protection services by providing

psychosocial support 

Providing efficient

nutrition and malnutrition prevention interventions

to affected populations

 
"Whoever saves a life it is as though he had saved the lives of all mankind" (Qur'an 5:32)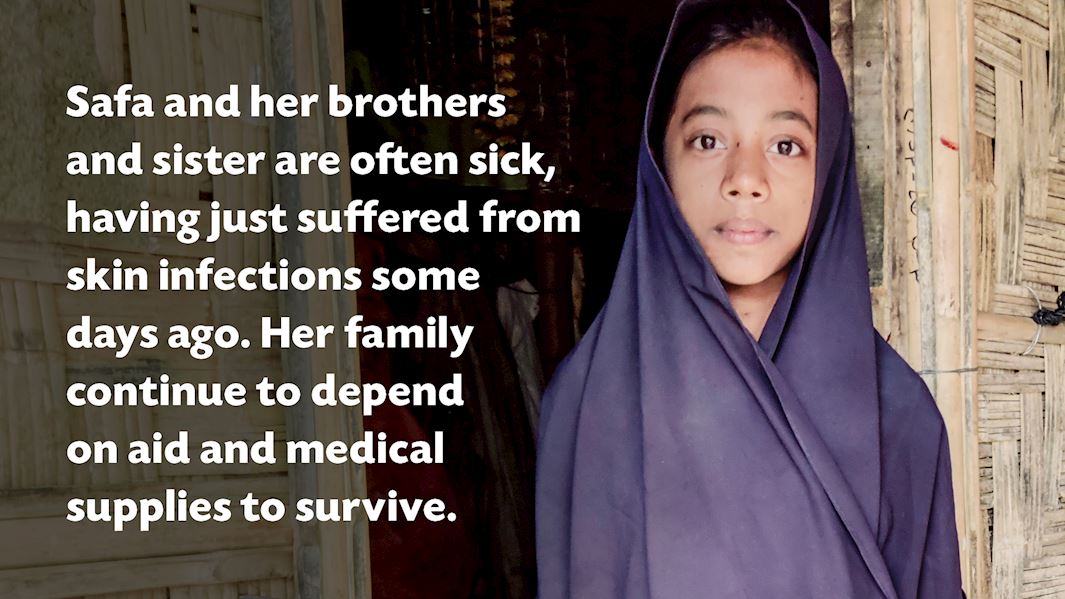 Safa's Story
On a muddy floor, in a house made of bamboo and tarpaulin, Safa, 12 years old, lives with her parents and three younger siblings. She spends her time playing with her friends in the camp and occasionally visiting the children's centre.  
At age 12, she should be doing much more, however, as her father is only able to earn minimal income from labour around the camp, her family cannot afford the necessities, including food, clothes and medical supplies. Safa and her brothers and sister are often sick, having just suffered from skin infections some days ago. Her family continues to depend on aid and medical supplies to survive. 
But Safa has hope for the future. Hope that she will be able to return to her family's home in Buchidong, Myanmar. A home she scarcely remembers, as she was only 7 years old when the crisis began. While she is enjoying the benefits the donors have provided, such as the medical aid and the children's centre, she prays to Allah (swt) that the donors will continue to send these benefits to her family so that one day she can return to her home, a beautiful settlement that she has only heard of. 
---
Facebook

Twitter

Email This