02 February 2023
Rebuild Pakistan: How Muslim Hands are Helping the Survivors of the Pakistan Floods

The 2022 Pakistan floods submerged a third of the country under water, impacting over 30 million people. More than two million homes were damaged or destroyed, forcing over half a million people to seek refuge in temporary shelters and camps. Four months on and the impact is unimaginable – 25 percent of the country is still immersed in dangerous disease-infested waters, exposing locals to a range of waterborne illnesses including Cholera and Typhoid. Millions are now reliant on humanitarian aid after losing everything.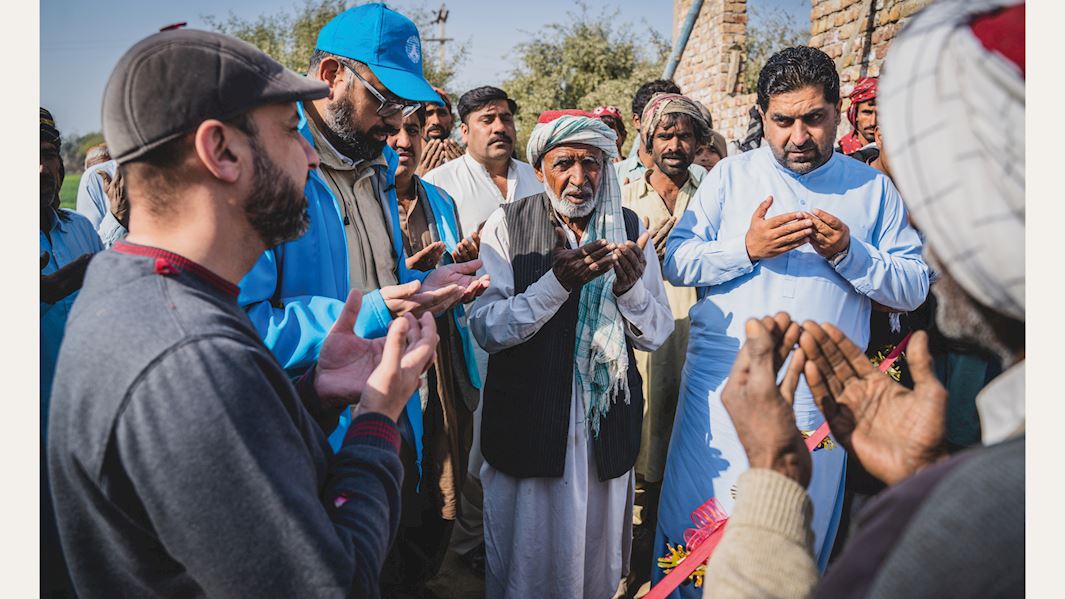 How is Muslim Hands Helping the Survivors of the Pakistan Floods?

 
Muslim Hands is working in the most affected areas such as Balochistan, Punjab, Sindh and Khyber Pakhtunkhwa providing permanent shelter homes. Rebuilding these homes means that these families can now start rebuilding their lives. 110 Pakistan homes have already been completed in Mastung and Jafarabad, provinces in Balochistan, with a further 50 currently being constructed in Badin, Sindh.  
To protect families from any future floods that may occur, we have built brick houses in place of the mud homes that were destroyed. A home costs £2,000 and gives shelter to at least five flood survivors. It is built with 13,000 bricks, nine-foot walls, seismic beams to protect against earthquakes, steel reinforced girders in the roof as well as iron windows and doors. Each home is  built on a three-foot high cemented platform base, with a damp proof course, to protect against flooding and reduce the risk of damage in the future, which follows the disaster risk reduction framework  approved by the government of Pakistan. 
What will the Rebuild Look Like for Pakistan?

 

 
Each home has one family room [12 feet x 14 feet], a kitchen [5 feet x 9 feet] and a bathroom [5 feet x 5 feet] with a septic tank.  All rooms have electric fittings which include lights, a ceiling fan and a switch board. It is also important to note that the covered area of each home is 295 square feet which is in line with Sphere standards, where each person should be allocated 5.5 metres.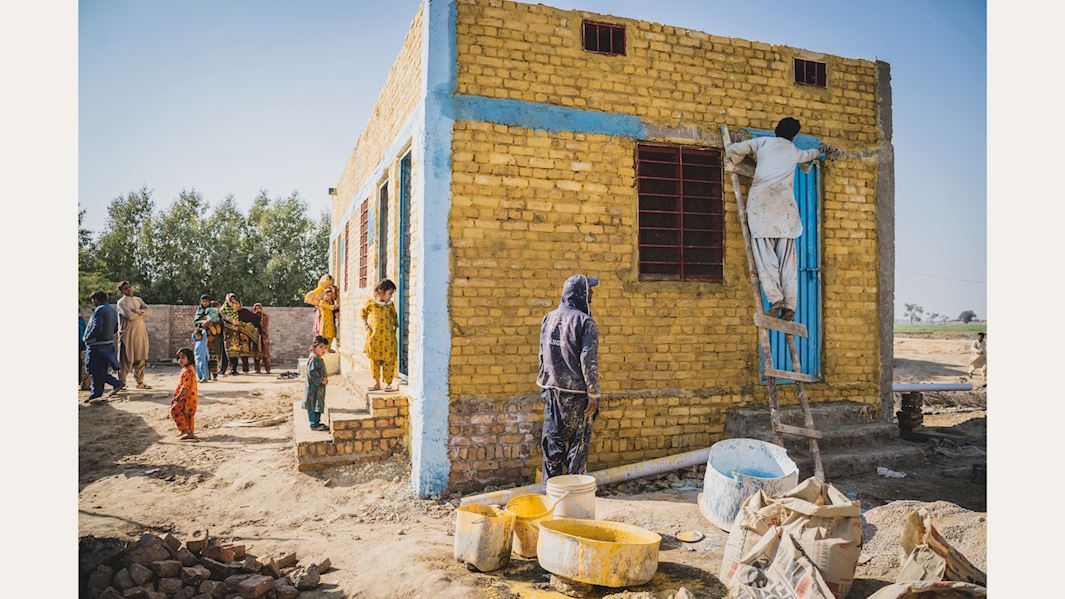 Muslim Hands UK staff recently travelled to Pakistan as part of their winter appeal campaign and visited the housing project in a village in Mastung province. The weather was bitterly cold as the snow covered the mountains in the distance. The devastation that rocked the area in August was still very much apparent. Mud homes that once occupied the land were now remnants of sticky mud that clung to our shoes and tents were now dotted around protecting families from the elements.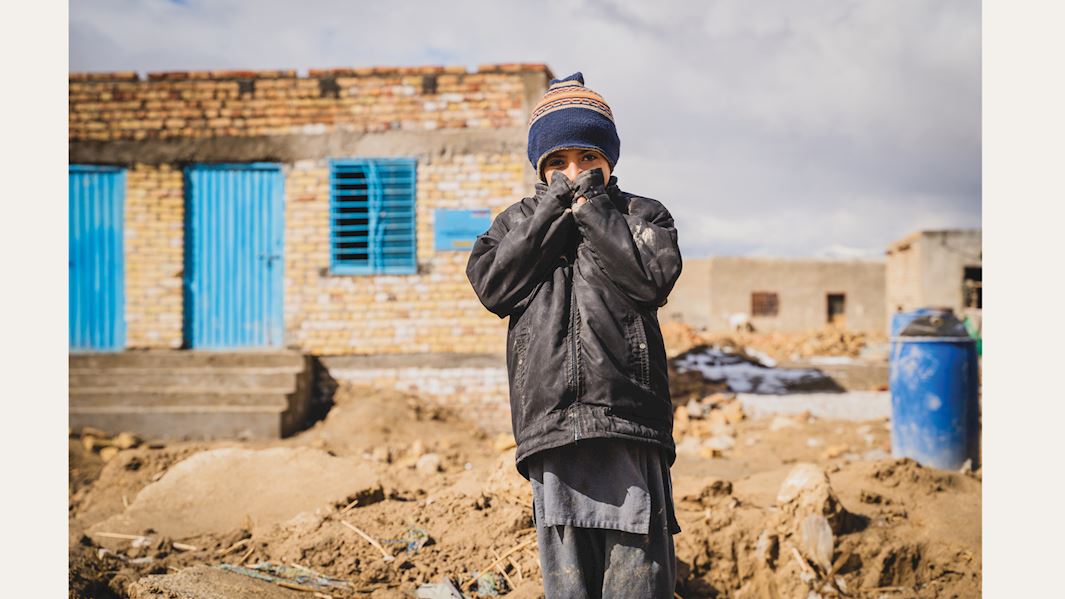 Stories from the Pakistan Flood Survivors

 
We met Haji Sheer Muhammad, a 55-year-old father who has two wives and four children. He recounted the day the flood waters ravaged his village: 
On 25th August it started raining heavily and by 10.30pm everything in the village was completely flooded. The flood water washed away mud brick homes and possessions quickly, so we could only help our wives and children to seek refuge in a village higher up in the mountains. All men stayed back at the village, but we were not able to save our homes. Everything got destroyed. We could only save ourselves and the clothes we wore. 
When asked about the Muslim Hands intervention that was building his new home, he said:  
These homes are better than our previous ones. Our old house did not have a toilet, which meant the women and children had to go into the field which felt unsafe, especially at night. We are very thankful for our new home. We feel blessed that a donor in the UK thought of us. They must have a very kind heart because they do not have any personal connection to us but were still ready to donate a home for our family. We hope that more families like us will receive homes.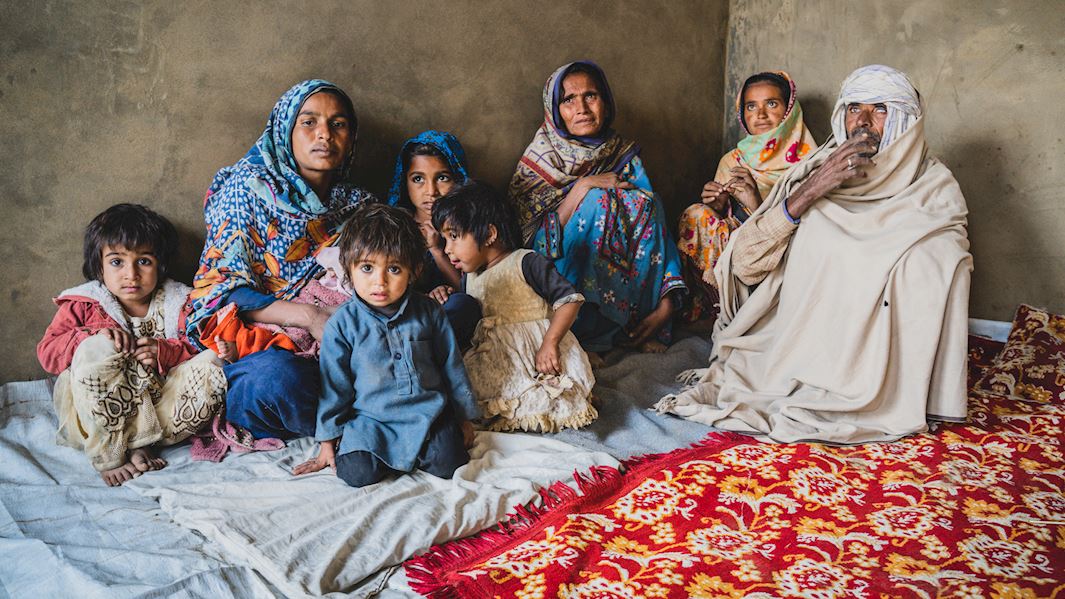 We also visited the housing project in Jafarabad province, where we met Manzoor Ahmad and his family of eleven, who moved into their new home two days prior. He said: 
Our mud homes washed away quickly with the floods. We could only save our lives. The river that passes through the area right next to the village became so powerful that it destroyed everything. We had no choice but to live in a wooden refuge shelter in the higher lands for two months before the flood water had retreated and we could return to our village. 
When asked about their time in the wood shelter the family said, 'It was unbearably hot in the sun and the children got ill with malaria and diarrhea. Many people in the village are still ill now. Sleeping in the open air and being exposed was dangerous but we had no other choice.'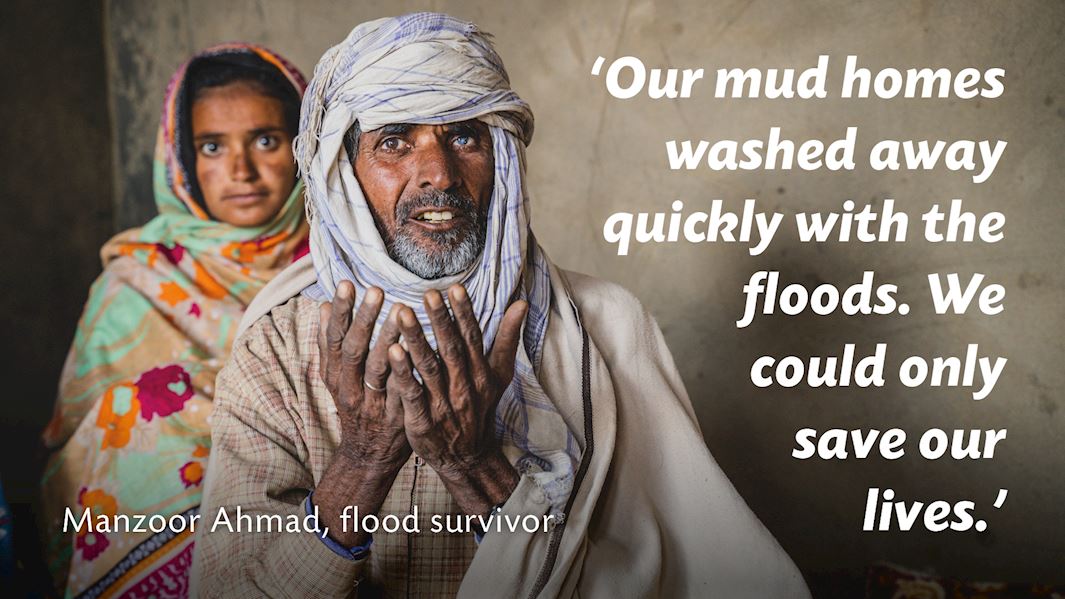 'We are so grateful to Allah and the donors. We never dreamt of ever living in a house like this. We pray for the donor's day and night. We are extremely happy with the house and feel very blessed to have received this gift. This is the first time we have a washroom, kitchen, and toilet under one roof, which makes life for the women easier and safer.' 
When asked how this new home was better than his last home, Manzoor said: 
Being three- feet up from the ground, made from brick and the metal beams in the roof, we feel safer here than in our previous mud home. God forbid there is another flood, this home would be stable. Even if the flood water reaches higher than three feet we could climb on the roof, and it would be stable and safe. 
When we spoke to Manzoor Ahmad and Haji Sheer Muhammad they both echoed the same sentiment of how lucky they were to be chosen to have this home. When asked if they had a message to the donors, Haji Sheer said, 'We hope that the donors continue to give generously so that more families like us receive homes.' Manzoor said, 'I ask the donors to not forget about other families in the village who still need help and homes. There are more families that have only recently returned to the village and are still living in tents.'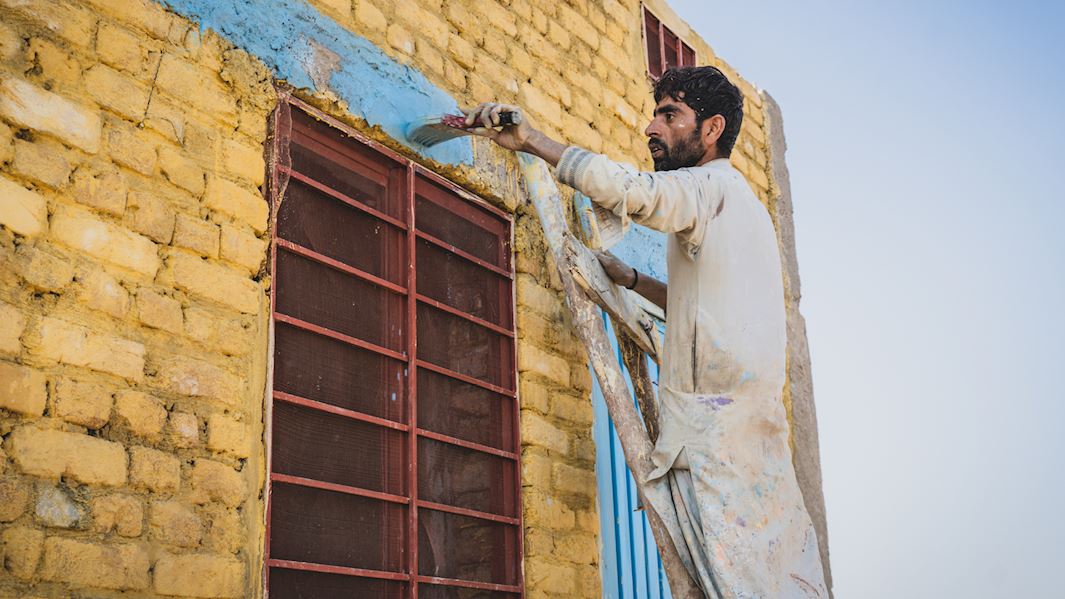 How you can Help Rebuild Pakistan

 
It will take decades to rebuild Pakistan and for its people to return to pre-flood conditions. Therefore, life-saving interventions from charities like Muslim Hands is vital. Your donation of a home will give many in Pakistan another opportunity to live life again and regain their dignity. These homes are more than just brick and mortar, they are a safe haven and a place of comfort. With every home, donors will receive a name plaque and feedback report of your donated house once it is completed. Brick by brick, together we can ensure these people are not forgotten.   
---
Facebook

Twitter

Email This