How to Decorate Your Home for Ramadan and Eid al-Fitr

On the authority of Ibn 'Umar (ra) that the Prophet (saw) said, 'Indeed, Paradise is decorated for Ramadan from the beginning of the year till the following year'. [Baihaqi]
Ramadan is a sacred month for spiritual reflection. However, both Ramadan and Eid al-Fitr are also a time for celebration!
The Noble Qur'an was first revealed in Ramadan, which makes it the most blessed month of the year and a time of gratitude and happiness. Meanwhile, the very meaning of the word Eid is 'festival' or 'feast'. Thus, Ramadan and Eid are special times to share with your friends, family and loved ones.
While the spirit of Ramadan is found in our hearts, creating a home environment that embodies the love and joy that this month represents can really help us make the most of this blessed time, allowing us a comfortable space in which to contemplate and reflect. This is especially important now, when many of us will be spending so much of the month indoors.
With this in mind, our guest blogger and interior design enthusiast, Leila Amber, based at Carpet Centre in Dubai, has shared eight tips on how to get your home Ramadan ready.
1: Illuminate your home with indoor lights
There's a certain feeling in the home that only lights can achieve. A simple string of lights can warm and elevate any space and they look magical at night.
There are different ways to use them:
You can string or wrap them around any surface - this is a simple, but effective method, so it is frequently used!
You can put them inside a bottle or a jar for a more subtle effect.
Better yet, you can place them behind sheer curtains to diffuse the hard glow and make them look more ethereal.
Alongside your own home, you can also illuminate the home of the Noble Rock, from which the Prophet (saw) ascended to the heavens on Al-Isra wal-Mi'raj. As you are beautifying your own home, you will also be honouring a sacred site of Allah (swt)! (Find out more about lighting up Masjid Al-Aqsa's Dome of the Rock).
2: Set up flower arrangements
We always love having fresh flowers in a home. They are nature's colourful scent diffusers. They can brighten up any space and uplift any mood. What's more, flowers are a great way to make a statement to loved ones as different flowers mean different things.
You can place your bouquet in a vase that doubles as another decorative element. I prefer glass, crystal or plain porcelain. I find that printed vases can sometimes distract us from the flowers' beauty, but it all depends on your personal taste.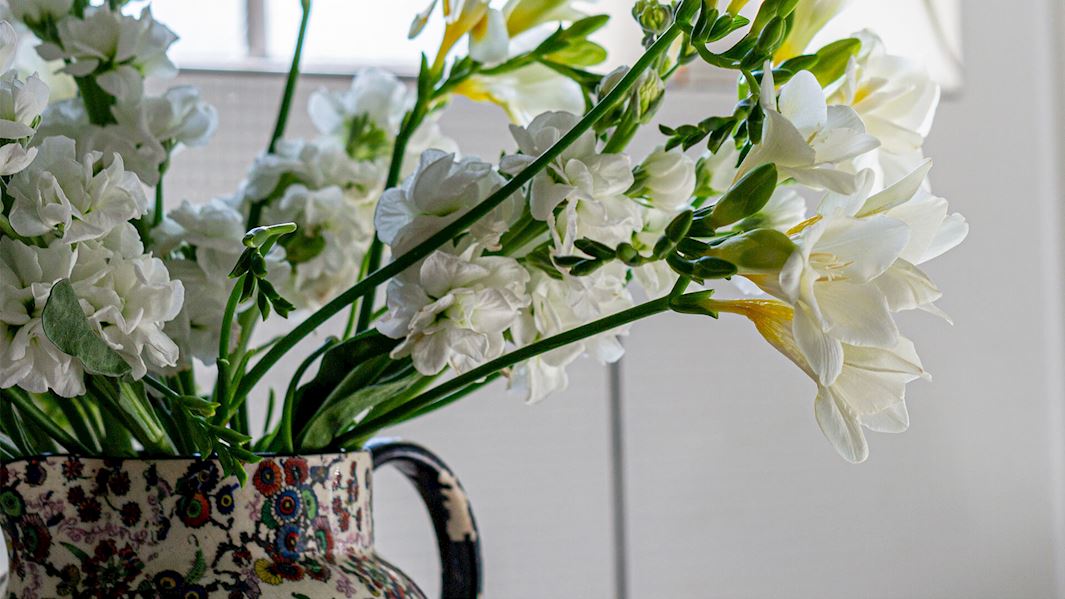 Another option is to arrange your flowers in a wreath. You can hang it on your front door as a warm welcome to your guests, or on any wall as a focal point to tie your festival decorations together.
3: Revitalise your prayer space
Decorating your home is not just about beautifying your space and arranging it to welcome Ramadan in the best way. It is about getting into that 'Ramadan mind-set', recognising that you need to prepare your mind, body and soul for a blessed month of worship!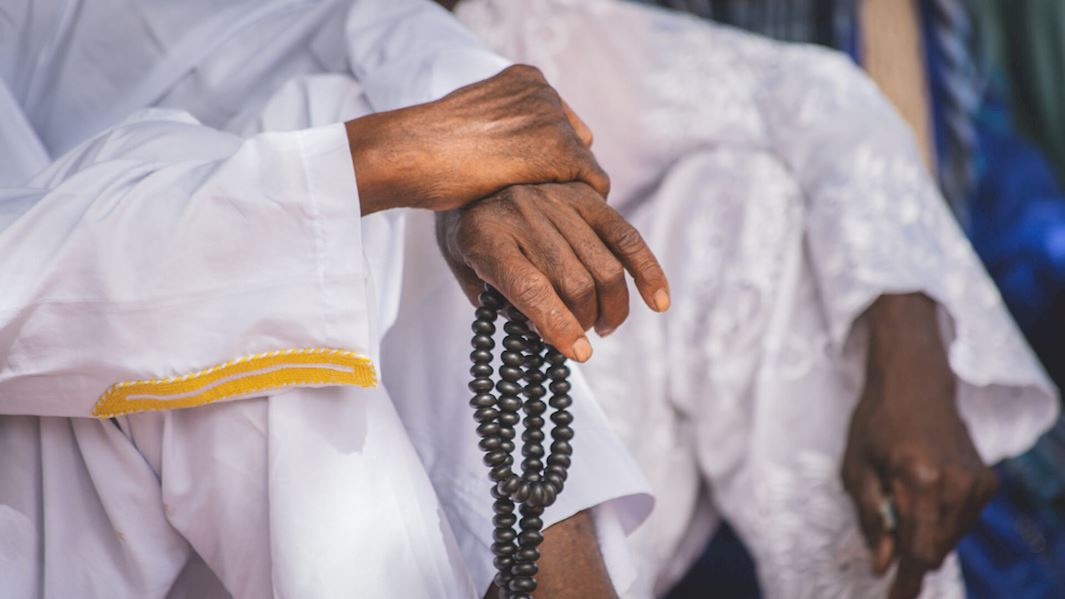 So, while preparing for Ramadan, don't forget to refresh and de-clutter your prayer space. Switch your prayer mat for a new one, clear the area of distractions and make the space warm and welcoming. Revitalising this space will help you revitalise your connection with prayer, in sha Allah!
Don't stop with your prayer area. Adding layers of carpets and rugs around the home has a warm, cosying effect and provides extra comfort for elderly relatives and children.
4: Use decorative candles
Do you want to give your home a warm illumination but don't want something artificial like fairy lights? Why not opt for a decorative candle instead? Homemade scented candles are very trendy at the moment. You can find them available to buy on Etsy and various social media platforms. Just be mindful that the scent you chose won't distract you from prayer. Instead, choose a candle that can re-energise and inspire you during spiritual reflection.
Those with young children who are worried about candles being a fire hazard can opt for battery-operated ones.
5: Hang up Ramadan lanterns
There are many kinds of lanterns you can use to decorate your home this Ramadan. Traditional Arabian lanterns have a more classic effect. Meanwhile, those who want to add more colour into their space can opt to decorate with Moroccan lanterns instead.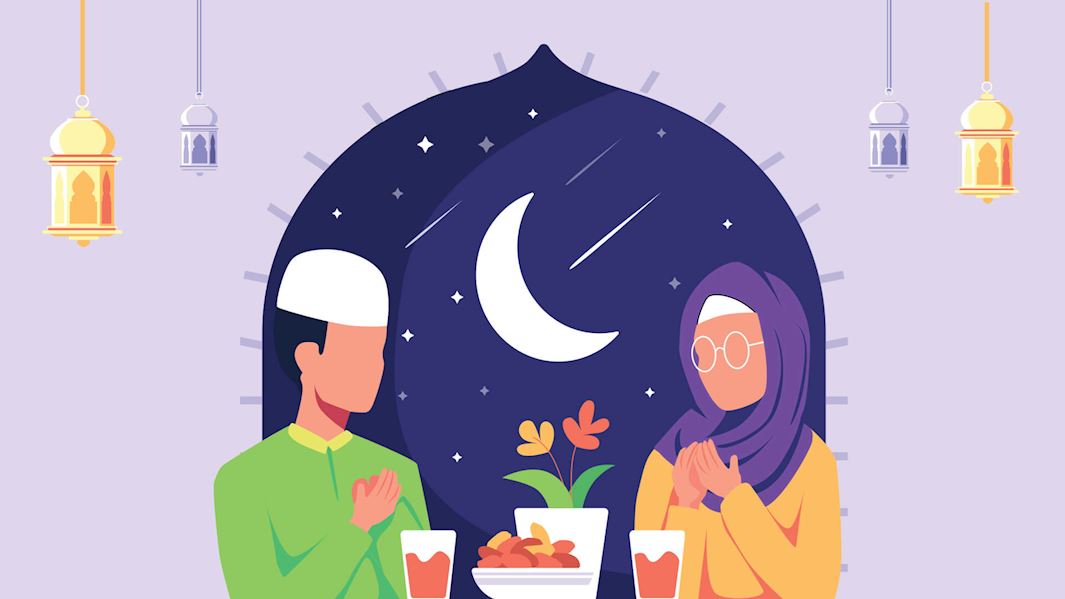 You also have the option to choose between candle-lit ones (they're definitely more beautiful but can get quite hot) or a more modern electric one.
6: Decorate your door for Ramadan
As mentioned before, you can use a floral wreath to decorate your door and welcome people into your home. But if you want an alternative door hanging, there are plenty of artistic door decorations you can choose from!
Of course, I highly recommend those that are in the shape of the stars and moon, in keeping with the Ramadan theme. There are some beautiful, handcrafted versions available online.
7: Turn your Eid Mubarak balloons into gifts
I love balloons as they take me back to my happiest childhood memories. That's why I think it's impossible to have too many in one space! In fact, the more, the merrier!
If you want to make them even more exciting, fill your balloons with money and treats at Eid. The result is a popping party that even adults can enjoy.
8: Create DIY Eid frames for your loved ones
As much as I love the beautiful handicrafts available to buy, making something yourself is even more special and your loved ones will surely appreciate the effort that you put into it.
It can be as simple as printing out your chosen imagery or calligraphy online, placing it in a frame, and decorating the frame. Or you can opt to craft the image itself for a more personalised effect.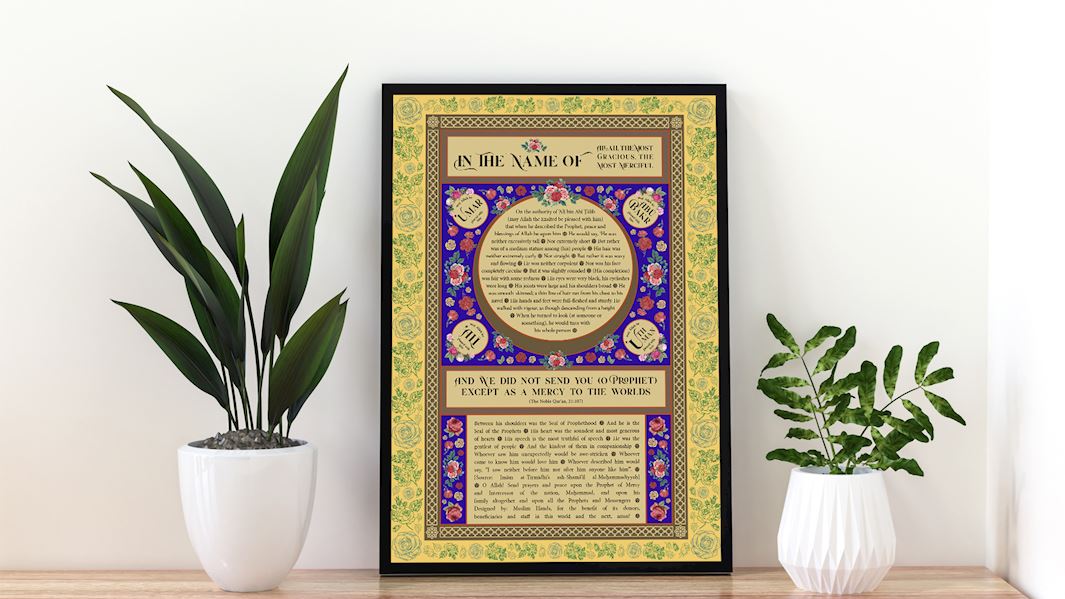 There is a lot of inspiration available online. Some of my favourites are embroidered, wood-carved or glass-etched images. You can also get a frame with more depth to place dried flowers or gold confetti in. What's important though, is the love you put into creating it.
The eight decoration ideas I've shared with you are just some of the ways you can get your home Ramadan and Eid ready. Try them out or explore some ideas of your own!
Get the whole family involved and instil that excitement for Ramadan in the kids. The earlier you start to encourage them, the better. Not only that, but readying your home together provides yet another opportunity for spending that quality time with family over this blessed period.
Muslim Hands is an award-winning charity, established in 1993 to help those needing emergency relief and tackling the root causes of poverty. We'd like to thank Leila Amber for her amazing tips for decorating our homes this Ramadan and Eid! We hope her article was helpful to you - please share with family and friends, so they can make their houses beautiful in time for Ramadan!
---
Facebook

Twitter

Email This