31 May 2023
Ordering Qurbani in 2023: All Your Questions Answered

This year, the first day of Eid al-Adha will be on 28th June 2023 (depending on the moon sighting).
There is less than one month left until Eid al-Adha - so it's time to start planning Qurbani! This article explains every feature of our Qurbani Service, including where we work, how we calculate our Qurbani prices, how we choose our animals, who we distribute the meat to and how you can personally enjoy your Qurbani meat.
If you're not sure whether you need to give a Qurbani, please read our article about the rules of Qurbani.
Without further ado, let's get your questions answered!
Where can I give my Qurbani?
Alhamdulillah, we have been distributing your sacrifices for over 25 years and we keep expanding our service! In 2023, you can order your Qurbani to 25 locations, including Yemen, Afghanistan and the UK.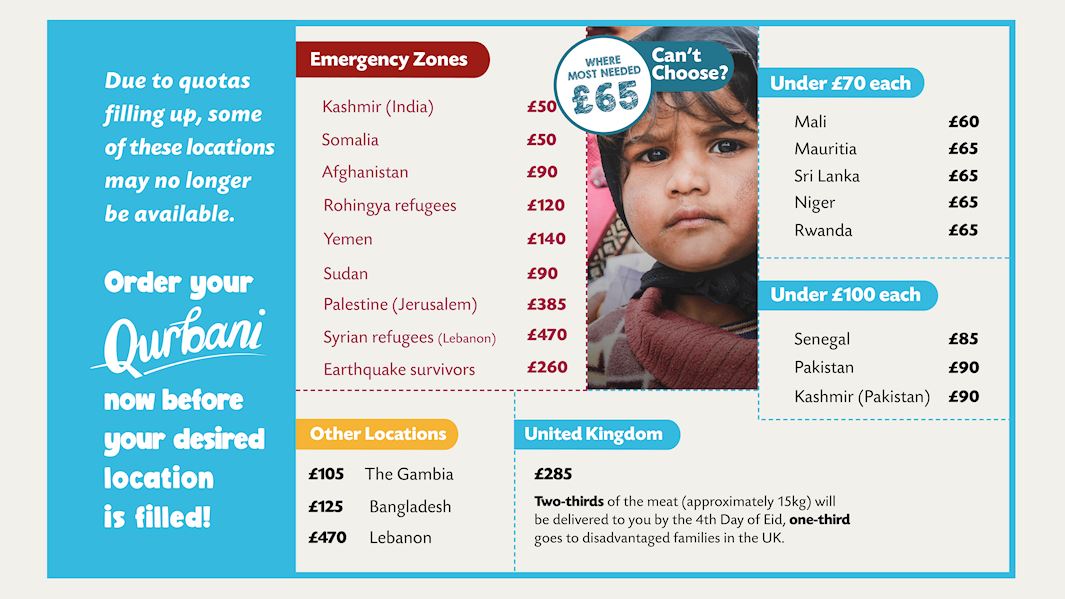 If you can't decide where to give your Qurbani - don't worry! Simply select our 'Where Most Needed' option for £65 and our teams will allocate your Qurbani to where it is most needed on the ground.
Please note: we have a set quota of Qurbanis for each location, so we recommend that you give your Qurbani as early as possible to avoid disappointment.
However, you can make your Qurbani order right up until Maghrib time on the third day of Eid. This is because Muslim Hands has already sacrificed the animals in time for Eid distribution, with the intention that some donors will give their money on the third day.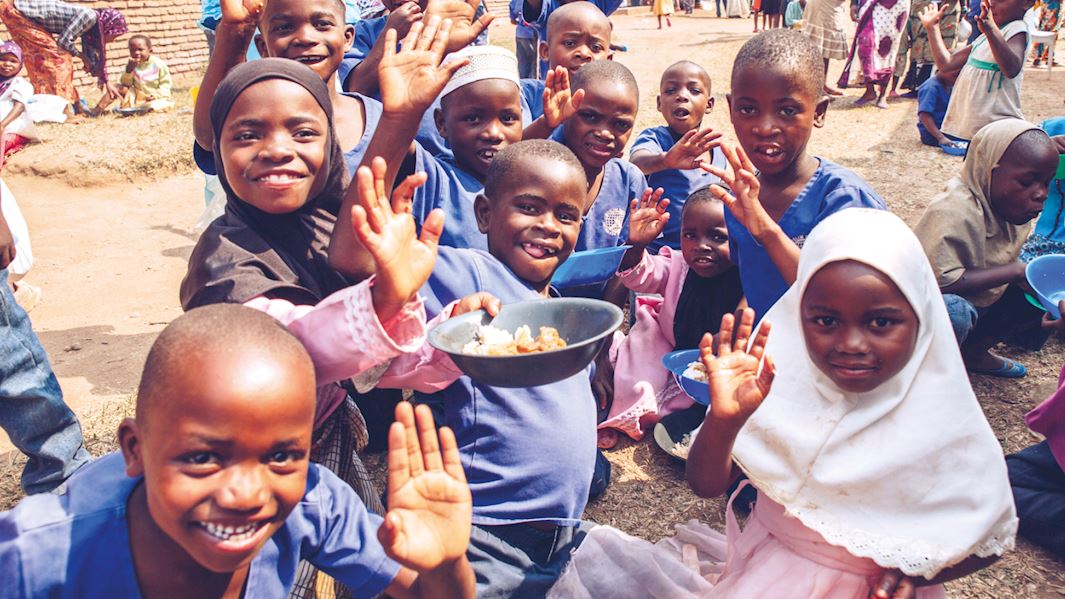 What is included in the cost of a Qurbani?
Our Qurbanis start at £30 but the price varies depending on the location. The cost includes:
The price of animal, always bought and sacrificed locally
The cost of taking care of the animal to ensure that it is up to the standard for a Qurbani animal - including welfare checks by a qualified vet
The cost of transporting the animal to the location where it will be sacrificed
The cost of packing the Qurbani meat and distributing it
As you can see, Muslim Hands does not subsidise any part of your Qurbani journey. You cover the full cost of choosing a worthy sacrifice, fulfilling your obligation and distributing the meat to those in need.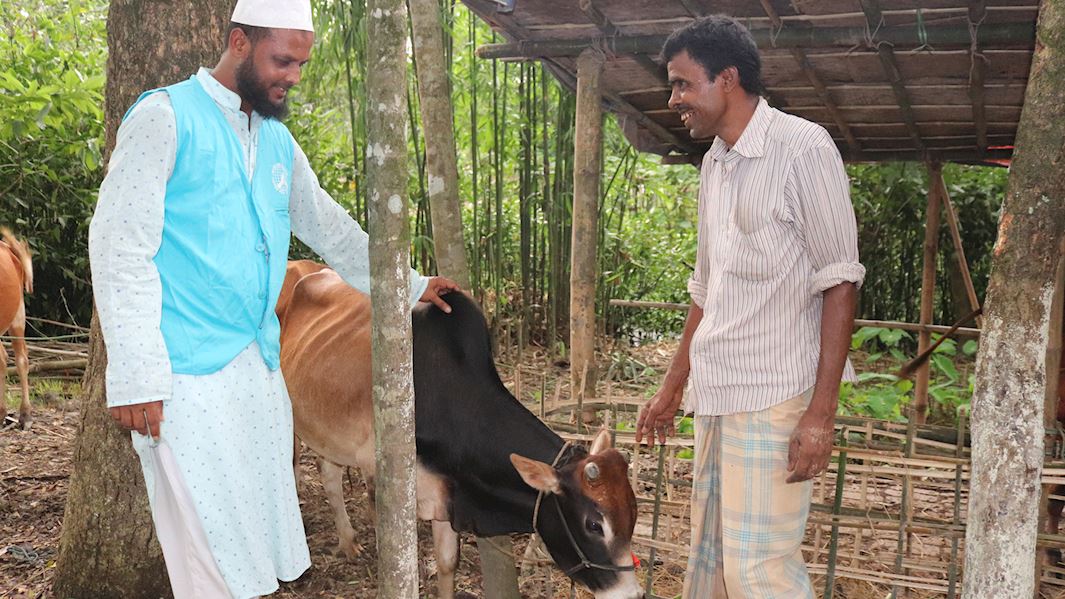 How does Muslim Hands choose its Qurbani animals?
All our Qurbani animals are bought and sacrificed locally. We choose the best value animal for each location, whether that is a cow, a sheep or a goat. Also we don't stun our meat to ensure that your Qurbani is fully Shariah-compliant.
Furthermore, we always distribute fresh meat on Eid. We never use tinned or frozen meat because:
Fresh meat is healthier and tastier and we want our brothers and sisters to enjoy a meal as delicious as we would prepare for our own families, ensuring Eid is truly a feast and a celebration for them
We are committed to tackling the root causes of poverty worldwide and that means supporting local farmers rather than having the meat tinned in a distant location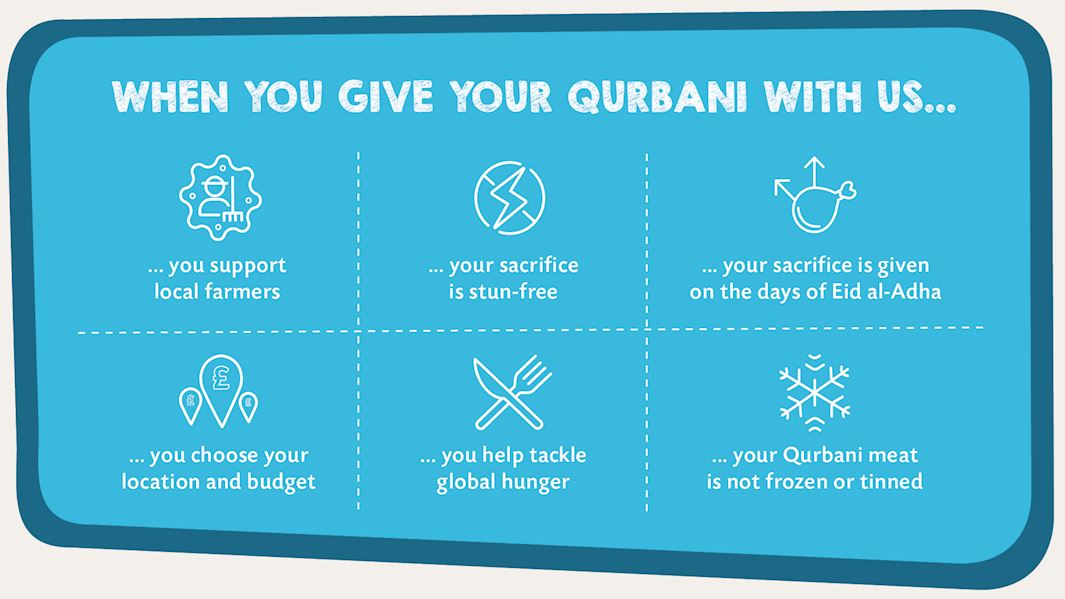 Who do you distribute Qurbani meat to?
In 2023, your Qurbani is more vital than ever in feeding those in need, due to the prevalance of natural disasters in the past year and soaring food prices in many areas.
Our local experts on the ground come from the communities we help. This makes them best-placed to find those most in need. Before Eid al-Adha, they are out in their local areas looking for the families that will benefit most from your sacrifice. Your Qurbani meat will be first distributed to widows and orphans, and then to other impoverished families.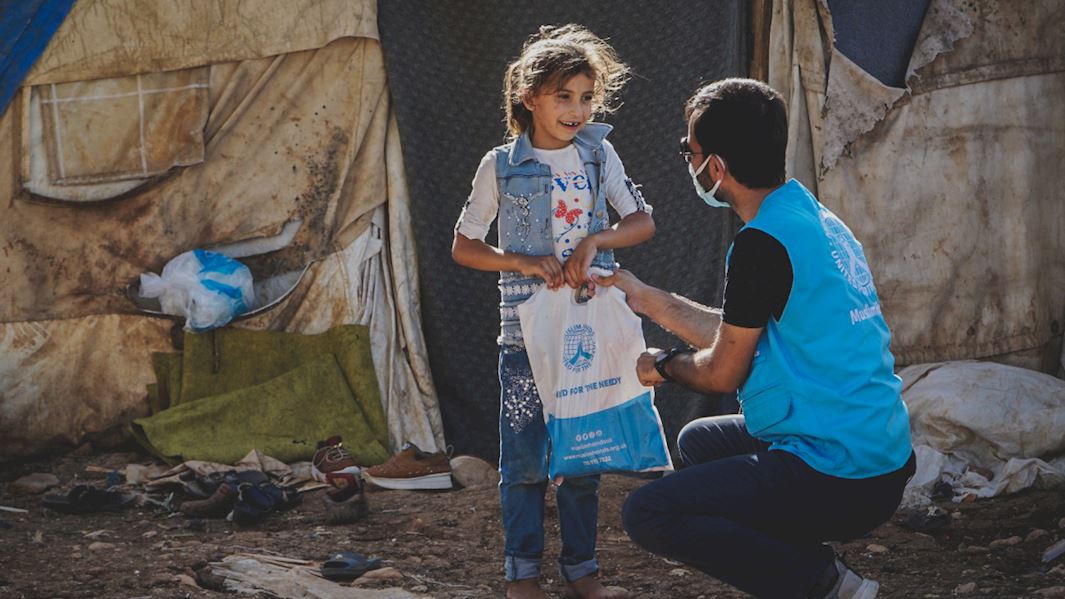 Meanwhile, in emergency locations such as Yemen and Syria, your Qurbani will go to refugees and war-torn communities, sharing the blessings of Eid al-Adha with those who need it most.
Can I eat my own Qurbani meat?
If you live in the UK and sacrifice your Qurbani here, we'll deliver some of the meat straight to your doorstep!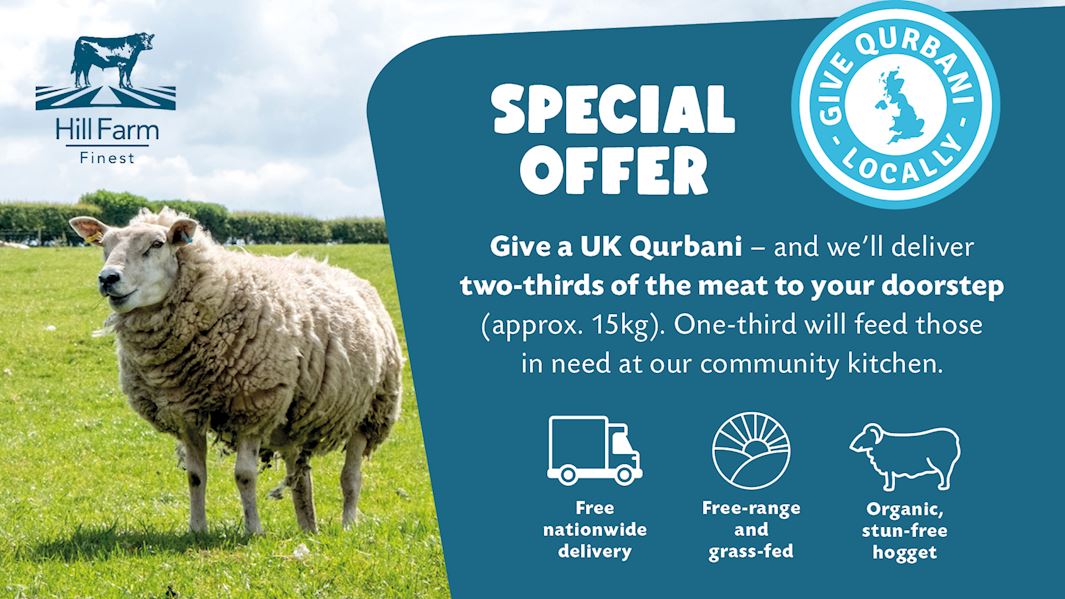 The cost of a UK Qurbani is £285 but delivery is free to anywhere in the UK. This will allow you to personally enjoy your sacrifice and distribute the meat to family and neighbours. Moreover, you will still be feeding the poor, as one-third of the meat will go to our community kitchens in London and Nottingham.
How can I maximise the rewards of my Qurbani?
The essence of our Qurbani is our intention. Our Qurbani symbolises our surrender to Allah, so we must choose a worthy sacrifice according to our means: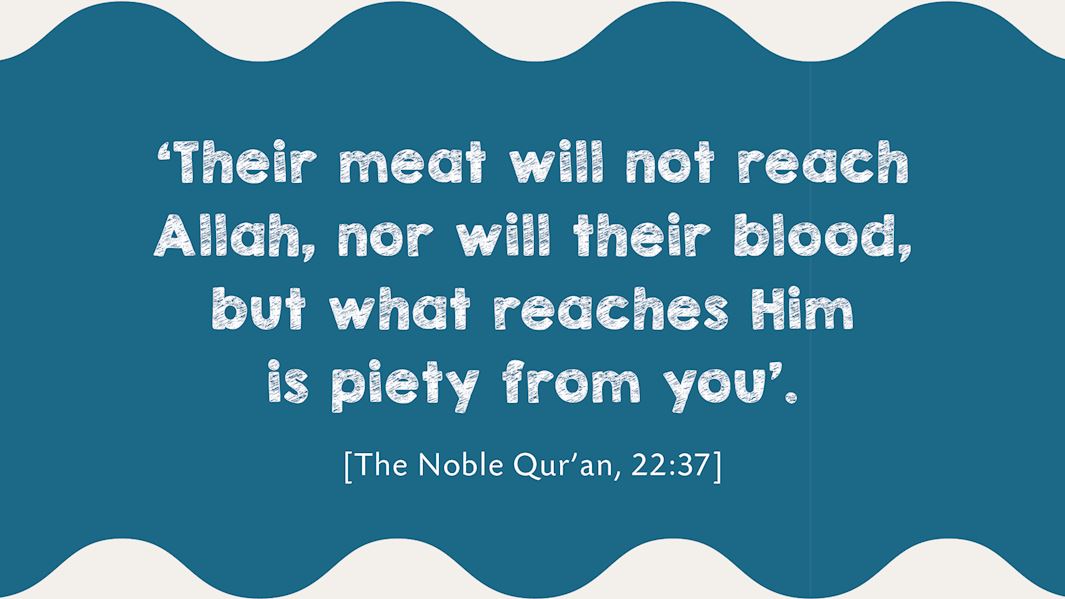 To maximise your rewards, you can give an extra Qurbani - just like the Prophet (saw) did! This will not only be reviving a beautiful Sunnah, it will also double your impact, feeding even more families across the days of Eid al-Adha.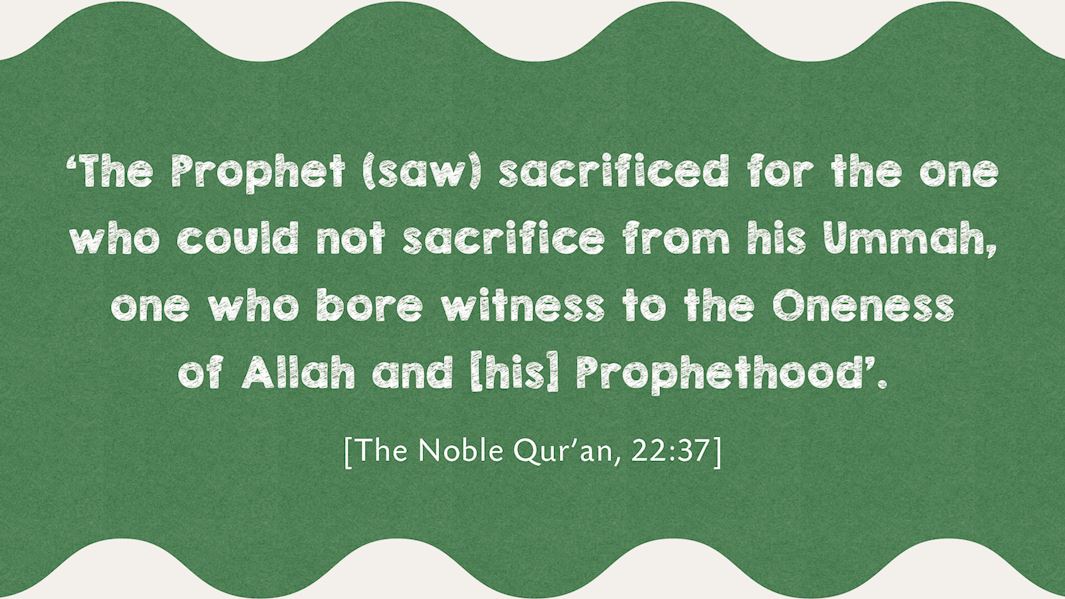 We recommend ordering your obligatory Qurbani to the location you most want to give towards, and then ordering your extra, Prophetic Qurbani to an emergency location like Afghanistan. Alternatively, you could order your Prophetic Qurbani to Where Most Needed.
What can I expect when I give Qurbani with Muslim Hands?
When you give your Qurbani with us:
You can choose your own budget, with prices starting at £30.
You can order your Qurbani to 25 locations in Asia, Africa, the Middle East and the UK.
You can rest assured that your Qurbani meat will not be stunned, tinned or frozen.
You will be supporting local farmers, as all our animals are sourced locally.
We will prioritise distributing your Qurbani meat to orphans and widows first.
If you give in the UK, you can personally enjoy your Qurbani meat.
We will share stories and images from the ground at every stage of your Qurbani journey, including preparing the animals and distributing the meat.
We pray Allah (swt) accepts your Qurbani from you and puts barakah in it, amin!
We hope this article answered all your questions about our Qurbani Service! If you have any further questions, please call our team at 0115 911 7222. You can also check out our article about the rules of Qurbani for more information.
---
Facebook

Twitter

Email This