Do something special and learn a traditional art form at our three day calligraphy tour taking place in Bolton, Bradford and Birmingham all in aid of raising vital funds for our Orphans Worldwide campaign.

Reserve your place today by clicking on the 'Registration Fee' button above or by calling our donations hotline on 0115 9117222 (open 9am-8pm, Mon-Fri) to pay your registration fee of £30 (non-refundable).

Or for more information contact Sister Sana on 07858433403 or sana.musa@muslimhands.org.uk
Locations
| Location | Date | Start | Venue | Register |
| --- | --- | --- | --- | --- |
| Bradford | 20 August 2016 | 10:00 | Carlisle Business Centre, Carlisle Rd, Bradford, West Yorkshire, BD8 8BD | Register |
| Bolton | 21 August 2016 | 10:00 | Bolton Council Of Mosques, 1 Vicarage St, Bolton, BL3 5LE | Register |
| Birmingham | 03 September 2016 | 10:00 | Hasanat College, Leigh Road, Birmingham, B8 2YH | Register |
Join us at our calligraphy tour and delve into something new and exciting whilst helping our Orphans Worldwide campaign. We will be joined by the talented Samiur Rahman from House of Calligraphy who will guide you on your masterclass in calligraphy. The best part of the day is you get to take away a piece of beautiful artwork created by YOU – and gift it to a loved one.
---
Samiur Rahman – House of Calligraphy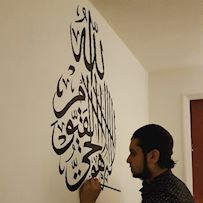 Samiur Rahman – House of Calligraphy
Samiur Rahman learned calligraphy in the Naskh style under his teacher and Master Calligrapher Moulana Muzaffar Hussain at the Institute of Islamic Education in Dewsbury whilst undertaking his Alimiyyah course. He then launched House of Calligraphy in 2011 with his partner Ismail Hussayn and later recruited their 3rd team member Rayhan Siddique. He is now currently completing his Masters in Visual Islamic & Traditional Arts at the Princes School in London whilst also continuing to further progress in his writing skills under Master Nuria Garcia.

As a business they have conducted numerous calligraphy workshops all over the UK including their Road to Inspire Tour in 2014 as well as holding regular events with the likes of Selfridges, Intu Trafford Centre in Manchester, Regents Park Mosque and the Emirates in London and the Hilton in Bradford.
---
At Muslim Hands, orphan care has been at the heart of our work for over twenty years. Not only do we provide the essentials our orphans need in their day to day lives, but we also invest in their futures.
We are currently providing over 12,000 orphans in 30 countries with an education and our custom built schools are setting standards all over the world. With your support we can transform the lives of orphans across the world.
Facebook

Twitter

Email This
---
Q. Who can take part?
A. Anyone from the age of 13 is able to take part in this event.
Q. Is there a registration fee?
A. There is a £30 registration fee which will go towards supporting orphans worldwide.
Q. What happens on the day?
A. You will practise your calligraphy skills under the guidance of a professional calligraphy artist and take away a piece of beautiful artwork to give as a gift to a loved one.
Q. Do I need to bring anything with me on the day?
A. No there is nothing you will need to bring on the day – everything will be provided for.