Join us at our Journey to Islam dinner in Oldham this September, supporting Muslim Hands UK Projects.

Book your ticket now for £10 and enjoy a 3 course dinner with guest speaker, Yvonne Ridley and our host and speaker, Aliyah Razaq.

Please note this is a sisters' only event.
Details
Venue
Eastern Pavilion Banqueting Hall, Featherstall Rd South, Oldham, OL9 6HL
Being part of a community is a natural feeling of belonging.

Join us and be inspired in Oldham as we listen to the experiences of women and their journey to Islam.

Whether you are a new Muslim, born Muslim or a non-Muslim, you don't want to miss this!

Let's share some love, happiness and food!
---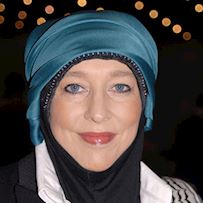 Yvonne Ridley
Yvonne Ridley will be sharing her journey to Islam. An award-winning author, journalist and campaigner, Yvonne was elected European President of the International Muslim Women's Union in Special Status with the Economic and Social Council (ECOSOC) of the United Nations. She is also Vice-President of the European Muslim League.

Yvonne's long career as a journalist saw her working as a senior reporter with several well-known British newspapers including The Sunday Times, The Observer, The Independent on Sunday and The Sunday Express.

Yvonne continues to write regularly for the international press. She is an accomplished documentary filmmaker and has won several awards for her work in this field. Yvonne is an active spokesperson for Islam and regularly appears on mainstream media.
---
Over the past twenty years, the generosity of donors in the UK has helped transform the lives of thousands of people in communities across the world.

Closer to home, however, there are many problems faced by BME and Muslim communities which demand our attention. Muslim Hands has been working to tackle these issues since 2008.

Our vision is to enable deprived and under-achieving communities to move forward and to provide them with opportunities to live a life free from poverty, exploitation and exclusion.

We engage with and practically support community organisations. We assist them through funding, capacity building and forming relationships with partners to help expand their work and further benefit more members of the community.

As well as working within the four key areas of prisoner rehabilitation and resettlement, poverty alleviation, youth empowerment and supporting marginalised women, we have also supported emergency relief work, rehabilitation for those who have abused drugs and social inclusion projects for vulnerable groups like the elderly.
Facebook

Twitter

Email This
---
Q. What are the ticket prices?
A. Ticket prices are only £10 each which includes entry to the venue as well as a 3 course dinner.
Q. How can I book tickets?
A. You can book your ticket online by clicking on the 'Book Ticket' by scrolling to the top of the page.

Alternatively, you can call our donations line on 0115 9117222 (open 9am-8pm, Mon-Fri) or call Sana on 07858 403443.
Q. What will the evening consist of?
A. The evening will be hosted by hosted by Aliyah Razaq from Rochdale and Yvonne Ridley, along with other sisters, will be talking about her journey to Islam.

We will also be joined by Sofia Buncy who will be talking to us about the fantastic UK Projects Muslim Hands is supporting.
Q. Can I purchase tickets at the door?
A. We strongly advise you to book in advance to avoid disappointment.
Q. Will I receive a ticket?
A. Once your payment has been made successfully, you will receive a ticket receipt and tickets in the post.