RESPOND TO ROHINGYA DINNER
'The most persecuted people on Earth.' (United Nations)

Join us for an emergency dinner in aid of the Rohingya people.

An evening of spoken-word, poetry, and inspirational entertainment.

*FREE ENTRY – REGISTRATION REQUIRED*
Respond to Rohingya Dinner
We have an inspiring line up of amazing talent, knowledge and experience who will all be getting together in aid of this amazing cause. The evening will be hosted by the successful nasheed artist and charismatic presenter, Khaleel Muhammad. A variety of inspiring spoken-word and poetry performances by Faisal Salah, Nomad Speaks, Jamal Khan and Lamyaa Hanchaoui and will include an energetic and passionate talk by Ajmal Masroor.

Please note you must register if you wish to attend.
---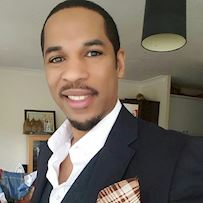 Khaleel Muhammad – Host
Khaleel Muhammad is one of the most established artists in the nasheed industry whose soulful voice and dynamic stage performance have made him a renowned internationally acclaimed performer. Khaleel is the author of the children's book 'Muslim All-Stars' and has appeared in several television shows, adverts and the Disney film 'Cinderella'.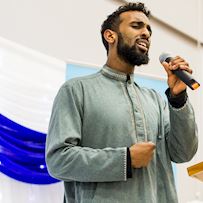 Faisal Salah - Nasheed Artist
Faisal Salah is a singer, songwriter, beat boxer and poet who is of a multicultural background that mainly compromises of Somali and Yemeni decent. He is currently studying media and hopes to use his God given talent and skills he has developed to help build bridges between communities by sharing a message of unity, love, peace and respect.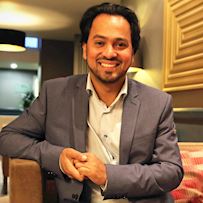 Ajmal Masroor - Fundraiser
Ajmal Masroor is a highly respected Imam, broadcaster and author. Although he specialises in the topics of marriage and relationships, he also writes on political, social and community matters and is regularly invited to speak at national and international conferences as well as to provide commentary on current issues in the media.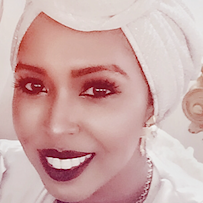 Nomad Speaks - Poet
Nomad speaks is writer/poet whose socially conscious words have touched the hearts of many women. Her poem 'Dear Sister' which tackles the issue of domestic violence has formed a great social movement within the Muslim community. Following its release, Sister Yasmine was invited to speak in parliament and continues to campaign against this taboo subject through her thought-provoking words, having been widely received by a number of women's charities, as well as victims themselves.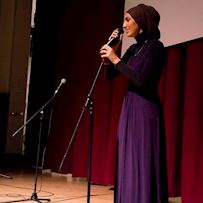 Lamyaa Hanchaoui - Poet
Lamyaa Hanchaoui is a visual fine artist with focus on the MENA region, singer, pianist and motivational spoken word poet of Moroccan decent. She has featured her spoken word poetry on Islam Channel's Lyrically Speaking series and is a now a radio presenter for Sisters Speak at Inspire FM. She has recently graduated in International Relations BA (Hons) and continues to shed light on a range of community and international issues via creative expression and empowerment.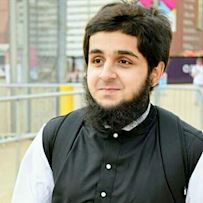 Jamal Khan - Spoken-word Artist
Jamal Khan is an award-winning writer and performance poet who has featured on various platforms such as BBC Radio 1XTRA and London Live TV. Earlier this year, he was also invited to perform at a private event in the City Hall by the Mayor of London, Sadiq Khan. Jamal's story has since caught the attention of the BBC as Jamal is to be featured as a main character in a short film about three young people whose stories are narrated through their poetry and the use of visuals. The screening of this short film will take place at the BFI Film Festival and will also be released on all BBC platforms. Much like Jamal's greatest inspiration, Anne Frank, he is on a mission that leads to greatness. He is writing his way into history.
---
It's been estimated by the UN that since 25th August, over 412,000 Rohingya refugees have crossed over into Bangladesh as their villages – and with it their homes and livelihoods – have been burnt, with 400,00 more men, women and children left displaced inside Myanmar itself.

With ongoing unrest in the region for many years, a total of one million Rohingya refugees have fled Myanmar to escape persecution and now a staggering 250,000 people in the area have now also been left without regular access to food.

At Muslim Hands, we've been supporting families in Myanmar since 2008, providing essential aid, including Ramadan and Qurbani aid, and also building shelter homes for displaced men, women and children.

As thousands of families find themselves in crisis, we're now calling on you to help support our work and help provide essential aid for Rohingya refugees in desperate need.








Facebook

Twitter

Email This
---
Q. How much do tickets cost?
A. Tickets are free, you simply need to register online.

Please note that as a free charity dinner, this includes a maximum of two children per adult.
Q. How can I book my ticket?
A. You can book your ticket online by clicking on the 'Register Now' button at the top of this page or alternatively, you can book by calling our Donations Line on 01159117222 (open Mon-Fri 9am-8pm and Sat 9-5pm).
Q. What will the evening consist of?
A. The evening will be hosted by Khaleel Muhammad and will include soothing nasheeds by Faisal Salah and inspirational spoken word performances. This will be followed by a three-course dinner.
Q. Can I register on the day?
A. As this is a free event, places are available on a first-come first-served basis. We therefore advise you to register in advance to avoid disappointment.

You can book your ticket online by clicking on the 'Register Now' button at the top of this page or alternatively, you can call our Donations Line on 01159117222 (open Mon-Fri 9am-8pm and Sat 9-5pm).
Q. Will I receive a ticket?
A. Once your registration has been successfully completed, you will receive an email confirmation shortly afterwards in addition to a phone call nearer to the event date to confirm your attendance.

Please bring your email confirmation to show at the registration desk on the day at 6pm. If you are unable to attend please inform our Events Team in order for others to benefit from the evening.
Q. How do I book a stall?
A. Please click on the 'Stall Enquiry Form' button at the top of this page and complete the form.

A member of the Events Team will then contact you shortly.