Join us for our 2nd Shine for Syria sponsored 5-mile night walk!

Communities from across the UK will come together, to sparkle, shine and light up the night with love at the Iconic Queen Elizabeth Olympic park in London for Syrian families living in camps across Lebanon and Turkey.

There will be lots of FREE entertainment, including nasheeds, football freestyling, and face painting! You'll even get FREE hot drinks and a warm meal to end the night!

Register now and sparkle, shine and light up the night with love for Syrian families.

*Registration required with a minimum of £200 in sponsorship
Registration: 17:00 – 18:15

Walk: 18.30 – 20:30

Closing ceremony: 20:30 – 21:30

Free food, refreshments and LIVE entertainment!
---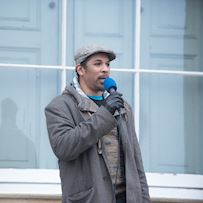 Khaleel Muhammad – Host and Nasheeds
Khaleel Muhammad is one of the most established artists in the nasheed industry whose soulful voice and dynamic stage performance have made him a renowned internationally acclaimed performer. Khaleel is the author of the children's book 'Muslim All-Stars' and has appeared in several television shows, adverts and the Disney film 'Cinderella'.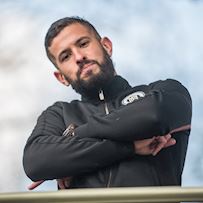 Colin Nell – Football Freestyler
Born in London, Colin was spotted in 2000 by Nike Executives whilst displaying his array of tricks during a major Nike promotion at Wembley Stadium – an event which attracted over 30,000 contestants. Since then, Colin has enjoyed an outstanding career as a professional football freestyler, performing in over 30 countries worldwide to crowds over 80,000 fans.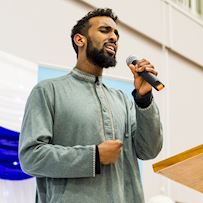 Faisal Salah - Nasheed Artist
Faisal Salah is a singer, songwriter, beat boxer and poet who is of a multicultural background that mainly compromises of Somali and Yemeni decent. He is currently studying media and hopes to use his God given talent and skills he has developed to help build bridges between communities by sharing a message of unity, love, peace and respect.
---
Six years since the start of conflict in Syria, over half the country's population has been left in urgent need of humanitarian assistance. Hospitals, schools and bakeries have been destroyed by heavy bombing and violence, hundreds of thousands of people have been killed and millions more have been forced to flee their homes.

Last year with your support, Muslim Hands distributed winter relief kits to families living in camps in Lebanon's Bekaa Valley to destitute Syrian families suffering with the harsh winter cold. In one winter distribution, 200 families were provided with their winter essentials – fuel, food parcels, blankets and jackets.

After many years in exile, the situation for Syrian families in Lebanon is deteriorating rapidly. With a lack of personal savings, men, women and children have been exposed to an extreme level of poverty, which is why Muslim Hands continuously needs your support and generosity to provide food, clothing, blankets and heating throughout the year.






Facebook

Twitter

Email This
---
Q. Who can take part in Shine for Syria night walk?
A. The Shine for Syria night walk is open to anyone who is up for the challenge. Please note, that children under 16 must be accompanied by an adult.

Bring your friends and family along with you as this event is all about bringing family, friends and communities together to help make a real difference to the lives of Syrian refugees.
Q. How much do I need to raise?
A. Each participant must raise a minimum of £200. However, we are hoping that our enthusiastic participants aim for a more pioneering individual fundraising target.
Q. Can we donate Zakat and sadaqa donations?
A. Yes, we accept both Zakat and sadaqah donations. Please make sure you let us know if you are donating your Zakat.
Q. What happens on the day?
A. The registration desk opens at 17:00 before the walk starts at 18:30. Depending on your pace, we anticipate the walk will be completed by all participants between 20:00 and 20:30.

After completing the walk, certificates and food will be provided in addition to a range of entertainment. The night-walk will finish by 21:30.
Q. What should I wear?
A. We advise you to please dress appropriately in your warmest clothes as temperatures are likely to be low and the weather may be windy and wet. Please also ensure your footwear is comfortable and ideally waterproof. Any other protective and waterproof clothing/accessories such as gloves, scarves, and umbrellas are strongly advised.
Q. What do I need to bring with me?
A. Comfortable walking shoes are highly recommended, along with an umbrella or waterproof jacket in case of rain. It is also advisable to bring a fully charged mobile phone in case we need to contact you.

Please note: you do not need to bring a prayer mat as a prayer area will be allocated on the day along with WC facilities to perform wudhu.
Q. Can I come in fancy dress or a costume?
A. Yes! It's a night walk, so add a bit of sparkle and light to your outfit or wear your favourite super hero costume, but please do make sure it is appropriate for the event.
Q. Can you register as a group of friends/family?
A. Yes, our previous walks have had many numbers of groups wanting to take part and we encourage you to get together to make it a memorable day out.