17 March 2016
Saima Lodhi on Becoming an MH Volunteer

Saima Lodhi joined the MH volunteering team for our annual Winter Walks and she hasn't looked back! We caught up with her to find out more...
'My decision to become a volunteer for Muslim Hands came about last year when I wanted to do more than travel to an office 5 days a week without doing something meaningful.  I once read somewhere, "When God blesses you financially, don't raise your standard of living, raise your standard of giving".  I thought to myself, "I'm blessed with a good job, have been promoted and I'm financially stable. I want to do more for others!"' But I didn't just want to donate. I wanted to be a part of the change.
Muslim Hands has given me the perfect opportunity to give back, fulfil an obligation as a Muslim and to be part of helping those less fortunate than me.  I was welcomed into the volunteering community as soon as I registered online and there were so many opportunities to get involved.
One event I was lucky enough to be a part of was the Winter Walks for Gaza.  I took part in one of the walks in my hometown of Birmingham and I also volunteered to support and help with setting up and preparing for some of the other walks that took place all over the UK.  The days were cold and Manchester in particular was the most challenging of them all due to the snow and bad weather conditions.  I had to keep reminding myself of why I was doing it and what a difference the money raised would make to families in Gaza.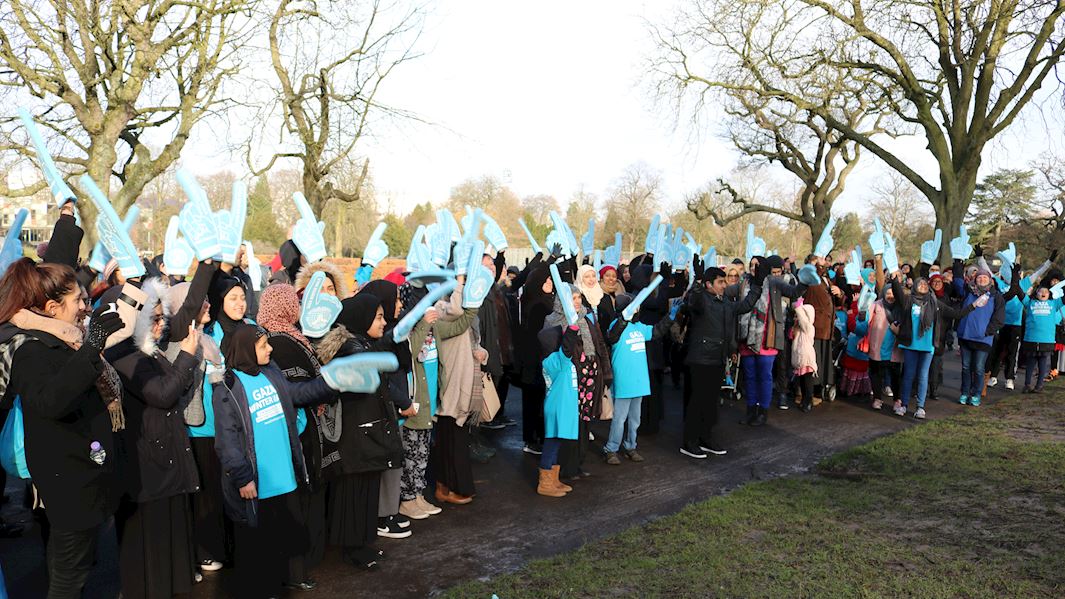 I shall continue to offer support, time and ideas to Muslim Hands because the work behind the scenes, which I have witnessed first-hand, is a credit to this charity.  I have met so many people through volunteering with MH, people from different religions, ethnicities and financial backgrounds, but all with the same intention; to help others.  I encourage everyone to join Muslim Hands because it really has opened my eyes to suffering around the world and how I can make a difference'.
Find out more about volunteering with Muslim Hands
---
Facebook

Twitter

Email This