08 May 2017
'No force in this world can stop you'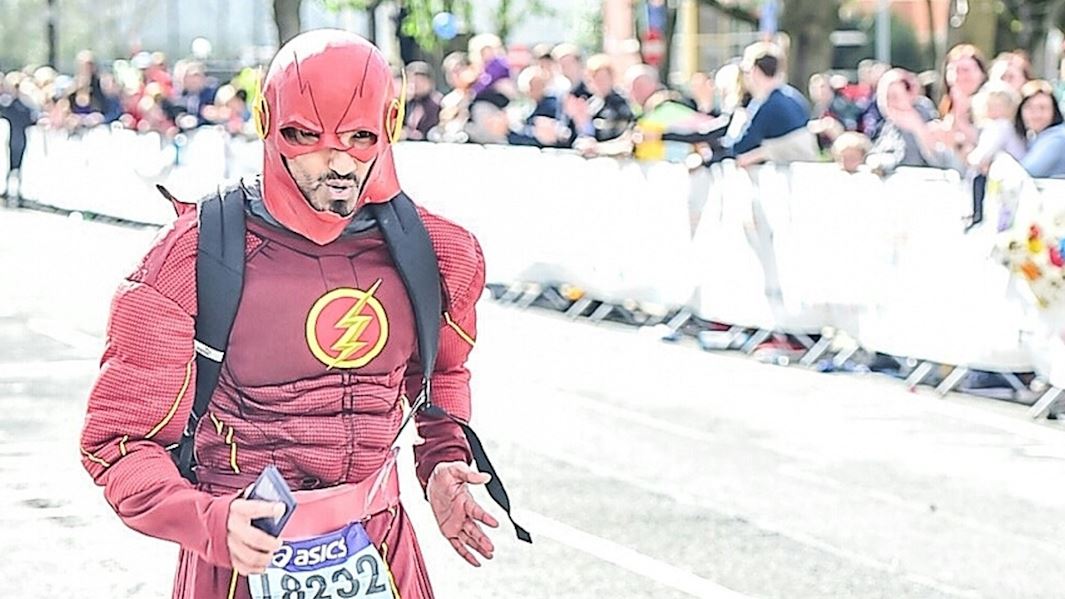 Longstanding volunteer Nazim Uddin has been running across the country over the last two years, covering over an astonishing 100km in order to raise money for Muslim Hands. As a multi-event participant, we wanted to speak to Nazim about what inspired him to start volunteering with MH and to find out how he's found the experience so far. Here's his personal account. 


I first started volunteering with Muslim Hands back in 2015. I took part in the London to Paris Cycling Tour in aid of the Muslim Hands Psycho-Social clinic in Gaza, which took me four days. I wanted to help the clinic because the children there reminded me of myself and my experiences battling with mental health. Since childhood, I've suffered from depression and been victim to bullying. I wasn't close to my family and as I grew older, I further distanced myself from them and also walked away from Islam. I tread a difficult path…
I later met a sister who saw the best in me and taught me the beauty of Islam. We planned to get married but our plans were cut short when she passed away. Her death pushed me further into depression. I became blinded with anger and hate and saw many of my friends lose their battle to mental health. I ultimately felt trapped, but as I thought about my friends who had lost their lives to mental illness, I decided to stand up and do something to help those suffering in silence and cherish the memory of those I wasn't able to save.
Last year, I ran three 10k runs and two half marathons for Muslim Hands and this year I also completed the Coventry Half Marathon. This month, just last weekend I completed the Great Birmingham 10k Run and I also finished the 26.2 mile Greater Manchester Marathon earlier on in the month. I ran dressed up as "The Flash", wearing a bag filled with weights. I did this to personify mental health in physical form and to illustrate the struggles of those suffering every single day. The exhaustion and the heat made the run incredibly difficult. I wanted to give up, but what kept me going was the promise I made to build my wells for my parents and the friends I've lost, aided by the kindness and support I received from strangers who cheered me on right until the very end.
I almost didn't finish the marathon as I risked collapsing and was advised by paramedics to drop out. I refused to give up though and carried on. Finally, the finish line was in sight: it was almost over. But just as I took another step, my whole body gave up and I fell to my knees. I took my mask off and told myself I couldn't go on any longer. In that moment, I prayed to Allah (swt) to give me the strength to finish and my prayers were answered. The crowd chanted: 'Flash! Flash! RUN! YOU CAN DO IT!' The support of strangers and the smiles of children rejuvenated my body and I found myself full of a profound burst of energy. I got up, put on my mask and ran faster than ever before. Not even the added weights could falter my conviction.
If I proved anything that day, it is this: If you fight for others, you retain your humanity. There is no force in this world that can stop you…


Thank you Nazim for sharing your inspiring personal story with us and Jazak Allah for all of your astonishing work with Muslim Hands which has benefited so many people worldwide.
Brother Nazim is quite unstoppable and will be taking part in a number of events over the coming months to raise money for Muslim Hands:
Great Newham London Run (10k) - 2nd July 
Great Bristol Half Marathon - 17th September 
Great East Run (Ipswich - Half Marathon) - 24th September 
Birmingham International Marathon - 15th October

Please help support brother Nazim as he runs to raise the funds needed for two dig-a-wells – one of behalf of his parents and another on behalf of his friends who lost their lives due to depression and anxiety. Without the support of our amazing volunteers and fundraisers we wouldn't be able to reach as many people as we do. You can donate via his Just Giving page.

If you would like to fundraise for Muslim Hands and/or sign up for one of our events to help those in need across the globe, visit our events page to find out all the latest information.
---
Facebook

Twitter

Email This