18 September 2017
A Big Convoy for a Huge Cause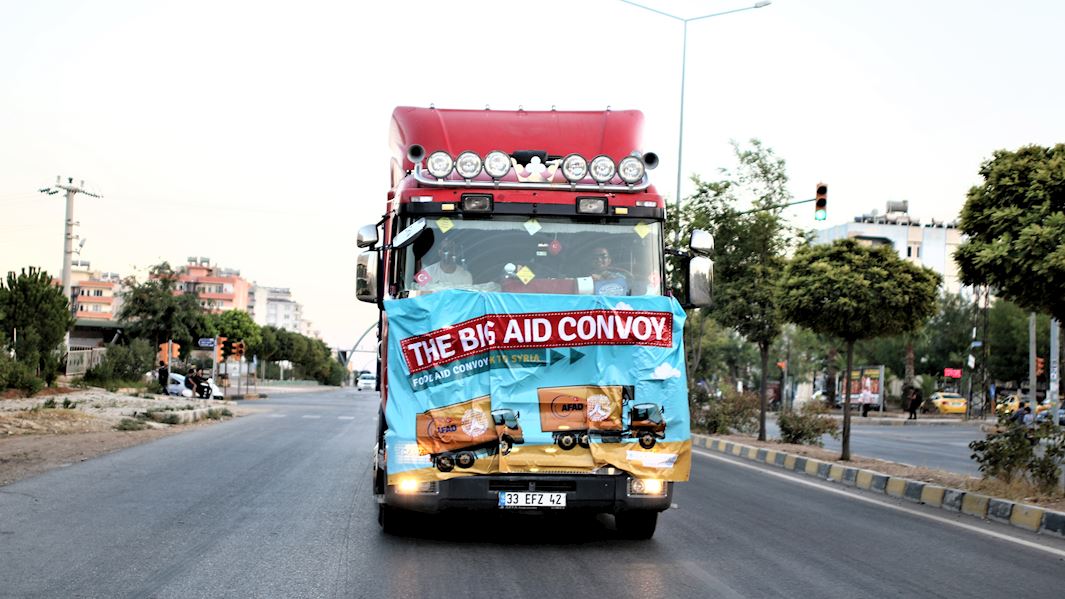 Last Ramadan, Muslim Hands launched the Big Aid Convoy – a project aimed at assisting needy families in Syria living in camps near the Turkish border. Alhamdulillah, a total of 19 containers were filled with just under 400 tonnes of food, including rice, flour and tinned foods worth around a staggering £400,000.
After the big send off at our head office in Nottingham, the containers were sent to Felixstowe, where they were then shipped to the Port of Mersin in Turkey. Here the 13 containers were received by our team on the ground and over a period of seven hours were transferred in to trucks by our partner AFAD – the Republic of Turkey Prime Ministry Disaster and Emergency Management Presidency – to the town of Kilis, close to the border of Syria.
In Kilis, there are 20,000 families living in camps and neighbourhoods. Inside Syria itself, AFAD are supporting a further 850,000 people in camps and residential areas close to the Turkish border. These camps are made up of container-style shelters and host mainly displaced people. Due to safety reasons, we could not enter Syria and remained approximately 40km away from the border.







After such monumental efforts, the food has now arrived in Coben Bay inside Syria - the central point of distribution for incoming aid - where it is being stored and distributed by the AFAD team. There are now six containers remaining which have now arrived in Mersin port, ready for collection and to be sent to Syria.
Alhamdulillah, the campaign has been a real success - thanks to all your help:
'To see communities coming together to support Syrian families living miles away showed us that people want to make a difference. Seeing the containers drive off in to Syria at the border in Turkey was extremely emotional and it was the hard work of all the donors that made this happen.' (Amreen Hussain, Campaign Officer)
From everyone at Muslim Hands we'd like to give all of our donors a massive thank you for your continued support. You've provided displaced Syrian families with essential aid and hope for the future and it's thanks to you that all our work has been made possible. Jazakum Allah khairan and please keep the people of Syria in your prayers.
---
Facebook

Twitter

Email This