09 November 2018
Rico's Story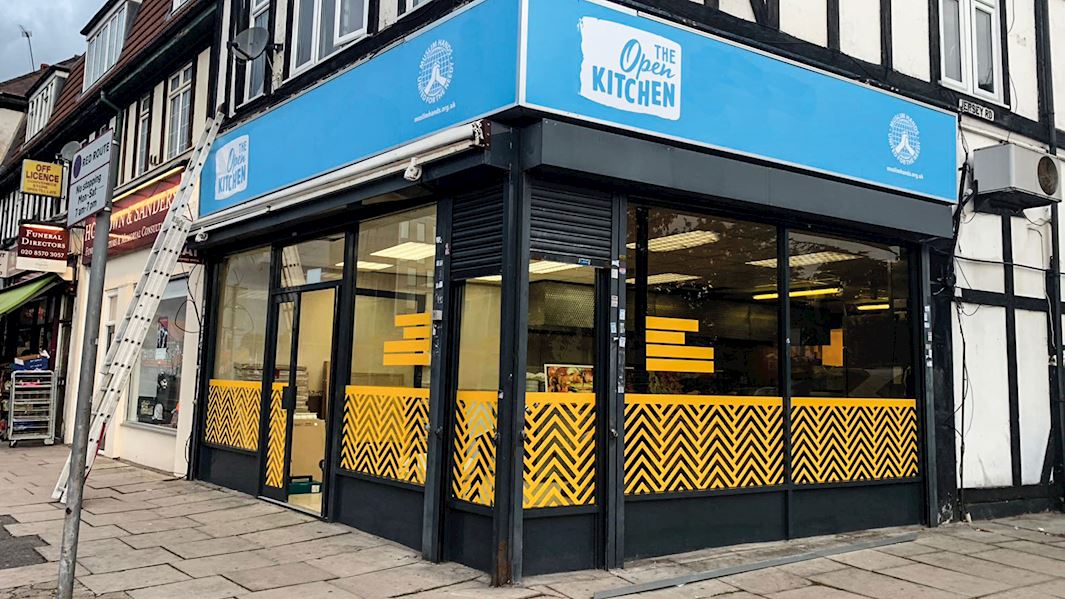 Despite being one of the richest cities in the world, London is home to hundreds of thousands who struggle with food poverty and homelessness. Contrary to common stereotypes, many of those who experience food poverty are in employment. However, factors such as reduced wages and an increase in rent prices means that many Londoners are living below the poverty line.
That's why, this winter, Muslim Hands is opening a new community kitchen for the homeless and needy families. It will be free and open to all and will provide 100 hot, nutritious meals twice a day, seven days a week. 

The kitchen will provide a safe, warm environment for those in need to enjoy a good meal with dignity. With many people in poverty also suffering from loneliness and low self-esteem, this will be a great opportunity for them to enjoy some much-needed social interaction.
Last week, our team met Rico, one of the thousands who is living on the streets in Hounslow and who will benefit from the kitchen. Eighteen years ago, after a massive fallout with his family, Rico left everything he knew in Portugal for a fresh start in London. Once here, he joined the catering industry and eventually went on to become a first-class chef, barman and waiter.
Back then, Rico never could have predicted he would find himself sleeping rough on the streets of Hounslow, after losing his job in catering, where he had worked for over a decade. With no income, home or family, Rico ended up begging for money and food just to get by: 'I try to survive day by day. I eat fast food like KFC and McDonalds but nothing with nutritional value. I feel I am beginning to get sick'.
Two years after losing his job, he had hoped that he would find another role and get back on his feet but this proved to be much more difficult than he imagined, 'When I fell into trouble, I quickly discovered that I had no good friends. Nobody wanted to help me.'
People are wary of Rico, assuming he became homeless through drug or alcohol addiction or is too lazy to work. This is the stigma that most homeless people face every single day, 'On the streets, people look at you like you're rubbish, they treat you like you're worthless. We need support and for people to try to understand us'.

The threat of violence is also a constant worry for Rico who says people target the homeless when they see them alone in the streets. 'I got attacked three times since I've been out here', Rico says, opening his mouth to show us three missing teeth. 'Sometimes they are drunk and looking for trouble, other times they do it for amusement. Once, somebody came to fight me while his friends were laughing and recording on their phones'.

Winters are unimaginable for rough sleepers in London. Finding shelter is a priority over finding food in the cold months. With temperatures dropping below zero, many find themselves in danger of hypothermia and even death. They often have to huddle in groups on cold nights, for warmth and  security. Getting warm food is a Godsend, 'In the winter, a nice cup of soup is like a miracle. It's not much to you but for people like us it's everything'.

One of the biggest problems homeless people face is loneliness. Many rough sleepers don't speak to people for months apart from when they are asking for change or food. 'Sometimes it's nice for people to stop and hear your story or just to chat', says Rico.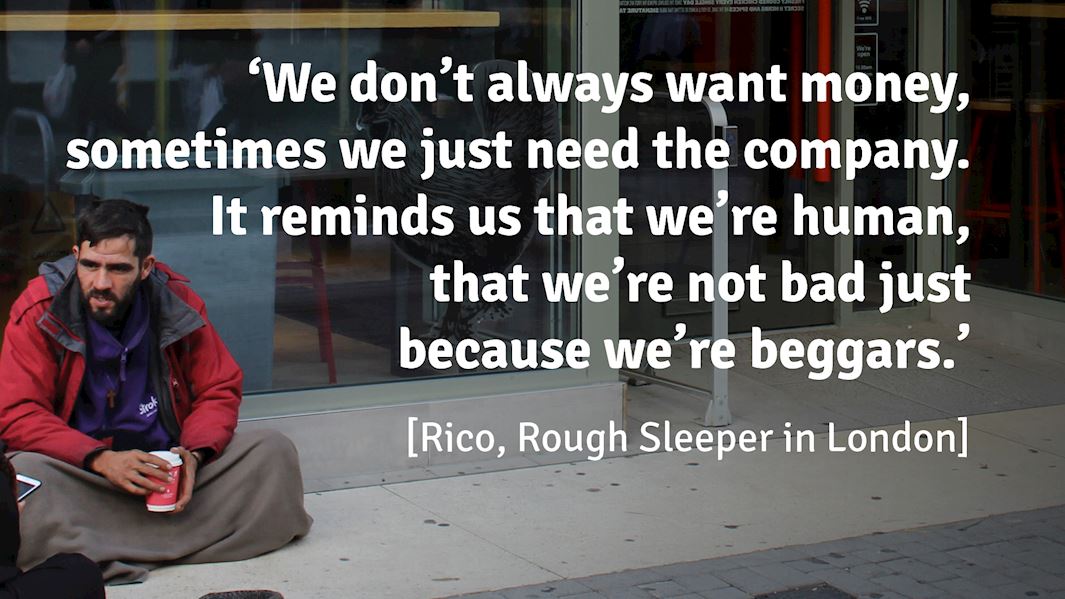 'Living in isolation, it is easy to believe the things people say about you and to lose your confidence'.

By setting up a community kitchen, we believe that not only will we address the concerns of food poverty, but also engage our local communities to acknowledge the existence of it as something that is underrepresented within the UK. We hope to transform the way that people access support and create a safe, welcoming space that is always open to those who need it.

Rico hopes that with the open kitchen, he will have the help he needs to get back on his feet, 'The Open Kitchen will benefit not only me but so many homeless people in London. To have somewhere where we can get two meals a day and sit down in a comfortable setting like everyone else will change our lives'.
'When I get back on my feet, I hope to go into construction. That is my passion. Since I was a boy, I liked working with my hands to build stuff. My grandad and dad were carpenters, we all love building and making things with our hands. When you see the final result of something you made, you feel so proud'.
---
Facebook

Twitter

Email This