20 May 2019
Dennis' Story: The Open Kitchen is Feeding Homeless Families in London
When Dennis and his family lost everything, our community kitchen in Hounslow ensured they didn't go hungry.
Despite being one of the richest cities in the world, London is home to hundreds of thousands who struggle with food poverty and homelessness. Until a few months ago, Dennis and his family never dreamed that they would also be struggling to survive in this city.
Originally from Ecuador, Dennis moved here 20 years ago with his parents. His father was a diplomat, so Dennis was used to moving around while growing up - but his family settled in London, and he has lived here ever since.
A few months ago, Dennis' eldest child, Scarlett (aged 8), became ill with a skin infection and ended up in hospital. Dennis was only three days into a new job as a bus driver, and he resigned in order to take care of her. Only a few weeks later, when Scarlett had left the hospital, there was a fire at their house, during which the kitchen was destroyed and the roof fell through. Many of their belongings were damaged. The fire had been caused by a gas leak, and it was clearly unsafe to stay.
Dennis had no job, no savings, and now no home. He decided to go to Hounslow council to ask for benefits until he could get back on his feet, but his claim was rejected. His family was granted a one-night stay in temporary accommodation, and a woman from social services gave him a leaflet containing information about soup kitchens and food banks, which is how he discovered The Open Kitchen.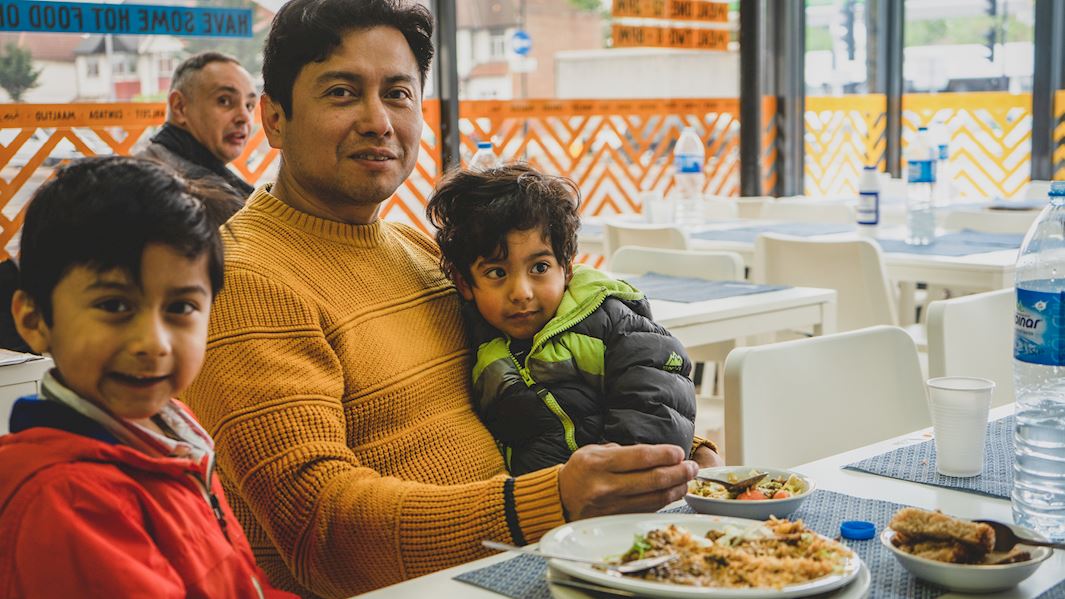 Dennis has been coming to The Open Kitchen for over a month now. He usually comes once a day with his wife and his two-year-old son, Joshua, and they take away some food for the other kids, Scarlett and Israel.
At first, Dennis was reluctant to approach The Open Kitchen for help. Although he was in desperate need of assistance, he was worried that he would have to explain why he needed the food and that he might be turned down. However, the staff there welcomed him warmly, offering him food straight away, and Dennis now feels comfortable coming to The Open Kitchen. The atmosphere is clean, bright and friendly; the kitchen doesn't seem like a soup kitchen or even a takeaway place.
Dennis believes more families should be using the community kitchen, and he hopes more people in the neighbourhood will become aware of it. He advises families who might be struggling: 'Don't be shy, and ask for help when it's needed'.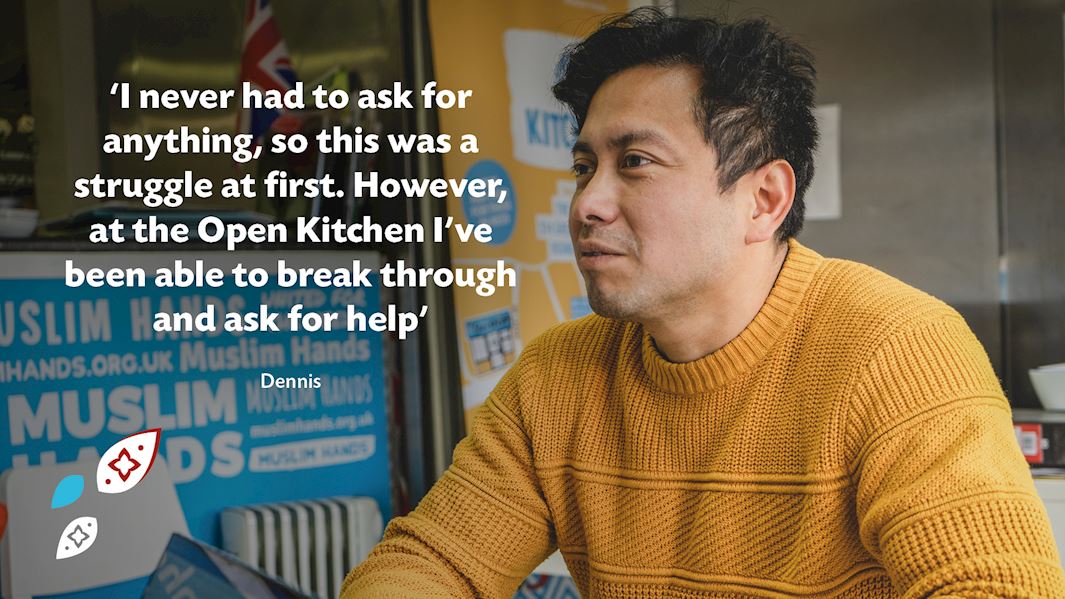 Fortunately, Dennis' family are slowly rebuilding their lives. Dennis has found a part-time job working in a nursery, and his family are receiving help from social services. Dennis is also a part-time student, studying Theology at university. They are living in temporary accommodation, in a B&B where they share a kitchen and lounge with four other people, but they hope to move soon. Soon, Dennis hopes he will be able to independently provide for his family and they will no longer be relying on help.
Although their difficulties are not yet over, Dennis says that these circumstances have strengthened his faith and brought him closer to God. He is grateful to all the people who helped his family in their time of need, and has many friends at kitchen, from all faiths and backgrounds.
'All I had before was my car and £60 in my wallet. My family needed help and The Open Kitchen gave us that help that I needed with a welcoming smile'.
Dennis' story shows how The Open Kitchen helps families recover from a crisis and get back on their feet. If you know of anyone who is struggling to put food on the table, or a rough sleeper with no plan for their next meal, please direct them to our Open Kitchen, where they can receive hot meals every day of the week. If you would like to donate or volunteer at the Open Kitchen, click here.
---
Facebook

Twitter

Email This