08 October 2019
Water Scarcity in Somalia: On the Ground Solutions

Somalia is located in a semi-desert area where it has always rained very little, but water shortages have worsened in recent years. This is partly due to a series of severe droughts caused by climate change and the El Nino weather phenomenon.
Somalia suffered from a drought in 2011-2012, which killed over 250,000 people and uprooted millions. Another drought hit the region in 2016, which had a devastating impact on communities and their livelihoods as they ran out of food, water and livestock. By February 2017, 6.2 million people - almost half of Somalia's population - were in need of humanitarian assistance.
It was the worst drought seen in the region in decades.  Millions left their homes behind, travelling to humanitarian aid camps in the cities in desperate need of food and water. Their livestock and crops had died, and they had no way to survive.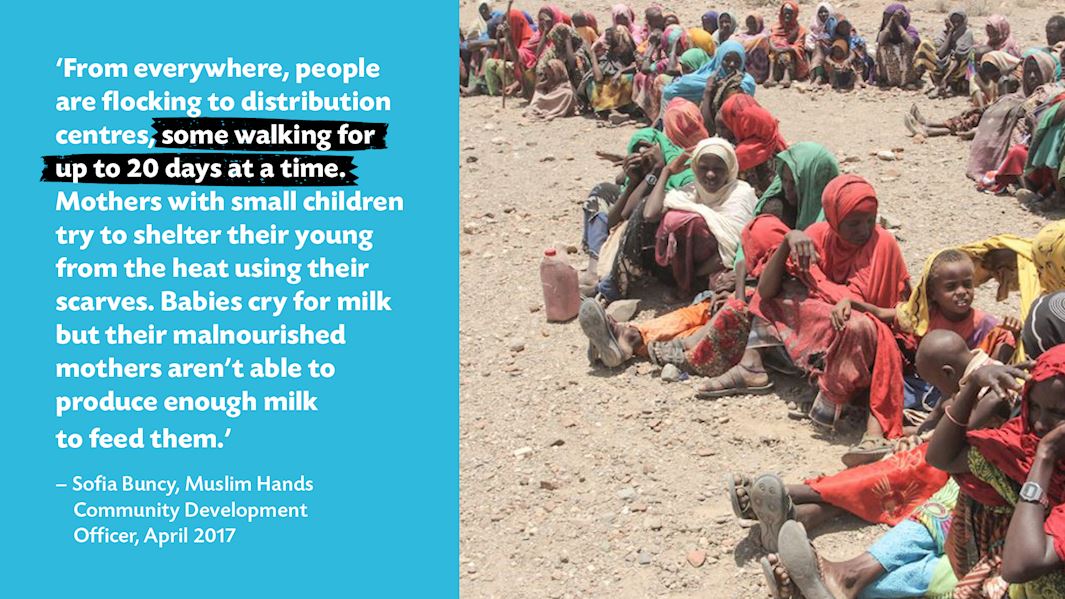 Most Somali people make their living through animal husbandry. Although the aid camps which have been set up are undoubtedly effective, providing enough water for people to survive on, there is often not enough drinking water for animals. The widespread livestock deaths caused by the drought are not only tragic, they also mean people are falling into even deeper poverty. There is a risk that, unless a sustainable solution to Somalia's water crisis is implemented, these aid camps will become permanent.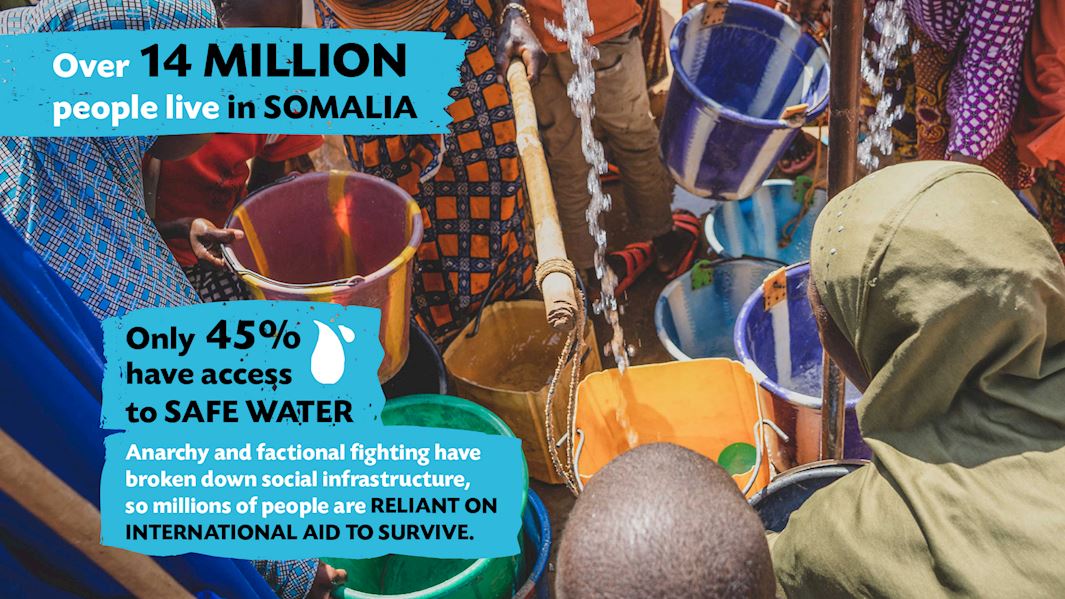 Muslim Hands is implementing several on-the-ground solutions to help vulnerable communities cope with Somalia's water crisis. 
Case Study: Constructing Community Wells
One such case study can be seen in the Baraako village, just north of Mogadishu. Thousands of internally displaced persons (IDPs) live in the area, and require comprehensive support in rebuilding their lives.

In 2018, our Major Giving team constructed a community well in the village, which extracts water from 34 metres below the ground and includes a hand pump and a pool for livestock. The impact of the project was immediate. It solved the water shortage and water accessibility problems, by providing clean water to around 10,000 people. Waterborne diseases are prevalent in the area, and it is envisioned that, now that people have access to a non-contaminated source of water, overall health will improve.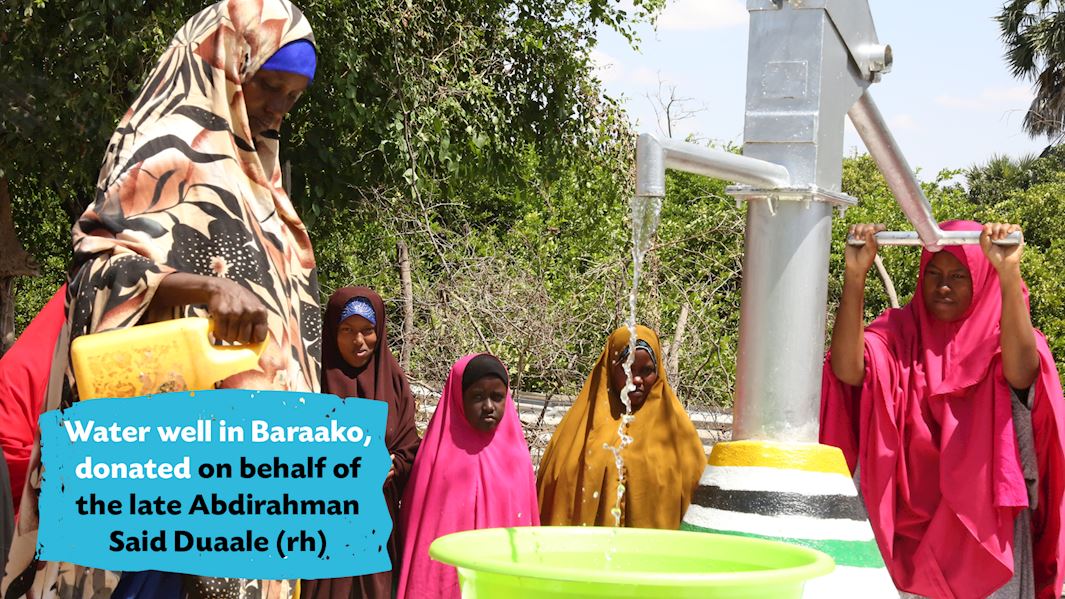 A community well is functional in all seasons, can be easily maintained by the local community, and provides water for people, livestock and crop irrigation for generations, allowing the area to flourish. Building more solar-powered water wells in Somalia would transform the lives of its most vulnerable communities.
Contact our Major Giving team at majorgiving@muslimhands.org.uk if you would like to donate a large water project like this one.



Case study: Building and Rehabilitating Canals
In 2014, our team identified several areas around the Shabelle and Jubba rivers which were not being irrigated, including large-scale farms and smaller villages. Canals had been built in the area but had not been maintained, resulting in broken regulators, reservoirs filled with silt and sediment, eroded embankments and trees and bushes growing in the canals.
These two rivers systems have traditionally been the 'breadbasket' of Somalia, which is otherwise dominated by an arid or semi-arid landscape. Yet local farmers, attempting to make a living from growing maize, bananas and other crops, could only access the river water through seasonal flooding, and their livelihoods were eroding.
We ensured the rehabilitated canals reached the small farmers in the area as well as larger-scale farms, opening up 230 of land for full irrigation. Moreover, we encouraged nearby farmers to create their own branches from the main canal, thus irrigating at least 1000 hectares (10 square kilometres) of land. The revitalised canal infrastructure is benefitting thousands of local villages, including families who had been displaced by famine and drought in their areas.
The rehabilitation of the canals also improved flood management by regulating and storing flood waters for use in irrigated agriculture, thus reducing the destructive effects of the area's frequent flooding and benefitting the community. The increased crop production will not only expand the local food supply; farmers will sell food to other community and contribute towards making Somalia less economically dependent on humanitarian food distributions.
Thus, interventions like this canal rehabilitation not only transform Somalia's most vulnerable communities and allow rural areas to flourish; they help the entire country progress towards being less reliant on the international community for food and water.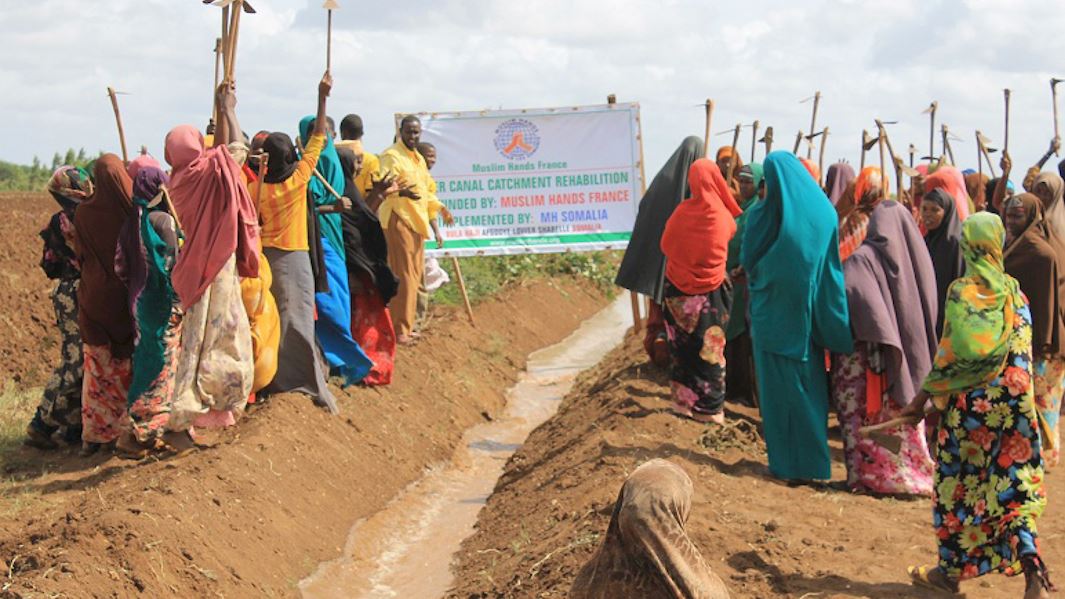 Muslim Hands is running several large-scale water projects to provide Somalia with safe drinking water, including constructing solar-powered deep water wells and boreholes, providing water tankers to IDP camps to help store water during drought, and rehabilitating canals and reservoirs to open up more land to existing water sources.
If you would like to create your own water project in Somalia or other water-scarce areas, contact our Major Giving team at majorgiving@muslimhands.org.uk.
---
Facebook

Twitter

Email This