21 January 2021
How Exercise Classes are Helping Mental Health in Lockdown

This January, we are publishing a series of articles about getting active for our physical and mental health, as part of our 'Fil Harakah Barakah' campaign. The name comes from an Arab saying which means 'There are blessings in movement'. We interviewed Humera who runs Zoom exercise classes for women. Let's see what she has to say about getting active during lockdown!
Introducing Humera's classes
Humera Khan is a part-time fitness instructor. In 2020, she took her classes onto Zoom, to give women free access to an exercise group while they were stuck at home.

She offers a range of classes, including yoga, Pilates, Zumba and even family classes. 'My classes are split because I offer more of a range with the classes. I've split them into advanced, intermediate and low-level cardio. So everyone can pick and choose what challenges them'.
What gave you the idea to do online classes?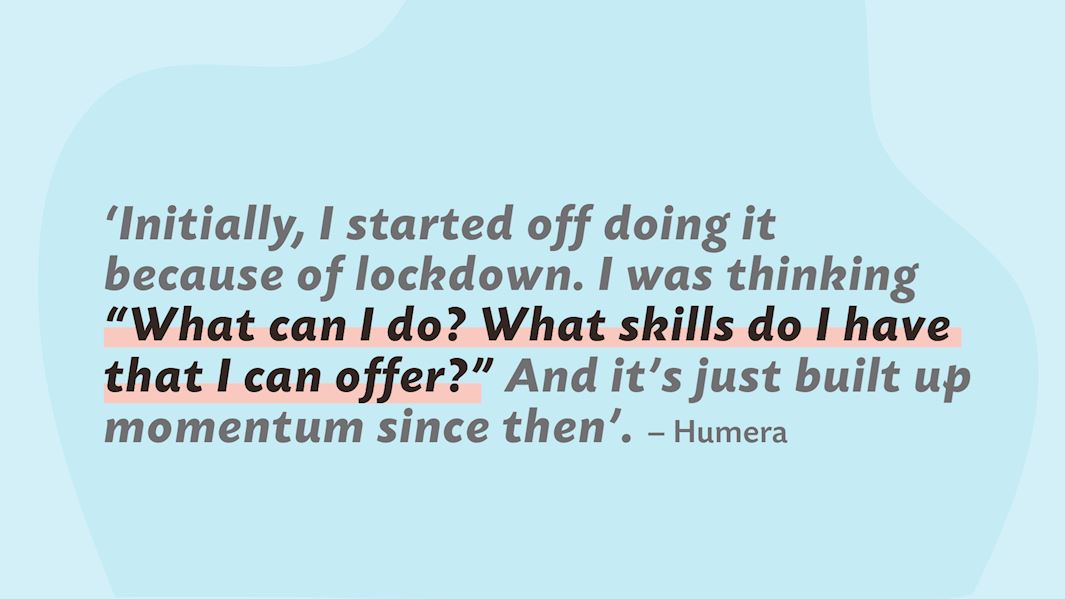 According to Humera, her classes started building numbers because of word of mouth. 'So a sister tells a sister, a sister tells their mum, and then I'll get three family members joining because they've heard from their sister that it's really beneficial - and I think that's the best kind of promotion that you can ask for really'.
Her classes have now expanded considerably - she now has 30-40 people per class, over 100 people in her What's App group, and even a waiting list of women who want to join the class!
Humera mostly runs these classes for women in her local area, Bradford, but one of the perks of going online is opening her classes to women from other areas. 'For example, there's a sister in London who's saying, "Oh, I get to do these classes with my sister who's in Bradford!" They're both part of the same thing and I think that helps them connect as well'.
How are these classes helping women during lockdown?
On the surface, these classes are about getting active, but one of the things Humera has noticed is the impact they've had on mental health. 'I think as gyms have closed down, people are really struggling with their mental health. When I asked for feedback on the class, people said it's affected their mental health more than anything. It's kept them sane during lockdown and it's helped them to be a part of something'.
Studies have shown that mental health conditions are more common, long-lasting and impactful than other health conditions. 24% of women in England are diagnosed with depression in their lifetime, and women are twice as likely to be diagnosed with anxiety. [MHFA England]
These figures show that mental health was already a huge concern in the UK before the coronavirus crisis and subsequent lockdowns. Since early 2020, even more people have endured financial stress, health-related anxiety, grief and more, all while spending a great deal of time indoors.
Actively taking the time to address stress and worry is hugely important.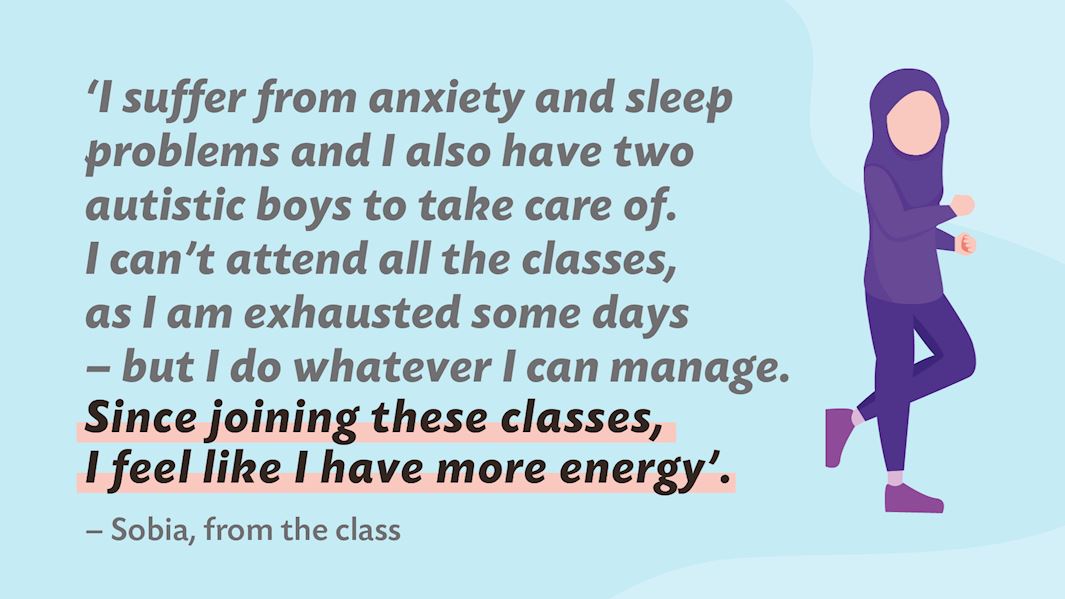 'A lot of these women are really in difficult situations', Humera says. 'They're either carers, or they have children who have special needs, or they're struggling themselves. The feedback they've given is that it's helped them so much, because they look forward to that hour a day, when they can be away from all that and just focus on themselves'.
These women aren't getting just the general mental health benefits of physical exercise - they're being allowed to carve out some time for themselves and meet other people. 'I consider them as friends who are like sisters, and we're helping each other to be healthy, physically and mentally. And it's not just helped them - it's helped me as well, giving me something to do'.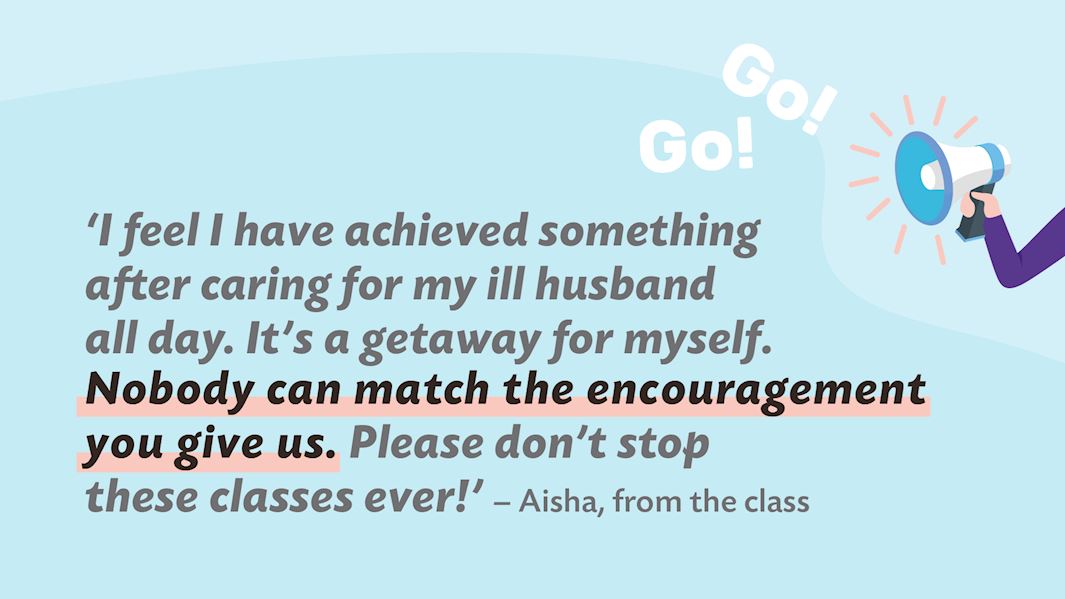 How accessible are these classes?
The classes are free and offered on Zoom. They are women-only, but there are no limitations on age or exercising experience. 'We always provide options for people from different levels. The main thing is that you challenge yourself to improve, because that's when the changes are being made'.
Moreover, no special equipment is required to attend the class. 'It's pretty much come as you are. We understand that not everyone had that equipment at home - we're not in a gym here. Let's make it as easy as possible for people to turn up', Humera says.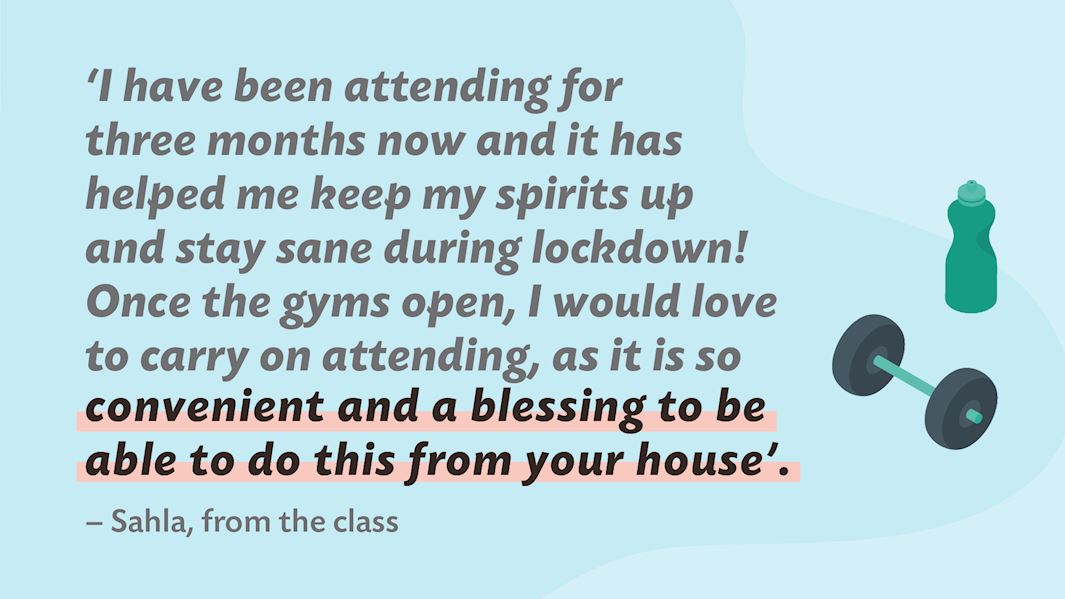 How can women find the right exercise routine for themselves?
Ultimately, even if people have access to exercise classes and time to attend, the fact is that a lot of people find exercising difficult or boring, and lack the motivation to commit.
Humera says, 'What worked for me is I did something I enjoyed, which meant I took it further, and it helped me develop this career as a fitness instructor. And I'll say that to everyone else as well: do something that you enjoy, because that's when you're going to make the most out of it and that's when you're going to stick with it. You can go for a walk, you can come to a family fun session with the kids - just do something you enjoy!'
If you are struggling to motivate yourself to exercise, try out different forms of exercise to see what works for you. You could try going for a sponsored walk, taking up a sport – even in lockdown, you can play in your garden or local park – or try yoga or Zumba.
There are plenty of types of exercise, and the one that works for you is just a Google search away!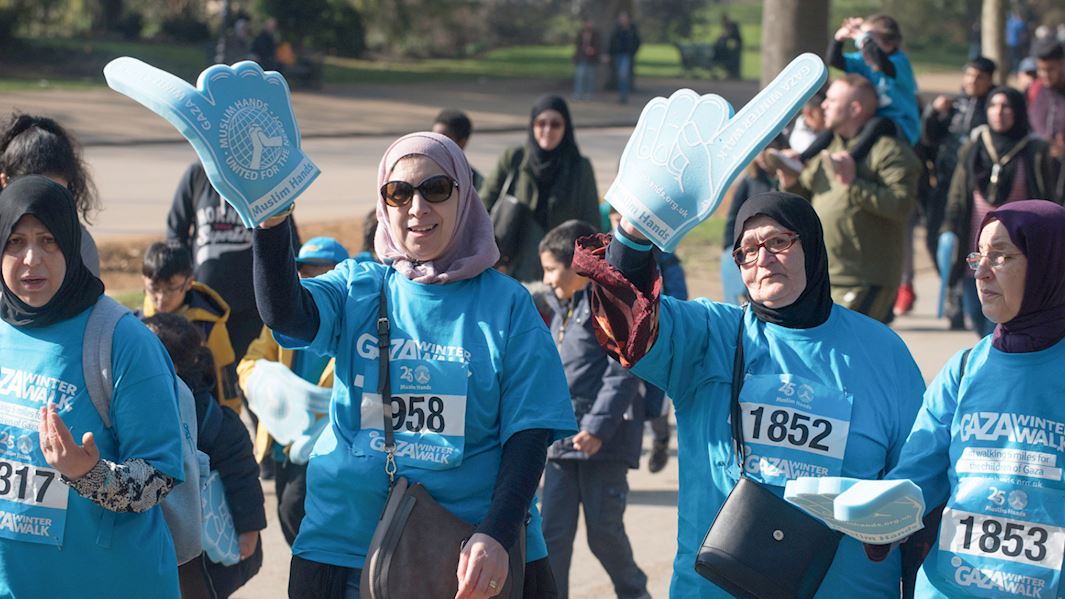 What is your own relationship with exercising and being active?
'I was pretty overweight about 10 years ago, to the point where I was just not feeling good about myself, and my mental health wasn't great. And I thought, "I have to do something about this". I quite enjoyed the dancing aspect of things and eventually became an Exercise to Music teacher. Actually, it was my sister who kind of forced me to do the Exercise to Music course, and I really thank her to this day that she pushed me to do it. Because I'm working full-time as well, it's taken quite a while to develop more and more skills, but I became a Zumba teacher, and then I became a Pilates teacher, and various other things like aqua-aerobics and yoga. COVID has kind of allowed me more time to do more stuff as well. And I've just seen the benefits to other people. When I used to do face-to-face classes, I used to have so many mums come straight to me, after dropping their kids off at school - the hall used to be full. Seeing other people happy and changing in their mental health as well as their physical gave me more motivation'.
How important is it for women to make a commitment to an exercise routine?
Humera believes that it is hugely important to make a commitment to your own physical and mental health. 'Women have a lot of responsibilities. A lot of them are working with the kids at home, and they need to try and fit the class in. But I always emphasise that if you don't look after yourself, you can't look after others'.
In other words, not having an exercise routine will eventually impact other areas of your life.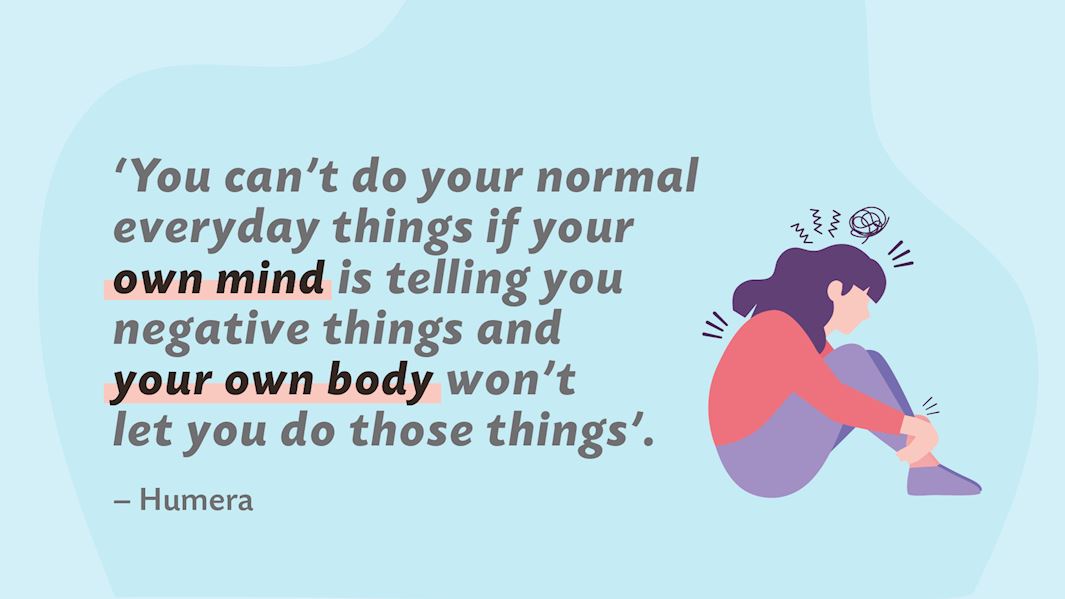 Humera also emphasises that it is relatively easy to attend an online exercise class instead of going to the gym. 'It's 40 minutes, they don't need to go anywhere, they're at home, they can even do it in whatever clothes they want to do it in. You can just go straight back to your jobs afterwards and do your own stuff! And just remember the feeling you'll get at the end of the class!'
Getting active should be a lifestyle change – it is better to do a small amount of exercise once a week than only exercise once every few months! In fact, doing good things in small, regular doses is a part of the Sunnah: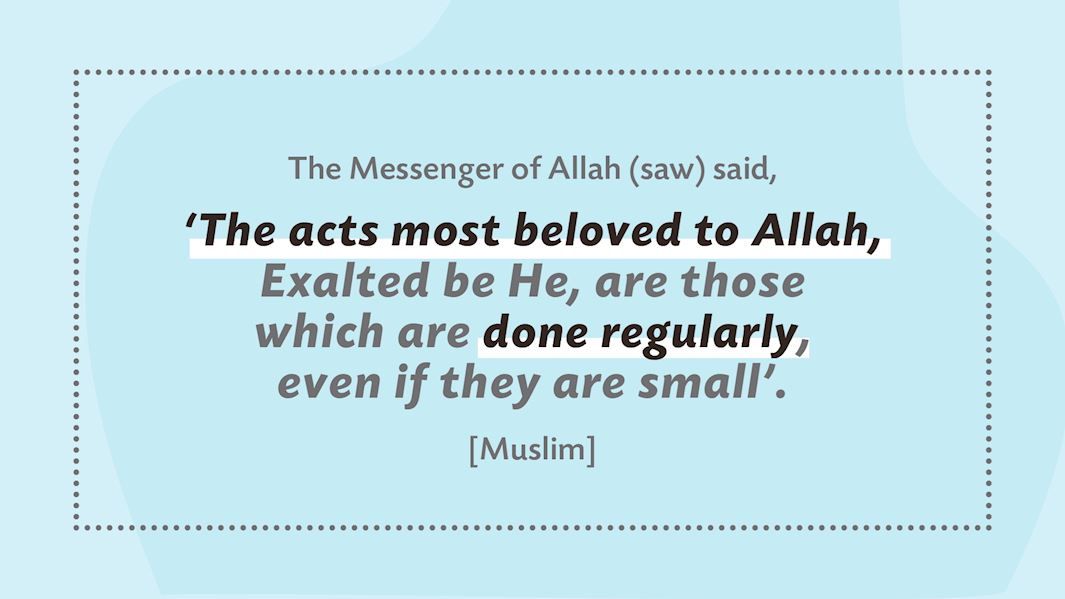 Humera says that commitment and routine are key elements to getting active. 'To anyone who joins the class, I say, "Look, when you join, it's a commitment to your own health. So you need to go into this knowing that you're committed, that you're making a change for yourself"'.
And the feedback from the women who attend the classes reflects how much of a difference a committed exercise routine has made to them.
Nusaybah, a class participant, says, 'Before I'd feel so lazy and out of energy, but since starting Zumba I've become so active! Even though I'm doing it regularly, I'm not as tired as I would be every day. I feel much more positive and good about myself as well. It's done me wonders, alhamdulillah, and I'm ever so grateful for this opportunity. It's changed my life!'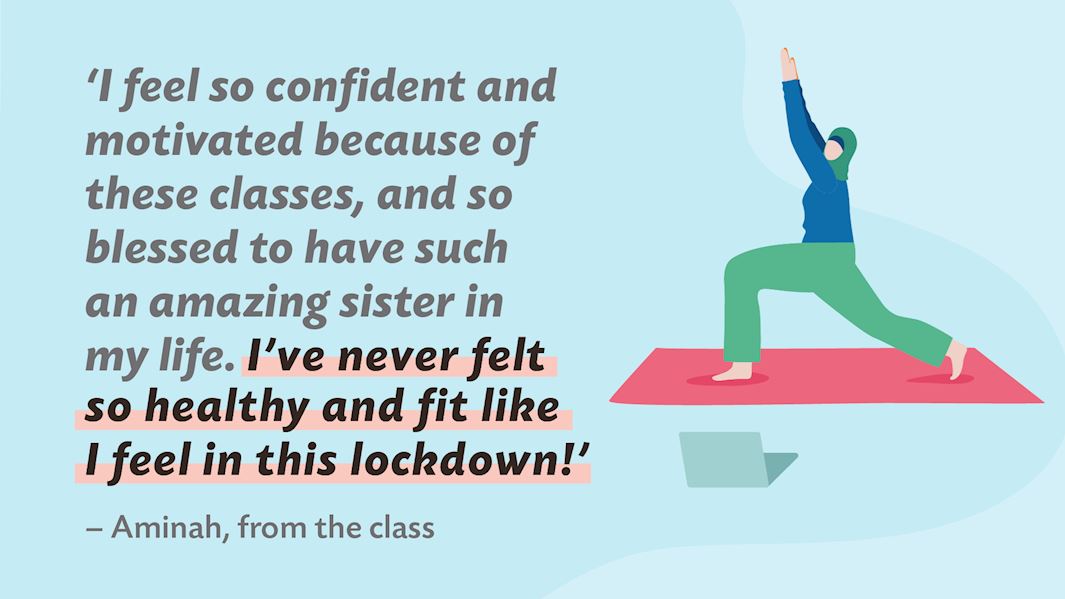 Another class participant said that committing to the class has helped her on an emotional level. 'It feels amazing. It makes you know your worth - we take care of everyone in our lives, but it's important to take care of ourselves too!'
What about getting healthy outside of an exercise routine?
Humera agrees that, once you commit to an exercise routine, you feel more motivated to make other lifestyle changes – such as eating a more healthy diet. Occasionally, her class commit to avoiding a particular food - such as sugar - and make that lifestyle change together. 'I think's it's just the group support network that provides that kind of motivation. And I always say, "You're doing this exercise, but 80% of it is actually food and diet. So if you really want to see changes, have something healthy after we've finished class!"'
Taking care of our bodies is rewardable itself – but you can gain extra reward by following the Sunnah and fasting on Mondays and Thursdays.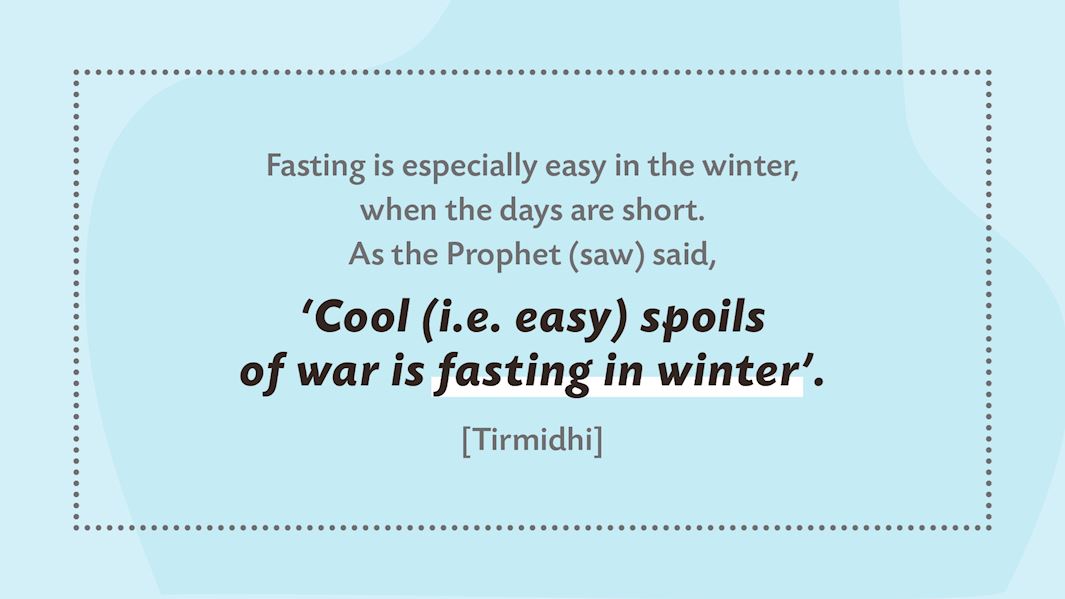 Apart from the obvious points, what's a key benefit you've noticed about committing to an exercise routine?
So far, we've discussed the mental health benefits of exercise, how important it is during lockdown, and how it can lead to other lifestyle changes. But Humera also thinks a key benefit of an exercise routine is that it increases your resilience and strength in other aspects of your life.
'Whenever you join something, and it's new to you – you'll love it. You'll get really excited about it, you'll go to as many classes, you want to experience everything. And then there comes a point where you think "I can't be bothered". Or other things become a priority. And this is the point where you need to force yourself to go – because you just need to get through that phase. And then, you get to a point of addiction. So you need to kind of pass through that real horrible phase to get to that point'.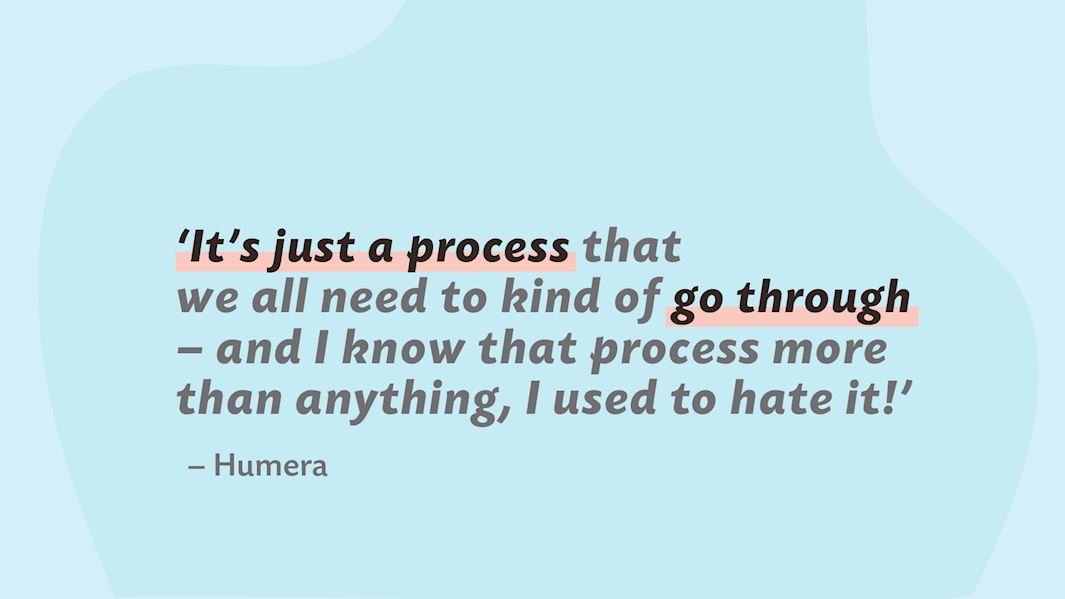 But going through this process doesn't just help you commit to an exercise routine – it builds you up mentally.
'I was on a HIIT class this weekend, and one of the things the tutor said was – when someone chooses to fight themselves when they don't want to come to a class, that means they mentally become stronger. And they haven't just mentally become stronger for the class – they've made themselves mentally stronger in every other decision they make. Because they're building on their strength. When you get a negative thought in your head and you counteract it – you're building up your own mental capabilities. When the tutor said that, I had this moment where I just thought, "That is so true"'.
We hope you enjoyed this article and that it motivated you to get active! We'd like to thank Humera for her insights. Get in touch with Humera at 07521183422. 
Check out our Events page to find ways to active!
Do share this article with friends and family, as the Prophet (saw) said, 'Whoever guides someone to goodness will have a reward like one who did it'. [Muslim]
---
Facebook

Twitter

Email This