25 January 2021
Remembering 12 Years of Gaza Winter Walks!

For the past 12 years, people across the UK have come together in the winter to walk for Gaza. Braving the cold, you've walked 5 miles with family and friends to support vital, life-changing projects in Gaza.
Over the years, you've raised over one million pounds to support widows, orphans and children from war-torn communities, giving them the help they desperately need.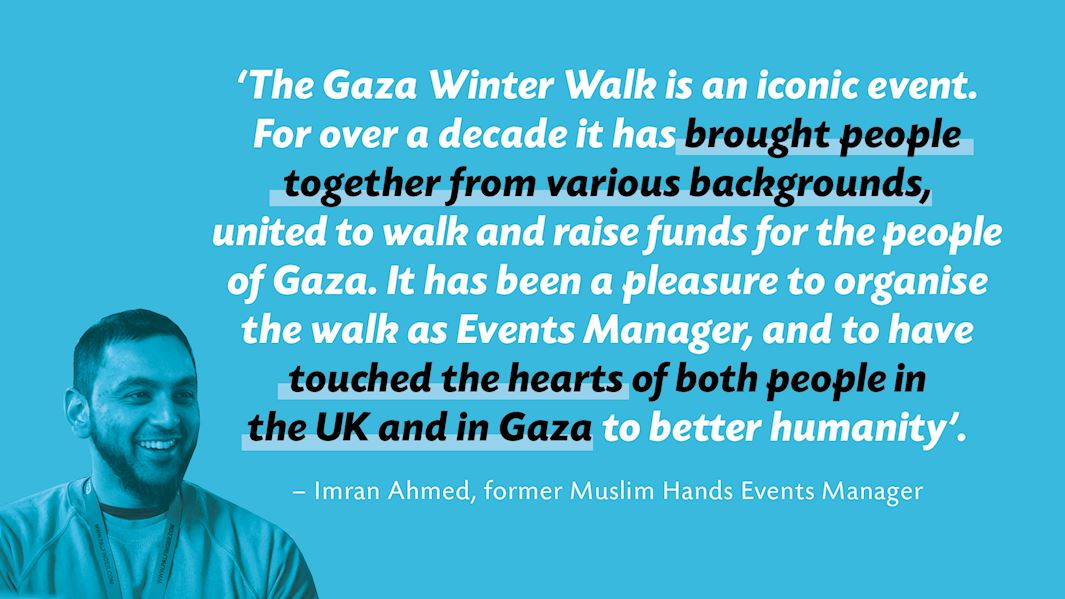 Due to coronavirus restrictions, we won't be able to see you for this year's Gaza Winter Walk. But we're hoping to make the event bigger and better - as we go virtual and go global! We'd love for you to join our international Gaza Winter Walk & Talk on Zoom, so you can listen to nasheeds and lectures while walking 5-miles in your local parks!
This is an unmissable opportunity to help the people of Gaza. To get you motivated, we've made a timeline of the impact your donations have made in Gaza over the last 12 years:
In 2008, the Gaza Winter Walk was born, and the first walk took place in London. Over £35,000 was raised for medical and psychosocial rehabilitation to support traumatised children in Gaza.
In 2009, a three-week conflict in Gaza saw thousands killed, including 288 children and 103 women. You raised funds to distribute food parcels and medicine to those affected, as well as equipping six hospitals with medical supplies.
In addition to this emergency response, your donations also helped to reconstruct the Islamic University of Gaza and set up livelihood projects, giving war-torn families the opportunity to earn a stable income.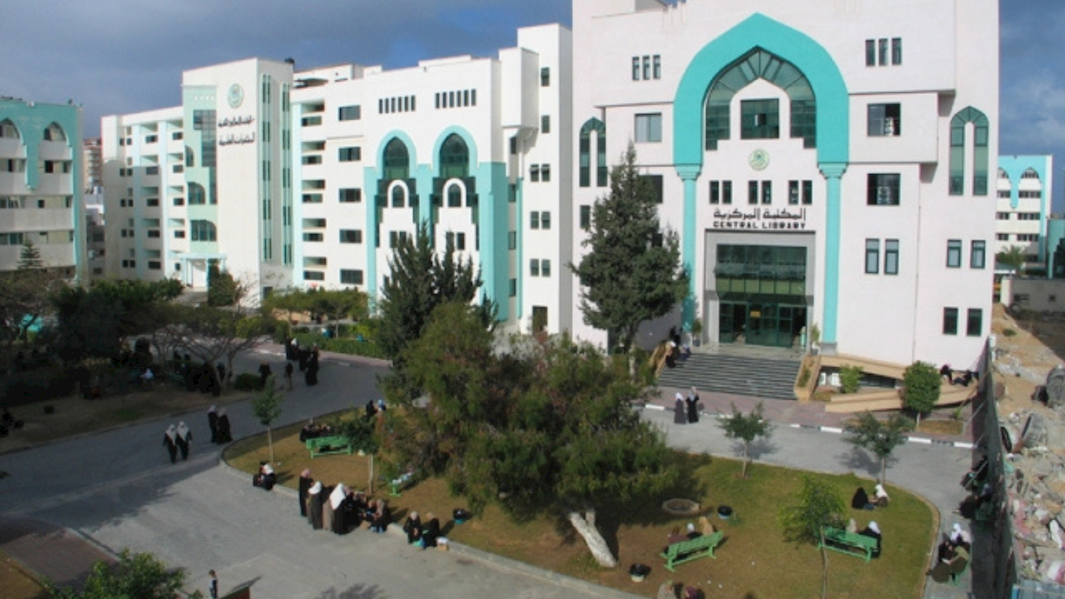 In 2010, you gave over £50,000 to establish the Muslim Hands Psychological Rehabilitation Centre and the Mobile Health Clinic. You also helped to reconstruct the Al-Durrah Hospital, which was destroyed during the 2009 conflict in Gaza. Your donations helped the hospital continue providing crucial medical care to 10,000 children a year.
In 2011, you continued to raise funds for the Muslim Hands Psychosocial Rehabilitation Centre, giving pyschosocial support to 2,500 children suffering from trauma and anxiety. You also supported the expansion of the emergency department at the Al-Durrah Hospital, as well as the construction of the pharmacy.
In 2012, you continued to support the Al-Durrah Hospital, alhamdulillah! At this walk, 600 walkers raised £72,000 to expand the hospital, building the urgently-needed Gastroenterology, Cardiology and Respiratory departments.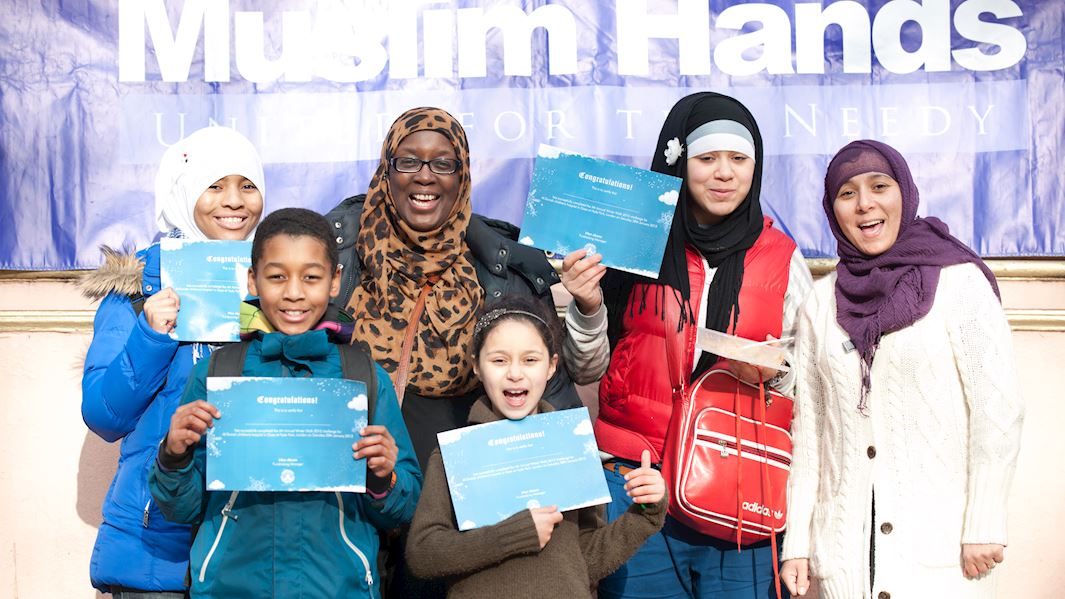 In 2013, the Gaza Winter Walk raised over £100,000 for the first time! The walk took place in London and Manchester and made it possible for the Al-Durrah Hospital to help 54,784 children.
Moreover, your donations allowed the Mobile Medical Clinic to provide 7,800 health checks and the Psychological Rehabilitation Centre to help 3,187 children. Every single one of those numbers is a life you changed for the better.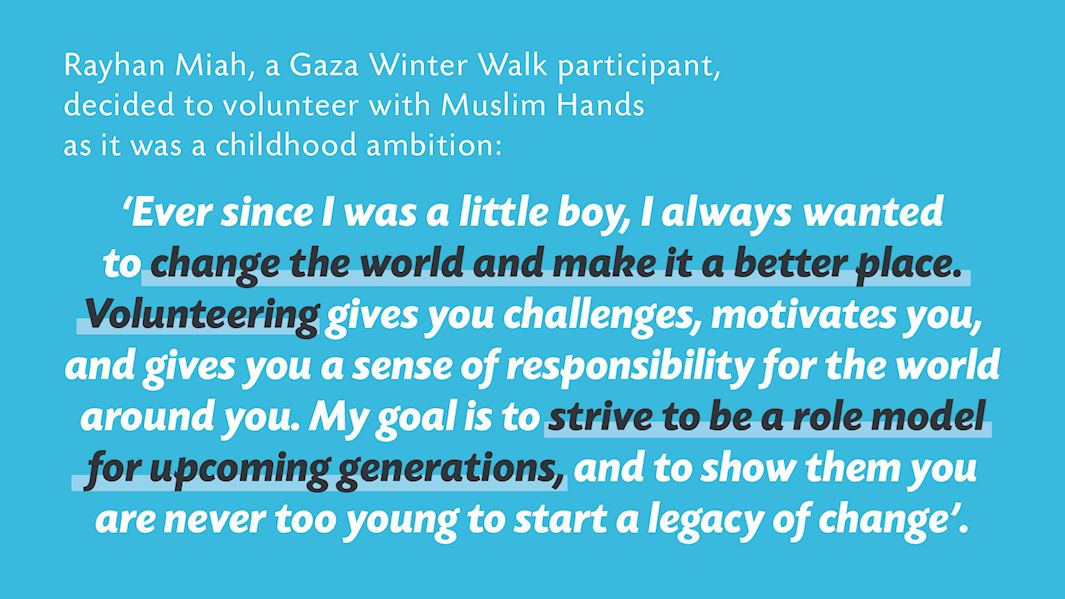 In 2014, over 1,000 supporters braved the cold, raising over £150,000 for our long-standing health projects in Gaza.
Later in 2014, the Gaza Blockade killed 2,200 people, 500 of whom were innocent children. 20,000 homes were destroyed and over 500,000 Gazans were displaced. In the face of this tragedy and humanitarian crisis, you rallied around the people of Gaza more than ever before.
In 2015, families in 9 cities across the UK walked for the people of Gaza, raising £143,000 in total. This was the result of 1000 participants fundraising for Gaza, with the support of their loved ones, as well as all your countless du'as.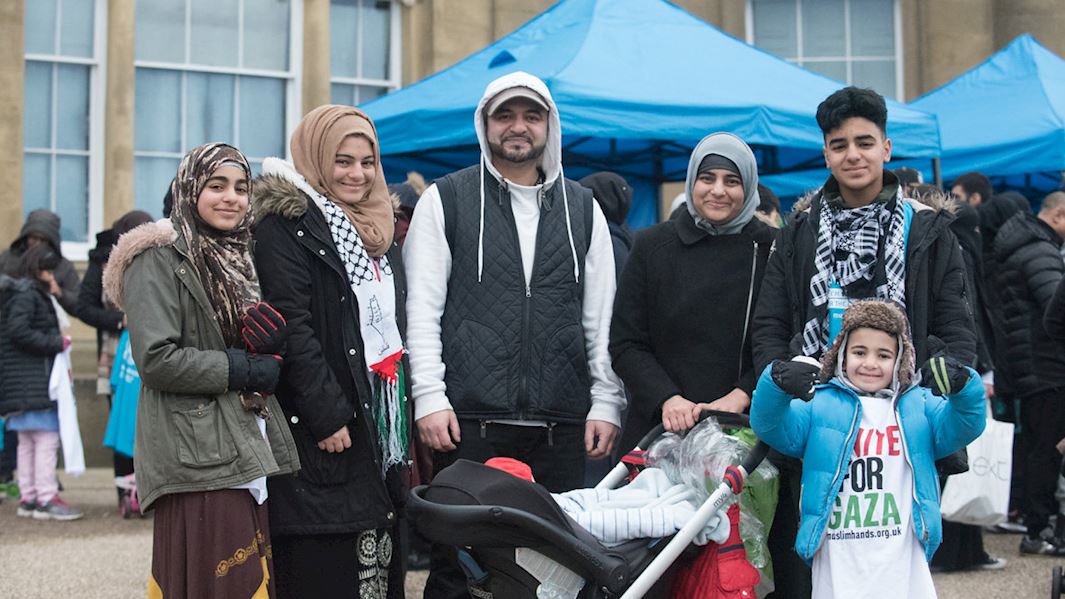 In 2016, you continued to help Gazans recover from this devastating blockade.
The Al-Durrah Hospital, which you had steadfastly supported over the years, had been damaged during the blockade. You raised £140,000 to rebuild the Al-Durrah Hospital and even expand it. Before you sent your support, the hospital was overcrowded, lacked adequate care facilities, and only held a small pharmacy and laboratory. Since then, thousands of children have gone on to receive the medical support they desperately need.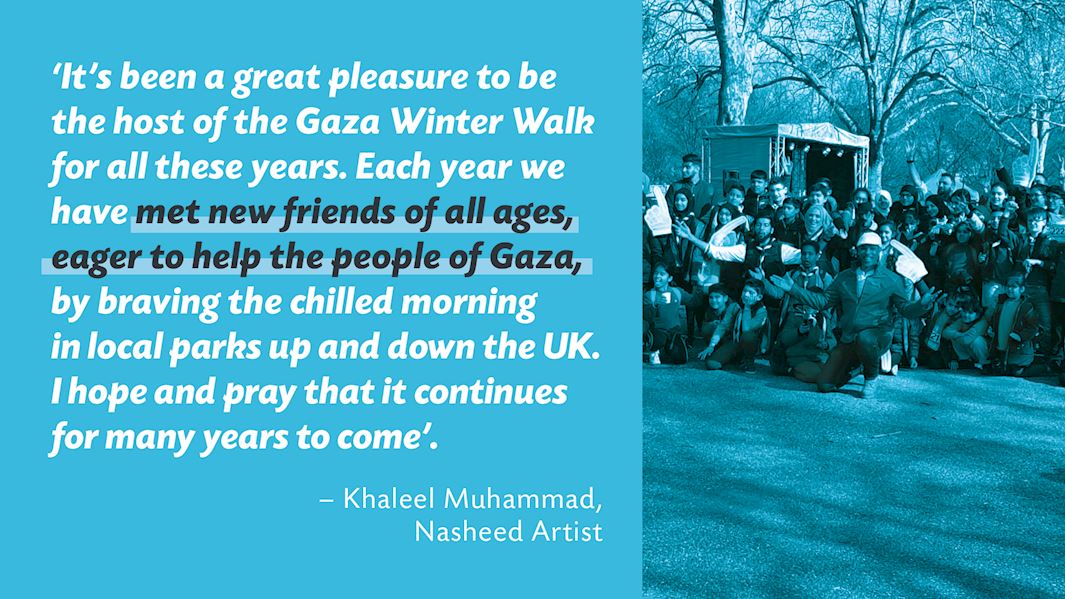 In 2017, you raised a record-breaking £273,000, ma sha' Allah! Muslim Hands partnered with UNRWA and provided ultrasound machines, steam sterilisers and other significant equipment in five health centres. The equipment provided benefitted 99,000 Palestinian refugee women in Gaza.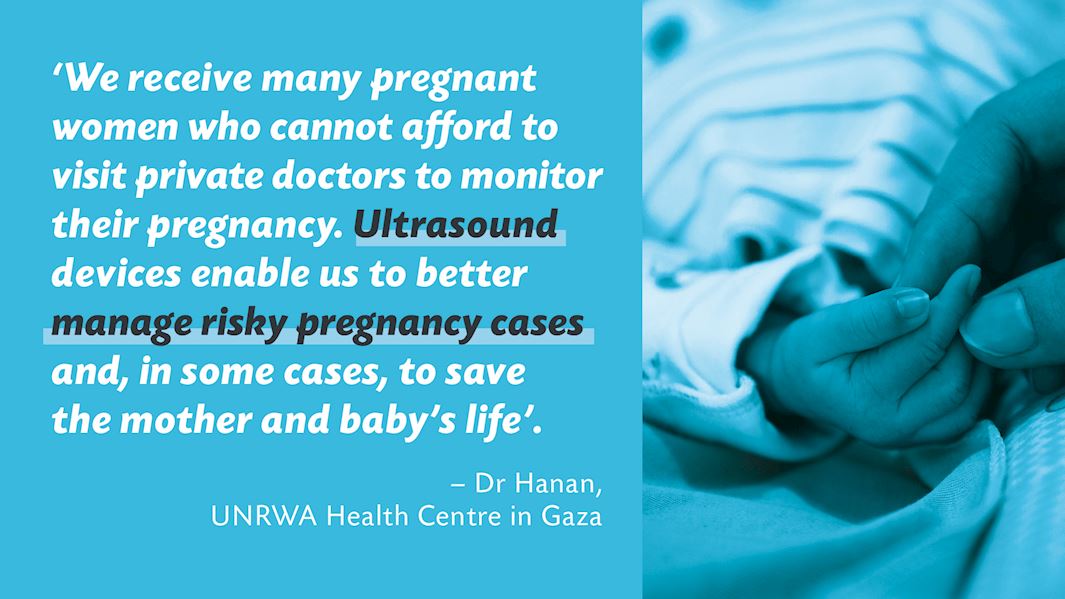 In 2018, we celebrated 11 years of Gaza Winter Walks by embracing 11 cities across the UK. You gave over £205,000 to provide medical support for new-born babies and children.
In 2019, your efforts raised over £100,000 to provide maternal healthcare in Gaza once more! Through our partner, Medical Aid for Palestine, you provided urgently-needed medical supplies to treat babies, as well as rolling out training sessions in hospitals across Gaza to reduce infant mortality and help more children begin their lives in the best way possible.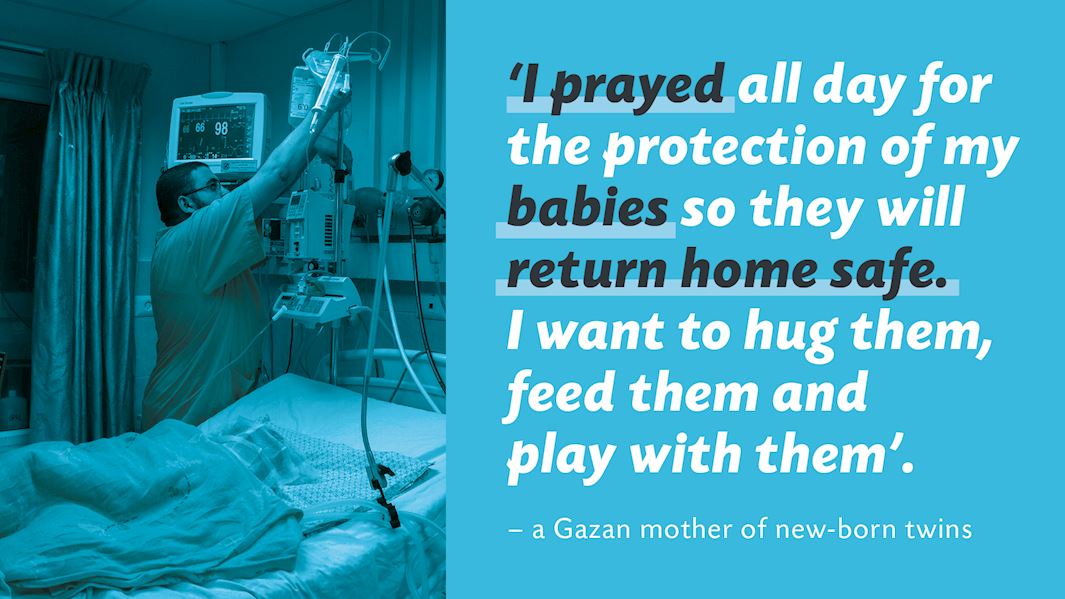 This brings us to this year's Gaza Winter Walks, which you began fundraising for in 2020. In the words of Yasrab Shah, our Fundraising Director:
'Over the years it has truly been both an inspirational and humbling experience to be involved in raising much-needed funds for our brothers and sisters in Gaza through the Gaza Winter Walks. Even though this year we can't meet physically, we are still determined to walk virtually and safely in our local parks to repair houses for widows, the elderly and orphans, which remain damaged since 2014. It's yet again another amazing cause this year that we pray our Lord (swt) grants us every success and acceptance in. Ameen!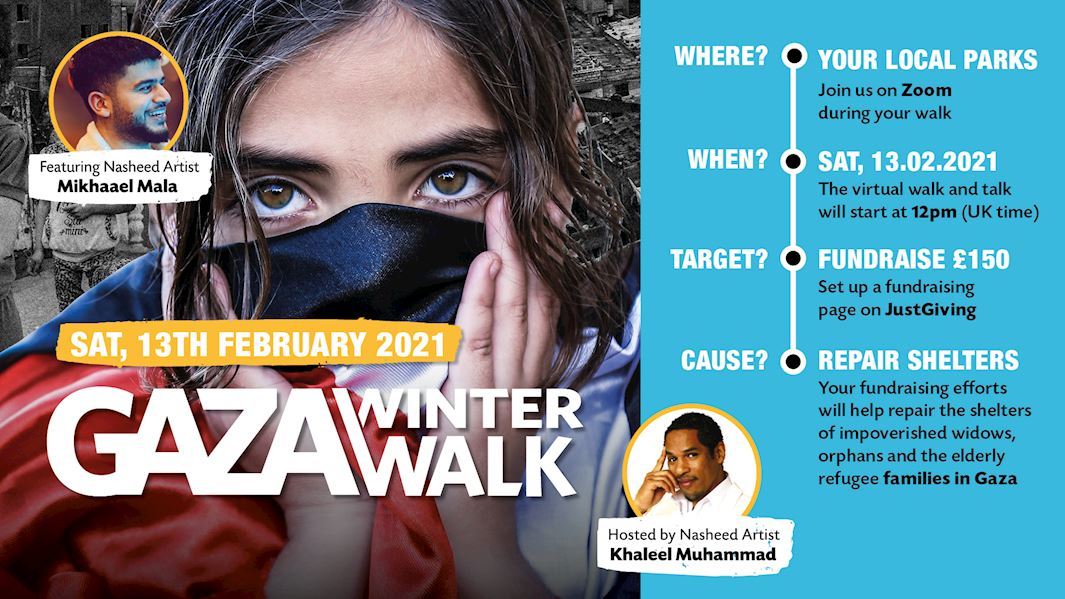 Our walk this year will be going virtual because of the pandemic, and we will be encouraging our participants to walk 5 miles at their local parks. All funds raised will go towards repairing refugee homes that have been structurally unsafe since the 2014 conflict, leaving many families exposed and unprotected during the harsh winter seasons.
We look forward to meeting our brave walkers virtually, and taking on the challenge to help the people of Gaza on Saturday 13th February 2021! Register now to start your fundraising journey!
---
Facebook

Twitter

Email This