11 May 2021
Press Release: Supporting Countries Impacted by Aid Cuts

UK charity Muslim Hands is in solidarity with more than 100 charities who have all condemned the UK government's decision to cut aid to countries such as Yemen and Syria. With UK aid drastically reduced from previous years, many of those affected by poverty, war and disease will be losing a vital lifeline which could mean the difference between life or death.
Muslim Hands is playing an active role to ensure that it steps up to support those that will fall deeper into crisis. Long-term, sustainable projects that are independently funded are being implemented in the most deprived areas of Syria and Yemen.
Muslim Hands' network of bread factories in Yemen will total five by the end of the year. Three are currently active in Aden and Ma'rib, which have the highest amount of internally displaced people in the country, and we will be expanding to Ta'iz and Hadhramaut. Every day, 28,000 beneficiaries are supported by the distribution of 56,000 loaves of bread baked fresh and sent to distribution points in local neighbourhoods. Our food provision goes further to support 4,000 children as part of our School Feeding Programme in the city of Ta'iz, providing students with nutritious breakfasts every morning. It is difficult to ignore the overwhelming waiting lists that accompany these projects and with over 80 percent of Yemenis reliant on aid, the sad reality is, not everyone can be helped.
We have also started the construction of our largest single water project ever, in the governorate of Aden. This will increase the capacity of the area's outdated water infrastructure and provide 1.7 million people with clean water piped directly into their homes by the summer of 2021. Before the conflict, cities like Aden served as a haven for refugees fleeing war in other parts of the region. The current water system, dating back to the British Colonial era, cannot cope with the growth in population. As a result, many families only have access to mains water for a few hours every three days or not at all. Many are forced to drink unsafe, overpriced water they have bought from private suppliers.
Abdul Rahman Hussein, our Yemen Country Manager, said:
'UK aid cuts will impact food security and health the hardest and the sad reality is that the majority of Yemenis are dependent on NGO's and aid. Yemen is the worst humanitarian crisis of the past 100 years and we can't continue to ignore the situation. The aid, which amounted to around £3.8 billion previously was not enough then and the current cuts, which will slash the aid by 50 percent will make the situation even worse. As it stands now, we are one blink away from famine and if further cuts are made it will push us over the edge'. 
Meanwhile, in Syria, ten years of conflict is causing a humanitarian crisis that has left an estimated 80 percent of Syrians in poverty and created the largest internally displaced population in the world. Last winter, Muslim Hands pledged £180,000 as part of its first phase of the Syrian Housing Project and constructed 150 permanent concrete homes, providing shelter to displaced families like Aisha's.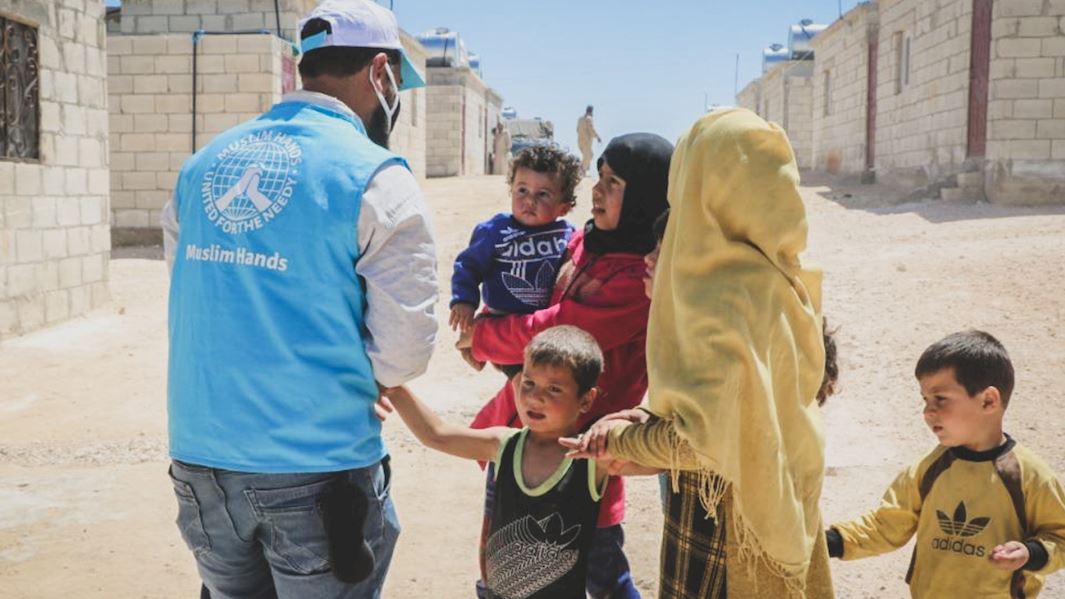 Aisha told our teams:
'Everything I've done was to protect my children. I was so desperate to ensure their survival we fled with only the clothes on our backs'. For six years, she has raised her children in a flimsy tent, with no way to protect them from the elements. 'It was so difficult living in the tent and I felt depressed', said Aisha. When she heard that her family would be moving into a house, she couldn't believe it. 'I feel like a human again. We feel like we can build a new life from the beginning'.
Muslim Hands has pledged a further £360,000 to build 300 homes as part of the second phase of this project. The huge intervention, which is the first of its kind, will involve various charities and organisations partnering together to respond to the vast need, including the Turkish Red Crescent and Turkey's Disaster and Emergency Management Presidency (AFAD). The overall aim of the project is to build a total of 50,000 houses on 100 acres of land, in the Syrian safe zone near the Turkish border. Each home costs £1,200 and will cover 38 square metres of space, consisting of two main rooms, a kitchen, a washroom and a small yard.
Muslim Hands will also rehabilitate an abandoned bread factory in Idlib which will provide 35,000 beneficiaries with freshly baked bread every day. According to the World Food Programme, over half the Syrian population is food insecure. The price of food continues to spiral out of control, as the economy teeters on the brink of collapse and cuts to UK overseas aid will throw millions in Syria deeper into crisis.
---
Facebook

Twitter

Email This