05 May 2021
Tackling Hunger and Loneliness on the Streets

London Councillor, Salman Shaheen FRSA shares his experience of a local project that, for two years, has been providing, food, friendship and support, changing how it worked with the arrival of Covid-19. With over 70,000 households in the UK made homeless since the pandemic began, he argues their work will be more vital than ever.
'If it weren't for you, I'd be dead'.
I could hear the tears in the man's voice as he thanked Ehsan Choudhry, founder of The Open Kitchen, and his team of Muslim Hands volunteers, who cook and distribute two hot meals every day to hundreds of homeless and vulnerable people in Hounslow.
But it wasn't just the food they'd given over the last two years that had saved his life and the lives of countless others. It was also the sense of community and belonging, those fundamentals of human existence that cannot be found in most soup kitchens.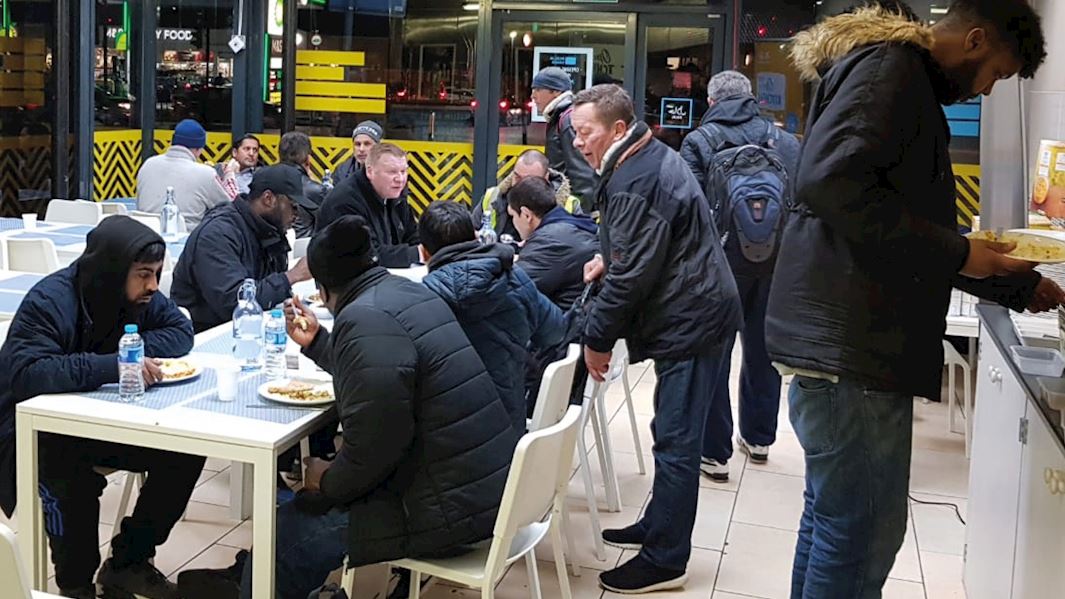 Even before Covid-19, a 2015 Crisis survey found over three-quarters of homeless people often or sometimes feel lonely. The report shows they 'lack the companionship that many of us take for granted, making it that much harder to escape homelessness and address any support needs'.
The Open Kitchen was founded not simply to address the alarming rise in food poverty – which today impacts as many as 8.4 million British people according to UN estimates – but to also tackle the enduring loneliness and isolation of the streets. Until the pandemic hit, Open Kitchen served as a restaurant for homeless and vulnerable people to come and sit and talk over a free meal, twice a day, seven days a week. There were never any questions asked and anyone who needed could walk in, pick up a plate and cutlery and choose their meal from a buffet of meat, fish, vegetarian options, fruit, pudding and various condiments, which they could eat at a table in conversation with others.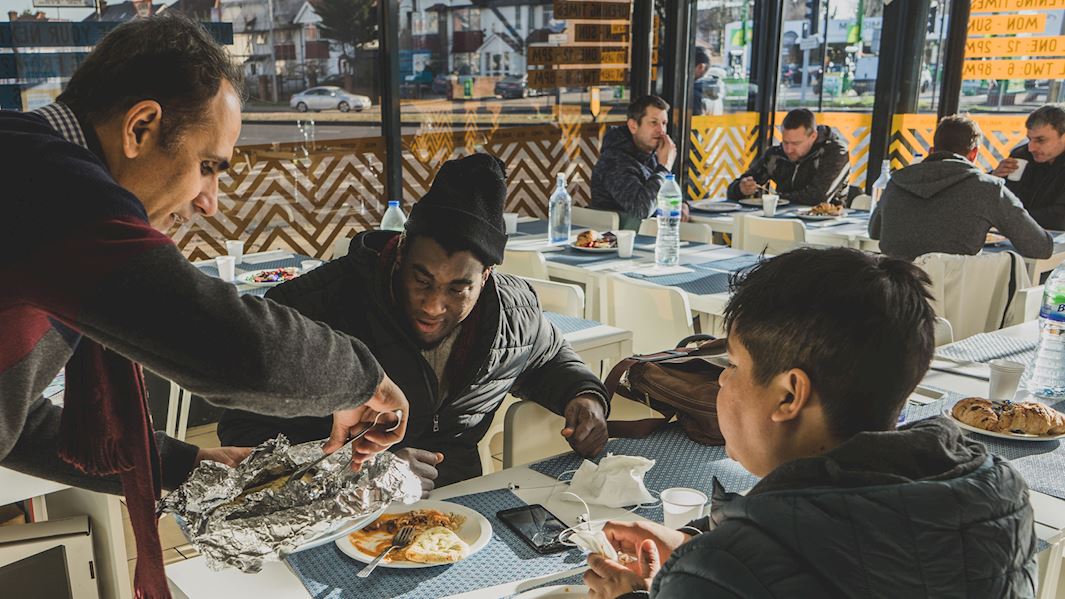 'It provides so much more than hot meals', Choudhry told me. 'Our beneficiaries have found a family, they have told us that they feel valued and are happy that people notice if they do not visit for a day or two, that people are concerned about their wellbeing. It has people from all backgrounds mingling with each other making friends, understanding and respecting the differences. The local petty crime rate has reduced and community cohesion has increased'.
Choudhry – a restaurateur by trade – set up The Open Kitchen as his Zakat, the religious duty, which sees Muslims give 2.5% of their wealth to charity.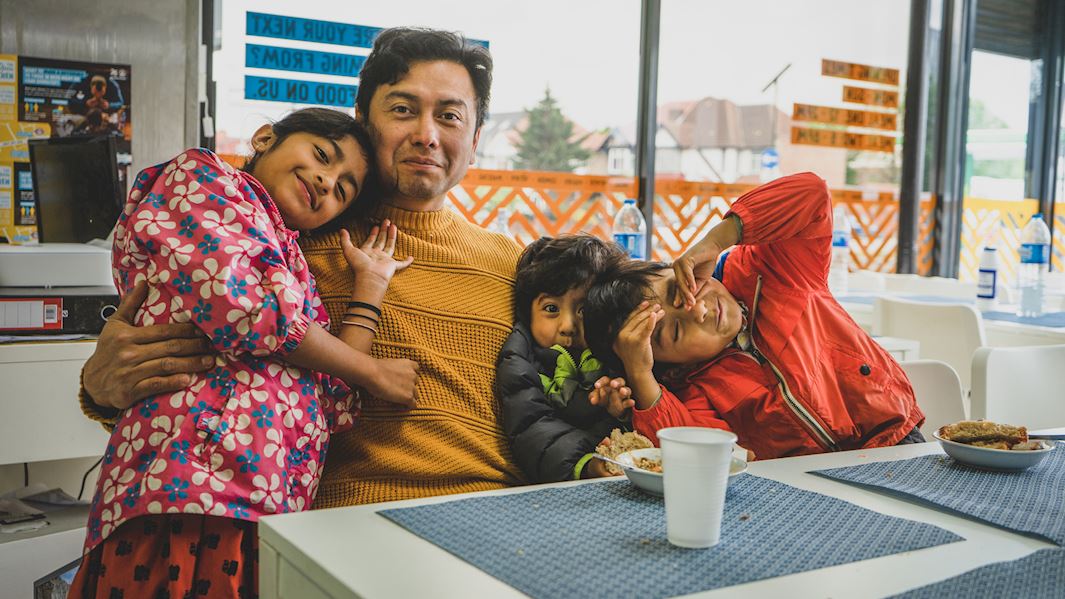 Sadly, The Open Kitchen, like every restaurant in the country, was forced to close its doors when Covid-19 hit. And yet, recognising what a lifeline it had become to so many people, and realising the number of people contacting them for support had only increased, Choudhry and his team could not bring themselves to shut the kitchen down entirely.
Instead they distribute hot food packages from a stall outside the restaurant to over 200 homeless people, refugees, those on low-incomes, and those who have lost their livelihoods to the pandemic. For those shielding and unable to come in person, volunteers deliver 150 packages a week.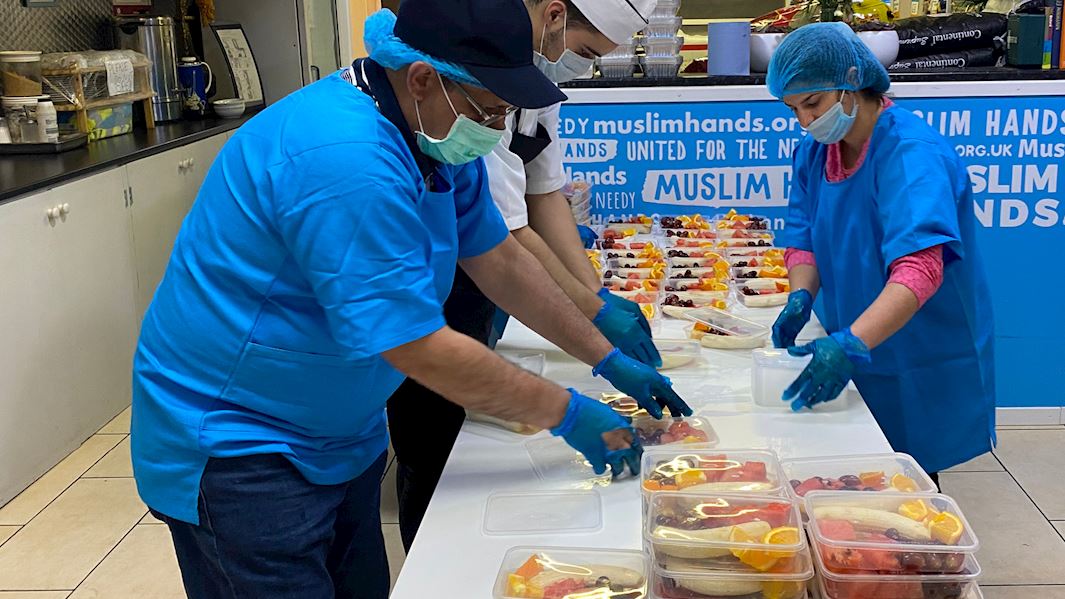 But always recognising that the most vulnerable in society need more than just food, the Open Kitchen also frequently gives out clothes, personal hygiene kits, prayer mats and bikes for children.
As a councillor for the Borough, I visited The Open Kitchen recently to see the great work they are doing. After I insisted I could do more to help than pose for photographs and get under the chefs' feet, Choudhry was kind enough to give me a few kilos of lamb, access to his vast store cupboard of spices and the run of his kitchen for a morning to whip up my lamb curry recipe before serving the food packages outside. It was a real privilege to join his hard-working team and see the difference they are making to the lives of those most in need.
With Ramadan having started, it is a particularly important time for The Open Kitchen, where they hope many in Hounslow's large Muslim community will provide them with the charitable donations they need to keep feeding the vulnerable. But looking forward, Choudhry wants nothing more than for The Open Kitchen to open its doors once more as 'a welcoming space where the needy and vulnerable are treated with respect and dignity and a place where they feel like they belong'.
Cllr Salman Shaheen FRSA is Councillor for Isleworth on Hounslow London Borough Council, Chair of Brentford & Isleworth Constituency Labour Party, and a journalist who has written for the Guardian, New Statesman and Times of India. He is a regular commentator on politics and economics on TV and radio.
Muslim Hands is an award-winning charity, established in 1993 to provide emergency relief and tackle the root causes of poverty. Donate to The Open Kitchen today to help us feed vulnerable families and rough sleepers in London.
---
Facebook

Twitter

Email This