24 September 2021
10 Reasons to Write an Islamic Will

Alhamdulillah, we are pleased to announce a brand-new partnership with Islamic Finance Guru, an organisation dedicated to helping Muslims make halal financial decisions. From advising Muslim entrepreneurs to providing an Islamic will-writing service, their vision is to make people wiser with their money and ultimately improve the economic situation of the entire UK Muslim community, ma sha Allah!
For a limited time only, IFG will write your legal will for just £35!
We highly encourage you to take advantage of this service - provided by qualified lawyers and their in-house Mufti! You can read more about how it works at the end of this article.
But before we talk about the process of writing a will, we'd like to explain why it's so important for you to write an Islamic will in the first place.
1. It is a serious religious obligation
The Qur'an has set out guidelines for who inherits our assets and we will be accounted for this. Therefore, it is imperative for a Muslim to not delay writing a will: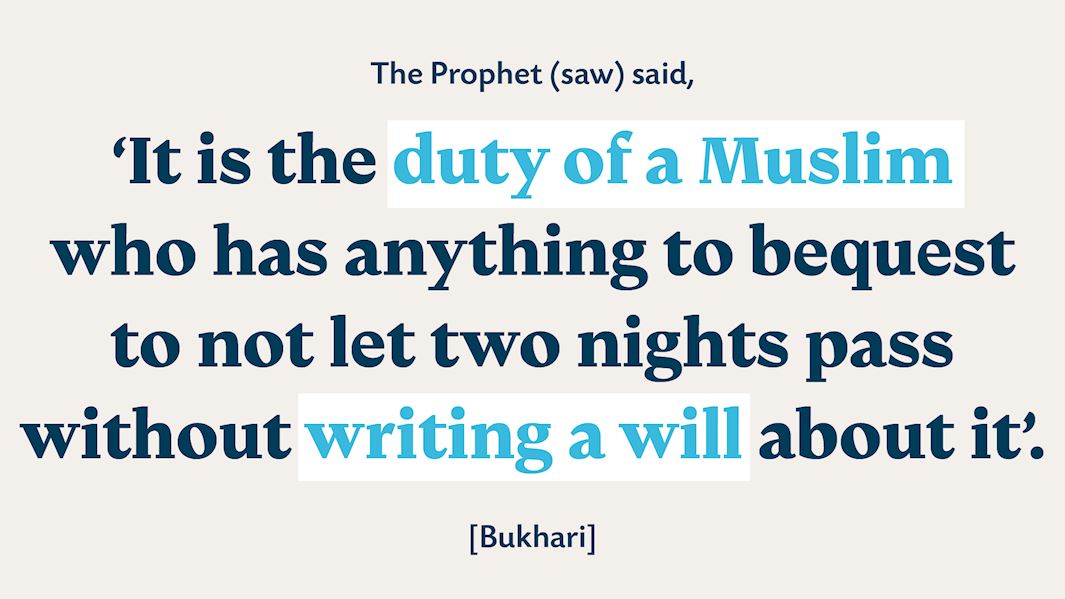 If we pass away without a will, we have neglected a serious religious obligation. Writing a will means tidying up and completing our affairs in this world - the significance of this good deed cannot be underestimated!
What we bequeath is essentially our last act of pleasing Allah (swt) and following His command. Remember, the Prophet (saw) said, 'Indeed, deeds are only judged by their endings' [Bukhari] - and writing an Islamic will is the perfect way to seal our good deeds before we return to Allah.
2. It ensures you are following Islamic law
In Islam, there are clear rules for how to divide up two-thirds of what you own. As for the remaining third, you are free to leave it to whomever you want. (For example, you can set aside a specific amount of money for Sadaqah Jariyah, or bequeath a piece of jewellery to a family member).
The circumstance of dying without a will is called intestacy. If someone dies intestate, UK law will determine who will inherit – not Islamic law.
It is therefore important to write an Islamic will, so you can explicitly state that you want your wealth to be distributed according to Islamic law, not UK law.
3. It is a legally-binding document
IFG will ensure your will is valid from both a legal and Islamic perspective. Most of us are not experts in will-writing and we may inadvertently end up making mistakes without the proper advice. For example, did you know that people who benefit from your will can't witness your will, otherwise their share of the inheritance will be cancelled? It's important to consult someone experienced in Islamic will-writing to make sure everything goes smoothly.
Usually, IFG provide this vital service from £98 - which is already a discount from the hundreds of pounds a lawyer might charge you.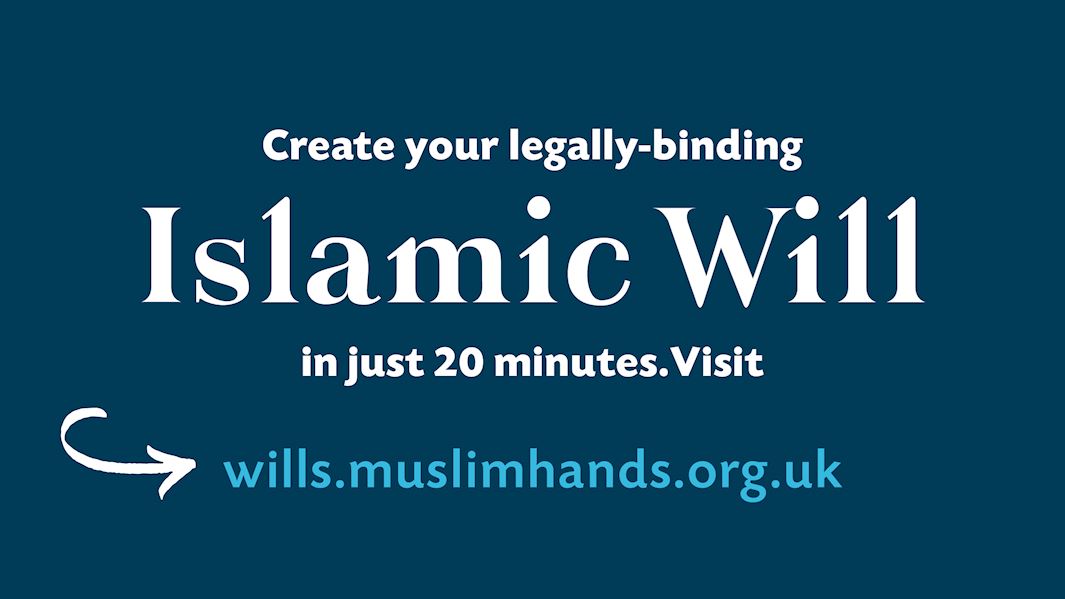 But, for the next three months, IFG will be providing this service to you for £35, in order to encourage more people to fulfil this obligation and write an Islamic will!
4. There will be a clear record of your finances
There are two types of finances you need to set out in your will: assets and liabilities.
Simply put, assets are what you own and liabilities are what you owe. It is your responsibility to ensure that what you own will provide for your loved ones, while what you owe is cleared up as quickly as possible after you pass away.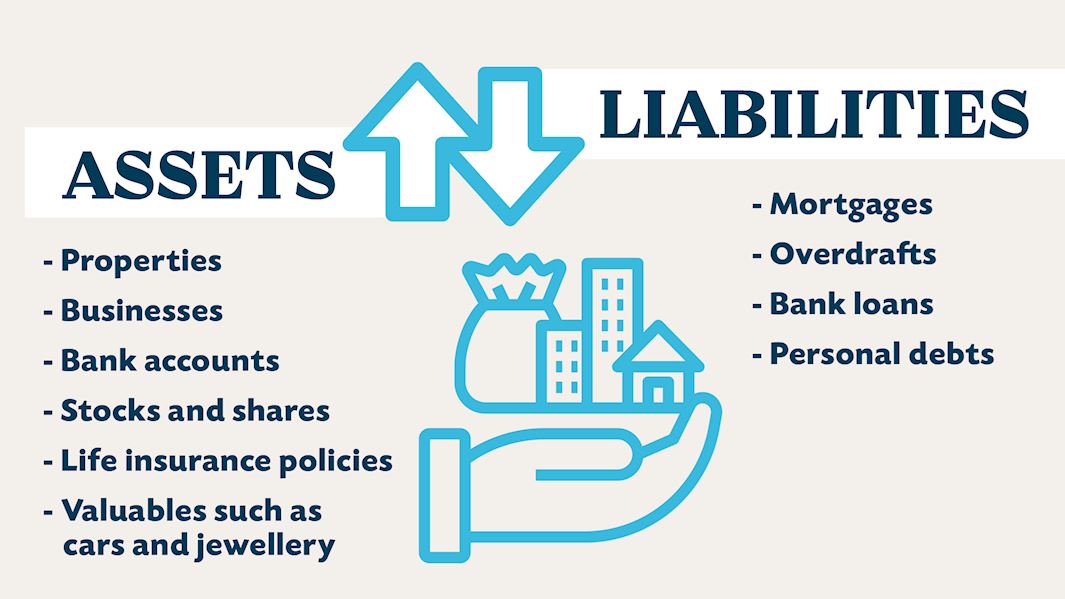 It is necessary to seek legal advice about exactly what your assets are.
For example, you should list your pension in your will, but the pension provider will most likely deliver this directly to your nominated beneficiary, so you need to get in touch with them about this. Another example would be that, if you have a jointly-held house, it will impact the inheritance process - so you will need to take this into account when writing your will.
IFG can help you work out all the details about how to list your assets in the best way.
As a Muslim, it is also crucial you include a record of your private/unofficial debts in your will, so that your loved ones can be made aware of them and can settle them for you. This is because the Messenger of Allah (saw) said, 'The soul of a believer remains suspended by his debt until it is paid'. [Tirmidhi]
5. You will avoid legal costs
There are two types of legal costs a will can help you avoid.
Firstly, you will prevent the legal costs which arise from disputes over your will. Your will should be made as legally clear and undisputable as possible, so that the court, your executor and your loved ones can follow your wishes swiftly and smoothly.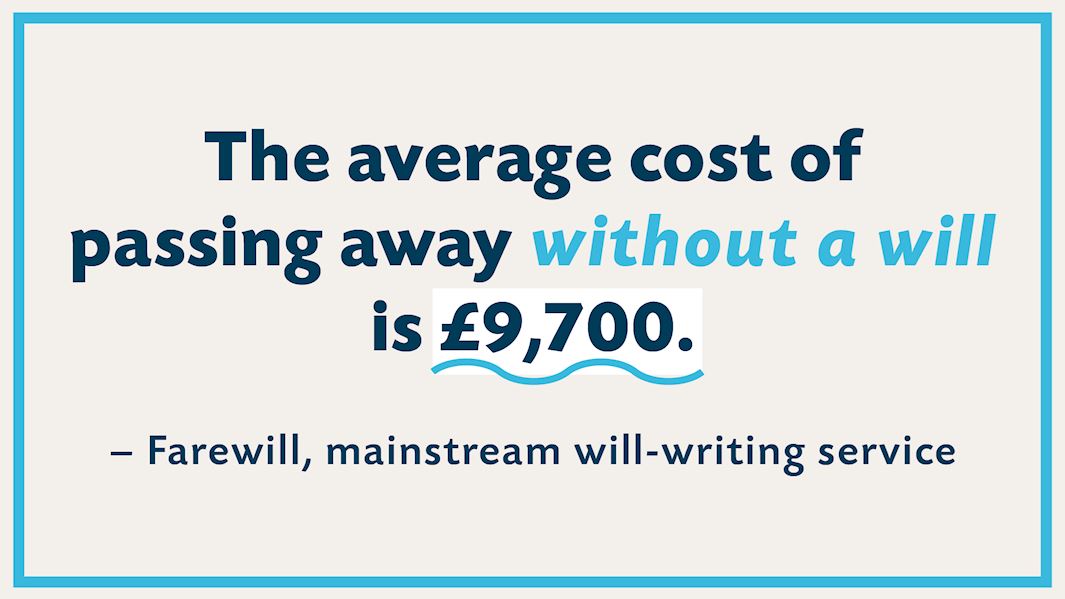 Secondly, you will be able to minimise your inheritance tax bill - within the law, of course! You have worked hard for your wealth and there is nothing wrong with organising your will to minimise the amount the state will take. The more that you can leave behind, the more good that it can achieve in providing for your loved ones.
6. You can ensure your loved ones are provided for
Ultimately, by recording all our assets and minimising legal costs, we will be helping our loved ones - especially those who are dependent on us.
Sa'd (ra) reported, 'The Prophet (saw) visited me while I was ill in Makkah. I said, "I have some wealth. May I donate all of it?" The Prophet said, "No". I said, "Half of it?" The Prophet said, "No". I said, "A third of it?" The Prophet said, "Yes, a third - but this is still too much. That you leave your inheritors wealthy is better than leaving them dependent, begging for what people have. Whatever you spend on them is charity for you, even the morsel you feed to your wife". [Bukhari]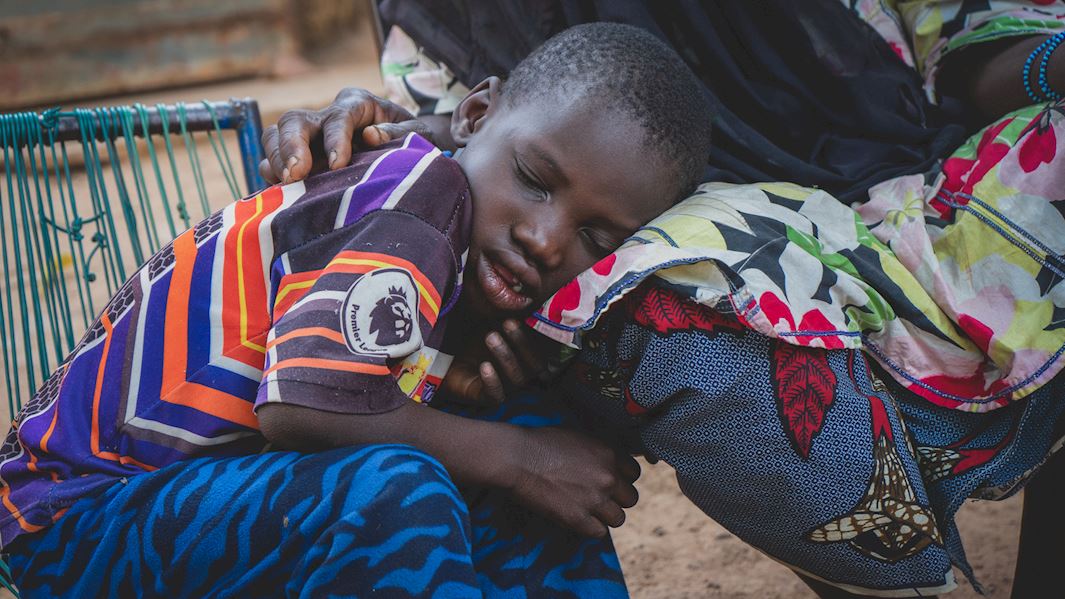 Allah's Messenger (saw) thus placed a huge emphasis on taking care of our family after we've passed away, advising Sa'd (ra) to consider this before he thought about Sadaqah Jariyah.
Writing an Islamic will also ensures we provide for people who wouldn't inherit automatically under English law. For example, any dependents who aren't your blood relations - like step-children or foster children - won't automatically inherit from you, so you need to explicitly include them in your will. Also, if your marriage wasn't legally registered - i.e. you only held a nikah ceremony - your spouse won't automatically inherit from you, so you need to specifically detail what you want to bequeath them.
7. You choose your executor
The executor of your will is the person who is in charge of distributing your wealth. If you pass away without a will, the court will distribute your wealth. A relative can apply to act as your executor - but this can take time and lead to significant legal fees. Unfortunately, it may also strain family relations, either because of stress or disputes.
Therefore, it is best to write an Islamic will and appoint someone as your executor. They will be responsible for numerous tasks, including: completing an inheritance tax declaration, settling debts, distributing your assets and informing organisations (such as banks) that you have passed away.
Being an executor is a lot of responsibility, so make sure you appoint someone trustworthy, reliable and ideally with some relevant skills (e.g. experience in law or tax). Please do ask the person you choose if they accept this responsibility, as they need to be fully committed to this potentially complicated duty.
8. You choose the guardians of your children
Most parents are worried about the lives of their children more than their own lives. Our children should always be healthy and happy, eating the food they enjoy, studying with teachers who treat them well and experiencing all of the comforts Allah has blessed this world with.
And, as a charity which looks after orphans, we are well-aware that a child without a parent needs a lot of care and compassion.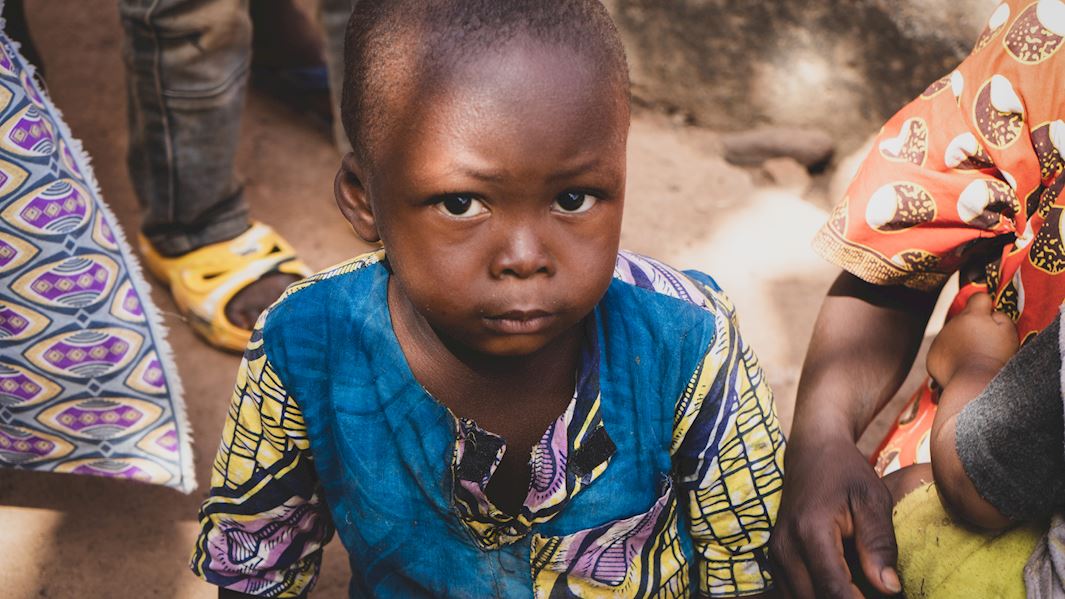 If you pass away without a will, you won't have a legally-binding document which shows who you trust to be your child's guardian. Although you may have put a lot of thought into who can provide your child with financial stability and emotional support, it is essential that you write it down and have it witnessed so that your wishes are carried out.
9. You can prevent stress and disputes
So far, we've said that, if you don't have an Islamic will, then:
You won't have fulfilled your religious duty
The courts won't follow Islamic law
Your family won't have a legally-binding document to show your wishes
There won't be a clear record of your finances (including debts)
Your loved ones will incur significant legal costs
Your loved ones may not be provided for 
The court will choose your executor instead of you
The guardian of your children may not be who you chose
All of this would put a lot of stress on your loved ones, during a time when they are already grieving and emotionally drained. Unfortunately, it can also lead to disputes, which will intensify the distress of your family.
Therefore - and we cannot emphasise this enough - leaving a will alleviates the burdens of your family after you pass away. It won't take long to gather all your paperwork and write down your wishes - especially if you have the highly-experienced IFG team advising you - but its impact cannot be overstated.
10. You can bequeath gifts and charity
The Qur'an sets out clear guidelines for how two-thirds of what you own will be distributed. However, the remaining third can be distributed however you wish.
You can be as specific as you like! You can bequeath specific items to specific friends - even adding a message for them - and make sure any family who don't automatically inherit from you are taken care of. And of course, you can leave a charitable donation to seek reward even after you have passed away. This is caused Sadaqah Jariyah - or continuous charity.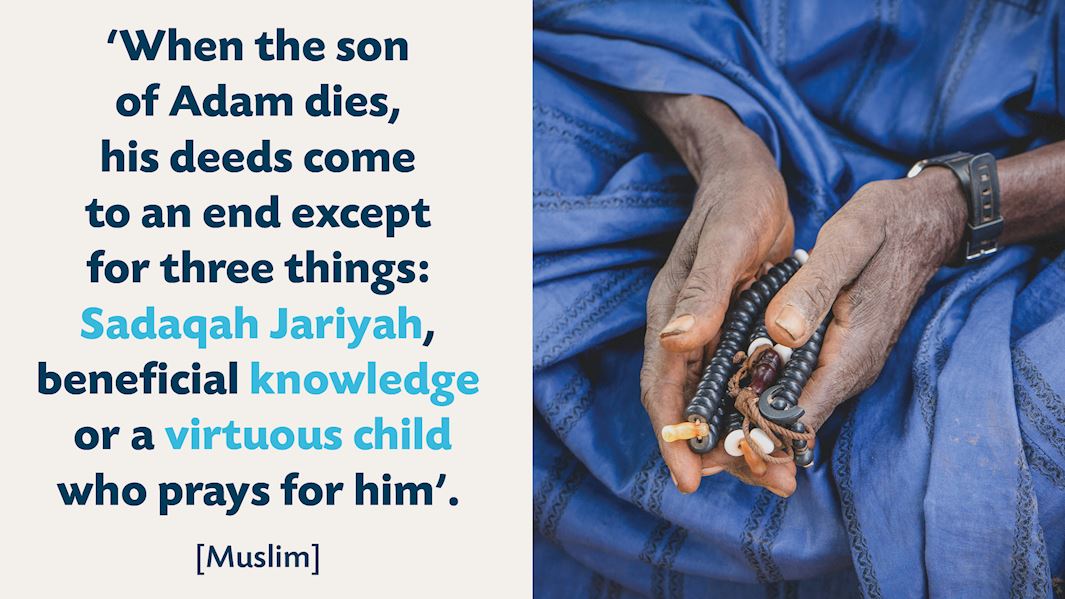 So how does it work?
Now that we've discussed the ten reasons for writing an Islamic will, we'd like to tell you more about the service which Islamic Finance Guru offers.
Usually, IFG will write your legal will for £98. This is far more affordable than the hundreds of pounds a lawyer may charge, alhamdulillah. The service is carried about by qualified lawyers and their in-house Mufti - and, if your circumstances change, you can make unlimited amendments for just £10 a year, ensuring your instructions are always up-to-date.
We've teamed up with IFG to encourage our supporters to fulfil their Islamic obligation, by making this service even more affordable. For a limited time ONLY, IFG will write your will for just £35!
Of course, this £35 will cover the full cost of writing your Islamic will for a limited time - and this £35 will go directly to IFG. Muslim Hands will not be subsiding you writing your will - which is why we can't offer this service for free! However, we hope to encourage more Muslims to fulfil this duty - as well as raise awareness about the importance of Sadaqah Jariyah legacies.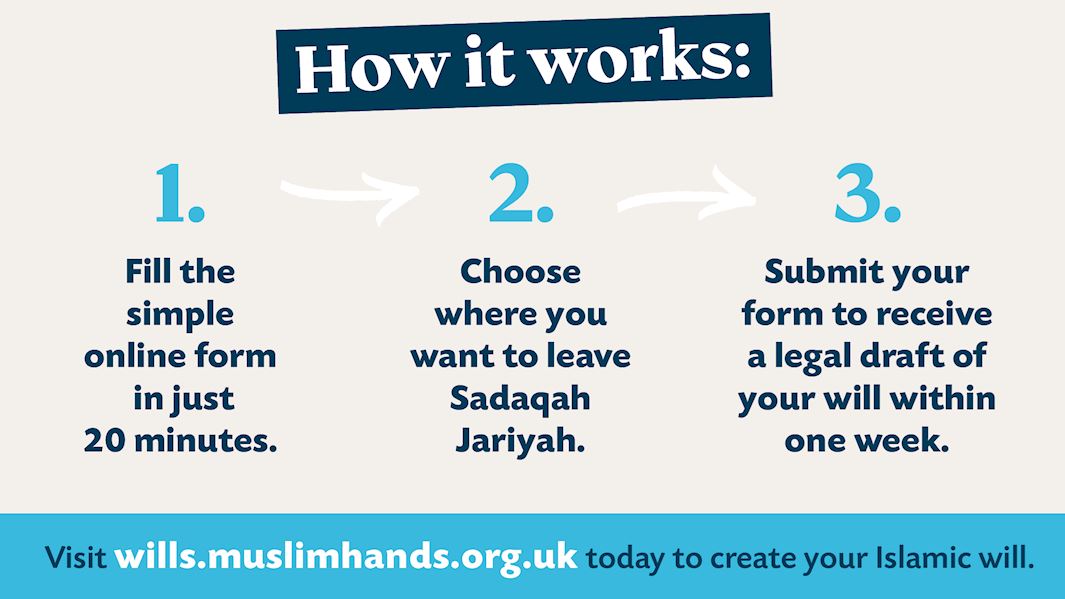 Ma sha Allah, as shown above, IFG have made this process very simple. You can record all your assets and inheritors in their simple online form and their legal team will turn it into an Islamic will. Within just one week, you will receive a draft of this will, signed off by a Mufti - all for only £35!
You can also choose from multiple Sadaqah Jariyah projects - including masjids, water, education, livelihoods, health care and more. Our Major Giving team can help you create a tailor-made project according to your own plan and budget. Email us at majorgiving@muslimhands.org.uk or call Taukir Iqbal at 0115 911 7222.
Remember: the Prophet (saw) advised us not to let two nights pass without writing a will. So don't delay! Fill in our simple online form before the weekend is over - and ensure your religious obligation has been fulfilled.
We pray Allah takes care of all our affairs in this life and the next, amin!
---
Facebook

Twitter

Email This