03 December 2021
Bushra's Winter: Nowhere to Turn
As temperatures drop to below-freezing, displaced families are struggling to cope with the harsh winter, unable to afford the basic items they need to survive. Our team in Lebanon have been meeting these families and listening to their stories so we can give them the help they need.
Meet Bushra
29-year old Bushra lives in a Syrian camp in Bekka, Lebanon, along with her father and her younger brother, sister-in-law and niece. This refugee family are struggling to survive this winter.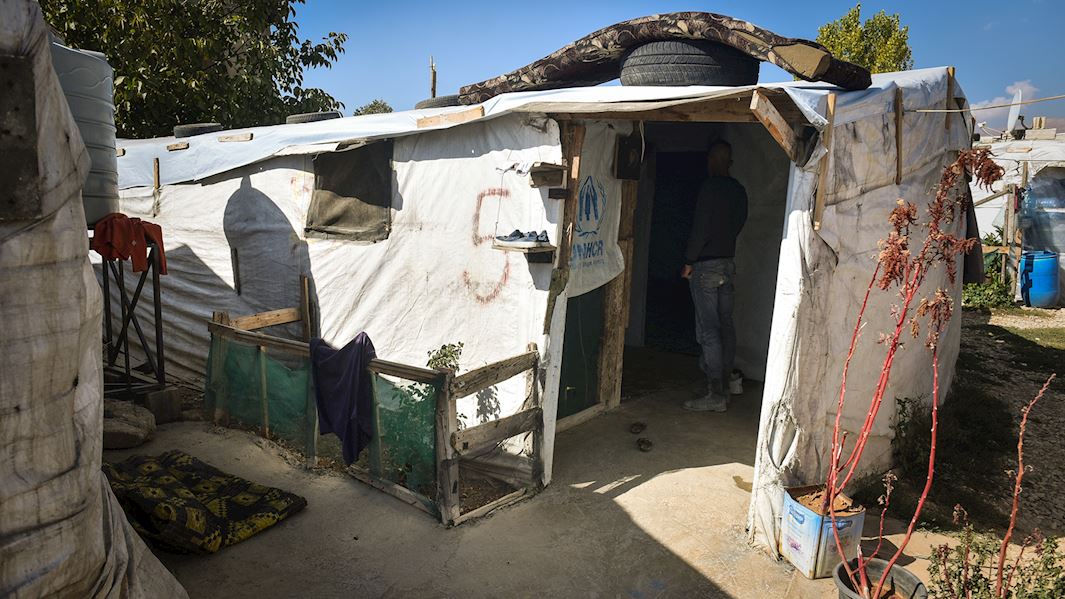 There is a tear in the roof of their shelter, through which the biting wind seeps through. Bushra is worried that, once the snowfall and rain begin, water will leak through and flood their home. Her concerns don't end there: she has no way of heating the tent and no blankets to cover her family at night.
Our team told us that the family sounded 'anxious, fearful and burdened' - because they know that they have no way to improve their situation.
Bushra can't afford to buy essentials
Lebanon is experiencing the worst economic crisis in 150 years. The combined impact of the pandemic, the Beirut explosion and the recession has impoverished well over half the Lebanese population - and almost the entire Syrian refugee population.
What is the tangible impact of this economic crisis? People like Bushra can't even afford basic food.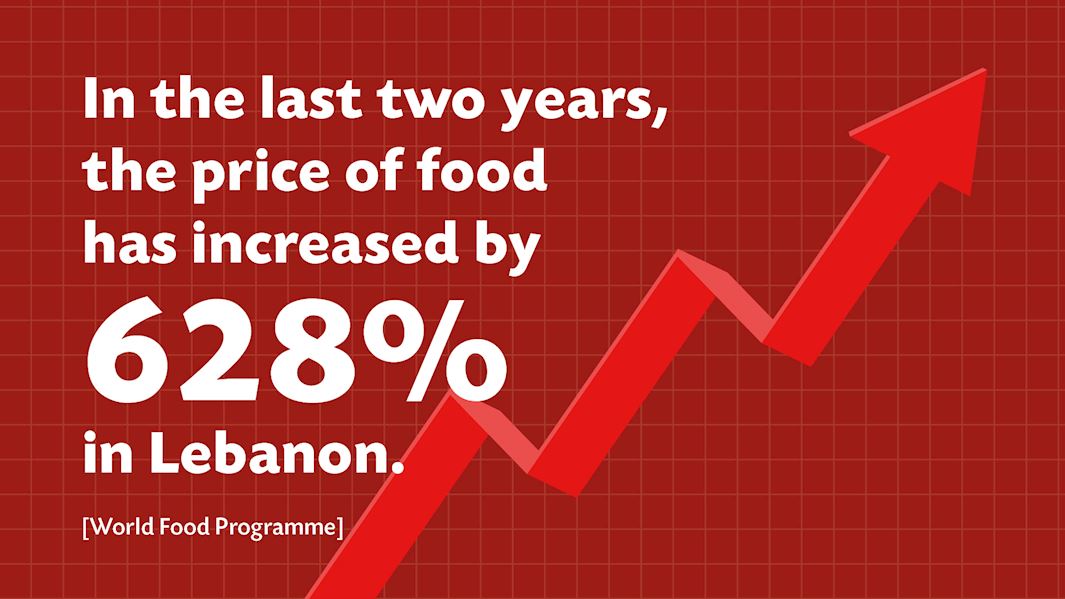 Apart from food, Bushra gives our team a list of the basic items they don't have.
'Because diesel (heating fuel) became very expensive, we resorted to firewood - and that has become expensive as well', she says.
She also can't afford the price of diapers for her 80-year old father, who is so weak he needs help to use the bathroom. When she goes to the pharmacy, she can't find his medication.
Bushra herself was born with a birth defect in her right hand and foot, which means she can't use them properly. 'I was being treated by a doctor in Syria. He told me that it is possible for my foot to heal, but not my hand. It is difficult to treat my hand because I have weak muscles'. However, she can't afford the treatment for her foot, which impacts her mobility - it is difficult for her to care for her father when she is disabled herself.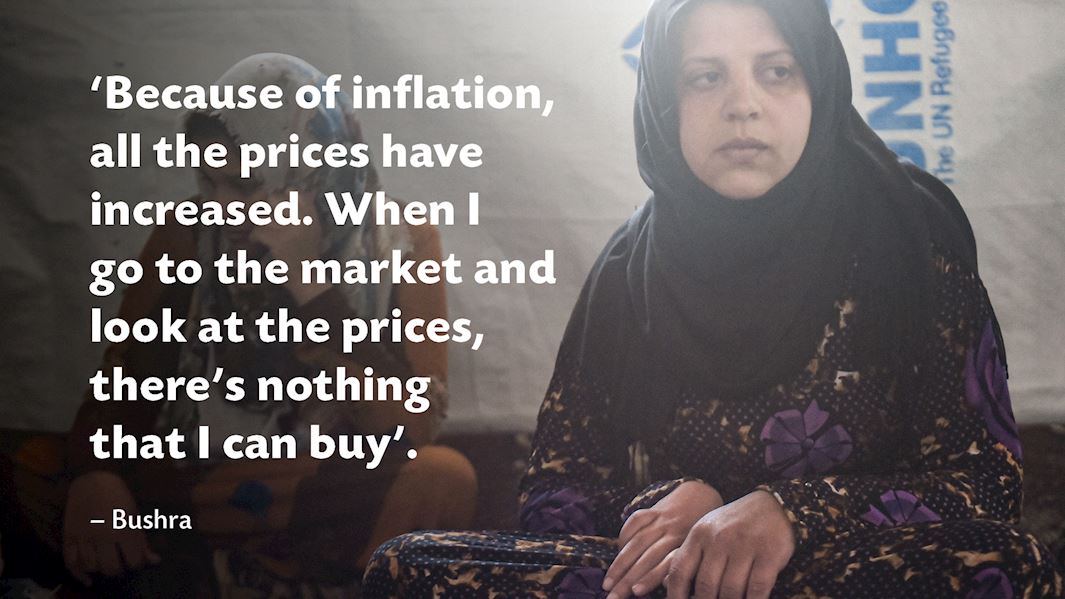 The family pays 300,000 Lebanese pounds to their landlord. That's £150 that they could be using for blankets or heating fuel to protect them as the temperature falls. 'If the money is available, then I pay him. If it is not available, he tells me to demolish the tent and get out of his land. If he kicks me out of this tent, where should I go with my father and the baby?'
As Bushra speaks to our team, her niece, Zainab, starts coughing painfully. Bushra holds her close. 'She is sick, but I can't take her to the hospital'. Zainab is only one year old, yet Bushra can't protect her from the cold and hunger. She can't even afford to buy her basic food.
Bushra doesn't know how they will survive this winter
Our team always check up on the emotional state of the people they visit. How are they feeling, what are they thinking about? This is how Bushra responded:
After hearing her heart-breaking words, our team asked her, 'For every human being, there is hope. Is there any hope in your life?' Bushra simply answered, 'My only hope in this life is to be able to support my father'.
As the temperatures plummet, Bushra's family are preparing for a winter without heating fuel, blankets or food. They don't know how they will survive the freezing cold. But you can help.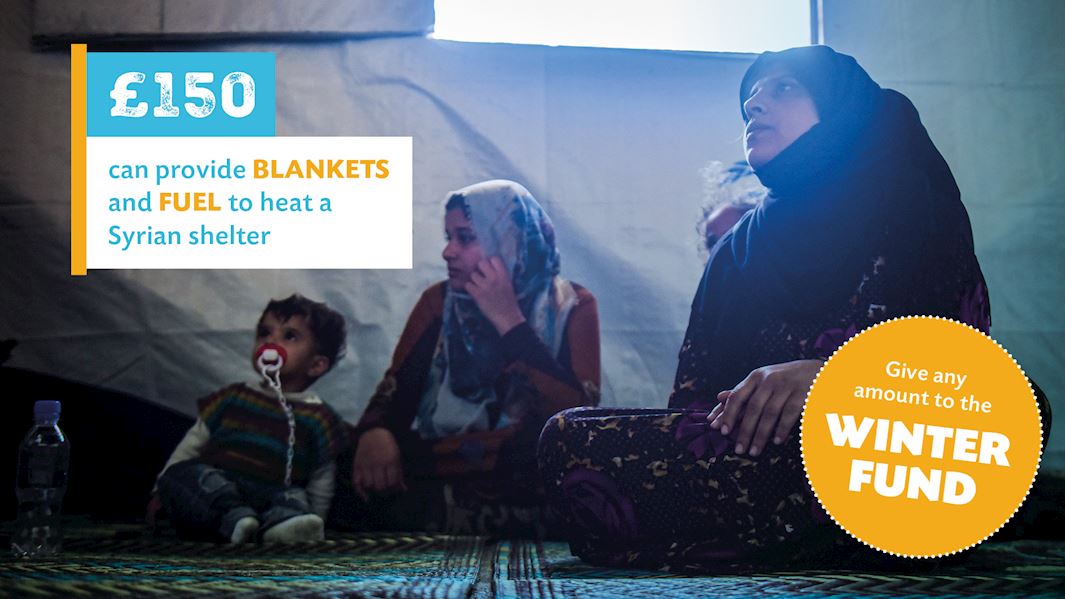 The Prophet (saw) said, 'The example of the believers in their affection, mercy and compassion for each other is that of a body. When one limb aches, the whole body reacts with sleeplessness and fever'. [Bukhari]
Show your 'affection, mercy and compassion' to a family like Bushra's. You can donate any amount to the Winter Fund to make a difference. £150 could provide them with blankets and heating fuel, keeping their shelter warm and protecting them from sickness.
Our teams are distributing winter relief in Lebanon (Aarsal, Bekka, Saida), Syria (Azaz and Idlib) and elsewhere. Your donations could be the difference between life and death. Be the answer to their du'as: 'Keep us warm, keep us alive'.
Muslim Hands is an award-winning charity, established in 1993 to provide emergency relief and tackle the root causes of poverty. You can learn more about our Winter Appeal here.
---
Facebook

Twitter

Email This