26 December 2017
Who You Gonna Call? – Hat Hunters!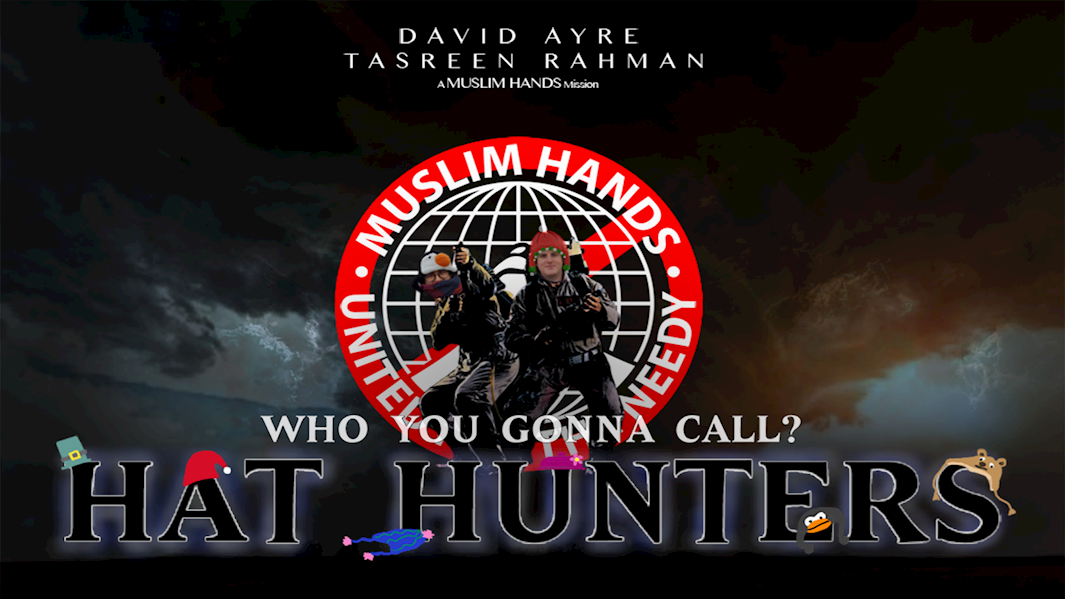 Here at Muslim Hands HQ, we've been coming up with ideas to brighten up the dull winter weeks and spread a little joy amongst our readers. We thought, 'here's a great idea – let's go out and scour the streets of London for people with fun and interesting novelty woolly hats! What could be simpler?' (as it turns out, a lot of things could be simpler).
With a spring in our step and a steely determination to fulfil our mission, the Hat Hunters were born.
Meet the intrepid Hat Hunters - Tasreen and David (Tas and Dave). Tas has loved penguins since she was knee-high to a Eudyptula minor (the smallest species of penguin). Her hat, known simply as 'Penguin', has been part of her life for six years and even features in her C.V. Penguin is part of Tas's identity and a useful aid for her friends to spot her in a crowd. David is sporting a Russian hat which he purchased in Red Square while visiting his fiancé's home country. Even though it's a bit small for his head, it's a nice reminder of the culture he's marrying into. It gives him happy, lovey-dovey feelings despite being constrictive around the scalp area.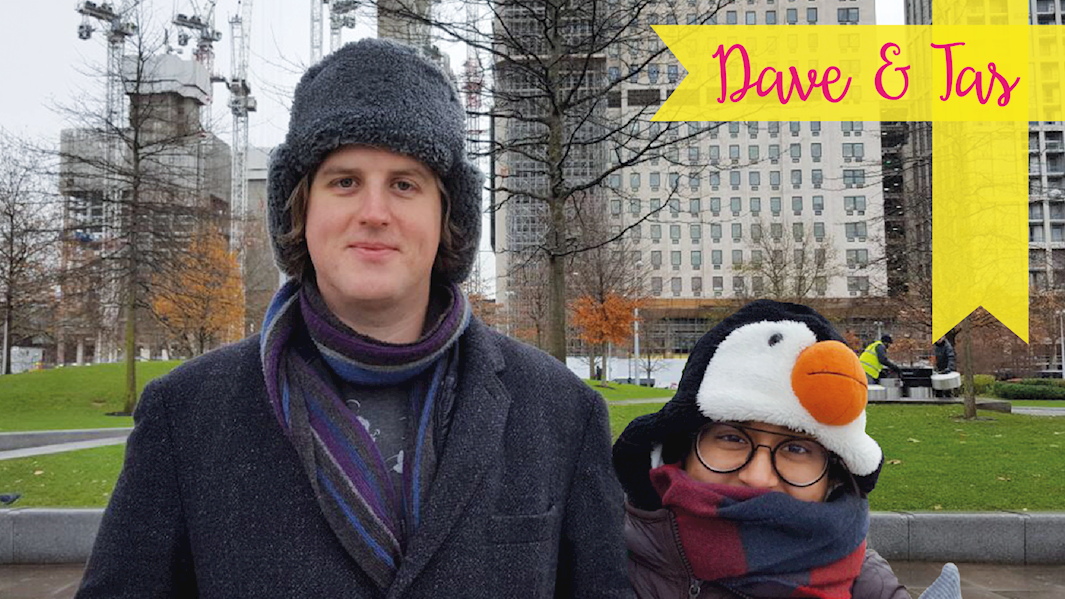 The first stop on our journey seemed obvious – Oxford Street. Surely this rich artery in the beating heart of our metropolis would be positively coursing with festive revellers, novelty hats a plenty. As we cast our keen hat-hunting gaze over the hundreds of shoppers bustling through the drizzly streets we were stunned. Not one single novelty hat. Not one! Up and down the length of Oxford Street we kept our astute focus on the heads of all and sundry, but to no avail.
'OK,' we thought 'it's early, it's a little damp. Clearly the funky-hat-loving members of society are elsewhere or maybe just resting their hat-heavy heads'. We decided to branch out into trendy Carnaby Street where we were bound to find some hip young cats in funky fresh hats.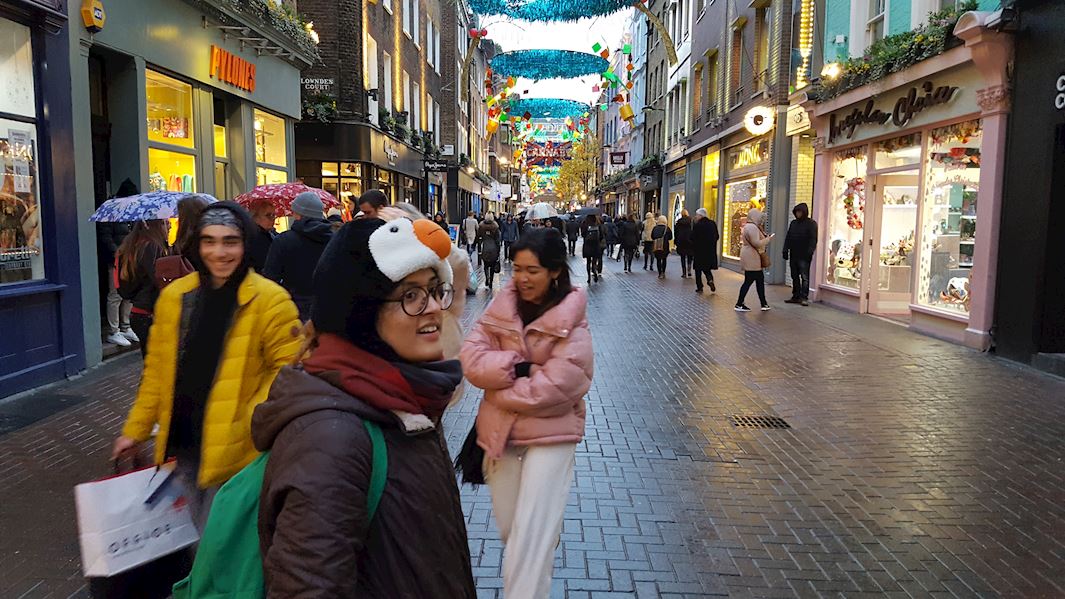 Maybe not. The delightful penguin hat on display here belongs to Tasreen, one half of the vaunted Hat Hunters. Elsewhere was nothing but a novelty-hat-less sea of disappointment. Undeterred, we ventured further south, hoping that Covent Garden would bring us the hat based joy we so eagerly craved.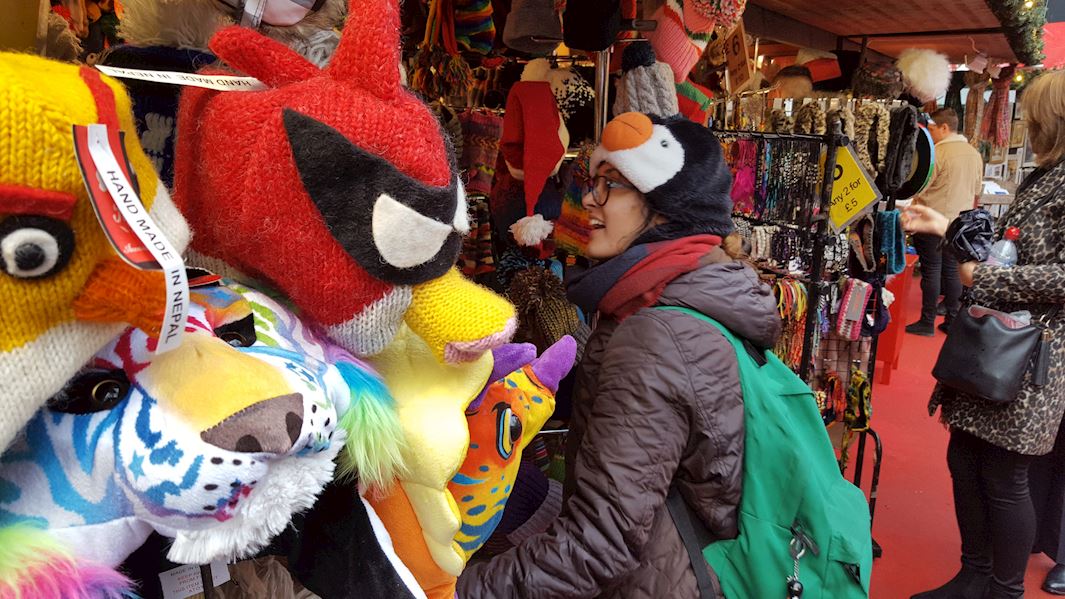 On the way, the unmistakable smell of hats brought us to Leicester Square where we found a purveyor of the finest novelty hats money can buy, incredibly - no one was purchasing. Any prior customers had clearly pocketed their stash and made a sharp exit.
We reached Covent Garden ready to bag our first chat with a hat (wearer) but all we found was a damp and dreary wasteland.
Further south we trudged, making a beeline for the Christmas market at Southbank. 'This is it,' we thought 'this is where we find our fun hat wearing friends'.
We were met with further disappointment. Surely our hunt wouldn't turn out to be a massive anticlimax? Could we really spend hours scanning the streets of London for fun hat stories only to come up empty handed?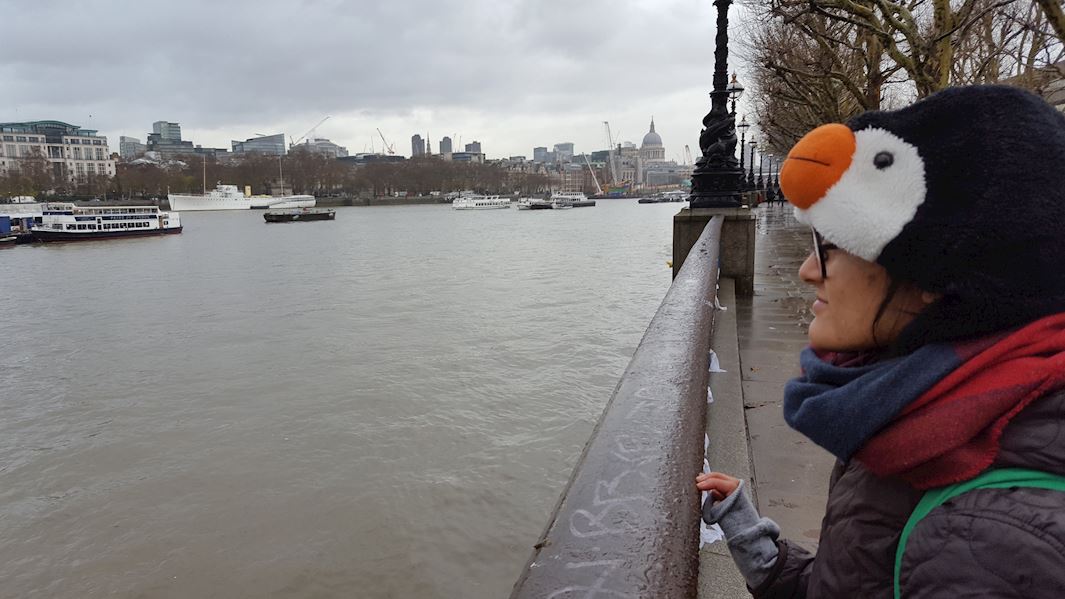 Gazing into the Thames, Tasreen and Penguin contemplated the possibility of failure. To be fair it was unlikely that we'd find someone swimming through the river in a funny hat.
But wait…what's that in the distance (no not the river, we've turned around now)?
Striding towards us, with the unmistakable tread of walking enthusiasts, were John and Don: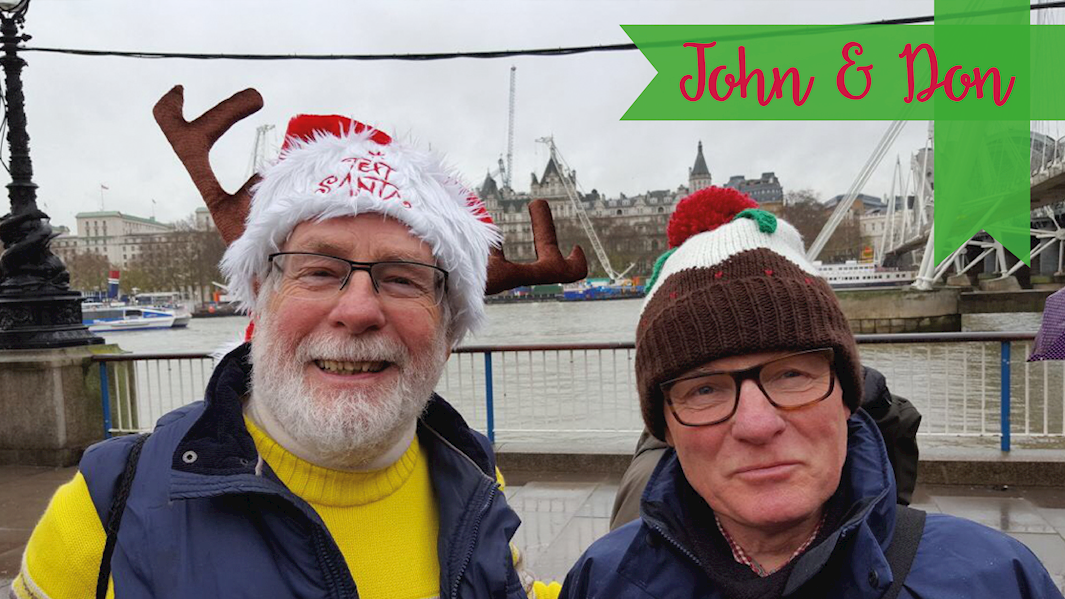 These dapper gents - members of Epsom and Ewell Ramblers - were happy to curtail their waterside walk and save our day with a quick chat about their festive head-warmers.
John is no stranger to the Father Christmas look as he serves as Santa for his Rotary Club yearly festivities. He has his hat to thank for the warm fuzzy feeling he gets wearing it.
Don's keen eye for a bargain led him to pick up his snazzy number from Primark (we assume his local branch, but given his love of wandering – he may well have ventured far afield).
John and Don left us with warm smiles and a heart-felt 'Merry Christmas'. 
A short round of high-fives ensued but our self-congratulations ended swiftly – our Hat Hunter senses were tingling…
Incredible scenes. Mere moments after John and Don restored our faith in humanity we spotted Julie and her fuzzy friend, Foxy.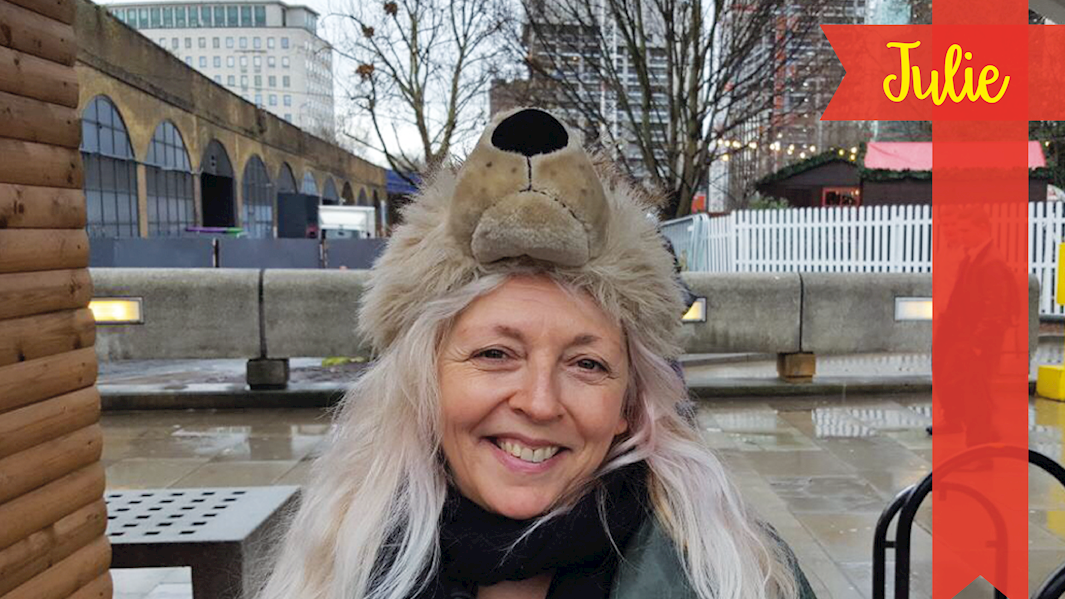 Julie found Foxy in an animal themed shop in Brighton which is, sadly, no longer there. Foxy had attracted the attention of a young child and Julie had to move quick to snap the fuzzy hat up (like taking candy from a baby).
After stealing Foxy out of the hands of a small child (I'm sure they had plenty in stock and Julie is very nice!) Julie has taken her furry friend all over the world from France to Canada to somewhere else I didn't write down (it was cold).
Julie loves winter because she gets to enjoy a hot drink, and most of all, because she can wear Foxy. She loves the way her favourite hat cheers people up.
Buoyed by our success we wandered back through London, sure that we'd find plenty more novelty hat wearers to chat to. Sadly, we found no more but we're very grateful to John, Don and Julie for saving the day.
If you have a favourite woolly hat with a story to tell, we'd love to hear from you, get in touch via Facebook or Twitter.
Whilst we enjoy our woolly warmers, let's remember that winter can be a very tough time for disadvantaged people all over the world, why not take a moment to check out our Below Zero Winter Appeal to see how you can help the less fortunate.
---
Facebook

Twitter

Email This