23 February 2018
Ghouta Under Siege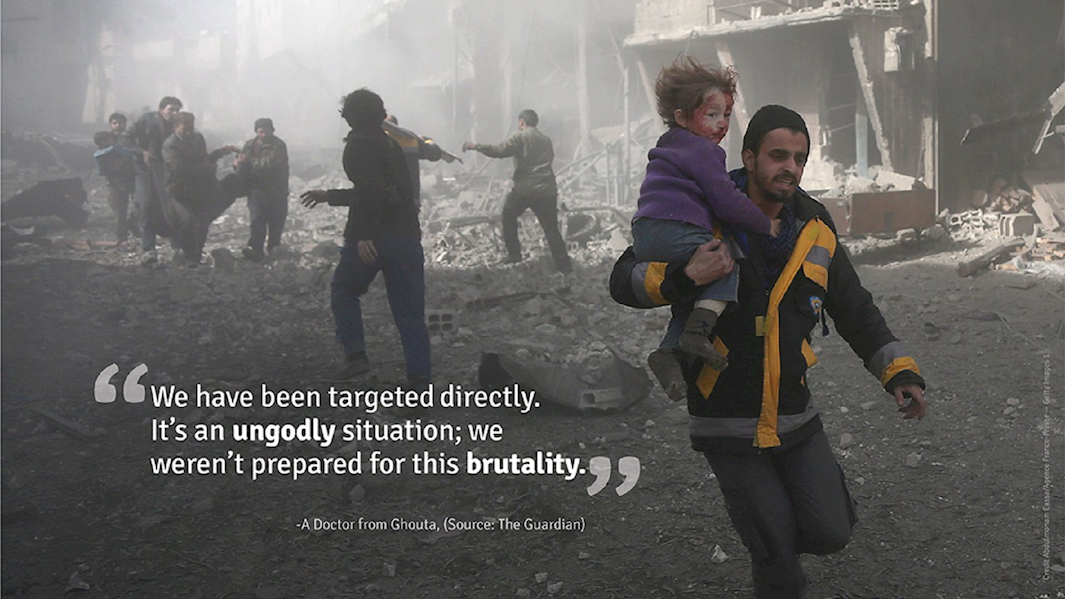 Note: This article was written in 2018. See the latest news from Syria.
Right now nearly 400,000 civilians are trapped in Ghouta, Syria, as the area is bombarded in one of the most devastating assaults in the history of the seven-year civil war. Caught in the crossfire of this brutal conflict, innocent people are dying as bombs rain down on their homes. In the space of just one week, over 420 air strikes have barraged the city and, thus far, 426 civilians have lost their lives, including at least 98 children. Without food, water and medical assistance the number of dead will rise rapidly in the days to come.
Along with missiles and mortars, civilians have been reporting incidents of barrel bombs - oil drums containing explosives and shrapnel - being dropped from helicopters onto marketplaces. Much of the city has been reduced to rubble as thousands of buildings have been destroyed.
The UN estimates that around 70% of people in Ghouta are in dire need of humanitarian aid including food, which is very scarce and becoming increasingly expensive. A further 700 people are in need of urgent evacuation to receive medical care.
Just last week, a team from Muslim Hands visited Syrian refugees in Lebanon. We heard harrowing stories from people who had escaped Ghouta in recent months - families forced to eat grass to avoid starving. With this escalation in violence, it is hard to imagine the suffering faced by those who remain trapped in this desolate place.
Our teams are on the ground in Syria, ready to reach these devastated people with vital food and medical aid.
Donate now and save a life before it's too late.
Muslim Hands is a charity established in 1993 to provide emergency relief and tackle the root causes of poverty. Your donations help us save lives within Syria, as well as in the camps in Lebanon and Turkey. See our latest projects for Syria.
---
Facebook

Twitter

Email This