23 February 2018
Rohingya: Call to Action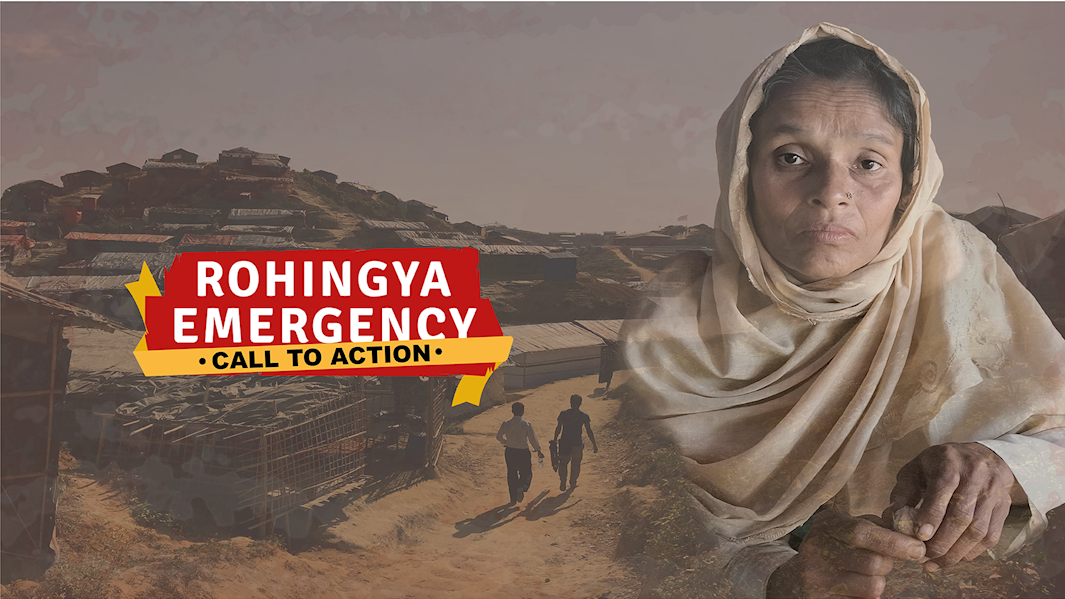 Note: This article was written in 2018. See the latest Rohingya news and projects.
The predominantly Muslim Rohingya people have lived for centuries in the west of Myanmar, near the border with Bangladesh. Their recent history has been blighted with severe persecution and suffering, so much so that in 2012 the UN described them as the most persecuted minority in the world.
Incredibly, for these people who have endured so much sorrow, in August 2017 their situation worsened. An escalation of extreme violence forced hundreds of thousands of Rohingya people to flee their homes. Since then, nearly 700,000 people have escaped into neighbouring Bangladesh and that number continues to rise.
Before this crisis began, Bangladesh was already home to hundreds of thousands of Rohingya refugees. Now there are nearly 1 million people living in cramped, squalid conditions in enormous camps. One such camp, the Kutupalong extended camp, is so vast it is now considered to be the largest refugee camp in the world. Holding around 585,000 people, it is nearly the size of Glasgow and bigger than Sheffield.
Fleeing for their lives, the Rohingya people could carry only the clothes on their backs and a few small items. They now live in makeshift shelters and rely entirely on outside help to survive.
When the crisis began, your donations allowed us to react quickly and we delivered over £400,000 of emergency relief to Rohingya refugees, reaching around 90,000 people.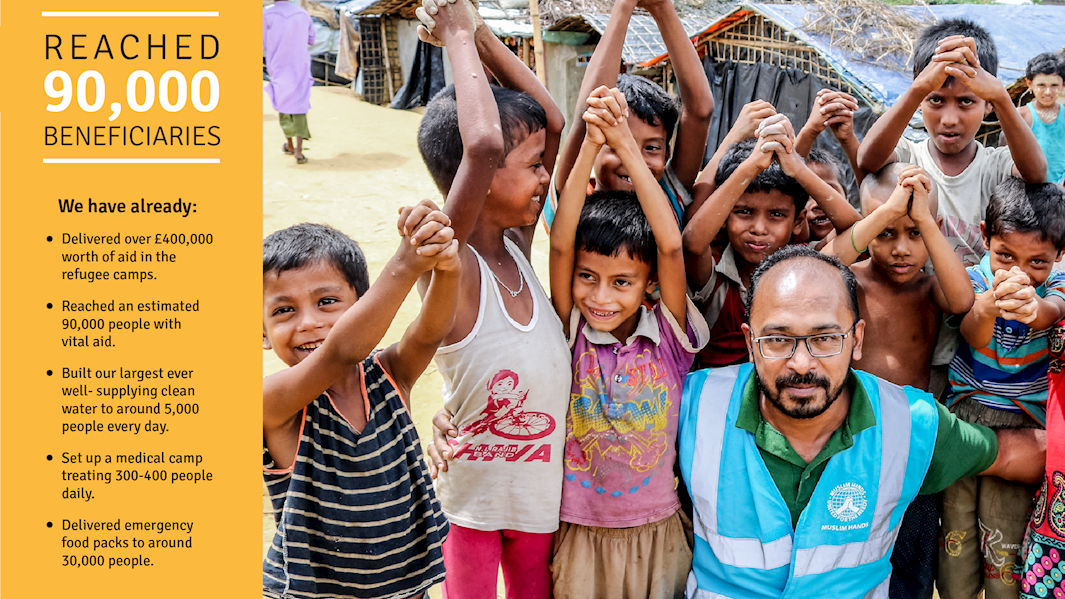 We have a dedicated office set up in Cox's Bazar, Bangladesh, where the refugee camps are located. From here, we are coordinating a massive effort to deliver aid to a further 300,000 refugees in dire need.
One of the biggest problems in the camps is getting access to clean water. Many people are forced to draw water from dirty streams or water sources which sit too close to latrines, which is creating the risk of an outbreak of cholera. We have been building wells throughout the camps, including the largest well we've ever constructed, supplying water to around 10,000 people every day overall. With your help, we aim to expand this water project to reach as many people as possible with clean water and wash facilities.
We also have plans to distribute food and hygiene items and install solar lights in the camps to light the way through the maze of shelters and provide added safety to the women and children there. 
It could be a long time before the Rohingya people have somewhere to call home. For many in these camps that day might never come. With your help we can meet the needs of this persecuted people and help them to get through this ordeal.
The vast scale of this crisis means we need more help to reach as many people as we can. Act now and help us provide clean water and sanitation to thousands of people, give children the nutrition and vitamins they need, and bring medical aid to people who desperately need it.
This is a Call to Action.
Muslim Hands is a charity established in 1993 to provide emergency relief and tackle the root causes of poverty. Our dedicated office in Cox's Bazar carries out essential work, including medical care and food distributions. Learn more about our projects for the Rohingya.
---
Facebook

Twitter

Email This