16 January 2020
Displaced Families in Syria Left Without Winter Aid For Two Years

The Syria crisis has created 'the worst refugee crisis of our time' (UN), with around 5.6 million refugees currently living outside the country. Half of these refugees are children. Within Syria itself, over 13 million people remain in need of humanitarian aid. Many of these people are internally displaced people (IDPs) who have left everything behind to escape the relentless, deadly conflict.
Thousands of families living in tents in Idlib this winter
More than three million Syrians are living in the Idlib Governorate (in northern Syria), many of whom are IDPs. In northern and north-western Idlib, along the border with Turkey, at least 400,000 IDPs are living in overcrowded refugee camps, in tents or makeshift shelters.
Moreover, this figure does not include the hundreds of thousands who recently fled airstrikes and shelling to seek shelter in northern Syria. These families are exhausted, malnourished and traumatised, and their arrival in the camps is stretching resources even thinner.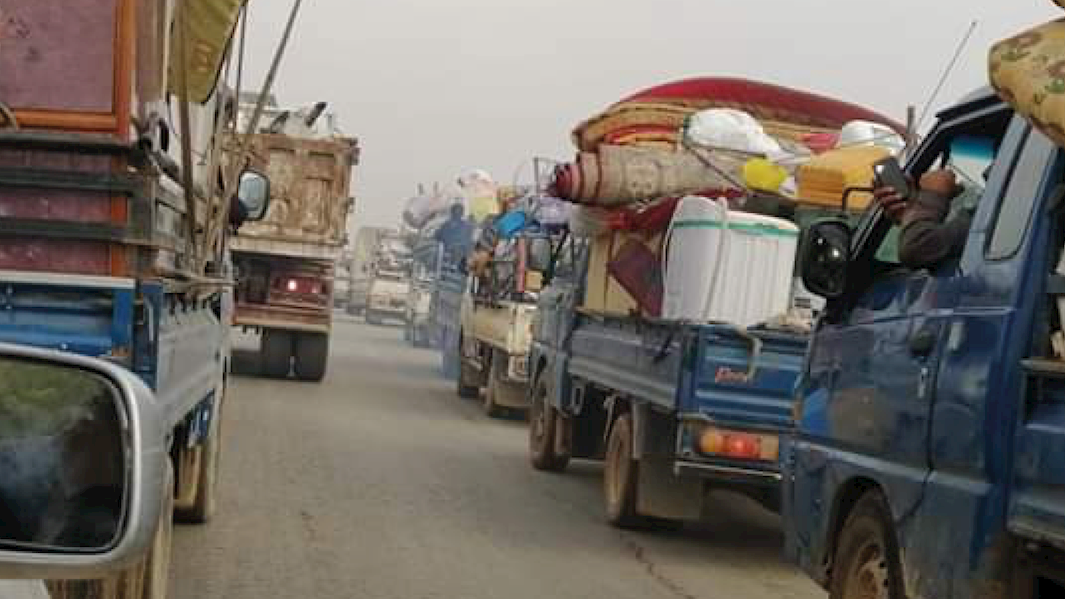 The conditions in these refugee camps are truly appalling, but families are especially vulnerable during winter time. They simply don't have the resources to cope with the extreme weather, the constant exposure to cold, and the inevitable winter illnesses they are forced to bear. Many have been living in these conditions for years now; they left everything behind to escape the conflict, but they still live in constant fear of airstrikes and shelling.
Their tents have been damaged by the flooding and storms of previous winters; a recent DYNAMO report found that:
Out of 320 camps in northern Syria (Aleppo and Idlib) 69% of people are living in tents. (The rest are living in makeshift shelters or caravans).
Only 56% of all tents and shelters are on suitable land (meaning that, due to a rough or hilly landscape, 44% of tents and shelters are unstable).
Meanwhile, 25% of tents are in need of repair, while 29% need to be replaced completely, if families are to be kept safe this winter.
Muslim Hands' partners on the ground have spoken to many families about the winter conditions they are facing, and their findings are heartbreaking. One father, Mohamed, said that every time it rained last winter, he would have to carry his children out of their flooded tent in the darkness. His youngest was only six months old. Their tent would sink deep into the mud and the children would be soaked with freezing water. Mohamed would struggle to start a fire because the tree branches were all wet.
The DYNAMO report clearly showed that most refugees are living in unstable shelters, which is extremely concerning considering winter may bring heavy rain, storms and snowfall, all of which could lead to flooding and landslides. Last winter, 83 camps in the Idlib countryside were affected by extreme weather; tents were swept away, drowned, or collapsed on top of their residents. The roads were closed due to flooding, meaning survivors couldn't even access help.
This winter, families are still living in unstable shelters, and there is a great risk of serious injury and death. 
Syrians are becoming 'the forgotten refugees'
The displaced families in Idlib are not only living in vulnerable shelters, they are also being slowly forgotten. They live in terrible conditions, both physically and mentally, but this crisis has become normalised to the extent that they are no longer receiving the vital aid they need to survive. Last winter, the majority of displaced families in northern Syria (Idlib and Aleppo) did not receive the essential relief they needed to cope with the weather: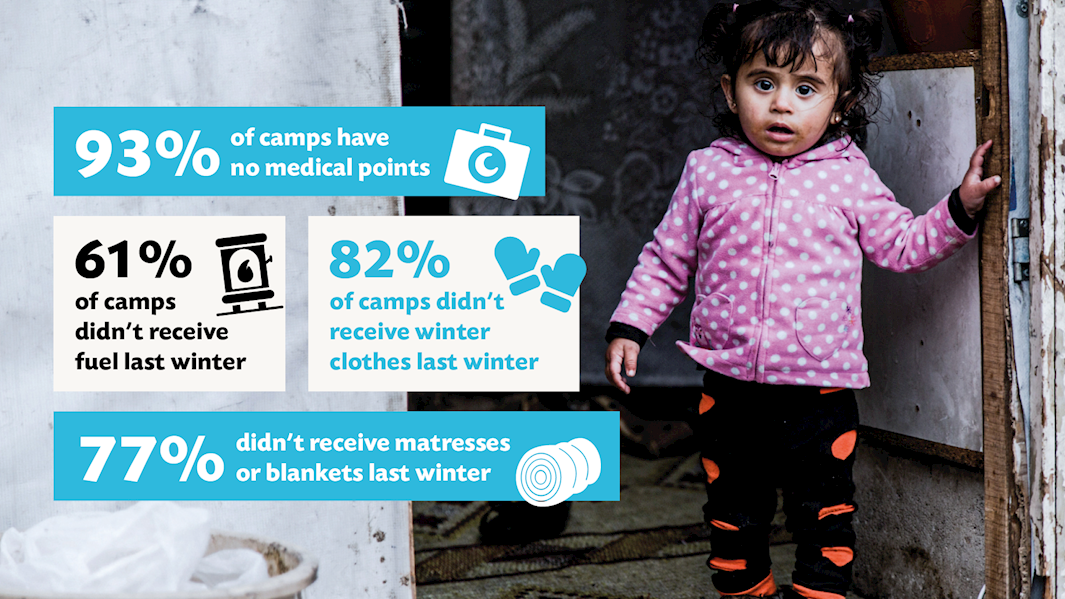 According to the DYNAMO report, 'the main difficulty encountered by the camps' residents last winter was the scarce and almost non-existent humanitarian assistance in some camps'. Over two consecutive years, winter relief for displaced families has been declining. 199 camps in Idlib received no winter clothes last year, for example.
It is completely unacceptable that displaced families are suffering from hunger, sickness and death every winter instead of receiving basic humanitarian assistance. The conflict has been relentlessly battering vulnerable Syrian families for nine years now; we need to double down on relief rather than forgetting about their suffering. They are in desperate need of basic items and support this winter.
Winter means death for the most vulnerable
Exposure to the cold and using unsafe fuel (such as burning plastic and old shoes) are causing serious illnesses. In one month alone, 1,489 patients at camp medical points were found to be suffering from chronic respiratory illnesses. Even this figure is limited to the number of patients who can actually access medical points, a struggle which becomes even more difficult during the flooding and road closures of winter.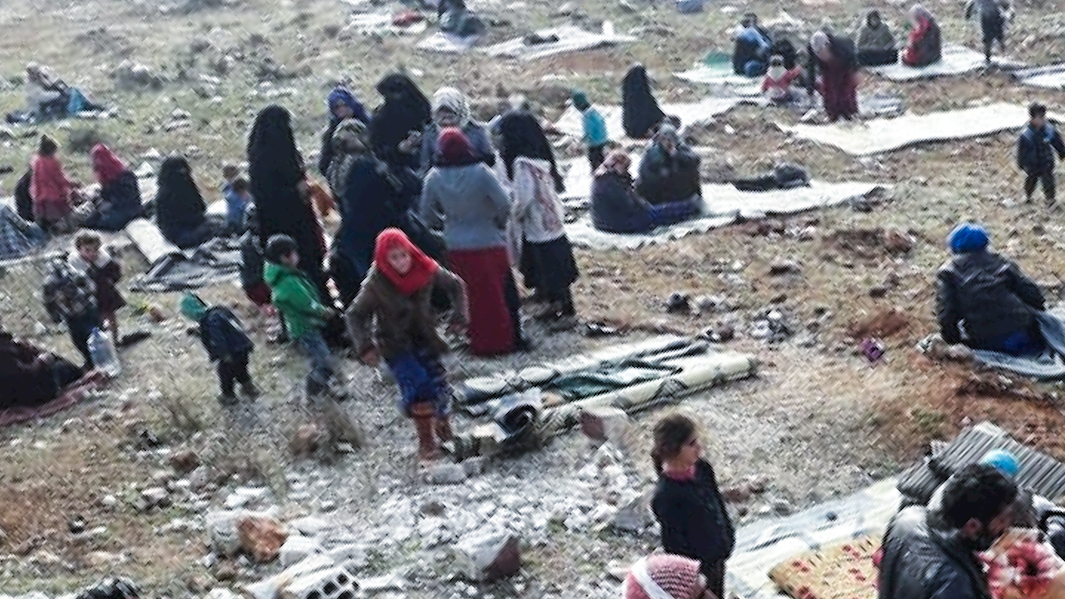 Muslim Hands' partners on the ground spoke to several families who were in desperate need of accessible medical care. One father, Mostafa, said that his eight children (seven girls and a boy) always get seriously ill in the winter, and he is always fearful that they won't survive it. His eldest child is only 12 years old. His family lives 20km away from the nearest health centre. Some of his daughters can't handle the physical and mental strain of these conditions; they sometimes suffer from attacks of nervous convulsions for several days at a time.
'This situation is too difficult. This winter is going to be harder than last winter,' Mostafa said. 'We need warm food but the firewood is always wet. My hope is that we can get winter aid to be able to face winter, and that one day we can return home'.
Every year, people in IDP camps die from the cold, especially during severe storms when there is no way to access medical points. The victims are always the most vulnerable: new born babies, children and the elderly. Their weak bodies simply can't cope with the extreme weather. Additionally, people also die because they don't have safe heating; last winter, fire occurred in 44 camps, and 12 people tragically burned to death.
Basic items like warm clothes and winter fuel would go a long way in protecting families like Mostafa's this winter. It is vital that they receive this aid throughout the winter so they can stay healthy and alive.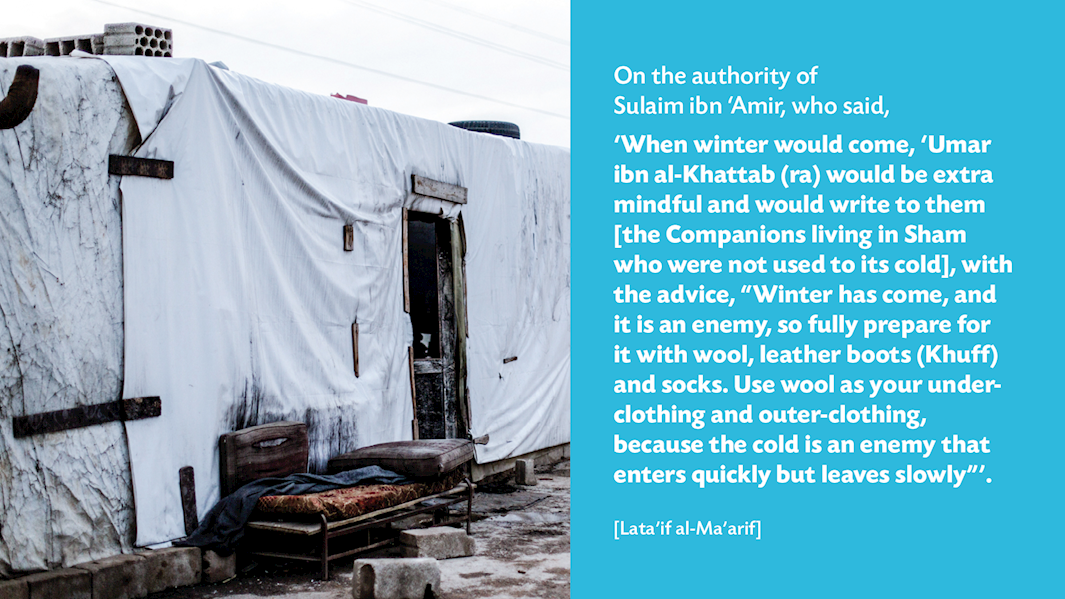 The people of Syria need YOU this winter
The Prophet (saw) said, 'The example of the believers in their affection, mercy, and compassion for each other is that of a body. When one limb aches, the whole body reacts with sleeplessness and fever'. (Bukhari)
The displaced families of Syria are praying for help this winter and your compassionate donations could be the answer to their du'as. Our teams are on the ground right now in Idlib distributing life-saving aid like winter clothes, blankets, cooked meals and fuel, but we need your support to reach as many vulnerable families as we can.
Give now to show the people of Syria they have not been forgotten.
---
Facebook

Twitter

Email This