20 March 2023
Press Release: Report Finds Open Kitchens Highlighted as 'Lifelines' for Low-Income Families Amid Fears Around Cost-of-Living Crisis 

UK charities Muslim Hands and FareShare Midlands have released a 'Cost-of-Living Crisis Report' which found service users deeming initiatives such as the Open Kitchen a lifeline amid soaring inflation. The findings saw low-income families and individuals severely impacted over the past three years, from a range of factors including job losses during the pandemic to the on-going Ukraine war contributing to the rising costs of energy and food bills. Those that have visited the Open Kitchens either in Hounslow or Nottingham shared their daily struggle to survive, one which they say has been exacerbated by a lack of governmental support. All respondents cite the negative impact on their mental health, with many being pushed to breaking point.  
Muslim Hands' Hounslow Open Kitchen has seen a 25 percent rise in visitors in 2022 and its Nottingham equivalent has had to scale back from two meals to one per day to meet the increase in demand. Fareshare Midlands and the charities they support are reporting similar patterns and have seen an overwhelming increase in enquiries in the past year, seeing a rise in distribution of surplus food to reach more people living with food insecurity.  
School holidays where low-income families are reliant on breakfast clubs and school lunches are often met with difficulty. With the Islamic month of Ramadan coinciding with the Easter holidays, many will be looking to the Open Kitchen for meals to break their fast with and to feed their children. Findings from a 2022 Islamic Relief report showed that 'half of the UK's Muslim population live in poverty and deprivation'. This Ramadan, the Open Kitchen will be distributing over 15,000 hot meals during the 30 days across Nottingham and Hounslow. Other services include advice around housing, jobs and mental health.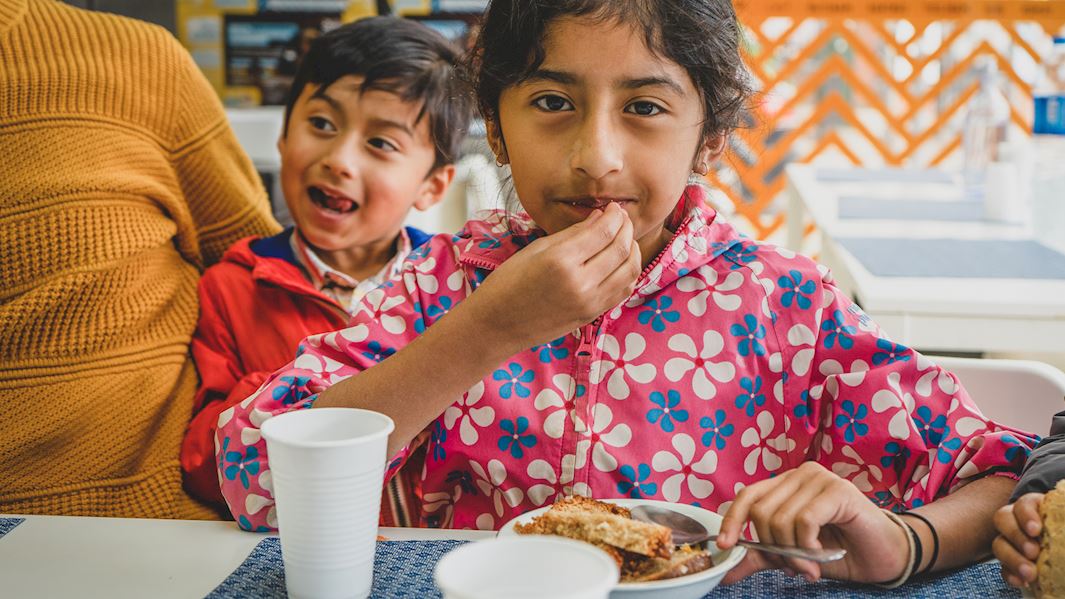 Kiren, Open Kitchen service user, says: 
I live with my brother, and I work part time to make ends meet. I heard about the Open Kitchen online and have been receiving daily meals and essentials for the past six months. This service will help me a lot during Ramadan where I will be able to put food on the table for the family, including my four children, so we can open our fasts. Open Kitchen services like this one are vital and I would dread to think if they didn't exist. To put it bluntly, without this intervention I would go hungry for days. I appreciate the Muslim Hands donors coming forward and giving so generously to make a massive difference to people who are struggling in the community like myself.
Imran Khan, Nottingham Open Kitchen Manager, says: 
We have definitely seen an increase in demand since we opened our doors in 2021 and I believe that the rise in cost of living is playing into that. There is no doubt about it. We have seen an influx of vulnerable members of the community visiting the centre. Some even asked whether we could donate clothes, as they cannot purchase them on their current budget.
Shazia, Volunteer at Hounslow Open Kitchen, says: 
You have mothers that cannot provide milk for their children, and you see beneficiaries that are stressed out, unable to afford to put the freezer or the heater on. It is gut wrenching to see how this crisis has so gravely impacted our community. The hub is a welcoming place for many, regardless of their ethnicity, religion or sexuality. It is a vital place for people to interact and connect, and a place where they can forget their worries.
Simone Connolly, CEO of FareShare Midlands, says: 
Muslim Hands have produced an in-depth, significant report on the ongoing Cost of Living Crisis, and the vital support that initiatives like Open Kitchen are providing. It is incredibly sad to read how vulnerable people in areas such as Nottingham are at the mercy of devastating food insecurity, growing financial pressures and the threat of job losses. We are grateful to our members and their beneficiaries for sharing their stories and FareShare Midlands will continue to work with Muslim Hands to get as much surplus food as possible redistributed to these life-saving small charities". In addition, FareShare is calling on the Government to step up their support to help re-distribute more surplus food from the food industry, so that we can help many more organisations like Open Kitchens across the country. Over 2 million tonnes of good food is wasted every year and at the same time thousands more people are falling into poverty. To put it mildly, this is a travesty!  
Abdul Rahman Hussein, Muslim Hands UK Programs Manager, says:
The Open Kitchen is testament to our Islamic faith, where we are reminded of the teachings of the Prophet Muhammad (saw), that he is not a believer whose stomach is filled while his neighbour goes hungry. The service users that walk through the doors, symbolise diversity and social cohesion, and make up people from all faiths, backgrounds, and walks of life. We are proud of the legacy that we have planted in the heart of Hounslow and Nottingham. We owe it all to our dedicated and hardworking volunteers, staff and donors that continue to do such a tremendous job, despite the on-going difficult climate.
ENDS
Senior Press Officer – Sahirah Javaid – sahirah.javaid@muslimhands.org.uk or 07736344899
Notes to Editors:
Established in 1993, Muslim Hands is an international aid agency and NGO dedicated to providing emergency relief and tackling the root causes of poverty around the world

 

Muslim Hands works in over 30 countries worldwide

 

We rely on voluntary donations to keep initiatives like the Open Kitchen running. You can donate now by calling 0115 9117222 or visiting muslimhands.org.uk

 

About FareShare Midlands 


FareShare Midlands is the region's largest food redistribution charity, turning an environmental problem into a social solution. The charity takes good quality surplus food that would otherwise go to waste and gets it to small charities and community organisations across the Midlands, reaching more than 67,000 vulnerable people every week. 

FareShare Midlands has moved

 into meal production by using catering facilities in Nottingham to turn even more nutritious surplus food into meals and meal components. The charity is also establishing new employability programmes, with the aim to support 400 people to gain experience, skills and jobs by 2024.

 

Please visit the website: www.faresharemidlands.org.uk

 
---
Facebook

Twitter

Email This