26 June 2023
Qurbani Recipe Series: Sudanese Peanut Stew

Welcome to the second part of our Qurbani Recipe Series, where we will be sharing quick and easy recipes from our Qurbani locations around the world. Earlier, we showed you how to make Lebanese Kafta for all your friends and family this Eid, today we will be travelling to Sudan. Join us as we make this delicious dish from Sudan and find out how you can help Sudan in the midst of their current humanitarian crisis.  
The recipe we will be sharing with you is Sudanese Peanut Stew. In this article we will show you: 
Sudan's rich history and culture

 

How to make Sudanese Peanut Stew through a quick video tutorial

 

How to make Sudanese Peanut Stew through a free downloadable recipe card

 

What you can do to help support Sudan today

 
Sudan and South Sudan

: Civil War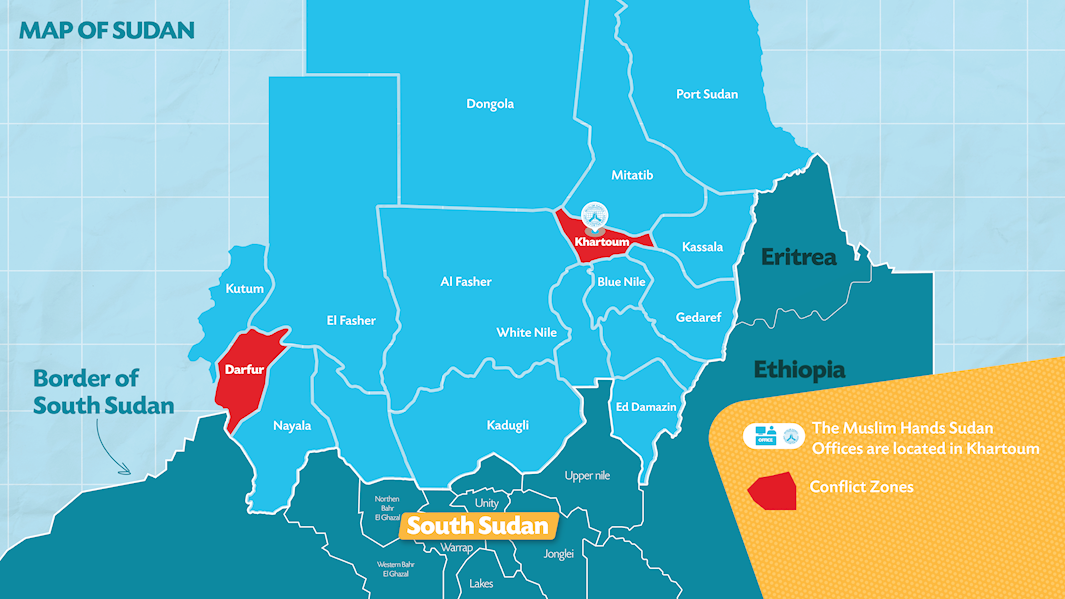 Sudan is located in North Africa bordering Ethiopia, Eritrea, Egypt, Libya, Chad and South Sudan. It has a population of 46.9 million people of various different ethnicities. There are up to 500 different ethnicities in Sudan, however the majority of the country identify as Arab (70 percent), with the rest identifying as black African from various different backgrounds. It was once one of the largest countries in Africa prior to its split from South Sudan in 2011, after two prolonged civil wars from 1955-1972 and 1983-2005. Since South Sudan gained independence from Sudan, both nations have seen multiple conflicts erupt. For instance, the War in Darfur (2003 – 2020) in Sudan and the 2013 Civil War in South Sudan. 
Decades of conflict in Sudan has had a negative impact on their tradition and culture. The mass displacement of over 4 million people has meant that over time some of this has been lost. However, the work of Sudanese charities as well as Sudan's growing commerce and trade industries has brought much of the culture back to life, especially their cuisine. 
Sudan has a diverse cuisine to match the ethnic diversity of the people that live there. It has also had influence from Britain and the Middle East, particularly Syria which brought garlic and red peppers to the nation. However, one of Sudan's main staples is a dish called Kisra, a bread made from corn or durra, which they use while eating various different types of stew. One of which is the peanut stew featured in this recipe blog. 
How To Make Sudanese Peanut Stew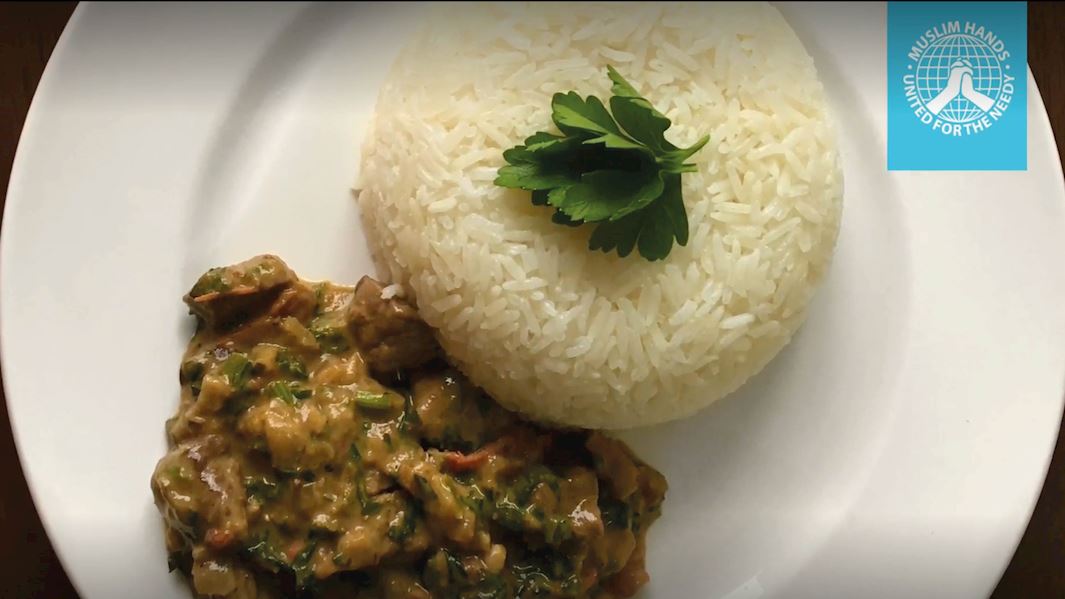 To make this delicious stew this Eid, just follow this quick and easy steps: 
Prepare your spinach, onions, garlic and tomatoes.

 

Heat the oil in a pan and brown the prepared meat. Once browned, add the onions and garlic and cook for several minutes or until the onions begin to soften and colour.

 

Stir in the peanut butter until well incorporated, the mixture will become very thick. Add in the tomatoes and spinach and cook until the spinach wilts and the peanut butter releases its oils.
Pour in the stock and simmer until the liquid reduces by half.

 
We have a prepared a video tutorial for you to follow along with so that you can make Sudanese Peanut Stew at home this Eid for your friends and family. The video is less than one-minute long but will show what ingredients you will need and how to get the stew to the perfect consistency. Make sure you watch it now: 
Would you rather have the recipe written down to make it easier to follow? Would you like to share this recipe with others? We have made a recipe card for you that you can download right now which shows you the exact measurements you need and how to make this recipe. Download it now: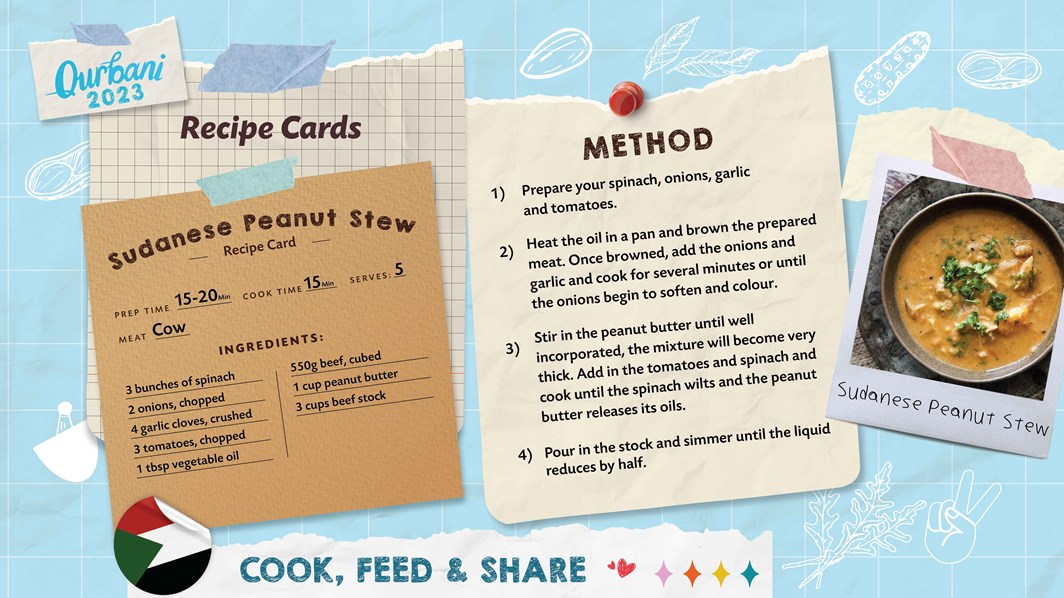 How You Can Support Sudan this Dhul

Hijjah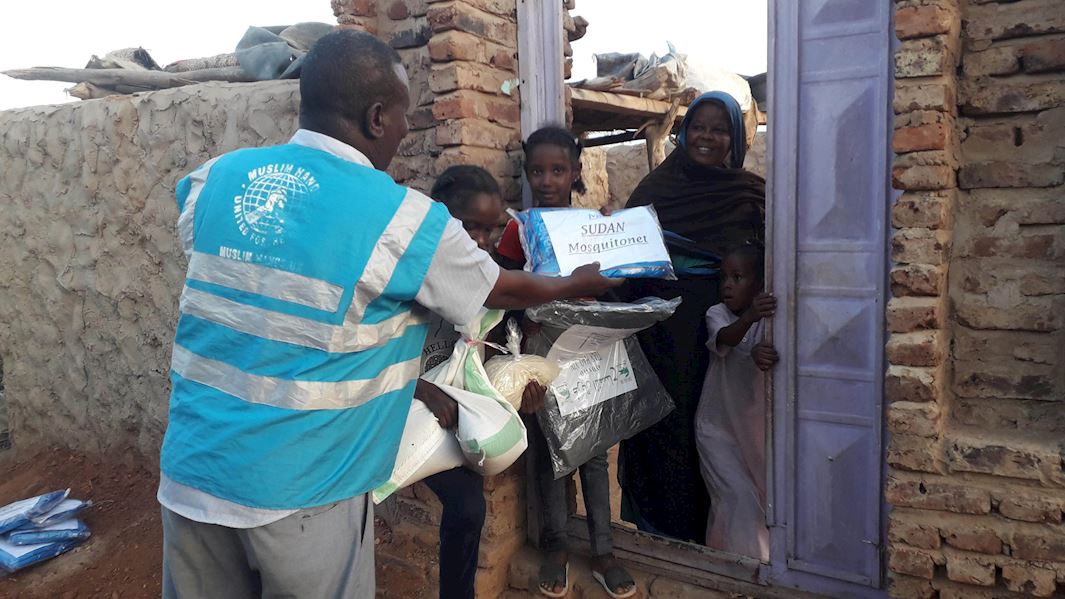 Thanks to your generous donations, we have been working in Sudan for twenty years, providing emergency aid such as food, medicine and clean water. At the same time, we have been delivering amazing projects that tackle the root causes of poverty through livelihoods and education. 
This year, fighting between factions in the country's capital, Khartoum, has led to a humanitarian crisis of epic proportions. Prior to this, Sudan was already in crisis as the impacts of climate change and rising food prices has caused a significant rise in poverty, hunger and displacement. However, the recent conflict meant that these prices continued to skyrocket leading to a nationwide shortage of essential goods such as food, water, fuel and medicine. Your brothers and sisters in Sudan are still in need of urgent assistance.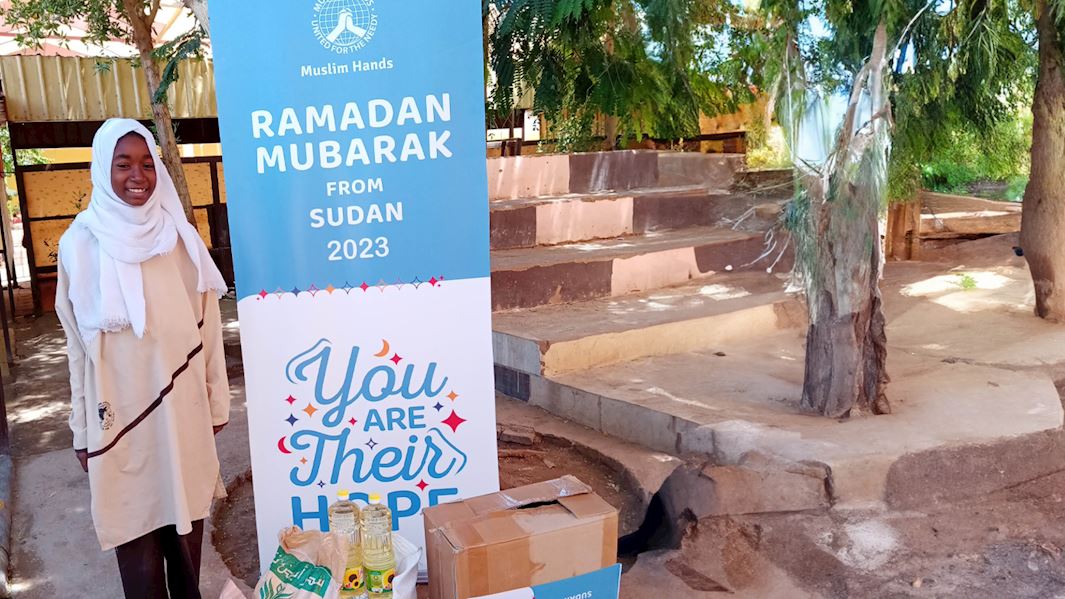 Alhamdulillah, this Dhul Hijjah you have answered their du'as and provided vulnerable families with a sacrifice. This Eid, you have given them the gift of celebrating with their family, as well as a nutritional dense meal. However, you can still help people impacted by the ongoing crisis by providing a £100 emergency parcel which will get them the food, water and medicine they desperately need right now. 
---
Facebook

Twitter

Email This