19 September 2017
Respond to the Rohingya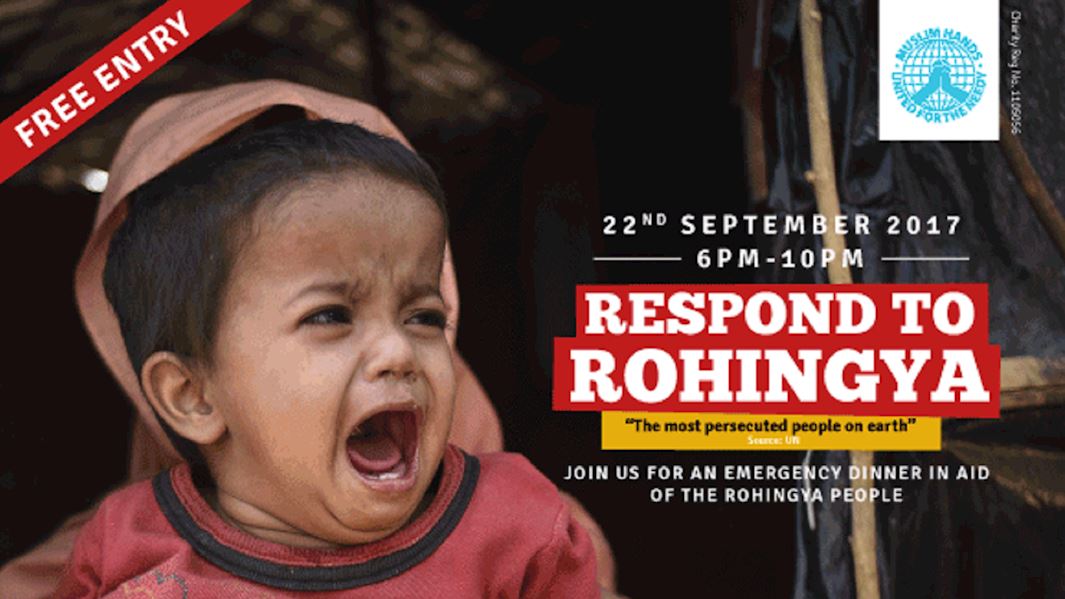 At this very moment, hundreds of thousands of desperate Rohingya refugees urgently need your help.
Following devastating violence in Rakhine State over the last two weeks, over 400,000 physically and emotionally exhausted Rohingya men, women and children have crossed into Bangladesh in search of safety and security.
Unaccompanied children, elderly people and traumatised mothers are crossing over hills and rivers to escape harrowing violence, leaving behind their burnt homes, villages and everything they once knew. 
Living in overcrowded camps, these people have nothing. Medical services are almost non-existent and there's not enough food for the people already in the camps, let alone all the new arrivals. Starving, ill and with only the clothes on their backs, they urgently need YOUR help.
In response to this crisis, we're holding an emergency dinner in aid of the Rohingya people this Friday 22nd September. With a three-course dinner and a variety of fantastic entertainment including nasheeds and spoken word performances, it's a night you definitely don't want to miss! Best of all – entry is free! All you need to do is register online prior to the event itself.*
Sign up today and respond to Rohingya refugees in urgent need.





Event details:
Date: Friday 22nd September 2017
Time: 6pm – 10pm
Location: The Atrium, 124 Cheshire Street, London, E2 6EJ
*To find out more about this great night and to register, please visit the events page.
---
Facebook

Twitter

Email This