09 October 2020
Support the Blessed Lands this Rabi al-Awwal

The blessed days of Rabi al-Awwal are fast-approaching! They will begin on either 18th or 19th October 2020, depending on the moon sighting.
Rabi al-Awwal is the month of the Prophet Muhammad's (saw) birth, a time for reflecting deeply on Allah's favours as we strive to emulate the Prophet's (saw) beautiful character and follow his Sunnah.
One way we can draw closer to the Prophet (saw) is by loving what he loved. The people of Yemen and Shaam (Greater Syria) were particularly dear to his heart and he used to pray for these blessed lands: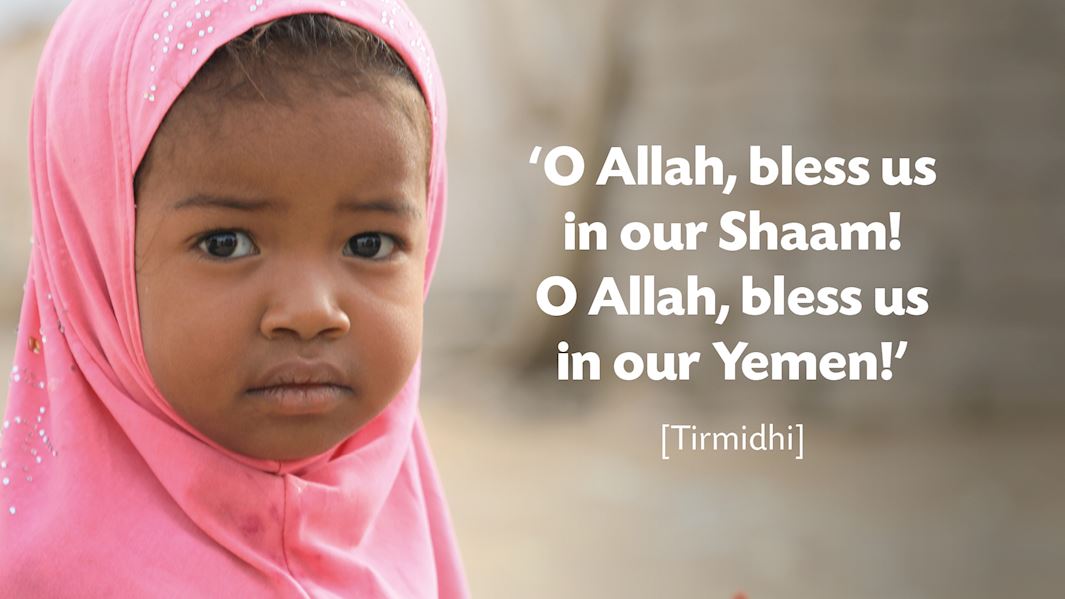 Today, 'our Shaam and our Yemen' are suffering, due to conflict, displacement and impoverishment. It is our responsibility and our honour to serve the people whom the Prophet (saw) prayed for.
This Rabi al-Awwal, we urge you to give generously to the blessed lands. From running bread factories in Yemen and Syria, to rebuilding homes in Beirut, your Zakat and Sadaqah will give relief and support to the people beloved to Allah and His Messenger (saw).
The Blessed Bakeries
As mentioned before, the Prophet (saw) himself connected Shaam and Yemen together. He (saw) prayed, 'O Allah, bless us in our Shaam! O Allah, bless us in our Yemen!' [Tirmidhi]
Alhamdulillah, we've been able to connect these lands together in our recent project! The Blessed Bakeries Fund is a way for you to serve the people of both Shaam and Yemen - with a single donation!
Our teams are running three bread factories in the blessed lands: in Aden and Ma'rib in Yemen, and in Sarmada, in the Idlib Governorate of Syria. Your Sadaqah and Zakat will help us continue to feed thousands of people with bread every day, alleviating hunger and providing a sense of stability to displaced and vulnerable families.
A little-known fact from the Seerah is that the Prophet's (saw) noble great-grandfather was the first to provide bread to those suffering from famine. Amr ibn Abd Manaf started the practice of crumbling bread into a meat broth (Tharid) and feeding it to pilgrims of the Ka'bah and the Makkans during times of famine. He thus earned the name Hashim, which means 'one who crumbles (bread)'.
By supporting these factories in Rabi al-Awwal, you will be serving the people beloved to Allah and His Messenger (saw), while continuing the 'Hashimi' tradition of providing bread to the starving.
Just £10 every month will provide bread to 140 people in war-torn Yemen and Syria.
Yemen: The people of the Prophet (saw)
SubhanAllah, the people of Yemen are so dear to the Prophet (saw) that he even said, 'The best of men are the men of Yemen, belief is Yemeni, and I am Yemeni'. [Ahmad]
Moreover, Allah (swt) describes Yemen as 'a good land (with) a Forgiving Lord' [Qur'an, 34:15]. You can learn more about the virtues of Yemen in our 40 Hadith Collection.
Your donations are providing vital relief to the people of the Prophet (saw). Our team is distributing food parcels and school meals, as well as providing medical care and running two bread factories.
We are also honoured to be providing clean water to these blessed people, who will be the first to drink at the Prophet's (saw) Basin in the Hereafter!
Your Zakat and Sadaqah have helped us rehabilitate several deep water wells, installing solar pumps so they can provide people with daily drinking water. With your support, we aim to rehabilitate deep water wells in Lahj, Ma'rib, Shabowa, Al-Dhale'e and Ta'iz, providing water to 75,000 beneficiaries.
It is a huge honour to provide water in this life to the people who are so beloved to the Prophet (saw), so don't miss out!
Syria: The servants chosen by Allah (swt)
'It (Shaam) is the chosen land of Allah in all of His earth, to which He selects His best servants'. [Abu Dawud]
Nearly a decade of conflict has taken its toll on the families of Syria, with millions of people displaced and dependent on humanitarian assistance. In the context of the coronavirus pandemic, their burdens have only increased, and they need your support more than ever.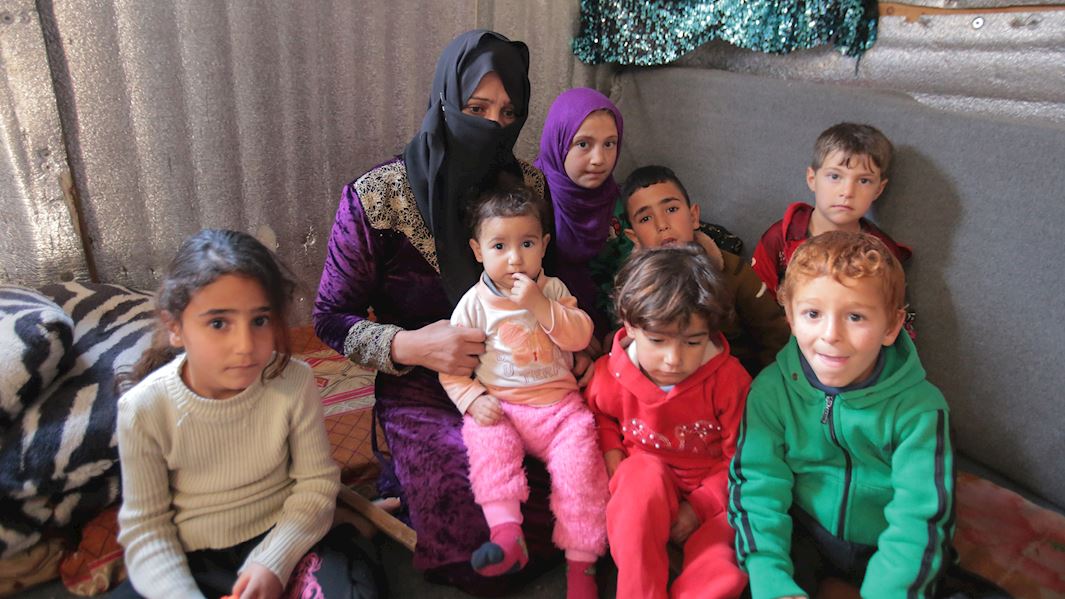 According to the World Food Programme, 9.3 million Syrians are now food-insecure - the highest number ever recorded.
Your Zakat and Sadaqah will make a world of difference to the war-torn communities of Allah's chosen land, providing food parcels, essential items and medical care, as well as helping us run a bread factory in northern Syria.
Lebanon: Relieve their burdens
The Prophet (saw) looked towards Iraq, Shaam and Yemen and said, 'O Allah, bring their hearts over to Your obedience and relieve them of their burdens'. [Tabarani]
From the Arabic word ash-Sha'm, meaning 'the North', Shaam is located north of the Hijaz (Arabian Peninsula), extending from the Euphrates River to Sinai. It thus covers present-day Syria, Lebanon, Jordan and Palestine.
Alhamdulillah, this Rabi al-Awwal, you can also help the blessed people of Lebanon. Not only can you sponsor an orphan in Lebanon, you can also help survivors of the recent Beirut explosion.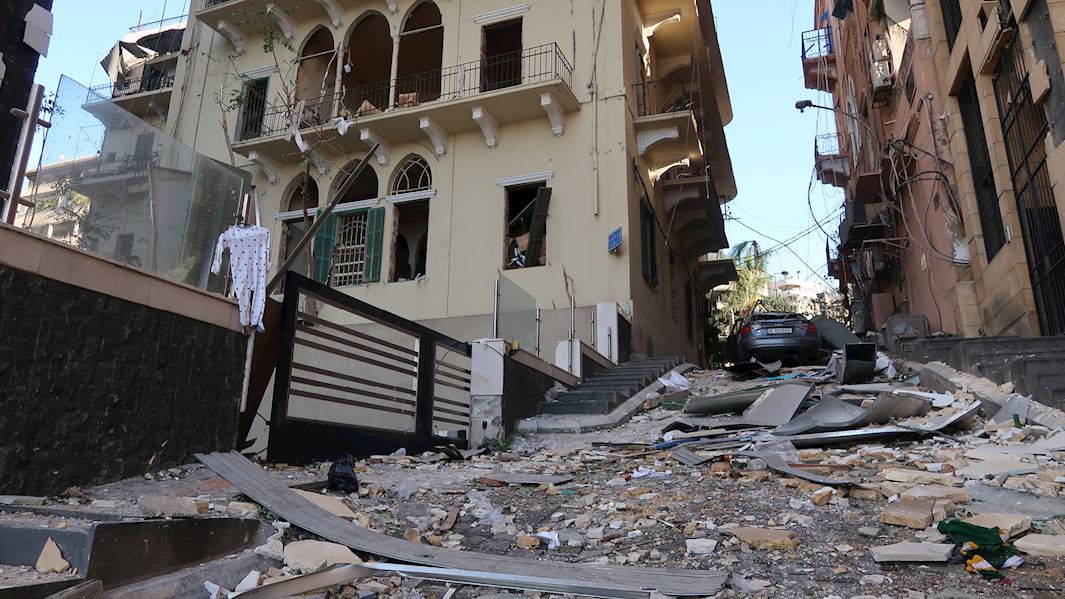 In August, an explosion in Beirut port damaged 70,000 homes, 3 hospitals and 25 health facilities. It devastated communities already struggling with an economic crisis and the ongoing coronavirus pandemic.
In the aftermath, your Zakat and Sadaqah provided emergency food and medical packs to survivors, getting them through the worst of the crisis. Now, they need your help to recover and rebuild their lives.
As well as providing medical care, your donations can help repair homes on Youssef Sursock Street, located 2.4km from the Beirut port blast site.
You can learn more about the long-term impact of the explosion in our explainer blog.
Masjid Al-Aqsa: Serve this sacred site and its people
Masjid Al-Aqsa is an important site in the blessed lands, mentioned by name in the Qur'an:
'Exalted is He who took His servant by night from al-Masjid al-Haram to al-Masjid al-Aqsa, whose surroundings We have blessed, to show him of Our signs...' [Qur'an, 17:1]
Allah (swt) has blessed the surroundings of Masjid Al-Aqsa in the Qur'an. Yet today, the families who live in this city are struggling. 80% of Palestinians in East Jerusalem are suffering from poverty, unable to afford essentials like food and medicine. With the cessation of travel to the region due to coronavirus, many struggling families won't receive
the Zakat and Sadaqah they rely upon each year.
You can help by feeding a family in Jerusalem for a month, or by sponsoring an orphan to lift a huge burden from their guardian's shoulders.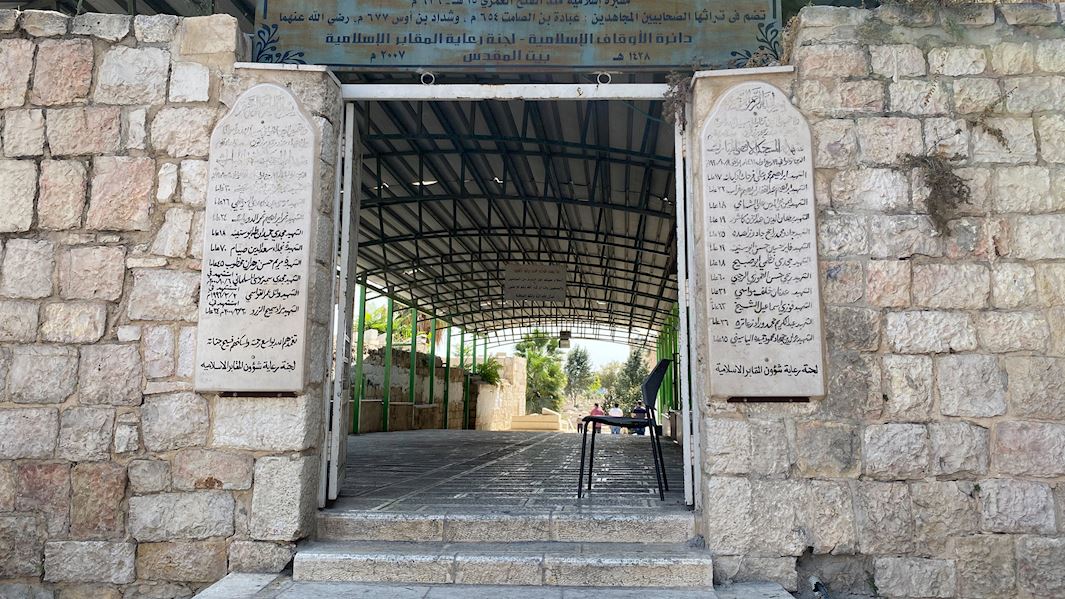 Alhamdulillah, in addition to serving the people of Al-Quds, we are also honouring Masjid Al-Aqsa itself. You have always been incredibly generous in supporting this sacred site, which is the third holiest place in Islam.
Abdullah ibn Abbas (ra) said, 'The Prophets built the Sacred House (Masjid Al-Aqsa) and the Prophets lived therein. There is not a single handspan of space in it except that a Prophet has prayed there or an angel has stood'.
Now, we are renovating Al-Aqsa's historic cemetery, Bab ar-Rahmah, to make it easier for people to visit its historic and significant graves. Bab ar-Rahmah is around 1,400 years old, established at the time of Umar ibn Al-Khattab (ra). Located at the eastern wall, this is the third most prominent cemetery in the Islamic world, after Jannat al-Baqi in Madinah and Jannat al-Mu'allah in Makkah.
You can learn more about the history and religious significance of Bab ar-Rahmah in our comprehensive article. Our renovation plans include repairing graves, re-paving pathways, maintenance and more.
Springs of Mercy: Automate your charity
The Prophet (saw) said, 'Surely your Lord has Nafahaat (winds of mercy) in the days of your time, so expose yourself to them. For perhaps you will attain a breeze from them and thereafter you will never be unhappy'. [Tabarani]
Allah (swt) chose Rabi al-Awwal to send His Final Messenger (saw) to us, as 'a mercy to the worlds' [Qur'an, 21:107]. Thus, this month is a time in which we are reminded of Allah's immense Favour to us, since He guided us to His Light and made us a part of the best Ummah.
And what better way to show our gratitude than by spending our wealth for Allah's sake?
This year, we bring you Springs of Mercy, the perfect way to increase your good deeds in Rabi al-Awwal. It allows you to automate your donations over the first twelve days of Rabi al-Awwal, so you won't miss out on giving charity and expressing your gratitude to Allah.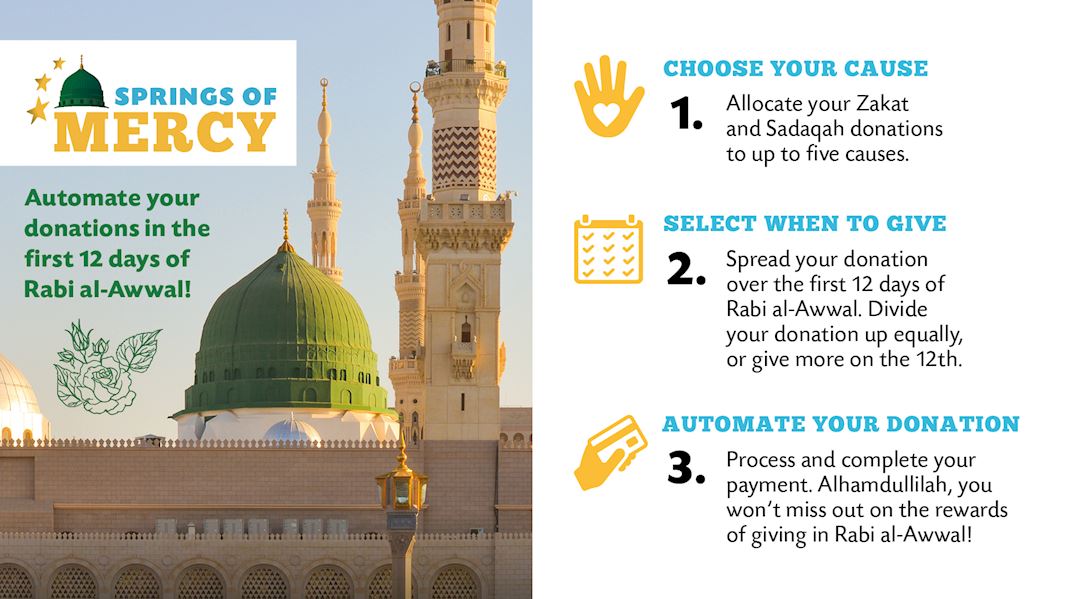 You can automate your donations to up to five causes: Yemen Emergency, Syria Crisis, Where Most Needed, Orphans Fund and Water Fund.
Since Rabi al-Awwal begins in just a week and a half, now is the time to sign up to Springs of Mercy!
Walk for Yemen
Finally, we have one more way for you to get involved this Rabi al-Awwal: walking for the blessed people of Yemen.
The Prophet (saw) said, He (saw) also said, 'For me to walk to for my brother's need is better for me than secluding in worship in this Masjid of mine for a month.' (Qada-ul-Hawaij)
Join us on Saturday 31st October in Queen Elizabeth Olympic Park and walk 5 miles to raise funds for our Yemen bread factories, providing life-saving bread daily to the blessed people of Yemen. Every £100 you raise will feed 1,400 people - a truly amazing number!
Registration is FREE - so sign up today to get fundraising!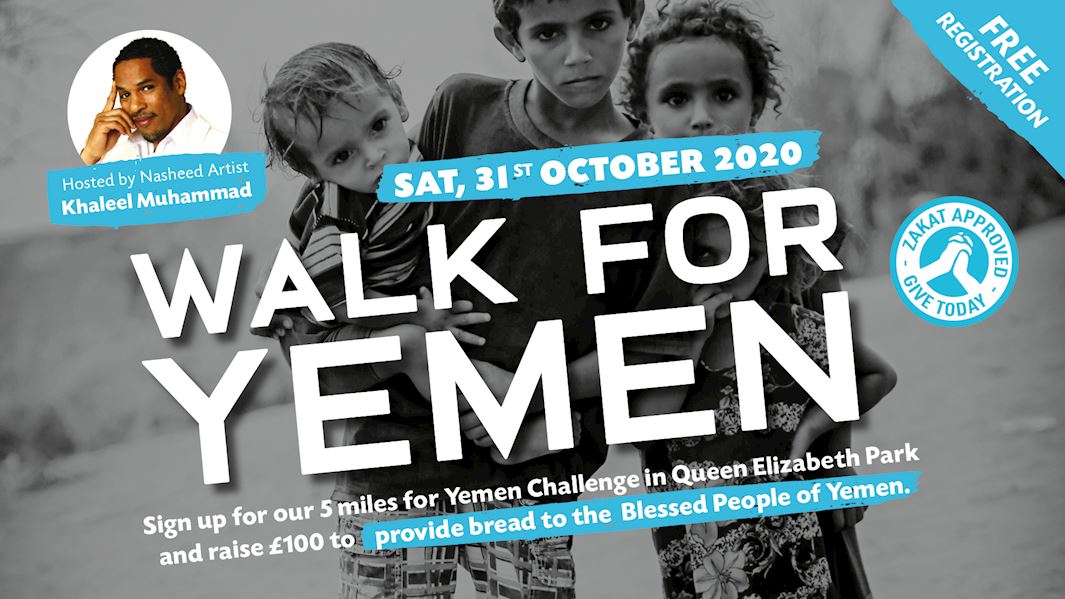 If you want to keep up with the latest news from Muslim Hands:
Follow @muslimhandsuk on

Facebook

,

Instagram,

 

Twitter

 and

YouTube

to get daily inspiration! In Rabi al-Awwal, we'll be posting about the Prophet Muhammad's (saw) character and the Seerah, as well as what he said about the blessed lands.

Subscribe to our newsletter

to receive weekly inspiration - straight to your inbox! Every blessed Friday, we'll send you opportunities to do good, feedback about our projects, and our latest events. We'll also send you our weekly blog posts - from tips for Rabi al-Awwal to the history of the Hilya, there's something for everyone!
We hope this article was helpful to you! You can give to any of the Blessed Lands here, and you can learn more about our projects by calling us at 0115 911 7222.
May Allah put barakah in all the time, effort and wealth you spend for His sake, and may Allah draw you closer to Himself and His Messenger (saw) in this month, ameen.
---
Facebook

Twitter

Email This