01 October 2020
Rohingya Refugees: Our Projects in Cox's Bazaar

Cox's Bazaar in Bangladesh is the world's largest refugee camp, hosting around one million Rohingya refugees. Most of them fled violence and persecution in Myanmar in August 2017, and have now been living in the camp for over three years.
According to the UN, these refugees are 'more vulnerable than ever'. COVID-19 lockdown measures have disrupted supply chains, shrinking the availability of food and leading to prices rising. Moreover, this year, Bangladesh suffered the most prolonged monsoon flooding its seen in decades, with a third of the land submerged by non-stop rains.
With Rohingya refugee families so vulnerable, it is essential for us to continue our vital work in the camps. With your support, here's what we're doing on the ground:
Medical Clinics 
There are almost one million refugees living in overcrowded conditions in Cox's Bazaar, an area of just 13 square kilometres. Despite the ongoing pandemic, social distancing is almost impossible, with people using communal latrines, bathing facilities and water wells. On top of this, many refugees have underlying health conditions that leave them especially vulnerable to COVID-19.
The number of confirmed COVID-19 cases continue to increase in the camps. So far, there are 212 confirmed cases among Rohingya refugees, and 4,376 in host communities.
Additionally, monsoon rains and flooding have increased the risk of waterborne diseases.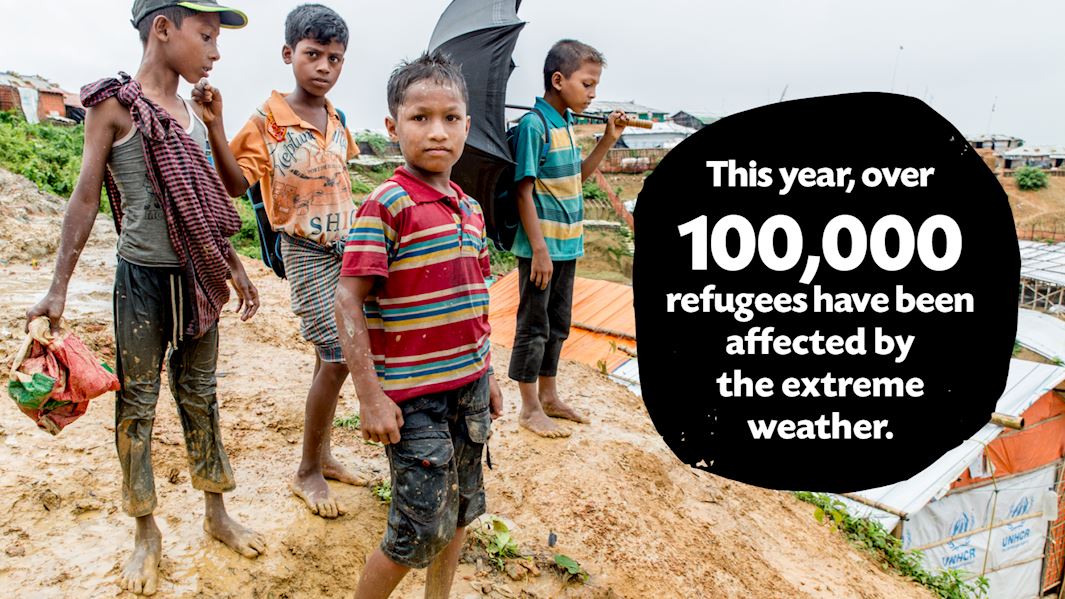 Rain poured into shelters made from bamboo frames, plastic and tarpaulins, and around 8,000 people have been displaced. Crops have been washed away and shelters destroyed.
The weather has also damaged latrines, bathing cubicles, tube wells and solid waste management sites - in such conditions, there is a high risk of illness spreading, as people queue up to use the remaining facilities.
During this critical time, it is more important than ever that refugees have access to medical advice and treatment.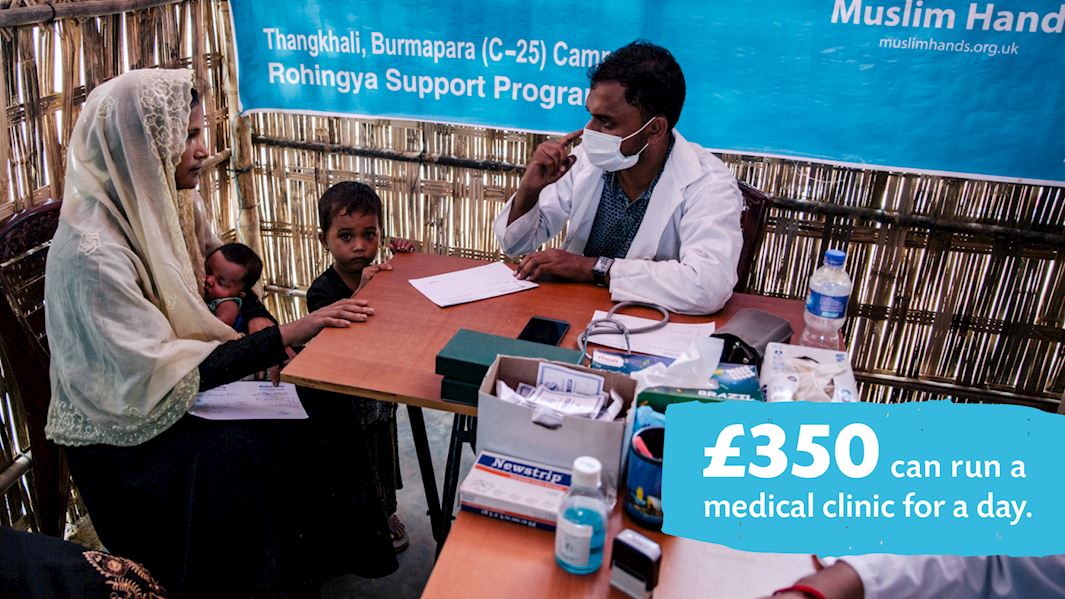 Our medical clinics not only provide free healthcare and medicine, they also run vaccination programmes and nutrition testing which specifically target children, pregnant women and new mothers. They also offer mental health services.
Help us continue to provide these essential services to vulnerable refugees. £350 can run a medical clinic for a day.
Children's Centre
A whole generation of Rohingya children are growing up in an overcrowded camp, with some shelters hosting up to 10 family members in one room. Moreover, thousands have been separated from their parents and need urgent support.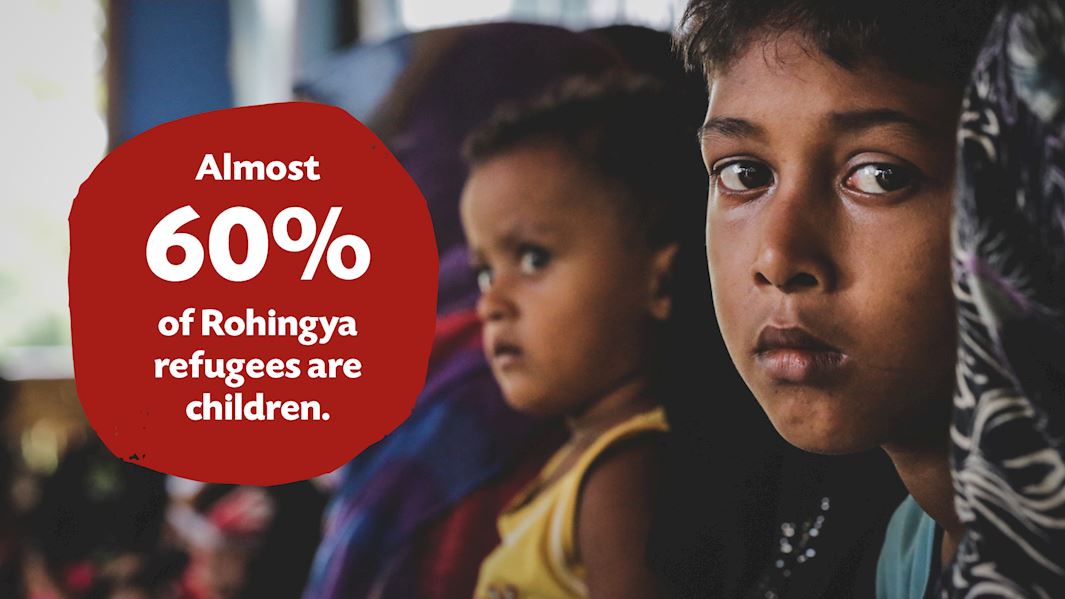 These children have also been impacted by the pandemic. Education centres in the camps have been closed since March, as is the case in the rest of Bangladesh, keeping more than 300,000 children out of learning facilities.
Having a safe space to learn, play and grow is vital to protect children and help them heal from the trauma of the crisis. Moreover, having access to learning will help them fulfil their potential and give them hope for the future.
Our Children's Centre provides education, playtime facilities, counselling, nutritious food and clean water for vulnerable children. It is a place for children to be children, despite the crises they have suffered:
'Whenever I come here, I forget about what happened in Myanmar. The Children's Centre is like my home'. - Sufia, aged 10
Help us support Rohingya children like Sufia. £150 can run a children's centre for a day.
Women-Friendly Space
As well as taking care of Rohingya children, it is also vital to take care of Rohingya women. Having escaped unspeakable persecution in Myanmar, many of them are suffering from psychological trauma and are struggling to cope with conditions in the camp. They need a safe space that caters to their needs.
Our Women-Friendly Space offers a wide variety of services to thousands of women and girls, including responding to and preventing gender-based violence, providing medical care and counselling to survivors of sexual violence, and psycho-social support to help them address past traumatic experiences.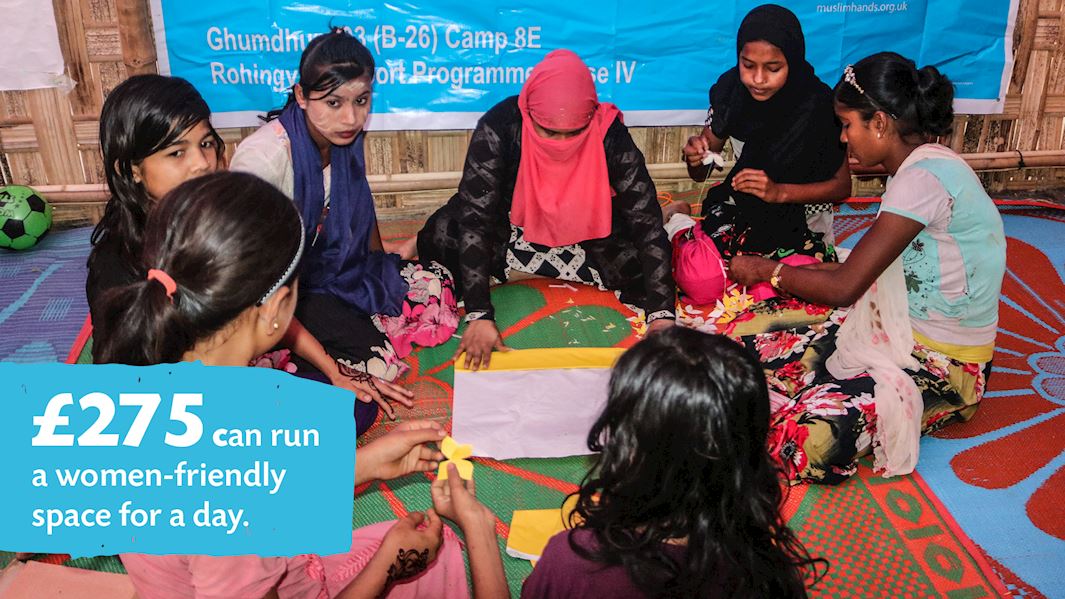 Additionally, we offer a range of reproductive and maternal care, such as distributing sanitary towels, providing nutrient supplements to pregnant women and new mothers, and ensuring the safe delivery of infants and post-natal care.
Your support will give vulnerable Rohingya women access to these vital services. £275 can run a women-friendly space for one day.
Regular Giving
Since the beginning of the Rohingya refugee crisis, our office on the ground has used your donations to construct water wells, provide shelters and so much more. Our ongoing work includes installing solar street lighting to help refugees move around the camp safely, as well as distributing food and other essentials.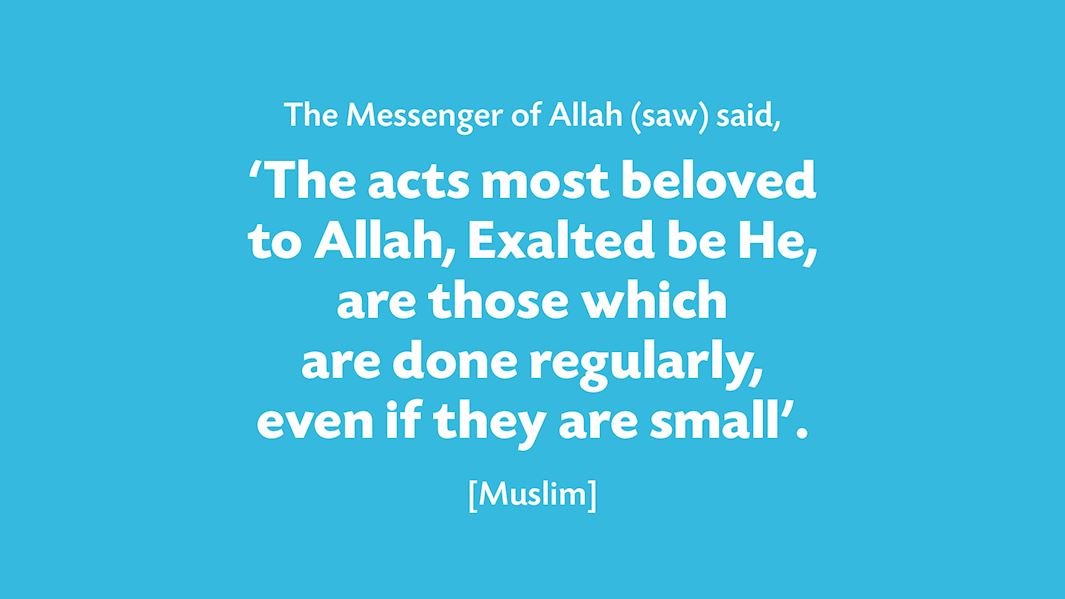 By setting up a regular payment to the Rohingya Emergency Fund, you will not only be doing an action beloved to Allah (swt), you will also be helping us continue our vital work with Rohingya refugees.
Your Sadaqah and Zakat will alleviate suffering, improve living conditions and help refugees recover from persecution. Give now to make a difference.
---
Facebook

Twitter

Email This