06 April 2023
Lifesaving Water Wells: Give the Best Charity this Ramadan

Globally, 844 million do not have access to clean drinking water, while 2.3 billion do not have access to basic sanitation facilities. Contaminated water supplies have a number of detrimental impacts, including being one of the leading causes of death for children under the age of five. Due to the host of water borne diseases that you can contract from drinking unsanitary water, it can also contribute to malnutrition and affect a community's ability to earn an education as well as a livelihood for their families.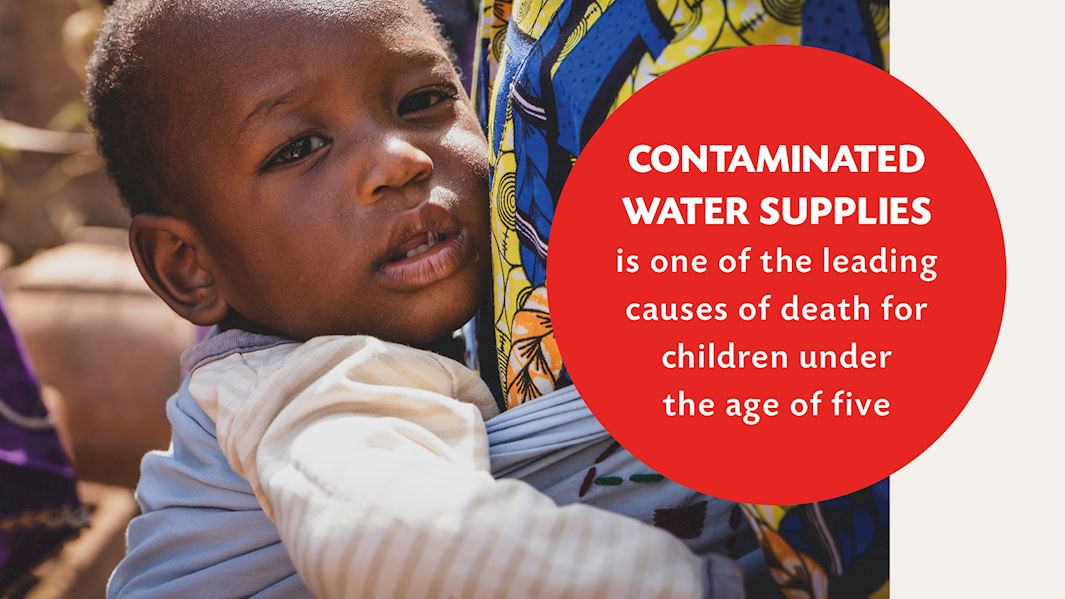 Muslim Hands recognises this global issue and has been working to bring lifesaving water to communities around the world for over 30 years. Currently, we have constructed over 23,800 tube wells, 1,000 community wells and provided over 2.6 million people with safe and clean water. However, we still have a long way to go as the increase in natural disasters means even more communities need access to water than ever before. 
Yemen's Water Crisis in Civil War Times
Yemen has been at war for eight years now, but when the fighting intensified and the economic situation worsened, many people fled to rural and mountainous areas to protect their families. This was the case for Muhammed, his wife and their seven children. They live on the rocky hills of Hilya village in south Yemen in a roof-less house with just one room for the entire family.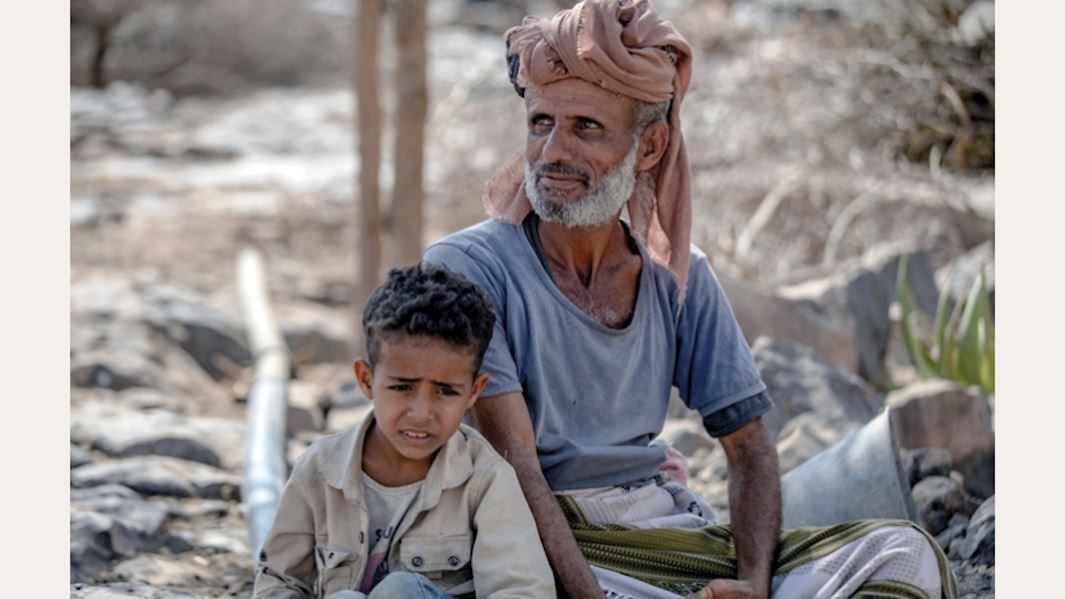 Muhammad, 52-years old, is a retired soldier and receives only £96 from the government every quarter. However, he is his family's only breadwinner, so he herds sheep in his spare time for more income. Still, his years in service as well as his age means that he cannot do this for long, so his son uses his motorbike to search for food for the family. 
Their village is isolated and lacks basic services, including access to safe drinking water. There is a well close to their house that all the locals use, however it is severely contaminated which is constantly making Muhammed's children sick, when they already suffer from malnutrition. 
'The water is salty and polluted because most of the residents of the area suffer from diseases as a result of the contamination of the water that we drink.'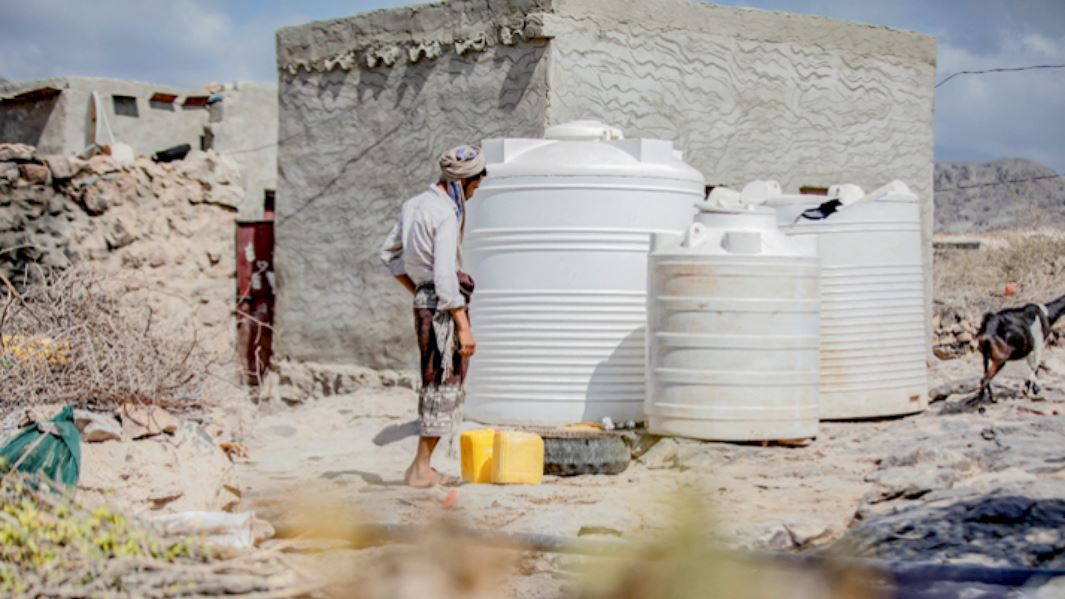 The economic situation in the village is only getting worse, as the price of basic necessities is rising. Muhammad wishes to buy clean drinking water for his children but with the rising prices of bottled water as well as the inflated price of fuel, they must continue to drink from the well for the foreseeable future.  
In recent years, Muslim Hands has rehabilitated water infrastructure in Aden and Ma'rib which has meant almost 3 million people now have access to clean drinking water. However, we have yet to reach everybody. Families in rural areas are in urgent need of your help. This Ramadan, you can provide lifesaving water to Yemen and save families like Muhammed's. 
Water Borne

Diseases

in India Kashmir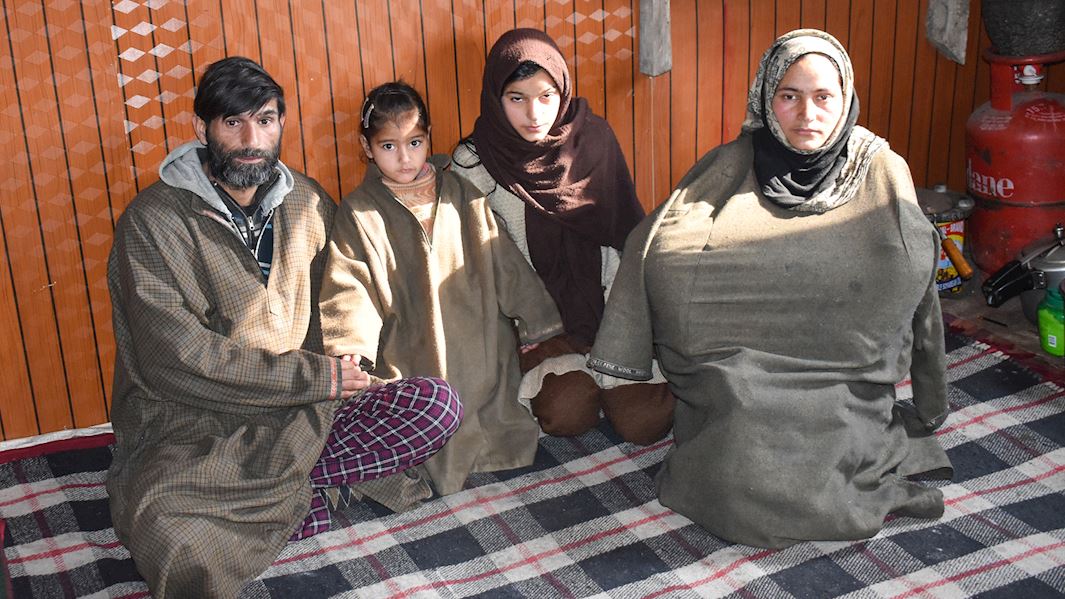 Out of all the regions in India, Jammu and Kashmir has the least access to clean drinking water. Over 40 percent of the population do not have access to water, and the quality and quantity for those that do is extremely poor. In Kashmir alone, 36 percent of children under five suffer from chronic diarrhea, which in turn has contributed to the chronic malnutrition that is pervasive in the region. 
Shabir lives in a tin shed with his wife and two young daughters in Wanpora village. He is a daily wager and earns £2 a day for his family, however he is unable to get any work in the winter. The whole village is living below the poverty line and the main issue that the community struggles with is lack of access to safe drinking water. They have to travel very long distances to find water, and even when they do, this water is not fit for consumption. 
Shabir's family is suffering from diseases like typhoid and diarrhea but there is nothing he can do as any money he does get goes towards food and trying to build a new home for them where they will have more space and comfort during the winter months. While the community is friendly and help each other when they can, everyone is in the same situation. 
You can help Shabir's family today by contributing towards a tube well which will provide lifesaving water for up to four families. This Ramadan, you can save Shabir's community by giving them the best charity. 
Life After the Floods: Pakistan's Broken Water Sources
Khyber Pakhtunkhwa (KPK) was one of the most heavily affected regions by the monsoon rain floods in September 2022. In its wake, it destroyed countless tube wells, pipelines and other water sources, which has resulted in a severe lack of access to clean drinking water. Now, members of the community have to trek long distances to fetch water.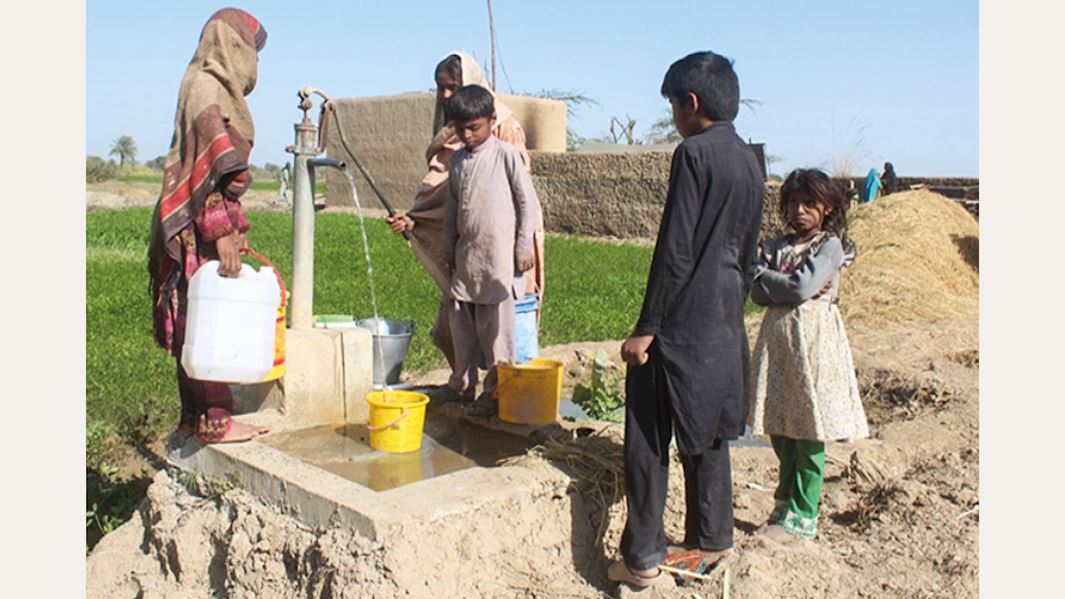 When the flood struck, it severely damaged Mehraban's home, where he lives with his wife and six young children in Dera Ismail Khan, KPK. Prior to the flood, his family were living in poverty as Mehraban spent his days searching for work and working odd jobs when he could. Now, as they pick up the pieces of their lives, income opportunities are hard to come by as the most prevalent industry in their area, agriculture, has been destroyed. Currently he earns less than £2 a day for his family. 
This family is not the only one that is suffering, and a lack of clean water is by far the leading concern for the community who live here. More and more people are contracting waterborne diseases which has led to higher unemployment rates as many men are too weak to work as labourers, which is the main source of income available to them.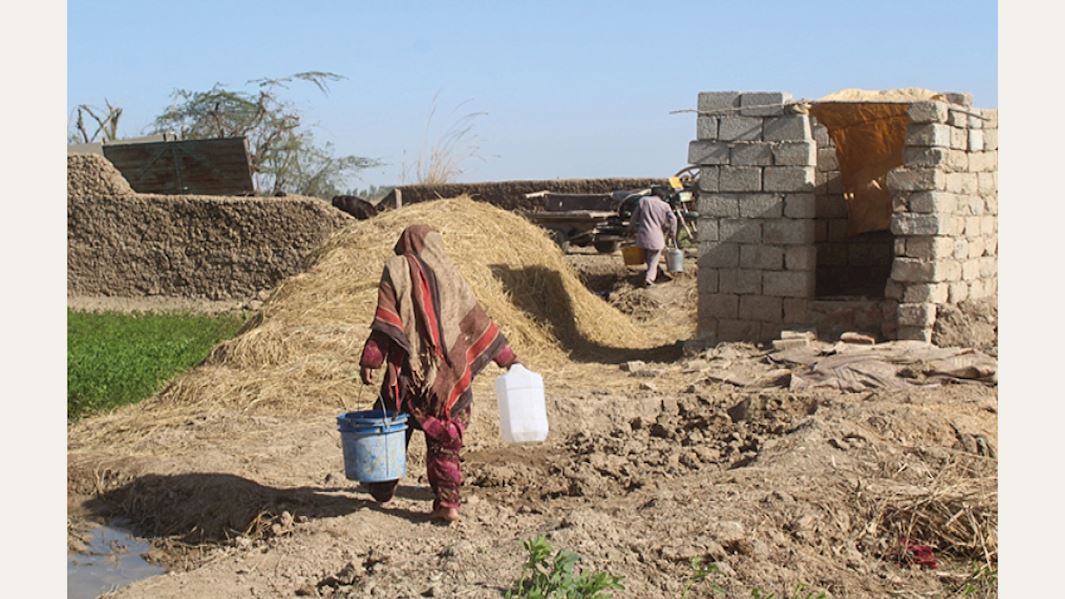 'I am stressed out because I am worried about my kids. We don't have a roof over our heads, water to drink, or proper food to eat. These floods have taken a toll on my health because I feel I have failed my kids by not providing them with the necessities.' 
This community is in desperate need of clean water facilities in the aftermath of the Pakistan floods. This Ramadan, you can help them by contributing a tube well which will last for at least 10 years and will provide them with lifesaving water for drinking and sanitation. 
Donating Water with Muslim Hands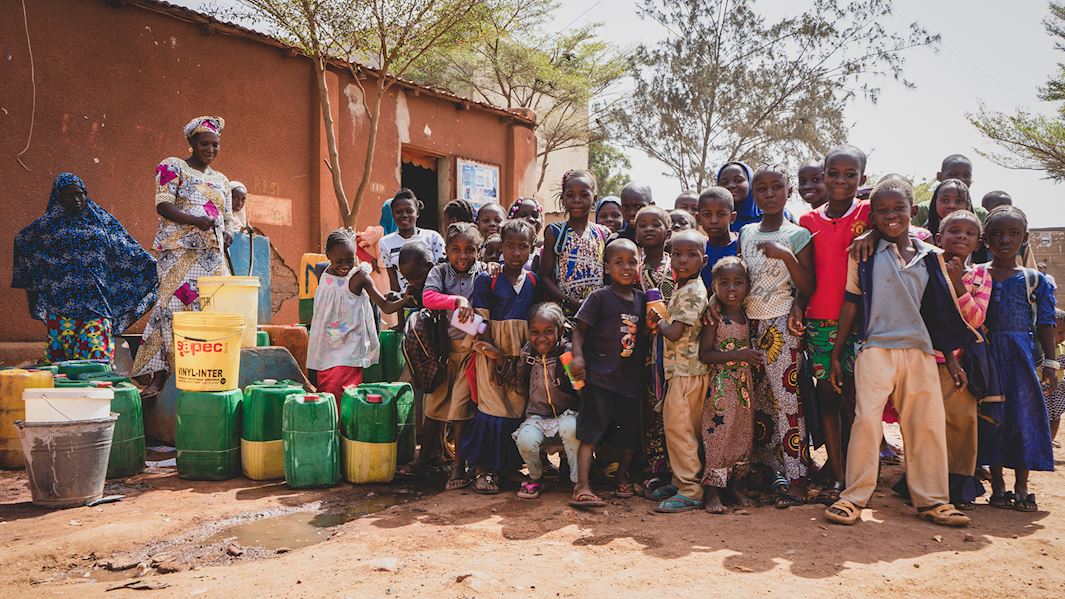 Muslim Hands is on the frontline of rehabilitating and installing high quality water sources that are enjoyed by millions across the world. By trusting us with your Sadaqah and Zakat, you will be contributing to our global effort to not only provide clean water but also teach communities how to use and maintain water sources safely. Our teams guarantee the sustainability of these projects, as they ensure that our beneficiaries are able to keep up good health and hygiene practices, while also carrying out the rehabilitation of major water infrastructure such as the Water for Life project in Yemen. 
You can donate today by providing: 
A

tube well

in India or Pakistan for just £190. This is one of our most popular projects and will provide lifesaving water for drinking, cooking and washing for up to four families.

 

A

dig-a-well

in Gambia, India, Sri Lanka, Mali, Niger, Pakistan or Senegal for £660. This is a much bigger well that serves entire communities, up to 35 families in fact.

 

A

community well

which will serve over 1,000 people for £2,600. This well is available for all of the locations the dig-a-well is serving, as well as Somalia.

 
You can also contribute any amount to our Safe Water Fund or Yemen Water Fund. 
---
Facebook

Twitter

Email This