27 April 2020
Ramadan Guide: Let's Talk Zakat (Part Two)

It's Ramadan, and many of us are preparing to give our annual Zakat. The process of calculating and paying Zakat can be difficult - so if you have any questions, please check out our short guide to Zakat. We also have a straightforward Zakat Calculator to help you.
If you already know how much Zakat you need to pay but you're not sure where to give it - this article is for you! Here are five places you can give your Zakat towards this Ramadan. Let's find the cause that fits you best!
I want to pay my Zakat monthly
Most people pay their Zakat in an annual one-off payment. However, some find it easier to spread out their Zakat payments, dividing their total Zakat into twelve smaller amounts and paying it each month. If you prefer to spread your Zakat payments out, here are three causes that might work for you:
Sponsoring an orphan for one year costs £354, but you can choose to pay £29.50 per month instead. This will provide food, education, health care to a needy child, as well as giving them security and care at a vulnerable time. Another great thing about this cause is that you get updates on how your sponsored orphan is doing, so you get to see the value of your Zakat first-hand!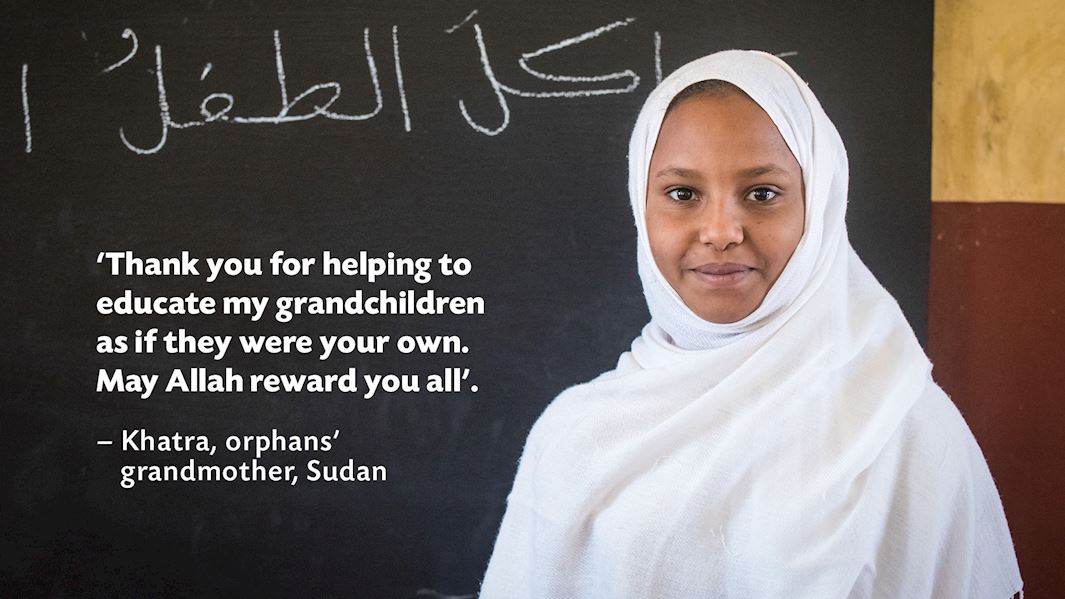 Four years of conflict in Yemen have brought it to the brink of famine. A whole generation of children is being threatened by the devastating effects of malnutrition and hunger. The children who survive this starvation will suffer from long-term health and development problems.
£12.50 a month will provide a child in Yemen with nutritious school meals for the academic year. Giving your Zakat to Yemen will protect innocent children from hunger and save lives.
You can also set up a monthly direct debit to any of our Funds to pay your Zakat towards a general cause. For example, you can give to the Orphans Fund, the Food Fund or the Education Fund. If you click the Zakat option, we will only use this money on Zakat-eligible projects. See a list of our funds here.
I want to help women with my Zakat
Women and girls often suffer disproportionately from issues that affect the whole community, such as lack of access to water, poor education and even food shortages. Muslim Hands' is committed to creating a fair and equal world and all our projects reflect that. If you want to improve women's lives and tackle gender inequality, here are three causes that might work for you:
Vocational Training and Livelihoods
Often, the reason women are stuck in poverty is because they simply have no opportunities to improve their lives. By training poor women in sewing, poultry farming or beekeeping, and then helping them set up a small business, we can transform their lives. We have a range of livelihood options for women, starting at £20 and going up to £5,000, so this is a cause that you can contribute any amount of Zakat towards!
Lack of safe water disproportionately affects women. On a single day, women and girls around the world spend a collective 200 million hours collecting water, often making difficult and dangerous journeys to do so. That figure is simply staggering. How many opportunities are they losing in those 200 million hours?
By building a single well, you can transform the lives of hundreds of women, giving them hours more time to study, work or take care of their families.
According to WHO, lack of access to good quality healthcare is fundamentally responsible for the vast majority of maternal deaths. Hundreds of women are dying every day from preventable causes related to pregnancy and childbirth. The solution is simple: we need to provide new and expectant women with better and more accessible medical care. Your Zakat will ensure women in Afghanistan and Somalia can survive pregnancy and childbirth.
I have a lot to give, ma sha' Allah, and I want to give it to ONE project
If you've been blessed with a lot of Zakat-eligible wealth this year, but you want to give it all to one place, why not check out our Major Giving projects? These are bigger projects that we implement according to your plan, time and budget - and you can even come up with your own unique idea!
Here are two examples of our Major Giving projects:
Cataract removals are simple yet life-changing procedures which restore sight and can remove blindness almost instantly. However, many people around the world are living with blindness simply because they cannot afford the medical expense of treatment. By giving your Zakat to a cataract eye camp, you will be restoring people's sight and transforming lives.
Many widows and vulnerable women lack the opportunity to sustain a livelihood. These shops will be constructed in market places or busy locations and given to poor women so they can earn a living and provide for their families. The women will also be provided with an initial set of stock to help them get started. This Zakat will benefit the recipients for many years to come, in sha' Allah.
I want to give my Zakat to where it is most needed
All of the above causes are amazing, but maybe you're still not sure where your Zakat will be the most useful? That's perfectly understandable! As a charity, we work in health, education, water and even plant trees - we couldn't pick one cause either!
There are so many great ways to spend your Zakat, so if you still can't choose - why not let us decide? Give to our Zakat Fund and let our global experts figure out where to allocate your Zakat to maximise its impact.
We hope this article helped you decide where to give your Zakat. Check out Part One of this article to see more causes that might work for you.
If you want to wait until the last 10 nights to give your Zakat, simply bookmark this page! You can also check out our Zakat donation policy, our guide to paying Zakat and use our straightforward Zakat Calculator.
Don't forget to share this article with friends, family and colleagues!
---
Facebook

Twitter

Email This