16 November 2021
How Were Your Donations Spent in 2020?

By law, charities must prepare a set of accounts and a trustees' annual report every year. The aim of these accounts is to provide a clear picture of the charity's activities and financial position. This ensures there is complete transparency between the charity and the general public.
We've recently published our annual accounts for 2020 - and you can see the full report here. However, in case you don't want to read the whole thing, we've put together a quick summary for you!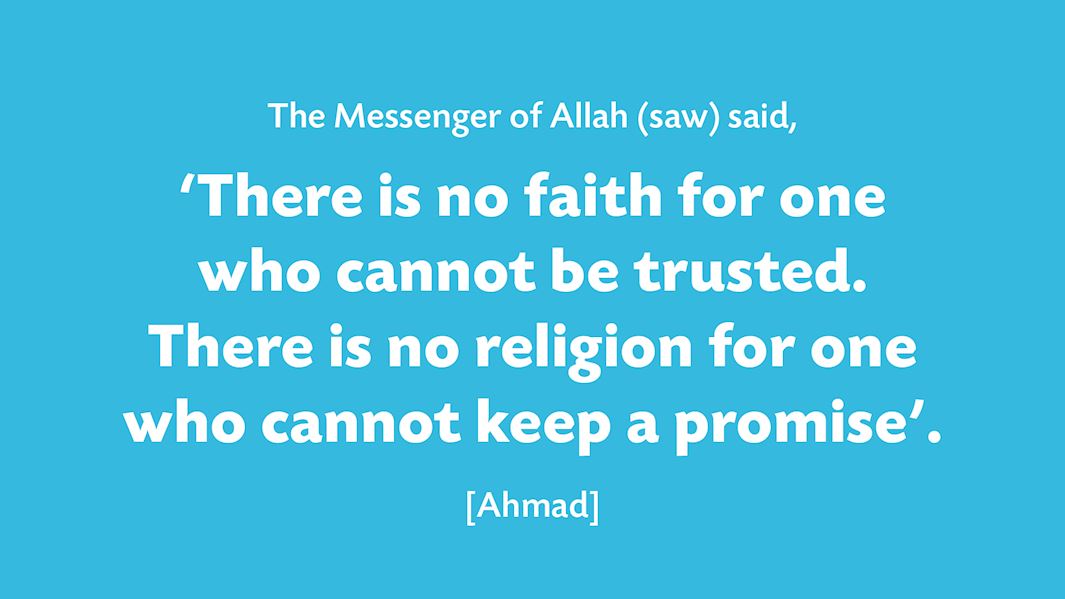 Your donations are an amanah for us and we want to make sure it's as easy as possible for you to access feedback. So without further ado, here's what you achieved in 2020.
Sending donations across the globe during a pandemic
Ma sha Allah, you gave charity to over 3.8 million people in 2020. Across 29 locations, vulnerable families were strengthened by your support during the harsh first year of the pandemic.
Our Chairman, Syed Lakhte Hassanain, thus began our annual report with a message of thanks for you:
'2020 was a year of opportunities and challenges and we are extremely grateful to our donors for continuing to support those in need despite the pandemic', he said. 'The fact that we were able to expand our development work during an economic crisis is a testament to the commitment of UK donors to global wellbeing. We never could have envisaged the way the 'Muslim Hands family' would grow back in 1993 and this dedication to helping others has allowed us to provide emergency relief and transform the lives of millions worldwide'.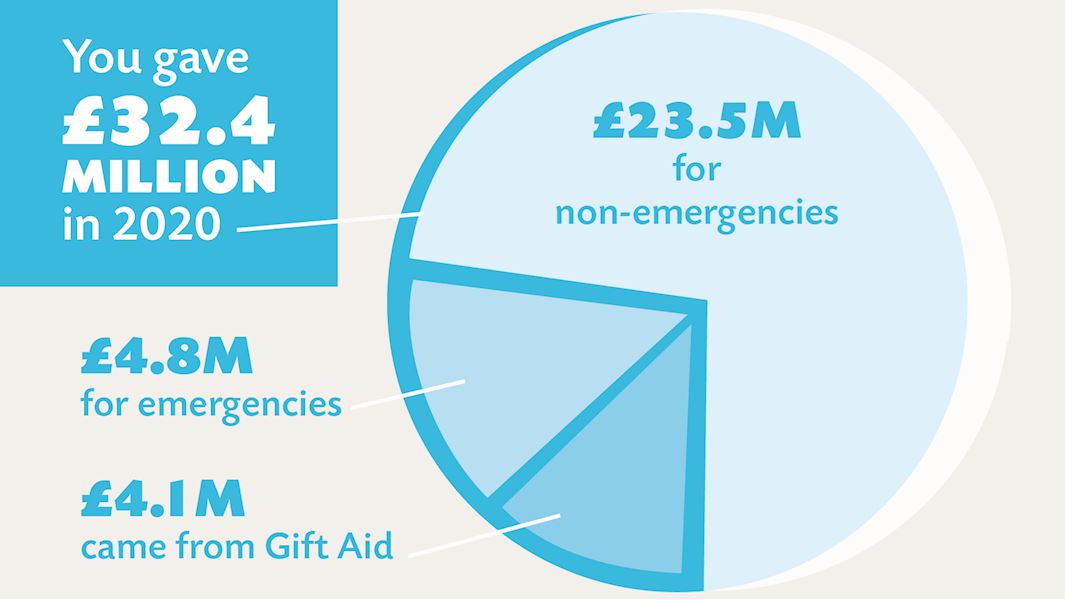 Ma sha Allah, you gave almost £10 million more in 2020 than you gave in 2019. It was incredible to see you being more generous during a pandemic than ever before.
So how did we spend your generous donations?
Water for 1.5 million people
In 2020, you provided clean drinking water through 13,000 wells, alhamdulillah!
The highlight of the year was undoubtedly Ramadan 2020, during which you gave a staggering £2.5 million towards our global WASH projects. At the end of Ramadan, we were able to immediately commit to providing water to 1 million people - which was only made possible through your generosity during the blessed month.
As well as building water wells, you helped us carry out other essential water-related projects, such as installing drinking points at schools in Pakistan, as well as hand-washing points, new washrooms, electric boreholes and upgraded sewerage systems. This is life-saving work which improves hygiene and protects the health of vulnerable children.
Education for 127,000 children
In 2020, one of the biggest concerns was how children would continue their education amidst lockdown. It was important not to compromise their future while protecting their health.
At Muslim Hands, we closed our worldwide schools for much of the academic year - then, we deployed a 'School Home Learning Strategy' to keep students' education going.
Teachers continued to communicate with students and their guardians. Where possible, we organised online teaching through virtual meeting apps such as Zoom, re-designing schemes of work to suit an online learning environment.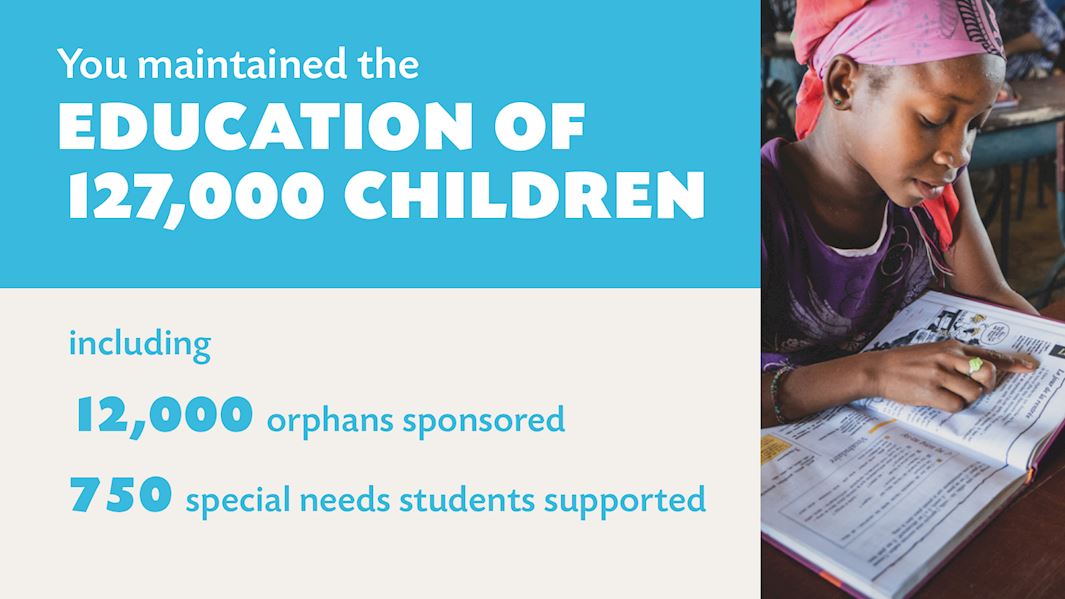 Moreover, in 2020, your charity allowed us to introduce a scholarship programme for higher education students! This provides bespoke support to students in colleges, universities and vocational training, ensuring they continue to receive help even after they've finished high school, giving them the opportunities they deserve.
Supporting the mental health of children
Children are at the heart of our work at Muslim Hands - which is why we spent your Zakat and Sadaqah on over 1.5 million children in 2020. We also established our first ever global advocacy campaign - for child mental health in the developing world.
We successfully carried out field research in Bangladesh, Malawi and Pakistan, analysing the current understanding of child mental health. Our campaign aims to address the importance of this issue in low and middle-income countries. Alhamdulillah, from our research, we have developed a toolkit that aims to train teachers on what mental well-being is and how to address the mental health concerns of their students.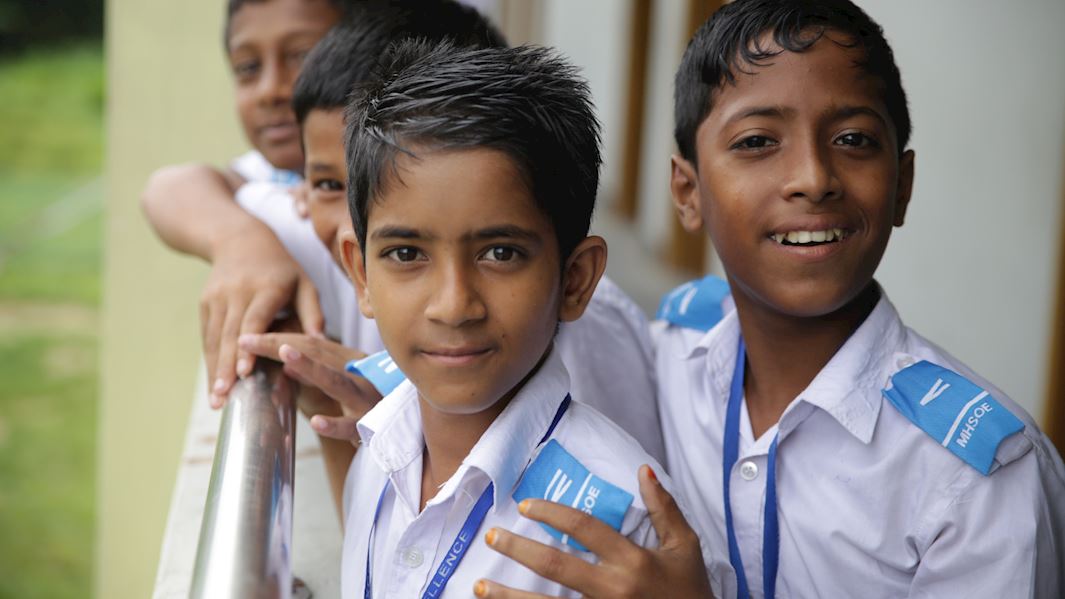 As the pandemic swept the world in 2020, physical health was the first concern - but the persistent isolation soon forced everyone to acknowledge the importance of looking after our mental health. Taking care of our hearts and minds is from the teachings of Islam - and it is especially vital to instil this value in children.
We work with vulnerable children who have experienced poverty, displacement and the loss of parents and other family members. They deserve more than food, clothes and educational support. They deserve to be cared for and mentally nourished.
Our 'behind-the-scenes' research would not be possible without your charity - and its impact will be life-changing, in sha Allah. Our advocacy campaign aims to ask governments in low and middle-income countries to invest more in mental health and raising awareness. We hope to be the first Muslim INGO that advocates for mental well-being within schools and the wider community.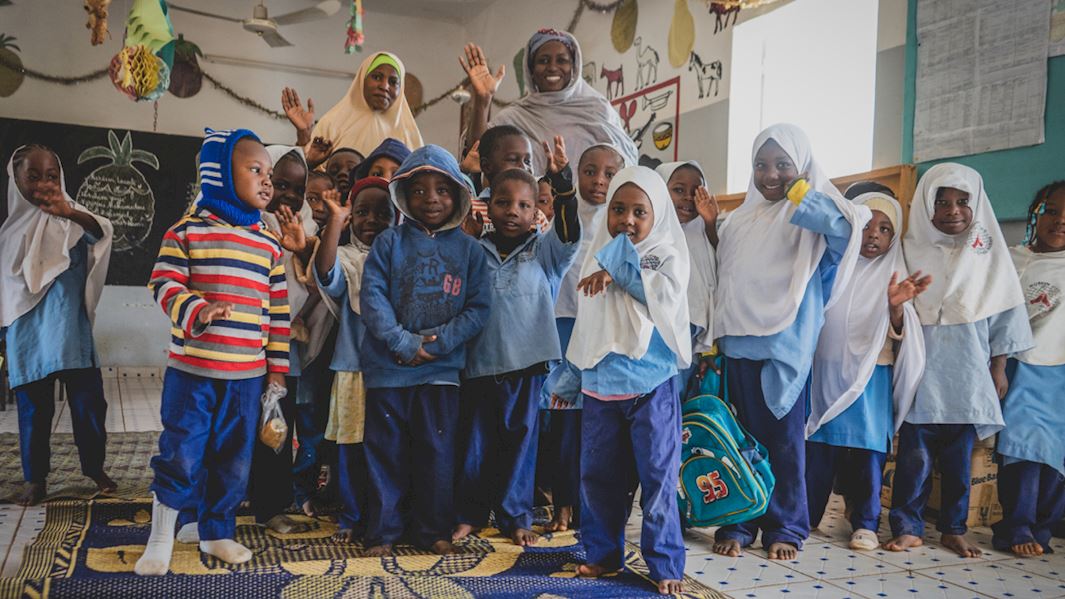 Emergency relief around the world
In 2020, your donations were used to expand our work in long-term emergency zones like Yemen and Syria. We established factories to distribute daily bread, ran medical clinics and provided essential supplies, as well as distributing school meals and clean water in Yemen. You ensured even more vulnerable families had access to core, staple foods, clean drinking water and vital health care.
In addition to these long-term emergency projects, your donations also allowed us to respond to emergencies which arose throughout the year. For example:
In August 2020, you supported over 6,500 survivors of the Beirut explosion with food, medical care and house repairs.
In August 2020, you helped 9,000 victims of the Sindh floods with food, hygiene kits, essential supplies and safe drinking water.
In November 2020, you provided 3,000 Ethiopian refugees with food, PPE and essential supplies.
You also responded to a tsunami in Indonesia, flooding in Afghanistan, Nigeria, Pakistan and Sudan, an earthquake in Turkey and more.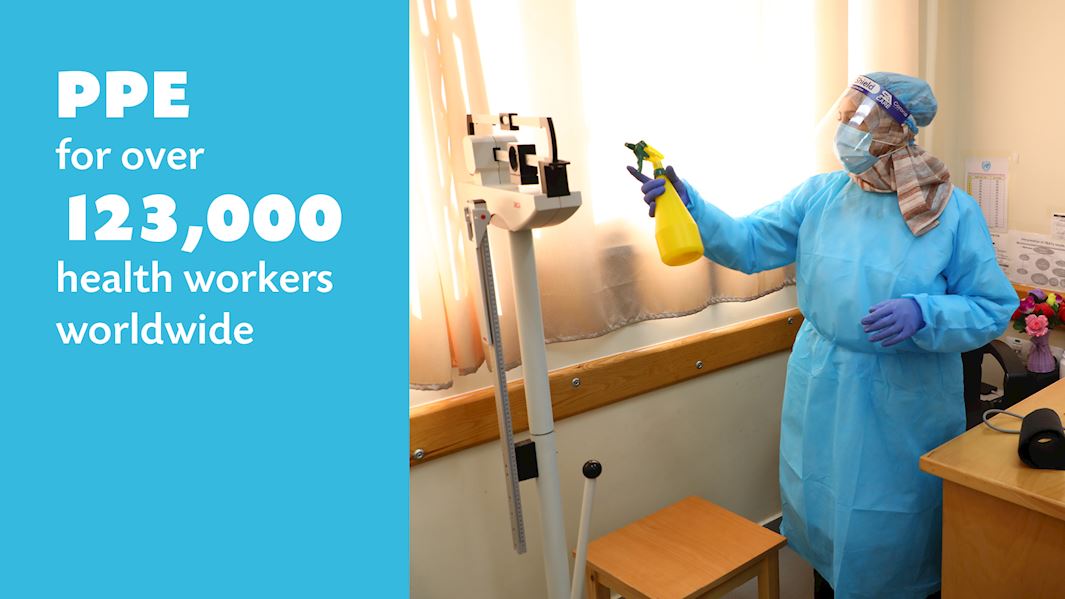 Moreover, as part of our emergency response to the pandemic, we supported health infrastructure in 12 locations. This included supplying emergency PPE to frontline health workers and medical practitioners to keep them safe. This would not have been possible without your immediate response to our Coronavirus Appeal in March 2020.
Health care for 427,000 people
As well as our coronavirus response, your donations also funded other health projects such as cataract eye camps and maternal clinics. Every donation to these projects changed lives.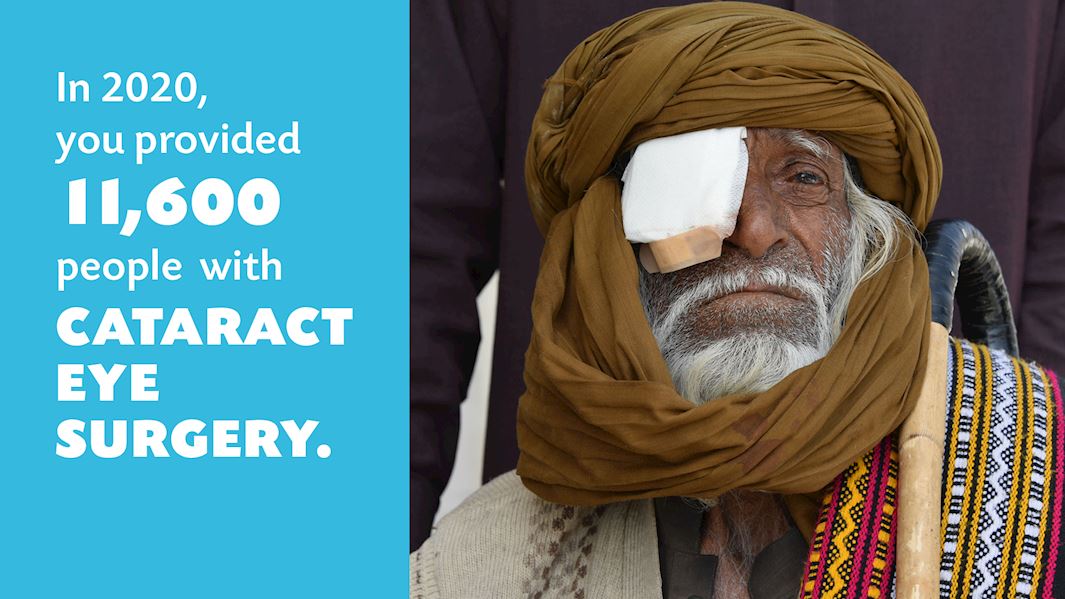 One of our key projects in 2020 was the neonatal health project in Gaza, funded by your donations to the Gaza Winter Walk in 2019.
Through our partners, we ran workshops for over 200 staff at neonatal units, training them on neonatal life support, infection control measures and other vital procedures. You also supplied six neonatal units at Gaza's hospitals with lifesaving drugs, essential equipment and infection control supplies.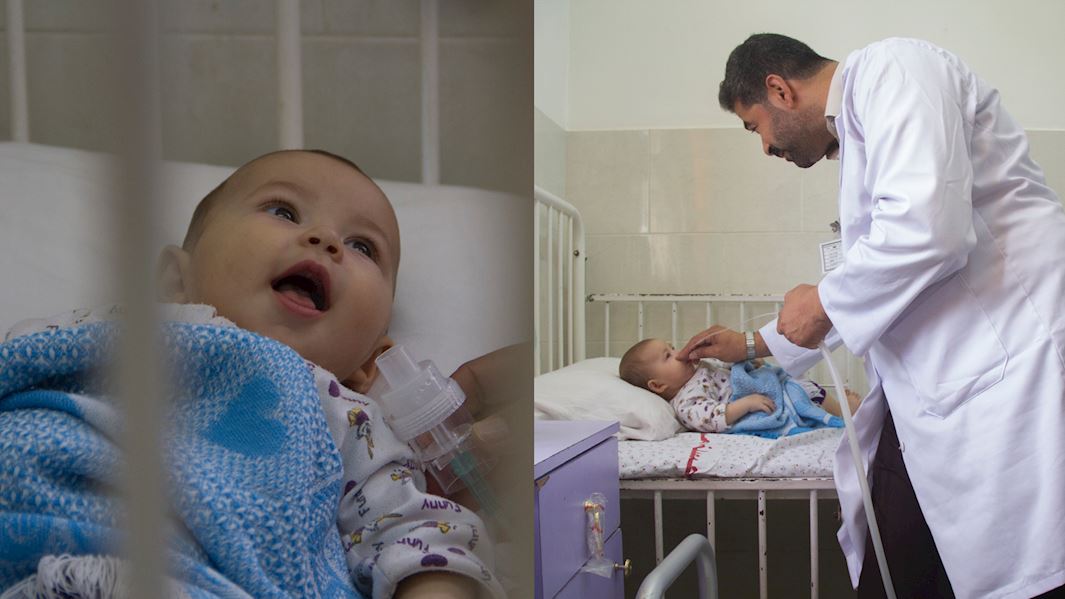 This project provided a lifeline to the struggling neonatal health service within Palestine. SubhanAllah, your donations were a source of strength and relief for Gazan parents, sending them hope from all the way in the UK.
United Kingdom
Finally, as your donations supported people across the world, you were also helping people right here in the UK throughout the pandemic.
Through The Open Kitchen in London, we targeted the most vulnerable members of the community, providing them with nutritious cooked meals. Due to self-isolation and social distancing, we introduced a home delivery service as well as outside distribution points for people to continue to access food and advice.
Moreover, during the first lockdown, our donors provided 12,000 meals across six cities in the UK, including Birmingham, Bradford, Edinburgh, Glasgow, Manchester and Stoke-On-Trent. We partnered with local community centres and religious institutes in order to run these temporary Open Kitchens.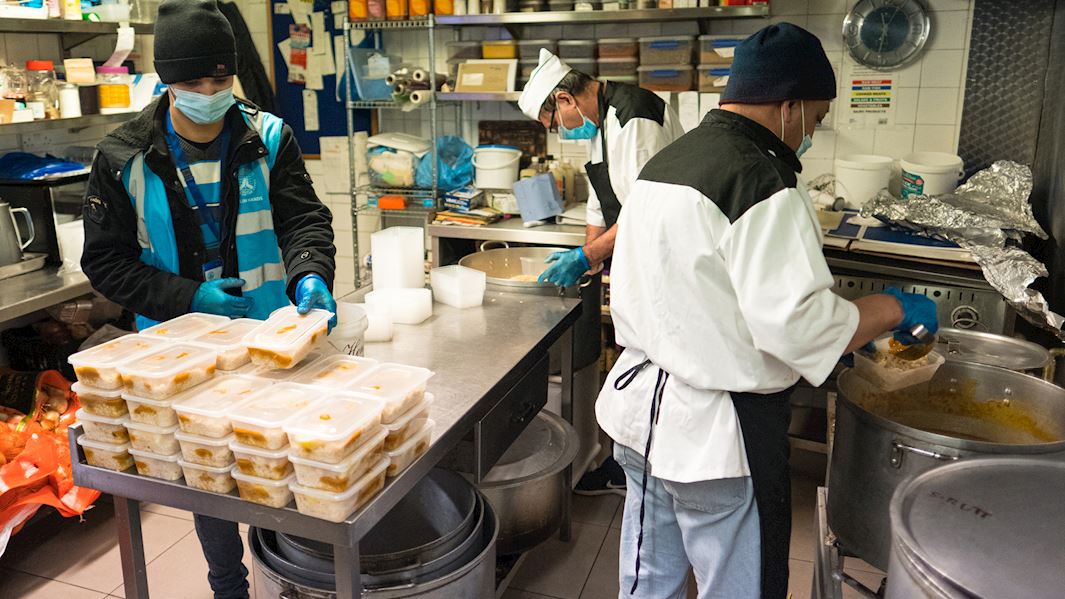 We also partnered with FareShare in 2020 to tackle food poverty and food waste across the Midlands. By the end of 2020, we'd redistributed enough food to provide 1 million meals to vulnerable people. Every day, you gave 10,000 meals to refugees, low-income families and those who have been forced into hardship because of the pandemic.
Moreover, in the summer of 2020, this partnership allowed FareShare to extend its School Holiday Provision, providing thousands of schoolchildren with food. This was a vital lifeline for families who were dependent on school meals during the pandemic.
Summary
Overall, 2020 was a year of challenges and hardships - but you came through for those in need. From providing food to our neighbours in the UK to running health clinics in Syria, you gave to a range of different projects, every single one of them vital to the community.
Moreover, your donations laid the groundwork for a lot of our work in 2021. This year, we have been able to:
Ma sha Allah, there is a lot of barakah in the Zakat and Sadaqah you gave in 2020.
To learn more about how your donations were spent - including projects related to food, livelihoods, religious institutions and the environment - you can read the full Annual Accounts here.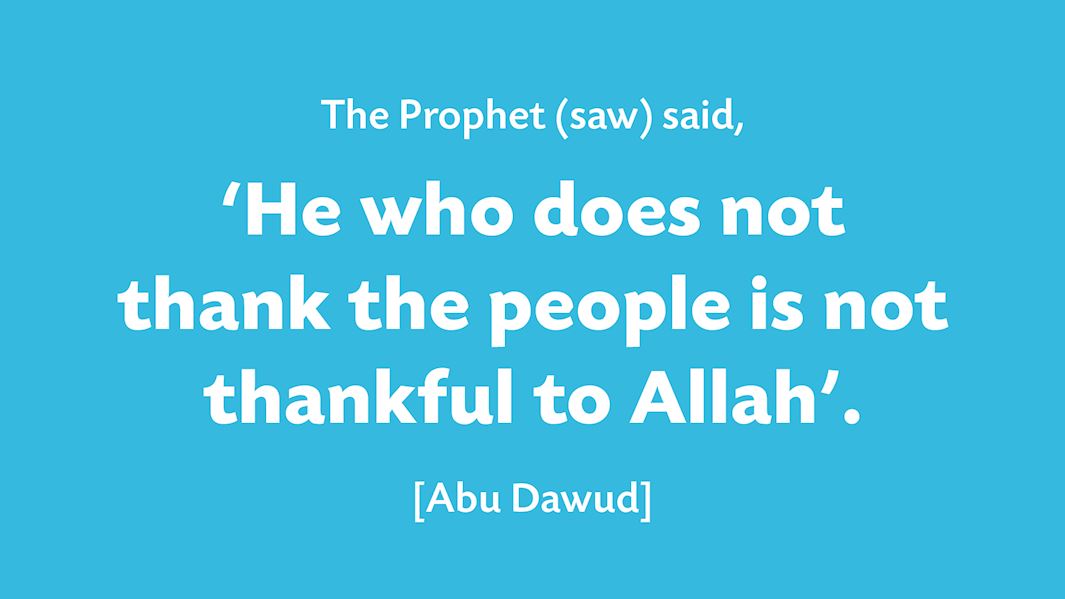 On behalf of everyone at Muslim Hands, we'd like to say a huge THANK YOU to all of you! We pray that Allah (swt) accepts your efforts, puts barakah in your charity, increases your provision and keeps you among the people of charity, amin!
Visit these pages to learn more about your donations:
Muslim Hands is an award-winning charity, established in 1993 to provide emergency relief and tackle the root causes of poverty. We hope this article was useful to you!
---
Facebook

Twitter

Email This